Edinburgh Food and Drink Trends
It's not only clothes that follow fashion trends
(Last Updated On: January 1, 2018)
It's been three years now since I moved to Edinburgh and each year I've noticed something – restaurant and bar trends. Have you noticed it too? No? Well good, because then you wouldn't be amazed and excited by my discovery would you? I've already clued you up about the brother/sister phenomenon, but lately I've been pondering how many of the new eating and drinking spots that open in Edinburgh each year have similar ideas. You've probably noticed all the new burger joints, but have a look below and see just how many more places have opened in Edinburgh – in the last three years – and the trends they all follow.
2013 – Cocktail Bars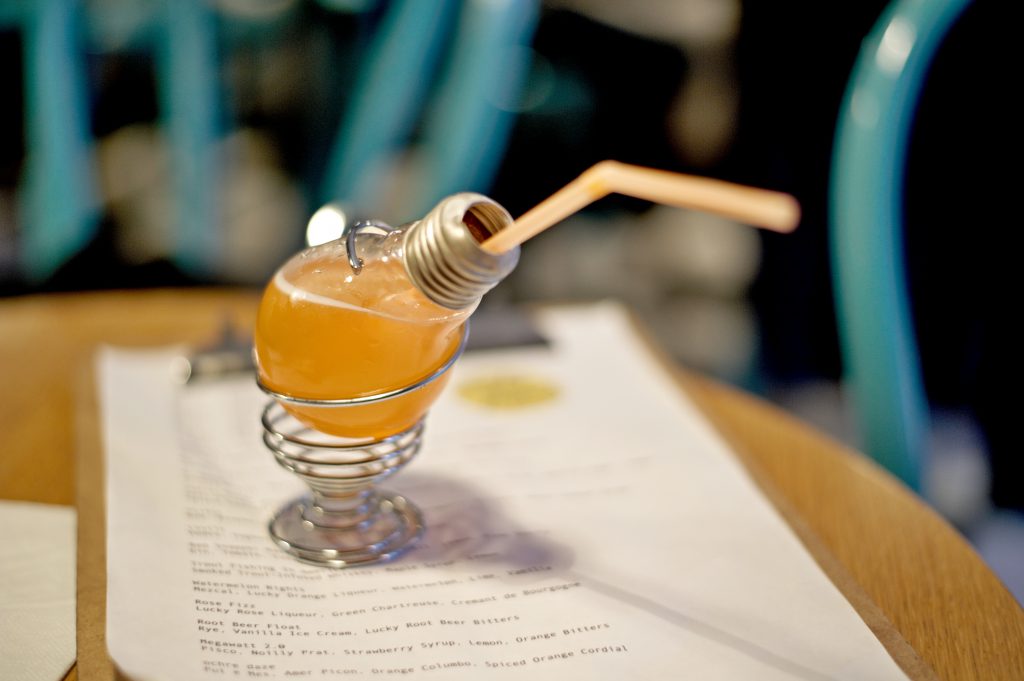 Lucky Liquor Co – 2013
Cocktails with a twist, but I'm not talking about citrus. Each quarter Lucky Liquor Co's menu features 13 new cocktail creations made from top notch ingredients you've probably never heard of. Luckily (hah!) the super clued up staff very patiently explain it all if need be. And sometimes, if the customers haven't stolen them all, they serve their drinks in light bulbs.
Devil's Advocate – 2013
From the owners of equally classy Bon Vivant, The Devil's Advocate, tucked down atmospheric Advocates Lane, is a dimly lit, cosy, exposed wood and brick bar that specialises in whisky (there's over 200 varieties) but also does a huge range of top of the line cocktails too. If you need to line the stomach, the food is also top notch here but expect prices to match.
Panda and Sons 
Nothing to do with Edinburgh Zoo's most famous inmates attractions, Panda and Sons is actually a hipster magnet/speakeasy style cocktail bar. The speakeasy moniker is due to the fact that from the street level entrance it's made out to look like an old time barber shop and once inside you need to walk through a bookshelf that is actually a hidden door to find the bar. I'll let you decide whether that's cool, novel or naff. Like both places above though, there's no doubt Panda and Sons definitely do quality cocktails.
2013 – Hot Dogs
The Other Place – 2013
The Other Place is a neighbourhood pub with an emphasis on comfort food from the US including of course  – hotdogs.
Safari Lounge- 2013
Another locals pub, The Safari Lounge has a jungle theme (as one does) and serves seriously jazzed up hot dogs with flavours from all around the world.
The Flying Dog – 2013
The Flying Dog is a Leith local joint that offers simple, friendly, relaxed and community minded hot dog dining.
2014 – Burgers
Burger 
I do like it when a restaurant name is simple and to the point. Burger now has two Edinburgh locations, Shandwick Place and Fountainbridge. As well as getting your burger fix, eating here means you have the chance to sample one of their popular alcoholic milkshakes. Steady!
Burgers & Beers Grillhouse – 2014
Another place that tells you exactly what you're getting. I kind of wish this trend would catch on, but then so many places would have to name themselves Wanky, Pretentious or Sterile and it might get a bit confusing. Eating at Burgers & Beers Grillhouse is not only tasty, it can also be educational. How's that? Well, simply reading their menu taught me that before Pulp Fiction came along, Marcellus Wallace was just the man who invented peanut butter!
Burger Meats Bun – 2014
I only went here for the first time a month ago and was in burger heaven as grease ran down my arms all the way to my elbows, so it's disappointing to read they have now closed their Forth Street location to focus on Glasgow. Boo. Massive boo. Word is they may still pop up at various Edinburgh events, so keep a look out because they're delicious.
2014 – Gin Bars
The Jolly Botanist 
Botanist. Botanicals. Gin. Get it? Ah yes. This old Victorian style bar/restaurant located on Morrison street, not far from Haymarket Station, is usually rammed with after work revellers, so be prepared if visiting around 5pm. The food at The Jolly Botanist is usually pretty good too.
Heads and Tales – 2014
Located right next to the Edinburgh Gin Distillery, you know Heads and Tales are gonna be serious about their gin. This almost hidden basement bar does cocktails (gin and otherwise) and sophisticated nibbles.
Juniper
Juniper is formed as part of the the restaurant Twenty Princes Street, located a bit confusingly inside the entrance to The Mercure Hotel across from the entrance to Waverley Station. It's not really my kind of bar (it's trying to be upscale but for me it has an overriding hotel bar feel) but the service is friendly and best of all it has an amazing view of old town to peer at while you're getting tiddly.
2014 – Indy Coffee Shops
A long, narrow, exposed brick and concrete cafe that was fashioned from a laneway rather than an actual shop space. Not that there's anything wrong with that.
Just as famous for their cheese toasties as they are for their coffee.
Caffeine Drip
Caffeine Drip is a South African style cafe and bakery, so you'll not just get top quality coffee, but if you've ever wondered what a Boerewors Roll was. this is the place to solve that mystery.
Fortitude Coffee
Another tiny shop (looking at these lists, spacious real estate was probably hard to come by in 2014?), Fortitude Coffee is on York Place, just up from where the tram staff will kick you off if you fall alseep.
2014 – American BBQ
Ox 184 
OK, technically Ox 184 was opened early 2015 but I'm cheating and including it in 2014. From the owners of Holyrood 9A and Red Squirrel, among others, this not very pretty building on Cowgate is actually very stylish inside. Tuck into the well stocked bar and soon the smell of massive wood fires upstairs will make the enormous space somehow feel cosy enough to gorge on , you can order stuff like baby back ribs, burnt end beans and BBQ chicken long boys.
Reekie's Smokehouse 
A Scottish take on US BBQ meat, along with the usual suspects like smoked BBQ beef brisket and pulled pork, at Reekie's Smokehouse you can try Irn Bru, Buckfast and Whisky sauces to drown your meat in, all made in-house.
Frontier -2014
From the same owners as Mums Comfort Food on Forrest Road, it's not just the meat that's US style at Frontier. They've got chowder, buttermilk pancakes, mac n cheese and enough bourbon to keep me happy for quite a few rounds.
2015 – Theme Bars
Boozy Cow
With graffiti all over the walls and ceilings and a kitchen door that looks like Dexter's come in to be the guest chef for the day, the guys at Boozy Cow have not just decorated, they've vomited their theme all over every available space. If it's not obvious from the name or decor (really?) they serve meaty stuff here, like burgers, hot dogs and Philly Cheese Steaks.
PDT 
PDT stands for Please Don't Tell and I guess they wanted to go for 'secret' because when they opened the entrance only had the three letters -PDT – above the door. The secret must not have gotten out though because now they have an awning with Please Don't tell and a big old portrait of a girl whispering 'shhh' on the roller door that makes the place anything but hidden. Anyway, this is a bar with an old school gamer theme where you can either reminisce about arcade style Pacman or if you were too young to know what the hell a pinball machine is, marvel at how your parents used to get their kicks.
Hoot the Redeemer
From the owners of Panda and Sons, Hoot the Redeemer's theme is, I guess, vintage funfare, with the emphasis on fun. As well as the type of quality cocktails you'd expect from the Panda and Sons team, there's boozy ice cream, a pinball machine (look kids, they're everywhere!) and a cocktail mix claw machine to try out.
Extra Stuff:
So, whaddyareckon the big food and drink trend is gonna be for 2016? Spotted any new themes yourself? Well after recently discovering Eat Me ltd and Tasty Buns, my bet's on boozy bakes!