Top Stuff Edinburgh – food and drink edition
A big list of the best three of everything 'food and drink' in Edinburgh
(Last Updated On: January 1, 2018)
Below this little preamble you will find Stuff Edinburgh's 'Top Stuff', a mahoosive manifest of the best three (in no particular order) of everything in town, food and drink-wise. I'm talking about the best burgers, best doughnuts, best cafés, best pizzas, best cocktails, best scones… well you get the idea.
Handy, non?
For the last couple of years, Edinburgh has been going through a restaurant, café and bar boom, so check back often, as today's top three might just be different next time you visit, plus, even as I write this I've thought of two other categories I should have included (damn it). As well as all the openings and unfortunate closings, new owners often take over, standards go up, standards go down, so it follows that to remain the ultimate guide of the Top Stuff to eat and drink in Edinburgh, it should be ever updating.
Now, I've judged everywhere not just by the quality of their food and drinks, but also the overall experience, you know, service, ambience, value, how good looking the staff are (cough). And don't forget, as is the nature of 'the best', expect these places to be busy and book accordingly.
IIIIIIIIIIIIIIIIIIIIIIIIIIIIIIIIIIIIIIIIIIIIIIIIIIIIIIIIIIIIIIIIIIIIIIIIIIIIIIIIIIIIIIIIIIIIIIIIIIIIIIIIIIIIIIIIIIIIIIIIIIIIIIIIIIIIIIIIIIIIIIIIIIIIIIIIIIIIII
Afternoon Tea
"Never trust a man, who when left alone with a tea cosy, doesn't try it on." Billy Connolly
Eteaket Tea Room– One for proper tea lovers – they have over 30 types to choose from. As well as the classic afternoon tea, Eteaket does light lunches and has a Whisky Tea and Tea Cocktails.
41 Frederick St, EH2 1EP
Casa Angelina– Vintage style, relaxed and cosy tea rooms run by a pastry chef who has worked in top places like Harvey Nichols, The Balmoral and Prestonfield House.
42 London St, EH3 6LX
The Colonnades at Signet Library– Super plush, super posh, it's the kind of space you could picture the Queen in, if she were after a few books perhaps. Yes, it really is a library and yes, you eat/drink your tea amongst the bookshelves. This is well and truly the creme de la creme of Edinburgh afternoon tea.
The Signet Library, Parliament Square, EH1 1RF
IIIIIIIIIIIIIIIIIIIIIIIIIIIIIIIIIIIIIIIIIIIIIIIIIIIIIIIIIIIIIIIIIIIIIIIIIIIIIIIIIIIIIIIIIIIIIIIIIIIIIIIIIIIIIIIIIIIIIIIIIIIIIIIIIIIIIIIIIIIIIIIIII
BBQ
"Barbeque may not be the road to world peace, but it's a start." Anthony Bourdain
Bubba Q* – Fairly new to the city, Bubba Q does US style smoked meats and sides. The decor is a relaxed, albeit ubiquitous industrial style (wooden tables, pipes upscaled to be handrails etc) service is friendly and portions are value-for-money enormous. Think ribs, pulled pork, brisket, fried chicken, chicken wings, coleslaw and corn on the cob and lots of BBQ and hot sauces to slap on it all.
209-213 High St, EH1 1PE
Reekie's Smokehouse– Reekie's is the Scottish version of the above. All the meat and other ingredients (where possible) are locally sourced and you'll find Haggis and Irn Bru specialties on the menu too.
20 Holyrood Rd, EH8
Korean BBQ– Authentic (allegedly – what would I know?) Korean BBQ restaurant where you cook the food to your liking at the table yourself. Clever. At least they'll never get complaints about the cooking.
3 Tarvit St, EH3 9LB
IIIIIIIIIIIIIIIIIIIIIIIIIIIIIIIIIIIIIIIIIIIIIIIIIIIIIIIIIIIIIIIIIIIIIIIIIIIIIIIIIIIIIIIIIIIIIIIIIIIIIIIIIIIIIIIIIIIIIIIIIIIIIIIIIIIIIIIIIIIIIIIIIII
Beer
"I've only been in love with a beer bottle and a mirror." Sid Vicious.
Holyrood 9A*– Pretty much an Edinburgh beer institution, Holyrood 9A has a rotation of over 20 beers, ales and ciders on tap from the UK and the rest of the world. The bonus in this traditional looking gastro-pub is that you'll also find some of Edinburgh's best burgers to line the stomach with first.
 9A Holyrood Rd, EH8 8AE 
The Hanging Bat– A modern beer house that has its own in-house brewery, regular 'meet the brewer' events and plenty of variety to choose between local and worldwide brewers.
133 Lothian Rd, EH3 9AB
Guildford Arms*– For those who like a more traditional, Victorian style pub, the Guildford Arms is for you. Hidden away down a side street behind the Apple Store, it's been owned by the same family since 1896 and has a seriously ornate ceiling and lots of wood work to admire while you're downing your pint.
1 W Register St, EH2 2AA
IIIIIIIIIIIIIIIIIIIIIIIIIIIIIIIIIIIIIIIIIIIIIIIIIIIIIIIIIIIIIIIIIIIIIIIIIIIIIIIIIIIIIIIIIIIIIIIIIIIIIIIIIIIIIIIIIIIIIIIIIIIIIIIIIIIIIIIIIIIIIIII
Breakfast/Brunch
"I went to a restaurant that serves 'breakfast at any time', so I ordered French Toast during the Renaissance." Stephen Wright
Roseleaf*– Often described as quirky (probably just to do with the tea-cup cocktails and mismatched decor) the food here is consistently great any time of day. For breakfast/brunch you'll get all your British faves but with veggie friendly, tasty twists like garden pea mash with crumbled goats cheese, mint and coriander chutney or wild mushrooms sauted in garlic and parsley.
23-24 Sandport Pl, EH6 6EW
Loudons Cafe– At Loudons you can get your breakfast/brunch right up to 4pm on weekends. If you're an egg fan, they have nine varieties of poached eggs. Anyone like the sound of the Cajun Spiced Benny – poached eggs, avocado and bacon topped with Cajun hollandaise sauce and spiced crayfish? Or how about the Benny Hoots Mon – Haggis, black pudding and bacon topped with poached eggs and homemade tomato ketchup chutney? Yeah, thought so. All bread and cakes are made on the premises too.
94B Fountainbridge, EH3 9QA
Polentoni– If you're good at puzzles, or maybe just speak Italian, you may have already guessed from the name that Polentoni is a cafe with lots of polenta on the menu. As is the norm for Italian food, everything here is simple, fresh and full of flavour. The small deli/cafe's breakfast staples and lunches all have an Italian twist – smoked mozzarella and pesto omelette, for example – and they also have homemade cakes and Italian deli meats and cheeses you can buy to take away.
38 Easter Rd, EH7 5RG
IIIIIIIIIIIIIIIIIIIIIIIIIIIIIIIIIIIIIIIIIIIIIIIIIIIIIIIIIIIIIIIIIIIIIIIIIIIIIIIIIIIIIIIIIIIIIIIIIIIIIIIIIIIIIIIIIIIIIIIIIIIIIIIIIIIIIIIIIIIIIIII
Burgers
"Hamburgers – the cornerstone of any nutritious breakfast" – Quentin Tarantino
Holyrood 9A*– Well known for its dedication to beer (see above), Holyrood 9A is a laid-back pub that also rules when it comes to burgers. They call them 'gourmet' but I just call them 'proper' burgers, minus the gimmicks. There's more than ten to choose from and all the burger patties and buns are gluten free.
9A Holyrood Rd, EH8 8AE 
Bread Meats Bread* – This is the kind of place you'll leave having slaughtered a whole week's worth of calories, contributed significantly to a blocked artery or two in your dotage and probably slathered your shirt and your forearms with rivers of grease. Sounds great doesn't it? If you're totally nuts, you can try their Lothian Burger, which comes with a doughnut for a bun.
92 Lothian Rd, EH3 9BE
The Smoke Stack*– This little place on Broughton Street would probably rather be known for its dedication to steaks, but I'm including it here because it does a damn fine, juicy as you like chicken burger. Do you know how rare it is to get a good chicken burger? I'm telling you – very.
53-55 Broughton St, EH1 3RJ
IIIIIIIIIIIIIIIIIIIIIIIIIIIIIIIIIIIIIIIIIIIIIIIIIIIIIIIIIIIIIIIIIIIIIIIIIIIIIIIIIIIIIIIIIIIIIIIIIIIIIIIIIIIIIIIIIIIIIIIIIIIIIIIIIIIIIIIIIIIIIIIIII
Cafe
Edinburgh Larder– This uber popular café just off The Royal Mile serves fresh, wholesome, seasonal, local food that is constantly rated top of Edinburgh 'best of' lists.
15 Blackfriars St, EH1 1NB
Caffeine Drip– A South African owned café and bakery where, along with all the regular staples, you'll also get a few South African twists like Boerewors (sausage)and Chakalaka (a spicy vegetable dish). Vegans and gluten free customers also love the many options for them on the menu.
10 Melville Pl, EH3 7PR
Piecebox Cafe– A neighbourhood café in Polwarth that is kid friendly, dog friendly, has an in-house bakery and a liquor licence. Meaning they are also a bar I guess.
2 Polwarth Cres, EH11 1HW
IIIIIIIIIIIIIIIIIIIIIIIIIIIIIIIIIIIIIIIIIIIIIIIIIIIIIIIIIIIIIIIIIIIIIIIIIIIIIIIIIIIIIIIIIIIIIIIIIIIIIIIIIIIIIIIIIIIIIIIIIIIIIIIIIIIIIIIIIIIIIIIIIII
Cheap Eats
Taste of Italy*– Part of the very successful Vittoria Group (they have 5 restaurants in Edinburgh) Taste of Italy is their most relaxed, pared down place, an Italian caff where you'll get tasty pizza, pasta, burgers and salads at bargain prices. In fact nothing here is over £9 and most dishes are around £5-£8.
9 Baxter's Pl, EH1 3AF
Ting Thai Caravan*– More than five years after opening, Ting Thai Caravan still regularly has queues out the door. It also has communal seating on long wooden benches, most of the food comes in cardboard boxes and it's cash only. They are not bad things, just letting you know.
8-9 Teviot Pl, EH1 2RA
Union of Genius*– I was never particularly excited by soup, but in Edinburgh it's so revered it's practically a national dish. Ask anyone where to get the best in the city and they'll undoubtedly send you off to Union of Genius, who have a rotating menu of six daily soups and three breads to mop it all up with.
8 Forrest Rd, EH1 2QN
IIIIIIIIIIIIIIIIIIIIIIIIIIIIIIIIIIIIIIIIIIIIIIIIIIIIIIIIIIIIIIIIIIIIIIIIIIIIIIIIIIIIIIIIIIIIIIIIIIIIIIIIIIIIIIIIIIIIIIIIIIIIIIIIIIIIIIIIIIIIIIIIIIII
Chinese
"I may have ruined my life, but at least I got to eat some really good Chinese food." Louis Sachar
B&D's Kitchen– If you didn't know better you'd probably just keep walking past B&D's Kitchen, so nondescript is their shop from the street. This family run little place is basic on decor but not on flavour, getting raves for their Cantonese style dishes and friendly service. They also have a specialty menu that needs one to two days' notice, so check out the menu beforehand in case any of those take your fancy.
214 Dalry Rd, EH11 2ES
Chop Chop*– Go for their famous dumplings. Not so much the service. Or ambience.
248 Haymarket Terrace, EH3 8DT
Stack Dim Sum Bar– Go for the enormous selection of tasty Dim Sum. Not so much the service. Or ambience.
42 Dalmeny St, EH6 8RG
IIIIIIIIIIIIIIIIIIIIIIIIIIIIIIIIIIIIIIIIIIIIIIIIIIIIIIIIIIIIIIIIIIIIIIIIIIIIIIIIIIIIIIIIIIIIIIIIIIIIIIIIIIIIIIIIIIIIIIIIIIIIIIIIIIIIIIIIIIIIIIIIIIIIIIIIII
Chippy
I've got a problem with my legs. I just can't walk past a chippy. Ricky Hatton
Gorgie Fish Bar*– This is a family run, super friendly chippy with a huge selection of all the usual chip shop regulars, plus pizza, pasta, burgers and kebabs. It's right next to Tynecastle Stadium, so on game days prepare for it to be packed.
136-138 Gorgie Rd, EH11 2NS
L'Alba D'oro– Can a chippy be sophisticated? It seems yes. I mean look, it even has two apostrophes in the one name. L'Alba D'Oro is also home to the oft lauded breadcrumbed fillet of fish.
7 Henderson Row, EH3 5DH
Caffe Piccante– Otherwise known as the Disco Chippy (it has a resident DJ and distinctive purple lighting) this place is open late on Fridays and Saturdays, a godsend to many a tipsy party goer around the Broughton Street area looking for some chips, cheese and gravy to quell their late night munchie attacks.
19 Broughton St, EH1 3JU
IIIIIIIIIIIIIIIIIIIIIIIIIIIIIIIIIIIIIIIIIIIIIIIIIIIIIIIIIIIIIIIIIIIIIIIIIIIIIIIIIIIIIIIIIIIIIIIIIIIIIIIIIIIIIIIIIIIIIIIIIIIIIIIIIIIIIIIIIIIIIII
Cocktails 
"I drink to make other people more interesting." Ernest Hemingway
Lucky Liquor Co*– Lucky Liquor Co is a cosy space with a sort of themed drink menu – 13 seasonal concoctions dreamt up each quarter using alcohol you've probably never heard of, served up by friendly, patient staff who are happy to explain it all.
39A Queen St, EH2 3NH
Paradise Palms*– There's so many random things on the walls and ceiling of Paradise Palms it almost defies any coherent theme, although they lean toward 'tropical'. Their sharing teapot cocktails (ie: they're served in a tea pot), frequent live cabaret shows and 'vegan soul food' make it a lot of fun any day of the week.
41 Lothian St, EH1 1HB
Bryant and Mack– It may be yet another (New York detective themed) hidden, speakeasy, oldy-world establishment, but it's also very serious about the art of cocktails. Bryant and Mack only opened in 2016 but is already winning awards. I'm sure they'll be much more excited to be on this prestigious Stuff Edinburgh list though, won't they?
87–89 Rose Street North Lane, EH2 3DT
IIIIIIIIIIIIIIIIIIIIIIIIIIIIIIIIIIIIIIIIIIIIIIIIIIIIIIIIIIIIIIIIIIIIIIIIIIIIIIIIIIIIIIIIIIIIIIIIIIIIIIIIIIIIIIIIIIIIIIIIIIIIIIIIIIIIIIIIIIIIIIIIIII
Coffee
"I like coffee because it gives me the illusion that I might be awake." Lewis Black
Artisan Roast*– As much as I'm sick of the word 'artisan' I can't hold it against Artisan Roast here as they are probably the reason Edinburgh has such a roaring independent, ahem, artisan coffee scene. They are so successful these days you can find them at three locations and their beans stocked in many other cafes around town.
57 Broughton St, EH1 3RJ
138 Bruntsfield Pl, EH10 4ER
100A Raeburn Pl, EH4 1HH
Brew Lab – Taking their coffee skills to scientific levels, Brew Lab has specialty single origin espresso and filter coffee. True to their name they also have an on-site coffee lab where you can book your own brewing lesson.
6-8 South College Street,EH8 9AA
Steampunk Coffee*– Based in North Berwick, Steampunk's orange VW van (Mavis) can be found each Sunday at Edinburgh's Stockbridge Market.
1 Saunders St, EH3 6TQ
IIIIIIIIIIIIIIIIIIIIIIIIIIIIIIIIIIIIIIIIIIIIIIIIIIIIIIIIIIIIIIIIIIIIIIIIIIIIIIIIIIIIIIIIIIIIIIIIIIIIIIIIIIIIIIIIIIIIIIIIIIIIIIIIIIIIIIIIIIIIIIIIIII
Comfort Food
"All food is comfort food. Maybe I just like to chew." Lewis Black
Mums Great Comfort Food*– What a perfect business name. If you manage to get a table at Mums (it's always busy) you can get your comfort on with British staples like breakfast fry ups, pancakes, bangers and mash (3 types of sausage and eleven types of mash), pies, casseroles and mac 'n cheese.
4A Forrest Rd, EH1 2QN
Makars Gourmet Mash Bar*– Makars does homemade comfort food of the sort your granny would have cooked, if she were Scottish. There's Ox-Cheek, Lamb Shank, Skirlie (a traditional oatmeal and onion dish), Haggis, Neeps and Tatties and lots of (sort of) posh sausage and mash varieties. It may be located on The Mound next to the slightly swanky Whiski Rooms, but don't worry, Makars is a chilled out, down to earth place.
9 N Bank St, EH1 2LP
The Other Place*– The Other Place is a gastro pub in Canon Mills serving comfort food, US style. Here you can feel the love with gourmet hot dogs, burgers, mac 'n cheese, buffalo wings or Cajun chicken. And if that's not comfy enough, there's around 150 varieties of bottled craft beer. 150? Lordy.
2-4 Broughton Rd, EH7 4EB
IIIIIIIIIIIIIIIIIIIIIIIIIIIIIIIIIIIIIIIIIIIIIIIIIIIIIIIIIIIIIIIIIIIIIIIIIIIIIIIIIIIIIIIIIIIIIIIIIIIIIIIIIIIIIIIIIIIIIIIIIIIIIIIIIIIIIIIIIIIIIIIIIIII
Cupcakes
Cuckoo's Bakery*– Arguably Edinburgh's reigning champions of cupcakery. As well as daily regulars like red velvet (winner of best cake in Edinburgh 4 years in a row – ooo errr), sticky toffee pudding and raspberry and white chocolate, Cuckoos are especially good at themed cupcakes during holiday periods and special events.
150 Dundas St, EH3 5DQ
Bibi's*– Another long established bakery, Bibi's has a take away only shop on Hanover Street in the centre of town that positively bursts with the smell of baked goods. I tell you, if you're feeling a bit weak, just walk into Bibi's and take a good, deep breath. That alone would be enough to shoot your blood sugar levels back up to normal.
37 Hanover St, EH2 2PJ
Eat Me Ltd*– Alcoholic cupcakes? Yes please. Eat ME has an Alice in Wonderland theme – the Mad Hatter is a Long Island Iced Tea, the Cheshire Cat is a Cosmopolitan and so on. Each lot of 12 cupcakes only has two full measures of alcohol but you can ask for stronger if you want.
No store yet. Contact is via the website.
IIIIIIIIIIIIIIIIIIIIIIIIIIIIIIIIIIIIIIIIIIIIIIIIIIIIIIIIIIIIIIIIIIIIIIIIIIIIIIIIIIIIIIIIIIIIIIIIIIIIIIIIIIIIIIIIIIIIIIIIIIIIIIIIIIIIIIIIIIIIIIIIIIII
Curry
Mosque Kitchen– The set up here is canteen style; economical on the wallet but not on taste. Full of families, students and business people doing lunch, it's yet another Edinburgh institution.
31-33 Nicolson Square, EH8 9BX
Gurkha Cafe– An Indian and Nepalese restaurant just off The Royal Mile with beautiful presentation and excellent food. A warning though – when they say a dish is hot, believe them.
27 Cockburn St, EH1 1BP
Kismot– Truly a (Bangladeshi) family run restaurant with Mum, Dad and even Uncles serving and cooking. Here you'll find friendly staff, large portions and curries that are often rated the best in the city.
29 St. Leonard's St, EH8 9QN
IIIIIIIIIIIIIIIIIIIIIIIIIIIIIIIIIIIIIIIIIIIIIIIIIIIIIIIIIIIIIIIIIIIIIIIIIIIIIIIIIIIIIIIIIIIIIIIIIIIIIIIIIIIIIIIIIIIIIIIIIIIIIIIIIIIIIIIIIIIIIIIIIIII
Dessert
"Any man who eats dessert is not drinking enough." Ernest Hemingway
Coro the Chocolate Cafe– Coro has crepes, pancakes, waffles, fondue, cakes and ice cream, all with varying degrees and flavours of chocolate lathered, sprayed, dipped and poured all over it. Ohhh, it's enough to make my teeth fall out just thinking about it.
5 Howard St, EH3 5JP
13 Frederick St, EH2 2EY
Mary's Milk Bar*– Mary's is an old school dessert shop that pays homage to the milk bar cafes that sprung up across Britain in the 50's and 60's. At Mary's you can take your pick from her handmade gelato and chocolate, with both classic and eclectic flavours that change regularly and often sell out.
19 Grassmarket, EH1 2HS
Artisan Cheesecake– Cheesecake. Lots of it. With, you know, different (artisanal?) flavours. They have a roster of over 300 cheesecakes, so if you're some kind of Cheesecake Spotter, it'll be quite a few visits before you see them repeating themselves.
104 Bruntsfield Pl, EH10 4ES
IIIIIIIIIIIIIIIIIIIIIIIIIIIIIIIIIIIIIIIIIIIIIIIIIIIIIIIIIIIIIIIIIIIIIIIIIIIIIIIIIIIIIIIIIIIIIIIIIIIIIIIIIIIIIIIIIIIIIIIIIIIIIIIIIIIIIIIIIIIIIIIIIIIIIIII
Dietry Restrictions
Tupiniquim*– Edinburgh's favourite Police Box business will serve you up gluten free crepes with a Brazilian twist. They also do juices from their Juice Bike and often have music acts performing at their small event space behind the box which you can listen to while you wait for your freshly made crepe.
Green Police Box, Lauriston Place, EH3 9AU
Sugar Daddy's*– Sugar Daddy's is a Rockabilly themed bakery in Canon Mills churning out cakes, cookies and slices that prove once and for all gluten free doesn't have to mean taste free. They also have dairy free, egg free, nut free and vegan choices. But even if your digestive system can handle anything, you'll love Sugar Daddy's too.
5 Rodney St, EH7 4EN
Grams– Grams started as a pop up, selling their raw, vegan, dairy free, gluten free and refined-sugar free cakes all around town. But now have their own shop across from Haymarket station. For all the sceptics, if all those 'free' ingredients have you rolling your eyes, once you see the brightly coloured, geometrically perfect cakes, you'll be hard pressed to resist trying them. Grams also do meal prep boxes so you can easily put together your own healthy meals.
16 Clifton Terrace, EH12 5JZ
IIIIIIIIIIIIIIIIIIIIIIIIIIIIIIIIIIIIIIIIIIIIIIIIIIIIIIIIIIIIIIIIIIIIIIIIIIIIIIIIIIIIIIIIIIIIIIIIIIIIIIIIIIIIIIIIIIIIIIIIIIIIIIIIIIIIIIIIIIIIIIIIIIIII
Doughnuts
"Mmmm… donuts." Homer Simpson
Twelve Triangles*– Undoubtedly delicious and inventive flavours like peanut butter cream cheese, lemon ricotta, maple pecan custard and coconut caramel make these the best doughnuts in Edinburgh. They tend to run out each day, so don't leave it till late in the day.
90 Brunswick St, EH7 4AQ
The Bearded Baker– Also full of fancy gourmet flavours in the same vein as Twelve Triangles. And also prone to running out if you're not quick.
46 Rodney St, EH7 4DX
The Sicilian Pastry Shop* – The Sicilian Pasty Shop has simple, old style jam doughnuts and caramel doughnut and Cartocci (a cylindrical, sugar coated doughnut) that are both filled with their scrummy creme anglaise, something that is unfortunately not ridiculously sweet, so you could probably eat two, no problem. At only 90p, they're ridiculously good value.
14-16 Albert St, EH7 5LG
IIIIIIIIIIIIIIIIIIIIIIIIIIIIIIIIIIIIIIIIIIIIIIIIIIIIIIIIIIIIIIIIIIIIIIIIIIIIIIIIIIIIIIIIIIIIIIIIIIIIIIIIIIIIIIIIIIIIIIIIIIIIIIIIIIIIIIIIIIIIIIIIIIII
Fine Dining
Timberyard– As the name suggests, the building where you'll find Timberyard used to be the spot where one could purchase a chunk of wood or two. The menu here is set, although you do get to choose between 4, 6 or 8 courses. Descriptions of the food are just as clean, airy and Scandinavian as the interior design – does 'Duck, Beetroot, Tarragon, Chard' sound appealing, anyone?
10 Lady Lawson St, EH3 9DS
The Scran and Scallie – Now this is my kind of fine dining; a pub. Tom Kitchin's side project to his other 'proper' fine dining Edinburgh restaurant will give you comfort food pub classics but with sophistication level turned right up.
1 Comely Bank Rd, Stockbridge, EH4 1DT
Wedgewood– Unpretentious fine dining with a Scottish influenced menu. And even though that description doesn't sound very enthusiastic, Wedgewood wins constant raves and endless awards for being exactly that; a relaxed and friendly classy dining room serving top quality Scottish dishes.
267 Canongate, EH8 8BQ
IIIIIIIIIIIIIIIIIIIIIIIIIIIIIIIIIIIIIIIIIIIIIIIIIIIIIIIIIIIIIIIIIIIIIIIIIIIIIIIIIIIIIIIIIIIIIIIIIIIIIIIIIIIIIIIIIIIIIIIIIIIIIIIIIIIIIIIIIIIIIIIIIIII
Fish and Chips
The Cafe Royal*– Open from 1863, The Cafe Royal is a traditional Victorian bar and restaurant known both for its ornate interior and top quality oysters. As well as more hoity toity seafood dishes, you can also get good old battered haddock and mushy peas from the bar menu. Expect that to be quite a few steps up from a chippy version.
19 W Register St, EH2 2AA
Leith Depot*– This lovely small pub serves mainly Pescatarian and Vegetarian dishes. I am neither, but I can still say every meal I've had here has been delicious. A friend of mine gave it the lofty honour of best fish and chips he's had anywhere in Edinburgh. The service is always top notch too.
140 Leith Walk, EH6 5DT
City Restaurant*– City Restaurant is like a bigger, slicker version of a greasy spoon and their fish and chips are a favourite of many locals and hordes of festival visitors each August.
35 Nicolson St, EH8 9BE
IIIIIIIIIIIIIIIIIIIIIIIIIIIIIIIIIIIIIIIIIIIIIIIIIIIIIIIIIIIIIIIIIIIIIIIIIIIIIIIIIIIIIIIIIIIIIIIIIIIIIIIIIIIIIIIIIIIIIIIIIIIIIIIIIIIIIIIIIIIIIIIIII
Food Trucks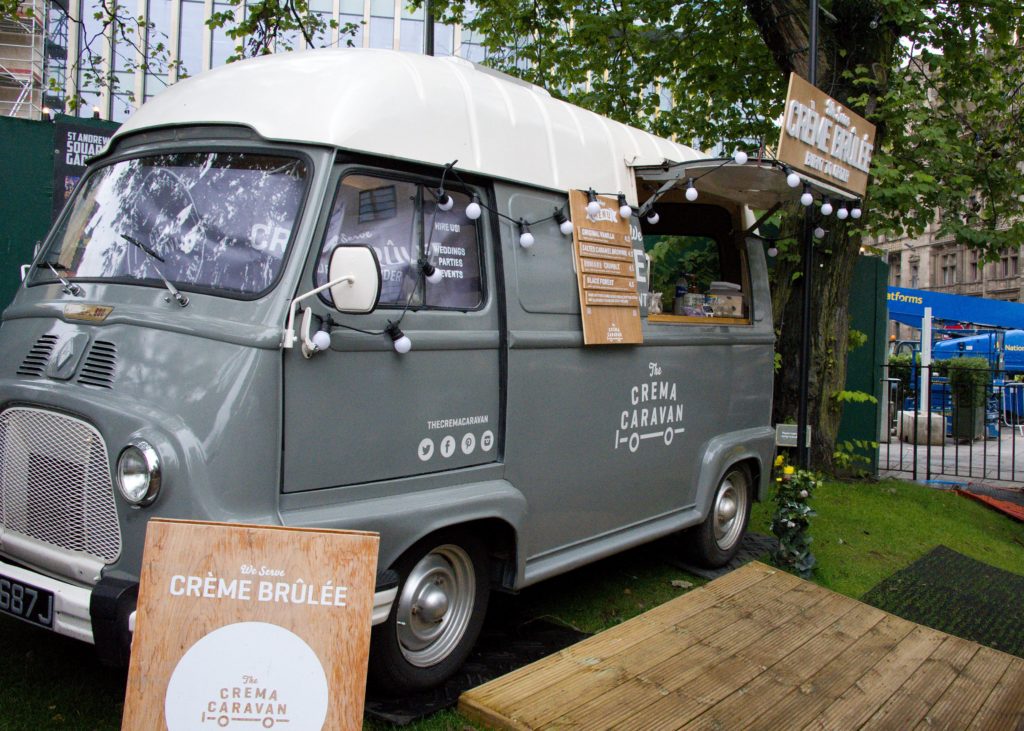 Jones & Son Bespoke BBQ*– Jones and Son serves up slow cooked BBQ burgers to die for. If I didn't already have this food truck section, they would definitely be in the best burgers list instead. Choose from Cheeseburgers, Double Cheeseburger with Black pudding, BLT,  Buttermilk Chicken, or for the veggies a Panko crusted Mushroom burger. An added taste bonus is they do their own chutneys, rubs and jams.
The Crema Caravan*– This is Scotland's (and maybe the UK??) first Creme Brulee food truck, and they do them very, very well. Choose between flavours like Salted Caramel, Apple Crumble, Strawberry Meringue, Cardamom and Orange, Peanut Butter Blondie or Black Forrest.
Rost Eats*– Think sliders, burgers and Bao Buns but then turn up the gourmet factor with game, top quality fish (mussels/smoked salmon) and homemade deli meats. Rost Eats does Venison Pastrami Burgers, Peanut Butter Crunch Pheasant Burgers, Moules et Frittes and Wild Mushroom and Parmesan Arancini. Mmm mmmm.
IIIIIIIIIIIIIIIIIIIIIIIIIIIIIIIIIIIIIIIIIIIIIIIIIIIIIIIIIIIIIIIIIIIIIIIIIIIIIIIIIIIIIIIIIIIIIIIIIIIIIIIIIIIIIIIIIIIIIIIIIIIIIIIIIIIIIIIIIIIIIIIIIIII
Global Flavours
Under the Stairs*– Under the Stairs is indeed found under some stairs, in the basement of a traditional tenement building just off Grassmarket. The front half looks like your granny's lounge, the back is more of a traditional restaurant and the menu is full of choices like 'Pink grapefruit, watercress, red chicory & sumac salad' or 'Game burger, Raclette, beetroot & horseradish relish, crispy onions'.
3A Merchant St, EH1 2QD
Apiary/Three Birds/Educated Flea– Three sister restaurants with very similar menus doing the rounds of North Africa, Asia, India and a smattering of Scotland. What you'll find here that earns them my global label are menu listings like 'duck carpaccio, gooseberry, pickled wild mushroom and gochujang mayo' and 'Jerk marinated tofu, baked Caribbean crispy vegetables, mango & bean salad, toasted cashew nuts and pineapple dressing'.
Apiary – 33 Newington Rd, EH9 1QR,
Three Birds – 3-5 Viewforth, EH10 4JD
Educated Flea – 32B Broughton St, EH1 3SB
Café Nom De Plume*– It's not just the menu in this café that's eclectic, but the décor and customer base too. The cosy café has a little bit of everything on their menu and a definite homemade vibe, so everybody should be able to find something they like, no matter how fussy they are.
60 Broughton St, EH1 3SA
IIIIIIIIIIIIIIIIIIIIIIIIIIIIIIIIIIIIIIIIIIIIIIIIIIIIIIIIIIIIIIIIIIIIIIIIIIIIIIIIIIIIIIIIIIIIIIIIIIIIIIIIIIIIIIIIIIIIIIIIIIIIIIIIIIIIIIIIIIIIIIIIIIIIIII
Haggis
Arcade Haggis and Whisky House*– Here you'll get a consistently tasty traditional Scottish menu like a stack of Robbie Burns Haggis Neeps and Tatties or a Princess Di twist of Chicken Breast Stuffed with haggis, wrapped in bacon and smothered in a cream sauce. The big bonus here is the Secret Polish Vodka Bar upstairs with around a hundred flavours of Vodka to try.
48 Cockburn St, EH1 1PB
The Black Fox*– Why is a Leith burger and craft beer joint on the Haggis list? Well, if the thought of a huge chunk of a haggis tower gives you the heebie jeebies but you still want to be able to say you tried it, haggis bon bons are your answer – crumbed, deep-fried little balls of the peppery black stuff. The Black Fox does a really tasty, crispy, non-greasy version.
17 Albert Pl, EH7 5HN
Los Cardos*– And again, you may ask yourself why have I put a Mexican take-away on the best Haggis list. Because they do a Haggis Burrito that is praised all over town, even by Irvine Welsh! Who said Haggis has to just be served one way?
281 Leith Walk, EH6 8PD
IIIIIIIIIIIIIIIIIIIIIIIIIIIIIIIIIIIIIIIIIIIIIIIIIIIIIIIIIIIIIIIIIIIIIIIIIIIIIIIIIIIIIIIIIIIIIIIIIIIIIIIIIIIIIIIIIIIIIIIIIIIIIIIIIIIIIIIIIIIIIIIIIIIIIIII
Hangover Food
"I drink too much. The last time I gave a urine sample it had an olive in it." Rodney Dangerfield
Los Cardos*– Deja vu? Blame the alphabet. I can't help it if hangover comes after haggis. I've been in Los Cardos so times now with a hangover the owner knows what I've been up to the second he sees me coming. How embarrassing. My go to here is the streak fajita burrito, but like I said above, people swear by the haggis version. Whatever gets you through guys.
281 Leith Walk, EH6 8PD, UK
The City Cafe– Home of the Ultimate Burger Challenge, The City Café is an American diner style restaurant serving breakfast until 10pm. Choose from vanilla pancakes, waffles, mac n cheese, burgers and chilli con carne and know that they all come in huge, hangover size portions. But that challenge – I seriously wouldn't try it on a dodgy tummy.
19 Blair St, EH1 1QR
The Piemaker– Here you go, this'll sop up some of that alcohol for you. The Piemaker is a value for money takeaway (well there's a few window seats if you insist) with quality pies, and not just your regular Steak or Shepherds, but also Mac n Cheese, Chilli Beef and Chicken and Mushroom. They also have sweet versions like apple and blackberry, cherry, and apple and raspberry.
38 South Bridge, EH1 1LL
IIIIIIIIIIIIIIIIIIIIIIIIIIIIIIIIIIIIIIIIIIIIIIIIIIIIIIIIIIIIIIIIIIIIIIIIIIIIIIIIIIIIIIIIIIIIIIIIIIIIIIIIIIIIIIIIIIIIIIIIIIIIIIIIIIIIIIIIIIIIIIIII
Healthy
"Happiness is nothing more than good health and a bad memory." Albert Schweitzer
Earthy Market Cafe– Earthy is a cafe located inside a fruit, veg and dairy produce market. The breakfast and lunch menus not surprisingly use all the local, organic ingredients they have right at their fingertips. The vibe too is very much the same as their name
33-41 Ratcliffe Terrace, EH9 1SX
Milk*– Starting off as a small and popular café in Morrison street, Milk have now cornered the market in the gallery cafes and outlets can also be found at the Fruitmarket Gallery, Collective at Calton Hill and Jupiter Artland each summer. What you'll get at any of them are wraps, sandwiches, soups and a few hot choices focusing on local, seasonal and healthy ingredients. But they throw in some homemade cakes too if you also crave a sugar hit.
232 Morrison St, EH3 8EA
Hula Juice Bar*– This bright little juice bar just off Grassmarket has some of the best smoothies and fresh squeezed juices in Edinburgh. They also have a large breakfast, sandwich, soup, salad and cake range and as a bonus, plenty of these are gluten free.
103-105 W Bow, EH1 2JP
IIIIIIIIIIIIIIIIIIIIIIIIIIIIIIIIIIIIIIIIIIIIIIIIIIIIIIIIIIIIIIIIIIIIIIIIIIIIIIIIIIIIIIIIIIIIIIIIIIIIIIIIIIIIIIIIIIIIIIIIIIIIIIIIIIIIIIIIIIIIIIIII
Hot Chocolate
The Chocolate Tree– The Chocolate tree is a specialty chocolate café and the only place in Edinburgh which produces its own 'bean to bar' chocolate. The handmade, organic chocolate they use in their drinks is why a hot chocolate from here is top notch. Flavours include, Haz*elnut, Winter Spice and Rose and Vanilla.
123 Bruntsfield Pl, EH10 4EQ
Mary's Milk Bar*- Modelled on old school cafes popular in Britain in the first half of the twentieth century, Mary's Milk Bar does chocolates, gelato, milk shakes and outrageously decadent ice cream float hot chocolates. As she has such gourmet flavours (see below under ice cream) these hot chocolates are anything but run of the mill.
19 Grassmarket, EH1 2HS
Coro the Chocolate Cafe– Coro is home to the Hot Chocolate Shot – a shot glass full of the melted chocolate of your choice (dark, milk, white) and topped with a sprinkle of chilli, cinnamon, ginger, pepper, paprika or nutmeg. They also have 'normal' hot chocolate too, if you're more of a traditionalist.
5 Howard St, EH3 5JP
13 Frederick St, EH2 2EY
IIIIIIIIIIIIIIIIIIIIIIIIIIIIIIIIIIIIIIIIIIIIIIIIIIIIIIIIIIIIIIIIIIIIIIIIIIIIIIIIIIIIIIIIIIIIIIIIIIIIIIIIIIIIIIIIIIIIIIIIIIIIIIIIIIIIIIIIIIIIIIIIIIII
Hot Dogs
"Noblest of all dogs is the hot dog. It feeds the hand that bites it." Laurence J Peter
The Other Place*– Neighbourhood gastro-pub and makers of their own recipe gourmet venison dogs. The choice is relatively small (a regular, a Scotdog and Chilli Cheese) but the fillings are just that, so filling that I couldn't finish mine. Although I'm pretty sure that's just me.
2-4 Broughton Rd, EH7 4EB
Bubba Q*– Check my listing for these guys under 'BBQ' for more info on the restaurant itself, but hotdog-wise, just know they do them 10 inches long and in eight different varieties.
209-213 High St, EH1 1PE
On the Roll*– Is a Bratwurst a hot dog? Well, it's a sausage on a roll, so I'm saying yes. Normally it's just Edinburgh Uni students and staff enjoying authentic German Bratwurst, Curry Wurst and Krakauer at George Square and Middle Meadows Walk, but come festival time the rest of the world finds On the Roll too.
1 George Square, EH8 9JZ
IIIIIIIIIIIIIIIIIIIIIIIIIIIIIIIIIIIIIIIIIIIIIIIIIIIIIIIIIIIIIIIIIIIIIIIIIIIIIIIIIIIIIIIIIIIIIIIIIIIIIIIIIIIIIIIIIIIIIIIIIIIIIIIIIIIIIIIIIIIIIIIIIII
Ice Cream
"When I'm no longer rapping, I want to open up an ice cream parlour and call myself Scoop Dogg" Snoop Dogg
Mary's Milk Bar*– Mary trained in gelato in Italy (as one does), so you can be sure its authentic, but her flavours are truly original. On any give day you could find yourself having your first ever scoop of coconut and cherry gelato, lemon and thyme or walnut and blue cheese. Or how about chocolate and  basil, drunk prunes and amaretto, lime, chilli and avocado or sweet corn and cracked pepper? One thing's for sure, she's never boring.
19 Grassmarket, EH1 2HS
Overlangshaw Farm Police Box*– Another great Police Box business, and just up the road from Mary's Milk Bar, Overlangshaw Farm's Ice Cream is indeed from their (Scottish Borders) farm. The ice cream is organic, gluten free and made using milk, eggs and fruit from their own cows, chickens and, ummm, paddocks.
The Grassmarket, EH1 2AW
La Cerise– Little known unless you're a Leither, La Cerise is a local cafe patisserie with an owner who is passionate about ice cream. It's all homemade, vegetarian and gluten free.
199-201 Great Jct St, EH6 5LQ
IIIIIIIIIIIIIIIIIIIIIIIIIIIIIIIIIIIIIIIIIIIIIIIIIIIIIIIIIIIIIIIIIIIIIIIIIIIIIIIIIIIIIIIIIIIIIIIIIIIIIIIIIIIIIIIIIIIIIIIIIIIIIIIIIIIIIIIIIIIIIIIIII
Indian
Mother India's Cafe– Homely Mother India's Cafe adheres to the small plate sharing style. It's an Edinburgh locals' favourite, so you'd be wise to book.
3-5 Infirmary St, EH1 1LT
Dishoom*– In the name of transparency, I must admit I don't really at Indian food, but I went to Dishoom anyway and I'm pretty sure of Indian's one of your favourites, you'll like what they do here. Begun in homage to the now almost extinct Iranian cafes in Bombay in the early 1900's, Dishoom too encourages a tapas style of ordering and has a unique and, I'm guessing, authentic early 20th century Indian café decor. Most popular so far is their breakfast, with Kejriwal (fried eggs on chilli cheese toast) and Bacon Naan Rolls among the best sellers.
3a St Andrew Square, EH2 2BD
Bombay Bicycle Club– Although its been around since 1991, new owners in 2016 has meant standards have gone up considerably. Known mostly as a  takeaway, there is however the option to sit in too.
6 Brougham Pl, EH3 9HW
IIIIIIIIIIIIIIIIIIIIIIIIIIIIIIIIIIIIIIIIIIIIIIIIIIIIIIIIIIIIIIIIIIIIIIIIIIIIIIIIIIIIIIIIIIIIIIIIIIIIIIIIIIIIIIIIIIIIIIIIIIIIIIIIIIIIIIIIIIIIIIIIII
Italian
"The trouble with eating Italian food is that five or six days later you're hungry again." George Miller
Locanda De Gusti– An authentic Neapolitan restaurant that, suitably, leans toward seafood dishes. The warm, friendly service and traditional Italian restaurant design will have you feeling like you're actually in Italy. Well, unless you've never been to Italy. Then I guess you'll just feel like you're in Edinburgh.
102 Dalry Rd, EH11 2DW
Nonna's Kitchen– A truly family run restaurant in Morningside that is a favourite with locals and families. Mum and son look after the front of house and Dad is in the kitchen. Head waiter Jimmy, who's been working  is 'famous' for telling you all the day's specials, a mammoth list that he somehow manages to commit to memory
45 Morningside Rd, EH10 4AZ
Civerinos*– At their original location in Hunter Square (they have a second outlet in Forrest Road) Civerinos does Italian street food and pizza. It's simple, tasty and they have some of the best staff and service in Edinburgh.
5 Hunter Square, EH1 1QW
IIIIIIIIIIIIIIIIIIIIIIIIIIIIIIIIIIIIIIIIIIIIIIIIIIIIIIIIIIIIIIIIIIIIIIIIIIIIIIIIIIIIIIIIIIIIIIIIIIIIIIIIIIIIIIIIIIIIIIIIIIIIIIIIIIIIIIIIIIIIIIIIIIIIIIII
Japanese
Harajuku Kitchen– This is a modern, inventive and AA Rosette winning Japanese restaurant where choose a few small plates, tapas style. Is it just me, or is this small plates trend everywhere in Edinburgh right now? The high quality is obvious but thankfully it's served in a friendly, relaxed atmosphere. You can also check them out every Sunday at the Stockbridge Market, where there's a queue all day for their gyoza (dumplings).
10 Gillespie Pl, EH10 4HS, UK
Sushiya– Tiny, bustling Sushiya is a sushi and noodle bar in Dalry, said by many to be better than many other sushi bars around the world (except Japan one assumes). Who knows if they're actually qualified to proclaim such things, but such high praise means one thing – booking is a must.
19 Dalry Rd, EH11 2BQ, UK
Maki Maki– These guys now have three locations in Edinburgh, the other two each called Maki and Ramen. Maki Maki is different in that it's the only restaurant in Edinburgh that has an Omakase option. That's a 12 course set menu decided by the chef on the day, who you can watch making up the dishes right in front of you.
75 Nicolson Street, EH8 9BZ
IIIIIIIIIIIIIIIIIIIIIIIIIIIIIIIIIIIIIIIIIIIIIIIIIIIIIIIIIIIIIIIIIIIIIIIIIIIIIIIIIIIIIIIIIIIIIIIIIIIIIIIIIIIIIIIIIIIIIIIIIIIIIIIIIIIIIIIIIIIIIIIIIIIII
Mexican
Bodega*– Top quality ingredients and elegant presentation mean Bodega's ever changing menu manages to lift the humble taco a notch or three above its street food origins. The place is tiny and only serves dinner, so – guess what? – you most definitely need to book.
62 Elm Row, EH7 4AQ, UK
The Basement*– It's a – wait for it – basement bar with a restaurant section that does all your Mexican favourites -tequila, mojitos, tacos, burritos, enchiladas and, for a lot of locals', it has their favourite fajitas in town. It's usually packed, but on the ball staff ensure service is swift.
10a-12a Broughton St, EH1 3RH
Bonnie Burrito– Bonnie's is both a restaurant and a food truck. Stand out menu item is their Irn Bru pulled pork plus there's the option to combine your meat – Chicken and Irn Bru or Haggis and chicken? Go crazy kids.
82 South Clerk St, EH8 9PT
IIIIIIIIIIIIIIIIIIIIIIIIIIIIIIIIIIIIIIIIIIIIIIIIIIIIIIIIIIIIIIIIIIIIIIIIIIIIIIIIIIIIIIIIIIIIIIIIIIIIIIIIIIIIIIIIIIIIIIIIIIIIIIIIIIIIIIIIIIIIIIIIIIIII
Middle Eastern
Hanams– With super bright decor, shisha pipes and non-alcoholic beers and cider, the dishes here are mostly Kurdish, like Baba ganoush, Soujuk and Biryani. It benefits from a great location too, where you can watch people out and about on Victoria Street.
3 Johnston Terrace, EH1 2PW
Verdo Turkish BBQ– Kebab is king here, but other Turkish favourites like Borek, Kofte and a traditional Tavuk Guvec are also good bets.
21 Newington Rd, EH9 1QS
Beirut – Is this Edinburgh's only dedicated Lebanese restaurant? Maybe. Come here for authentic Tabbouleh, Hommus, Falafel and Shawarma.
24 Nicolson Square, EH8 9B
IIIIIIIIIIIIIIIIIIIIIIIIIIIIIIIIIIIIIIIIIIIIIIIIIIIIIIIIIIIIIIIIIIIIIIIIIIIIIIIIIIIIIIIIIIIIIIIIIIIIIIIIIIIIIIIIIIIIIIIIIIIIIIIIIIIIIIIIIIIIIIIIIIIIIII
Pancakes
"The laziest man I ever met put popcorn in his pancakes so they would turn over by themselves." W C. Fields
The Haven– A homely cafe in Newhaven turning out delicious cakes and fried breakfasts, including half the city's favourite, fluffiest maple syrup and bacon pancakes. Well maybe not literally half, but a lot in any case.
9 Anchorfield,EH6 4JG
The Treehouse Café – This Tollcross cafe somewhat specialises in pancakes and you can have themm as a sort of bacon and egg pancake sandwich, or go old school with peanut butter, Nutella, berries and ice cream or maple syrup.
44 Leven St, EH3 9LJ
Loudons Cafe– Pancakes in this otherwise health conscious brunch spot are 'American' (maple syrup, bacon and banana) or gluten free 'Fruits of the Forest Superfood Pancakes' (garlic, ginger and chilli, creamed corn hummus, sour cream, mixed herbs and herb oil).
94B Fountainbridge, EH3 9QA
IIIIIIIIIIIIIIIIIIIIIIIIIIIIIIIIIIIIIIIIIIIIIIIIIIIIIIIIIIIIIIIIIIIIIIIIIIIIIIIIIIIIIIIIIIIIIIIIIIIIIIIIIIIIIIIIIIIIIIIIIIIIIIIIIIIIIIIIIIIIIIIIIIIIIII
Pastry/Cakes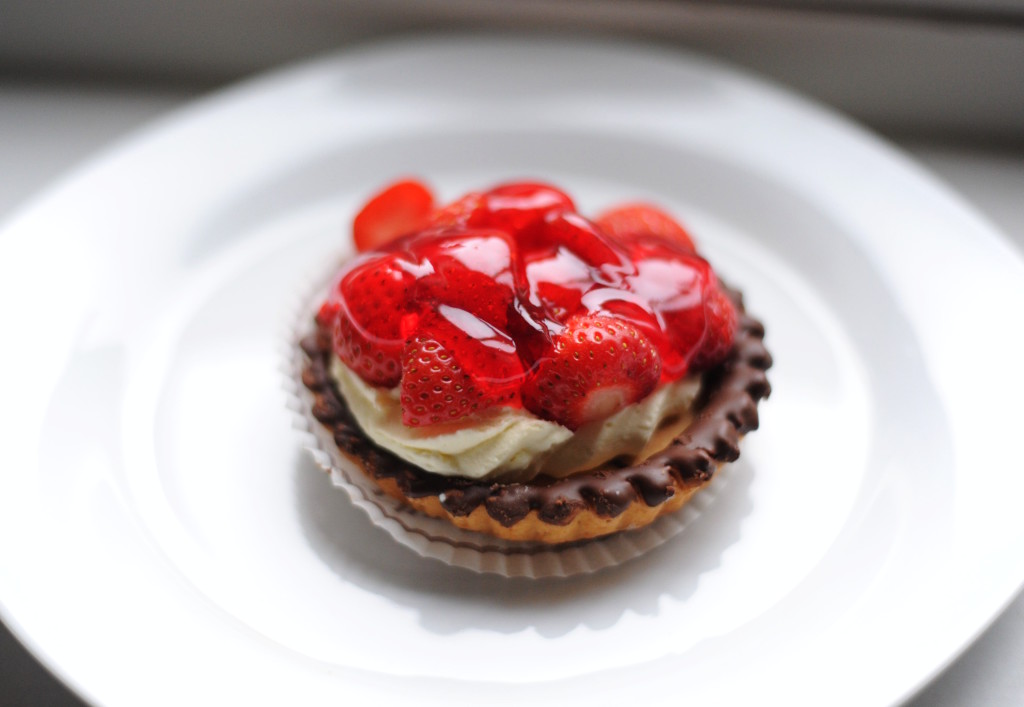 The Sicilian Pastry Shop*– Read enough articles on Stuff Edinburgh and you'll be left with no doubt of what I think of The Sicilian Pastry Shop (ie: I like them). I mean I even gave some of their products their own little photo shoot (see one example above). They somehow pack a gazillian types of cakes and pastries into a tiny, busy shop and the insanely low prices mean you can try more than one. Yes please.
14-16 Albert St, EH7 5LG
Le Café Bleu*– Quirky? Ah, yes. One just has to take a look at the giant toy bear near the window to gather that. Le Café Bleu has a Belgian owner who spent time learning all things pastry in France and now runs this unassuming place all by himself. Cakes are top quality and change daily.
62 West Port, EH1 2LE 
A friendly little café that specialises in Portuguese cakes and pastries, Casa Amiga has what locals would no doubt unanimously vote the best Pasteis de Nata (egg custard tarts) in Edinburgh. And rightly so, since they were invented in Lisbon. There's other equally delicious but less well known Portuguese specialties to try too, both sweet and savoury.
294 Leith Walk, EH6 5BX
IIIIIIIIIIIIIIIIIIIIIIIIIIIIIIIIIIIIIIIIIIIIIIIIIIIIIIIIIIIIIIIIIIIIIIIIIIIIIIIIIIIIIIIIIIIIIIIIIIIIIIIIIIIIIIIIIIIIIIIIIIIIIIIIIIIIIIIIIIIIIIIIIIIIIII
Pizza
Civerinos Slice*– An offshoot of their original Civerinos pizza restaurant in Hunters Square, Civerinos Slice does – surprise – pizza slices, 20 enormous inches of slices – surprise again! This second outlet has the same funky upbeat atmosphere as the original and yet more amazing staff. Don't forget to leave room for the zeppole.
49 Forrest Rd, EH1 2QP
Pizzeria 1926– The sister to Locanda De Gusti (see the Italian section), you know you're getting authentic Naples style pizza here. Or if you didn't, trust me you are. And all under £10. Outrageous.
85 Dalry Rd, EH11 2AA
Dough* – Here you can order a whole pizza for delivery or choose a piece by the slice if you're just walking by and the munchies hit. Bonus infused oils to use for free.
172 Rose St, EH2 4BA
IIIIIIIIIIIIIIIIIIIIIIIIIIIIIIIIIIIIIIIIIIIIIIIIIIIIIIIIIIIIIIIIIIIIIIIIIIIIIIIIIIIIIIIIIIIIIIIIIIIIIIIIIIIIIIIIIIIIIIIIIIIIIIIIIIIIIIIIIIIIIIIIIIII
Pub Grub
The Fountain*– A major renovation a few years ago turned what was one of Edinburgh's roughest pubs into a stylish neighbourhood bar/restaurant. And the improvements stretched to the kitchen as well. Expect upscaled pub regulars like fish and chips, burgers and lamb, but also a few Asian and the Middle Eastern inspired choices too.
131 Dundee St, EH11 1AX
Teuchters Landing*– Teuchters serve classic Scottish winter warmers – Cullen Skink, soup of the day, Stovies, Haggis Neeps and Tatties – in a mug. Yep, a mug. And there's also Curry, Mac n Cheese, Risotto or chips, in a mug. They do have things on plates too, pub grub faves like burgers, hot dogs and fish and chips, and they've also got oodles of seafood to choose from. Despite there being lots of indoor and outdoor seating (including a floating pontoon on the water), be warned, it gets super busy on a nice day and getting served for food and drinks at the bar can take up to half an hour at times. If the sun's out, bring some patience with you.
1c Dock Pl, EH6 6LU
The Bailie Bar*– Perhaps surprising since it's located in well-to-do Stockbridge, The Baillie is an unpretentious, sort of rough around the edges, no frills locals bar with sports on the telly in the front and a back dining room that serves up old pub favourites. Most meals are around the £10 mark and here you'll get nachos, toasties. lasagne, burgers, steak, mussels and of course, fish and chips.
IIIIIIIIIIIIIIIIIIIIIIIIIIIIIIIIIIIIIIIIIIIIIIIIIIIIIIIIIIIIIIIIIIIIIIIIIIIIIIIIIIIIIIIIIIIIIIIIIIIIIIIIIIIIIIIIIIIIIIIIIIIIIIIIIIIIIIIIIIIIIIIIIIIIIIII
Sandwiches
Thistle Sandwich Bar*– This is a super down to earth, tiny little cafe run by a bunch of lovely ladies. It's mainly a takeaway but if you're lucky you may be able to nab one of their few eat-in seats. There's nothing fancy here, but value is good, prices are insanely cheap and they have a couple of changing daily comfort food specials too like Stovies, sausage casserole, lasagne and baked potatoes.
67 Thistle St N W Ln, EH2 1DY
Sugarhouse Sandwiches– A very popular and busy family run cafe on Canongate, perfect for picking up some lunch to refuel with up the top of Arthur's Seat. They've got homemade sandwich fillings, artisan bread and have both vegetarian and gluten free options.
158 Canongate, EH8 8DD
Bite Me– Popular Bite Me has slightly more 'gourmet' ingredients for their sambos (that's Aussie fro sandwiches) – goats cheese, pesto, roasted peppers, hummus, Thai Chicken and Mexican Tuna – and it also does a range of home made cakes.
167 Haymarket Terrace, EH3 8AG
IIIIIIIIIIIIIIIIIIIIIIIIIIIIIIIIIIIIIIIIIIIIIIIIIIIIIIIIIIIIIIIIIIIIIIIIIIIIIIIIIIIIIIIIIIIIIIIIIIIIIIIIIIIIIIIIIIIIIIIIIIIIIIIIIIIIIIIIIIIIIIIIIIIIIIIIIIIII
Scones
Cramond Falls Café*– Any visit to Cramond should include a stop off at the Cramond Falls Cafe. It's in a very relaxing setting by the River Almond and the delicious scones are homemade, enormous and have flavours that change regularly like cheese, cherry vanilla, apple and fig or apple and cinnamon.
10 School Brae, EH4 6JN
Bon Papillon– You might not guess you'd get great scones from an art gallery, but Bon Papillon has a small cafe too and scones that are often raved to be 'the best scone I've ever had!' Served warm with jam and cream, if you desire, flavours rotate from lemon and ginger, cinnamon, apricot and plum and ginger and lime.
15 Howe St, EH3 6TE
Cuckoos Bakery*– Perhaps more well known for their cupcakes (see the Cupcake section), Cuckoos' scones are just about on a par with them for deliciousness.
150 Dundas St, EH3 5DQ
16 Bruntsfield Pl, EH10 4ES
IIIIIIIIIIIIIIIIIIIIIIIIIIIIIIIIIIIIIIIIIIIIIIIIIIIIIIIIIIIIIIIIIIIIIIIIIIIIIIIIIIIIIIIIIIIIIIIIIIIIIIIIIIIIIIIIIIIIIIIIIIIIIIIIIIIIIIIIIIIIIIIIIIIIIIIIIIII
Scottish
The Doric*– Allegedly (according to them) The Doric is the site of Edinburgh's first gastro pub, where food has been served in their 17th century building since sometime in the 18th century. The menu here has traditional favourites like Cullen Skink, Haggis (neeps and tatties and bon bons), mussels, smoked salmon and haggis and fish and chips. Scottish inspired desserts are Cranachan and Malt Whisky truffles.
15-16 Market St, EH1 1DE
Whiski Rooms– A slightly more upscale dining experience than The Doric, Whiski Rooms has Cullen Skink, Haggis Spring Rolls, Salmon three ways, Haggis, Neeps and Tatties with a whisky sauce, Fish (Panko crumbed haddock) and (chunky) chips, Loin of Venison and also Cranachan for dessert.
4-7 North Bank Street, EH1 2LP
A Room in Leith– Part of the Teuchters Landing group, A Room in Leith does consistently outstanding food. They have all of the above Scottish classics plus some of the best seafood in the city. They've also got a two course special for £25 or three courses for £27 for dinner.
1A Dock Pl, Leith, EH6 6LU
IIIIIIIIIIIIIIIIIIIIIIIIIIIIIIIIIIIIIIIIIIIIIIIIIIIIIIIIIIIIIIIIIIIIIIIIIIIIIIIIIIIIIIIIIIIIIIIIIIIIIIIIIIIIIIIIIIIIIIIIIIIIIIIIIIIIIIIIIIIIIIIIII
Seafood
Leith Depot*– A great little pub serving mostly seafood and vegetarian but with a lot of thought and originality. Regular interesting specials crop up like 'Grey Mullet, Smoked Langoustine, parsley and caper butter, potato croquette and wilted spinach' or, 'Fillet of cod, black pudding bon bon, garam masala carrot puree, golden beetroot, roast onion, green lentils.
140 Leith Walk, EH6 5DT
Fishers Leith– Set in a converted 17th century watchtower and part of a group that also includes Fishers in the City and The Shore, Fishers is not cheap, but you expect that for this level of cooking. Set menus for lunch available though, so everyone can get a taste – £15 or £18 for two and three courses respectively.
1 Shore, EH6 6QW
Styled like a classic Parisian cafe – wood panels, stain glass, mirrors, marble, chandeliers, stiff white tablecloths – the Café Royal restaurant (as opposed to the ornate bar) is especially known for their oysters and seafood platters.
19 W Register St, EH2 2AA
IIIIIIIIIIIIIIIIIIIIIIIIIIIIIIIIIIIIIIIIIIIIIIIIIIIIIIIIIIIIIIIIIIIIIIIIIIIIIIIIIIIIIIIIIIIIIIIIIIIIIIIIIIIIIIIIIIIIIIIIIIIIIIIIIIIIIIIIIIIIIIIIIIIII
Shakes
The Marshmallow Lady– Home of the Toasted Marshmallow milkshake, which is a milkshake in a jam jar with different flavoured toasted marshmallows on top.
14 Rodney St, EH7 4EA
Burgers n Beer Grillhouse– Maybe it should be Burgers n Beer n Shakes? These be of the 'freak' family of shakes, gigantic mugs of flavoured milk topped with cream, syrup, chocolate, marshmallow, pretzel and brownie concoctions that look like you need an engineering degree to build them. Not to mention the digestive system of a pig (fun fact – look it up) to actually finish one.
192A High St, EH1 1RW
The City Cafe– An American diner style restaurant that does Boozy Milkshakes. What more can I say?
19 Blair St, EH1 1QR
IIIIIIIIIIIIIIIIIIIIIIIIIIIIIIIIIIIIIIIIIIIIIIIIIIIIIIIIIIIIIIIIIIIIIIIIIIIIIIIIIIIIIIIIIIIIIIIIIIIIIIIIIIIIIIIIIIIIIIIIIIIIIIIIIIIIIIIIIIIIIIIIIIIIIIII
Shortbread
Pinnies & Poppy Seeds*– If you've never had shortbread before – really? – this is where you want your first bite to be. It's easily the best in the city. As well as traditional all butter, you can try other flavour combinations like lavender and white chocolate or dark chocolate and almond. Be warned, it's baked in store, so if you visit when they're doing a fresh batch, the buttery baking smells are ruinous to your budget.
 26 St Mary's St, EH1 1SU
Tasty Buns* -Groovy name. Very apt address. This West Port café has a roster of rotating cakes and slices but both their regular shortbread and millionaire slices are raved about whenever they make an appearance. So check their social media to see if they have it on the menu when you're visiting.
67 Bread St, EH3 9AH
Mimi's Bakehouse*– Long established, super slick bakery cafes, Mimi's Caramel/Millionaire slices are many people's favourites.
63 Leith Shore, EH6 6RA
250 Canongate, EH8 8AA
277 St John's Rd, EH12 7XD
IIIIIIIIIIIIIIIIIIIIIIIIIIIIIIIIIIIIIIIIIIIIIIIIIIIIIIIIIIIIIIIIIIIIIIIIIIIIIIIIIIIIIIIIIIIIIIIIIIIIIIIIIIIIIIIIIIIIIIIIIIIIIIIIIIIIIIIIIIIIIIIIIIIIIIIIIIIII
Soup
Union of Genius– With six homemade soups a day, three that stay the same for a month and the other three changing daily, and fresh bread from local bakers Dough Re Mi, this is a healthy, cheap and (yep) popular choice for lunch among Edinburgers. There's oodles of vegetarian and vegan options too.
 8 Forrest Rd, EH1 2QN
Edinburgh Larder Cafe– Probably the most popular cafe/deli around The Royal Mile, their soup and sandwich deal with local, organic ingredients is more exciting to eat than that may sound. They also have a successful monthly Edinburgh Larder Indoor Food and Craft Market at The Biscuit Factory.
15 Blackfriars St, EH1 1NB
The Caffeine Drip– Friendly basement café that is serious about their soups. With flavours like 'Mushroom, Spinach and Cheddar', 'Carrot, Pesto and Parmesan' and 'Coconut Squash', vegetarians and those of us who like their soup to be anything but typical are well looked after here.
10 Melville Pl, EH3 7PR
IIIIIIIIIIIIIIIIIIIIIIIIIIIIIIIIIIIIIIIIIIIIIIIIIIIIIIIIIIIIIIIIIIIIIIIIIIIIIIIIIIIIIIIIIIIIIIIIIIIIIIIIIIIIIIIIIIIIIIIIIIIIIIIIIIIIIIIIIIIIIIIIIIIIIIIIIIII
Steak
Gauchos*– I tend to stay away from chains, but Maccas this is definitely not. Gauchos opening in Edinburgh in November 2017 is something of a homecoming too since the Argentinian beef industry was begun using Scottish Aberdeen Angus cows. This will seriously be some of the best steak you've ever had. The chimichurri dip is divine and, weirdly enough, I had the best sticky toffee pudding of my life there (well, in London).
4a St Andrews Square, EH2 2BD
Steak– With a name like that, you'd wanna be good with a chunk of beef. Steak has both a swanky restaurant and a more casual brasserie next door. They also have the option of using one of their lava stones so you can cook your own steak at the table.
14 Picardy Pl, EH1 3J
Chop House Leith– Their homepage says it all – "Dry aged, butchered in-house and cooked on open flame charcoal grill". Erm… yum.
102 Constitution St, EH6 6AW
IIIIIIIIIIIIIIIIIIIIIIIIIIIIIIIIIIIIIIIIIIIIIIIIIIIIIIIIIIIIIIIIIIIIIIIIIIIIIIIIIIIIIIIIIIIIIIIIIIIIIIIIIIIIIIIIIIIIIIIIIIIIIIIIIIIII
Street Food
Tupiniquim*– I've already got Edinburgh's favourite crepes listed here under the Gluten Free section, but they deserve a spot under street food too because, since you get served out of a Police Box on the footpath, they are the very definition of it. Choices include Steak (beef, cheese, spinach and peppers), Monkey Delight – bananas cinnamon and sugar, Chicken Curry Piri-piri, and many a kid's favourite, good old Nutella.
Green Police Box, Lauriston Place, EH3 9AU
The Pitt*– These guys have only been around a couple of years but they are pretty much solely responsible for Edinburgh's (long time coming) current love all things food truck related. You can catch a variety of their regular food truck proprietors at their Pitt Street Food Yard sessions in North Leith and now also each day at The Food and the Flea Market just off The Royal Mile.
Alplings– Alplings serves up a street food version of Austrian/Italian Alps cooking. As with many of the businesses on this list, it started off doing the rounds of various Edinburgh markets (and can still be found on weekends out and about) until they found their present home in Leith. Food ranges from their namesake dumplings – vegetarian Alplings which come in beetroot, cheese or spinach – beef goulash, spatzle, vegan kuku tart (no idea) and for dessert Apfelstrudel or Sacher Torte.
16 Henderson St, EH6 6BS
IIIIIIIIIIIIIIIIIIIIIIIIIIIIIIIIIIIIIIIIIIIIIIIIIIIIIIIIIIIIIIIIIIIIIIIIIIIIIIIIIIIIIIIIIIIIIIIIIIIIIIIIIIIIIIIIIIIIIIIIIIIIIIIIIIIIIIIIIIIIIIIIIIIIIIIIIIIII
Sunday Roast
The Queens Arms*- Cosy, traditional basement pub in Newtown. It can get super busy and the roast is served till it runs out, so best not dilly dally.
49 Frederick St, EH2 1EP
The Ox*– Crikey, The Ox is serious about their Sunday Roasts. Choose between beef, pork, lamb, salmon or vegetarian nut roast (what, no chicken guys?) but make sure you book.
49-51 London St, EH3 6LX
The Walnut– The Walnut is an unassuming little neighbourhood bistro that cooks up a variety of smaller plates of excellently cooked food to keep prices at crazily cheap levels. Their beef short rib and chicken Sunday Roasts are, happily, regular coma inducing size.
9 Croall Pl, EH7 4LT
IIIIIIIIIIIIIIIIIIIIIIIIIIIIIIIIIIIIIIIIIIIIIIIIIIIIIIIIIIIIIIIIIIIIIIIIIIIIIIIIIIIIIIIIIIIIIIIIIIIIIIIIIIIIIIIIIIIIIIIIIIIIIIIIIIIIIIIIIIIIIIIIIIIIIII
Thai
Ting Thai Caravan*– Edinburgh's best street food style Thai restaurant, Ting Thai is affordable, delicious, casual eating. And in case you hadn't already seen it in the Cheap Eats section, there's communal seating, an open kitchen, no booking, and it's also cash only.
8-9 Teviot Pl, EH1 2RA
Chaophraya– On the opposite end of the scale from Ting Thai, Chaophraya is more fine dining Thai and located on the top floor of a building in Castle street, with bonus views of – no, never? – Edinburgh Castle. You are encouraged to go tapas style but at around £12 -£18 per dish, not everyone could afford a bunch of these to share. You could though try the set lunch two course special for £13.50 or 3 courses for £18.50
4th Floor, 33 Castle St, EH2 3DN
Nok's Kitchen – Insanely popular Stockbridge local serving authentic, classic Thai dishes at affordable prices and with lots of warmth – the service, not the dishes, although being Thai, yeah them too.
8 Gloucester St, EH3 6EG
IIIIIIIIIIIIIIIIIIIIIIIIIIIIIIIIIIIIIIIIIIIIIIIIIIIIIIIIIIIIIIIIIIIIIIIIIIIIIIIIIIIIIIIIIIIIIIIIIIIIIIIIIIIIIIIIIIIIIIIIIIIIIIIIIIIIIIIIIIIIIIIIIIIIII
Toasties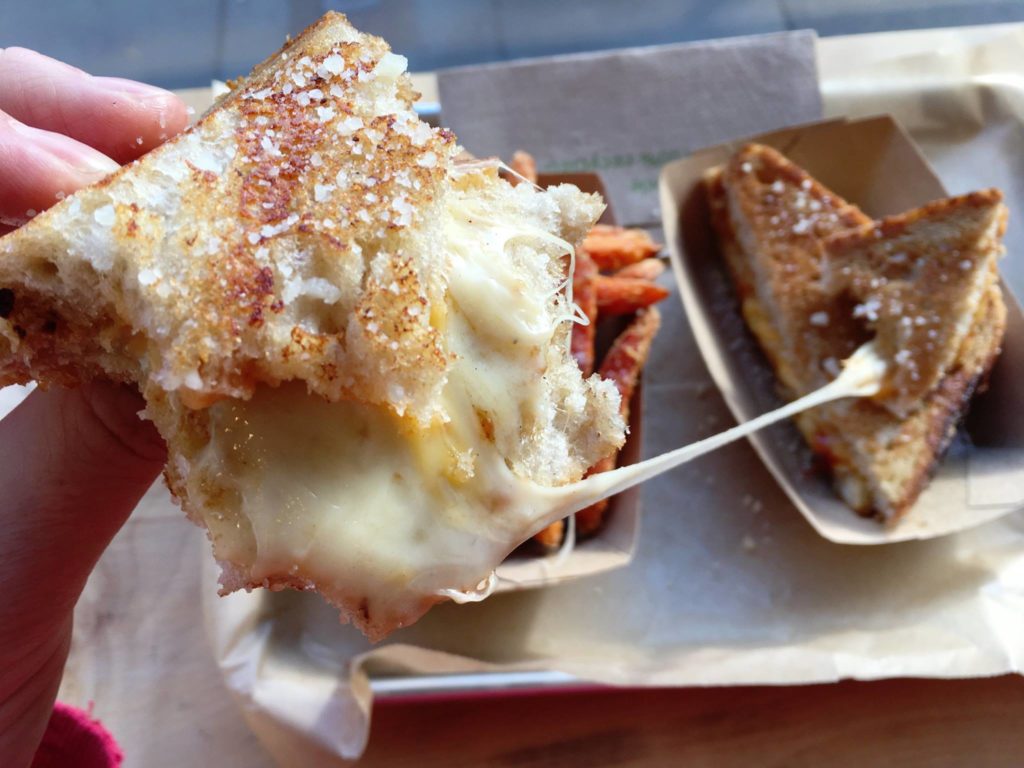 Meltmongers*– If you'll allow me to bastardise an overused idiom, the humble toastie is Meltmongers' bread and butter. OK, that sounded better in my head. Meltmongers does indeed stick to the tried and tested idea to do one thing and do it well. Well, actually they also do pretty good sweet potato fries. As well as the classic cheese toastie, the menu also includes 'Chicken, Lemon mayo and Cheese','Tuna and Cheese', 'Brie and Caramelised Onions' or the 'Melt Madam' – ham, fried egg and cheese.
80 Bruntsfield Pl, EH10 4HG
Cairngorm Coffee– Now in two Edinburgh locations, Cairngorm's cheese with chilli jam is their superstar toastie, but you can also get cheese, ham and mayo or pork, ham, cheese and mayo.
1 Melville Place, , EH3 7PR
41a Frederick St, EH2 1EP
I.J Mellis Stockbridge– IJ Mellis is Edinburgh's most respected and extensively stocked cheese shop, so it would be a travesty if they didn't do a good cheese toastie. All three of their outlets will rustle you up a toastie with a range of fillings and of course, interesting cheese choices – goats cheese with sweet onion marmalade anyone?
6 Bakers Place EH3 6SY
IIIIIIIIIIIIIIIIIIIIIIIIIIIIIIIIIIIIIIIIIIIIIIIIIIIIIIIIIIIIIIIIIIIIIIIIIIIIIIIIIIIIIIIIIIIIIIIIIIIIIIIIIIIIIIIIIIIIIIIIIIIIIIIIIIIIIIIIIIIIIIIIIIIIIIII
Vegan and/or Vegetarian
Hendersons*– A vegan café/deli with a downstairs vegetarian restaurant called The Salad Table, they've been open in one form or other in Edinburgh since 1962. Favourite dishes downstairs include vegan versions of haggis, pancakes, lasagne and brownies and they have regular events through the year – vegan cake disco, vegan movie nights – and live jazz music most nights.
94 Hanover St, EH2 1DR
David Bann– An upscale, award winning, world cuisine, vegetarian restaurant where a baked courgette will cost you £13.95. But you can bet it'll be the best baked courgette you've ever had in your life.
56-58 St Mary's St, EH1 1SX
Kalpna– Exclusively vegetarian, Kalpna is a contemporary South Indian restaurant that's been around for twenty-five years. How does Chilli Cheese Dosa sound -a rice pancake cooked in butter and stuffed with grated cheese, fresh chopped chilli, potatoes, peas, onion, coriander & served with sumbhar, coconut and green coriander chutney and salad? Got all that? What's more, if David Bann is out of your price range, a cooked aubergine here will only cost you £8.95.
IIIIIIIIIIIIIIIIIIIIIIIIIIIIIIIIIIIIIIIIIIIIIIIIIIIIIIIIIIIIIIIIIIIIIIIIIIIIIIIIIIIIIIIIIIIIIIIIIIIIIIIIIIIIIIIIIIIIIIIIIIIIIIIIIIIIIIIIIIIIIIIIIII
Whisky
The Devil's Advocate*– I've enjoyed a few delicious meals here, but for Whisky lovers, The Devil's Advocate has around 200 different types, served by bearded barmen who really know what they're talking about. Being housed in an old pump room down an alley off The Royal Mile, its darkly lit interior makes for a very cool and cosy atmosphere.
9 Advocate's Cl, EH1 1ND
Sandy Bell's*– This is a smallish, traditional locals' bar, that somehow manages to fit in bands playing live folk music a few times a week. It's a no-fuss, friendly place with over a hundred whiskies from Scotland, England and even Japan.
25 Forrest Rd, H1 2QH
Whiski Rooms– Well for Whisky choice, these guys win hands down – 300 malt whiskies to pair with their slightly zhooshed up Scottish restaurant dishes.
4-7 North Bank Street, EH1 2LP
IIIIIIIIIIIIIIIIIIIIIIIIIIIIIIIIIIIIIIIIIIIIIIIIIIIIIIIIIIIIIIIIIIIIIIIIIIIIIIIIIIIIIIIIIIIIIIIIIIIIIIIIIIIIIIIIIIIIIIIIIIIIIIIIIIIIIIIIIIIIIIIIIIII
Wine Bar
Rollo– Rollo's Broughton Street branch is a busy, buzzy restaurant and wine bar with small refined dishes – for example crumbed duck breast and crackling, red apple, celery, fennel and a blood orange glaze – and of course a wine list to match. Happily it also has down to earth, friendly staff who ensure it's not as pretentious as that may sound.
14 Broughton St, EH1 3RH
Smith and Gertrude-Named after two streets in inner city Melbourne that I have spent plenty of time on, Smith and Gertrude is run by two fellow former Melbournians. It has a slightly posh clientele, but hello, it's a wine bar, in Stockbridge, so that's expected. You can also expect cheese and meat boards to nibble your way through wines from Australia (natch), Chile, Austria, Czech Republic, Hungary, Germany, Italy, Portugal, Spain, South Africa, New Zealand, the US… ummm… yeah pretty much everywhere.
26 Hamilton Pl, EH3 5AU
Bon Vivant*– Found on atmospheric cobble stoned Thistle Street, Bon Vivant has been serving small plates of classic European style food for ten years now. They offer over forty wines and even have a bottle shop next door, so if you fall in love with something you tried, you can pop to the Bon Vivant's Companion and take a bottle home. Dinner's a bit pricey here too, but they have 2 or 3 course lunch specials for £12.50 and £15.50.
51 Thistle St, EH2 1DY
IIIIIIIIIIIIIIIIIIIIIIIIIIIIIIIIIIIIIIIIIIIIIIIIIIIIIIIIIIIIIIIIIIIIIIIIIIIIIIIIIIIIIIIIIIIIIIIIIIIIIIIIIIIIIIIIIIIIIIIIIIIIIIIIIIIIIIIIIIIIIIIIIIIIIIIIIIIIII
Stuff to Know:
In the name of transparency, I must explain the asterix next to a lot of the names here. I've been building this list since January, but finally realised if I wait till I've gone to every single one of these places, one of two things will happen –  either I will be bankrupt and about three kilos overweight if I rush it, or, if I go at a pace my budget and bathroom scales agree with, it will be years before it's complete.
So here's what I've done instead – if I have been there myself and decided a place is Top Stuff it will have an asterix. If not, it means I've considered what my friends, colleagues and strangers on the street have told me is great and done oodles of research on it.
The goal now of course shall be to eradicate all the asterix's. Cripes, what's the plural of asterix?
Let the research continue…