(Last Updated On: 22nd August 2020)
Coming to Scotland and not hillwalking would be like going to Italy and only eating at the tourist trap restaurants, or visiting France but only going to Paris. If you don't get yourself into the hills of Scotland, you're not going to experience its heart and soul.
The Scottish hills are spectacular, and if you give yourself just one day to hike up one, you'll have a much deeper understanding of what makes this country so special. You'll also have achieved something to be proud of. Better yet, you'll expend so many calories, you'll be able to reward yourself with a huge, hearty country meal at the end of it.
I've chosen five ideal hills below. All of them are in The Trossachs and can be reached from Edinburgh in around two hours by car. And honestly, there's a hill to suit everyone, no matter what your fitness level is. So get yourself up a hill and marvel at Scotland's amazing natural wonders.
Ben A'an – A fantastic beginner's hill
This was my first hill. At only 461m, it is most definitely 'just' a hill. But it's an absolute beauty. For such a short amount of huff and puff – around an hour and a half to the top – the views are stupendous. Not only do you get Ben Venue over to the left, but you can see almost all of Loch Katrine, the little steam boat that chugs back and forth across it all day, and on a clear day, there's also the Arrochar Alps off in the distance.
Don't get me wrong, it'll still get your heart racing no matter how fit you are. It's super steep for almost the entire walk, but if you can push yourself for 90 minutes, you'll be rewarded with views like this. And I guarantee, by the end of the day, you'll have caught the hillwalking bug.
Distance from Edinburgh – approx 60 miles, 1hr. 50 mins
Height – 461m/1512 feet
Prominence – 340m/1116 feet
Total Return Walking Distance – 3.7km's/2.25 miles
Ben Donich – When you're ready for something slightly more challenging
Ben Donich is a Corbett, just 54 meters short of reaching Munro status. But, don't stress you'll not be able to make it that far, because it's a bit of a cheat's Corbett. The start point of this walk is already 285m above see level, so the prominence, which is the actual height you need to gain to reach the top of a mountain, is only 561m.
It's the perfect second hill, because not only do you get to stretch yourself that little bit more, but you get all the advantages of the height at the top, which means stunning views.
NB: there is a small section of scrambling right before the summit here, but for most, this will be easy peasy. If you're a bit iffy about rock climbing, just make sure you bring a couple of mates who you trust and let them help you through it.
Distance from Edinburgh – approx 95 miles, 2 hours, 20 mins
Height – 846m/2776 feet
Prominence – 561m/1841 feet
Total Return Walking Distance – 7.5kms/4.5 miles
Ben Arthur/The Cobbler – A proper Corbett, with the option for some proper scrambling – if you want
I have always said The Cobbler, as Ben Arthur is more commonly known, is a really great mountain for people who haven't had much experience in the Scottish hills. The the trail is so well made and clear, it's almost impossible to get lost. But lo and behold, some people got lost on it this year. Woops. Probably a good reminder that you really do need to do a bit of reading up before tackling any mountain.
The Cobbler is another Corbett, but at 884m, it's only just a smidge below the 900m requirement for a Munro. But don't let anybody ever tell you it's all about bagging Munros. There's plenty of great smaller mountains to summit. Unlike Ben Donich, you'll be walking almost the full height of Ben Arthur, so a bit more stamina is needed.
The path is very easy to follow, winding through a forest to begin with and then practically straight, all the way to the base of the summit (first pic below). At this point you can test your nerves with quite a big scramble up to the top, or you can head off to the right and test your calf muscles with a long trudge up a much less scary, but definitely heart-pumpingly-steep path. Then you can decide if you want to push yourself even more, with a kind of scary climb through what's known as 'the eye of the needle' to reach its true summit. Or not…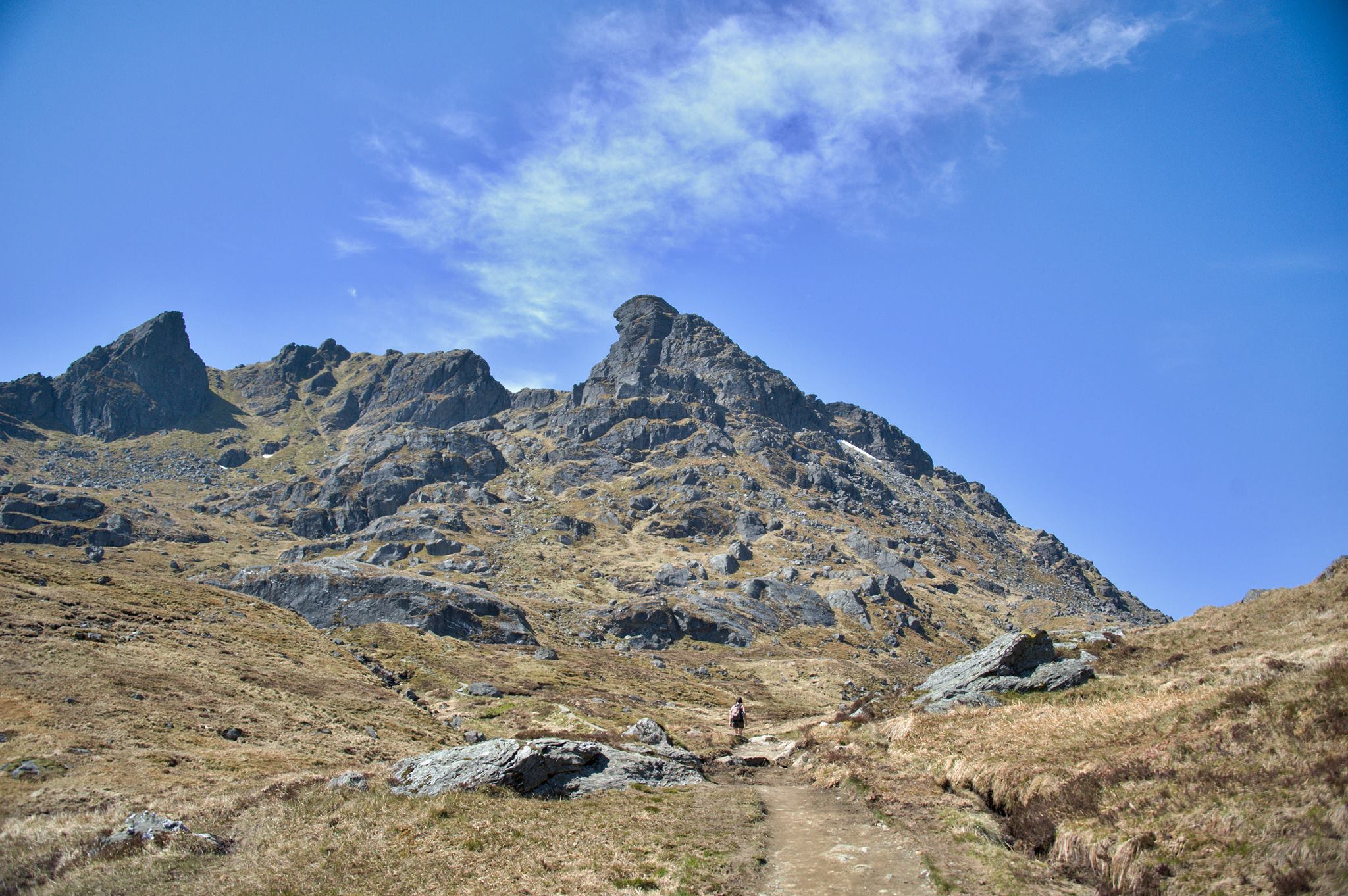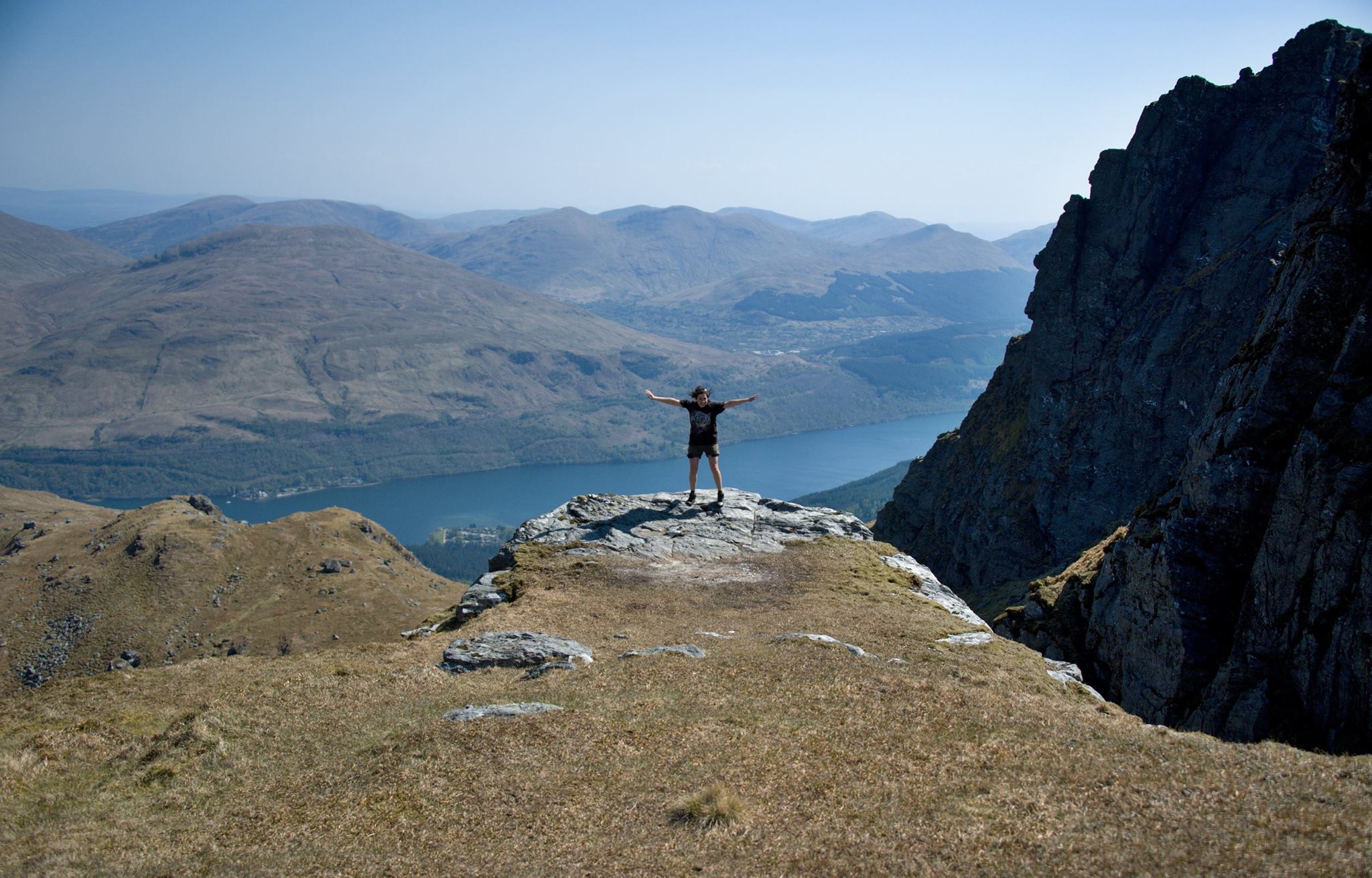 Distance from Edinburgh – approx 95 miles, 2 hours, 5 mins
Height – 883m/2900 feet
Prominence – 840m/ feet
Total Return Distance – 11kms/6.75 miles
Ben Lomond – Many people's first Munro
Ben Lomond is legendary, and probably the busiest mountain in The Trossachs. As the southernmost Munro in Scotland, prepare to share the trail with a lot of people, especially if the weather is glorious. And by 'a lot', I mean probably close to a hundred by the end of the day.
If you want a little bit more peace and quiet, there's quite a nice circuit route available that includes going up (or down, depending which way you do it) the Ptarmigan Ridge. Most people choose to take the same path up and down ( the so called tourist path), so if you do the circuit, you will most likely see the crowds on half your route. Make sure you've got a bit of confidence though before you try The Ptarmigan. It's not too hard, but definitely not for beginners, or anyone scared of heights.
Distance from Edinburgh – approx 70 miles, 1 hour, 50 mins
Height – 974m/3196 feet
Prominence – 990m/3248 feet
Total Return Distance – 12km's/7.5 miles
Ben Vorlich – the Loch Lomond one
There are a few Ben Vorlich's in Scotland, and two in The Trossachs alone. This one is the less popular one, ie: generally less busy. Can you see a theme here for me?
Like The Cobbler, this Ben Vorlich is a very straightforward track. It begins with a paved section of road, with Ben Vane on your left and the picturesque Loch Sloy damn ahead of you. The ascent begins as a tough slog upwards on rocky steps, and pretty much doesn't let up until you get about 800m high. The 360 degree views of mountains all the way to the horizon at the top though are well worth the workout.
Distance from Edinburgh – approx 95 miles, 2hrs, 5 mins
Height – 943m/3094 feet
Prominence – 945m/ 3100 feet
Total Return Distance – 13.5km's/8.5 miles
If your schedule is so tight that you just can't squeeze in a day trip out to The Trossachs, don't forget, there's always Arthur's Seat, which is quite a decent little hill walk right in the centre of town (well, just south of centre).
Post Hillwalk Eats
I mean… you're going to be starving… and all that effort deserves a good feed as a reward. The places below all serve typical Scottish pub dishes, which for me is always the kind of comfort food I crave after a hillwalk.
Ben Arthur's Bothy – a totally no frills pub in Arrochar with an outdoor deck area overlooking Ben Arthur and Loch Long. Service is no frills too, but the portions are big, prices are low and the view is gorgeous. Closest hill is Ben Arthur/The Cobbler (no surprise there), but Ben Donich and Ben Vorlich are not too far away either.
The Byre Inn – a fantastic, rustic pub hidden down a side road near the popular town of Callander. This is the type of place Trip Advisor reviewers with no imagination would label 'a hidden gem'. While I groan at the cliche, they're not wrong. Closest hill is Ben A'an.
Slanj – a converted church, you'll find a dog friendly, down to earth locals' feel at Slanj. They've got live music on the weekends and if you're in a hurry to get home, they do take-away too. Closest hills is The Cobbler.
The Old Mill Killearn – if you want something a little bit more special, The Old Mill has pub food with a distinctly chefy twist. Killearn is on the way back to Edinburgh from most of the hills above, but needs a slight diversion off the A811 to Stirling.
Mountain Safety Tips
Don't ever underestimate the weather. Conditions can change drastically in a very short space of time and rain and clouds can take over from glorious sunshine in a matter of minutes. Always take a waterproof jacket with you, even if rain is not forecast, and don't forget to wear layers.
2. Walking Highlands is an invaluable website to read up on a mountain before you go. There's detailed information about every hill walk, plus walkers reviews, photos and ratings.
3. Mountain Forecast is a great website to check before a climb too, as it will tell you the weather conditions on top of the mountain. These can differ quite a bit from the start point and I've always found this site to be spot on.
4. Using an App that has OS maps of the route you are taking is always a good idea. Get one where you can download the route before the walk, so you're not relying on internet service to use it, which of course can be patchy half way up a mountain.
5. Take more to drink than you'll think you'll need. For a Munro I take a 1.5lt water and a 500ml sports drink. Also pack a big lunch full of protein, because you'll be charging through the calories all day. If you're hungry or starting to feel light headed, sit down and eat something. You don't have to wait for the top. In fact, it will probably be way too windy at the summit to enjoy sitting down to eat anyway.
6. Proper hiking shoes are preferable for any walk to give your feet the right support and grip on the trail, but if you don't have them and you're only doing a smaller hill like Ben A'an, aaaand the weather is dry (very important 'and'), then a good pair of sneakers will be fine.
7. I know this is hard for Scotland, but if weather conditions aren't great, there's not much point tackling a mountain. Clouds that cover all your views are just disappointing and wet trails can be dangerous. Be sensible, know your abilities and then make the call whether it really is worth going.
8. Don't forget to stop on the way up every now again to drink in all that beautiful nature. It's not a race. Remember to enjoy the views.