(Last Updated On: 29th March 2021)
Vegan food may be 'on-trend' right now, but, unlike charcoal, foams and liquid nitrogen, you can bet it won't be disappearing in a couple of years. Because it was never a 'trend' in the first place, was it? There's no denying Veganism's growing popularity, whether it be for the animals, for the planet or even just for health reasons. And the upshot of this, for those of us who fit into any of the above and also love to eat out, is that Edinburgh finally has a bunch of totally plant based restaurants and cafes that have begun to truly flourish.
Here are all of the vegan locations you should be checking out, plus some that may not be totally plant based, but definitely have plenty of unmissable vegan offerings.
100% Vegan
The Caravan of Courage
Caravan of Courage is a Vegan street food van. There's not an Ewok in sight, but if you were hoping for some nostalgia with your vegetables, there is a converted 1980's Eldiss caravan from which to order your 'courageous' vegan offerings. Here you'll get cheeseburgers, hot dogs and 'bowls' of goodness that my cat sitter Laura said was her favourite vegan meal in the whole month she was in Edinburgh recently – hers was the festive bowl (pic above) of homemade vegan Mac 'n Cheese, garlic potatoes with Tahini sauce, grilled vegan haggis, crispy onions, spring onions and cranberry. So there you go, verified yumbo by a real live Vegan! You can currently find Caravan of Courage at events and festivals around town, but they're looking for a permanent residency in a bar in Edinburgh, so a bricks and mortar location might not be too far away either.
Considerit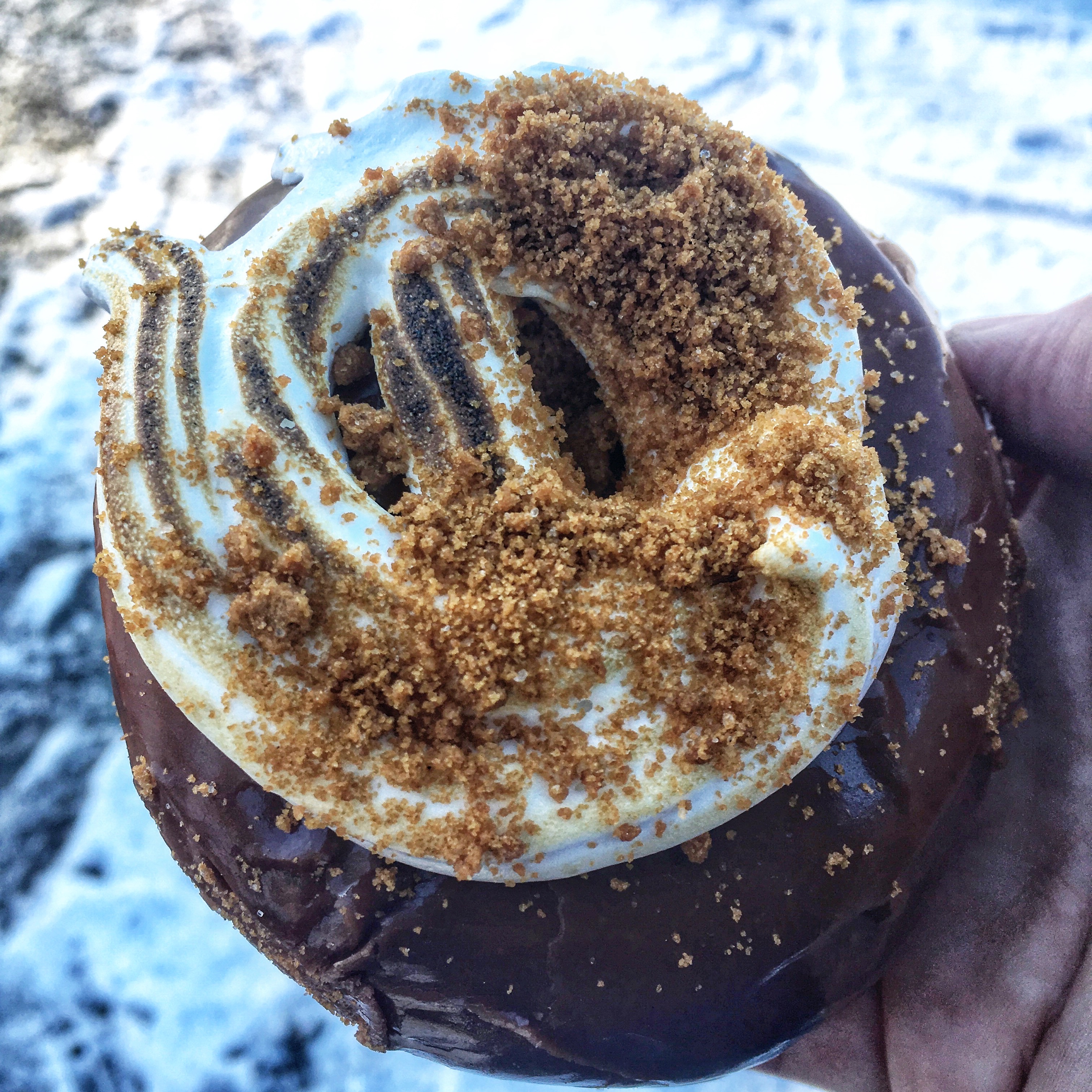 Considerit sells seriously delicious vegan doughnuts. They also do chocolates (which you can buy online too) and ice cream and yep OK, there's coffee as well, but really, it's all about the doughnuts. Flavours change every day and new ones appear regularly, so there's aaaalways a reason to go back for more. Newbies like Apple and Pistachio (filled with a Bramley Apple compote with roasted Pistachio glaze) keep it interesting, but you're also likely to come across one of their regular seasonal specials, like the very cute White Chocolate and Coconut Snowman which appeared for Christmas. If their shop near the Meadows is just not somewhere you often find yourself, a Considerit stand also pops up at both the Leith and Stockbridge weekend markets. Handy!
Harmonium
If you're a Vegan who is partial to comfort food, Harmonium has a menu full of animal product alternatives, so even though the menu may list chicken, oysters, bacon, cheese, pancakes and butter, you can be 100% sure these dishes are actually made using meat and dairy replacements. Laura the Vegan cat sitter ate here three times and gives it a big thumbs up. So if plant based pizzas, burgers and Mac 'n Cheese is what you're craving, Harmonium is where you should head. Or if you're trying to convince a vegetable-averse and/or fussy meat eater they could like vegan food, this is one very good place to start.
Holy Cow
Blink and you'll miss it basement cafe Holy Cow is one of the longest running of the new bunch of 100% vegan eateries in Edinburgh. Open since the end of 2016, genuine, friendly service and delicious burgers are what they're known for. Burger-wise they've got Mushroom, Kidney Bean and Soya, Tofu, Jackfruit or Nori Fish (celeriac wrapped in seaweed) burgers, but they do have sambos, soups, salads and homemade cakes and bread too. Plus, almost all menu items either already are or can be made gluten free. Bonus!
Beetroot Sauvage
Open since mid 2018, Beetroot Sauvage is a wellness centre located in a delightfully worn-in building, formerly the Earthy Food Market. They not only have a vegan cafe downstairs, but a yoga studio upstairs with oodles of different classes, workshops and events. They are family, dog and cyclist friendly, have a large outdoor area and have created a busy, but somehow still chilled-out, community vibe. Vegan versions of all the regular cafe menu options are here, but some more unique bits and pieces do pop up too (West-African Peanut Stew anyone?). Vegan cakes and pastries change every day and, if cheese is your thing, they are very proud of their homemade vegan cheese, which you can take away too.
Seeds for the Soul
The opening of busy Bruntsfield cafe Seeds for the Soul in early 2018 has led to many a flabbergastered meat-eater shouting some version of 'I'm not Vegan and I thought it was delicious'. Breakfast and brunch are what people swarm here for and you'll get vegan versions of all the regular morning favourites like full breakfasts, breakfast burritos, pancakes, and of course, the good old (??) Avo-on-Toast. But you can also find choices like Deep Fried Buffalo Cauliflower served with hot sauce and garlic mayo dip or Asian Dumplings with a tamarind and sweet chilli dip (both pictured). The menus change seasonally, food presentation is impressive and the homemade cakes can be sold whole, which would be for take-away purposes, but sure, if you want a whole cake to eat in, I'm sure that's not a problem.
Black Rabbit
Black Rabbit is another vegan cafe wanting to change the somewhat outdated but still prevalent perception that vegan food is just for rabbits (black or otherwise). They also want to ensure the way they run their business is as ethical and sustainable as possible and here you'll get 10% off if you bring your own cup or takeaway container. As well as breakfast, brunch and lunch on offer, all their sweet treats are made in-house, including indulgent stuff like Cruffins, Custard Brioche and Biscoff Roll. There's also a deli counter with vegan products to take home with you.
Chapter One Coffee Shop
Although they've been open since 2015, Chapter One Coffee Shop went 100% vegan in summer 2019 and have been getting nothing but positive feedback ever since. Located in the student heavy Dalry area, this dog friendly cafe is the kind of place you can sit in for a while and you'll not feel rushed if you linger. Of note here is you'll often find cakes and pastries from 101 Bakery in Newington, which means they are guaranteed to be delicious.
Not 100% Vegan but still Excellent Vegan Choices
Bross Bagels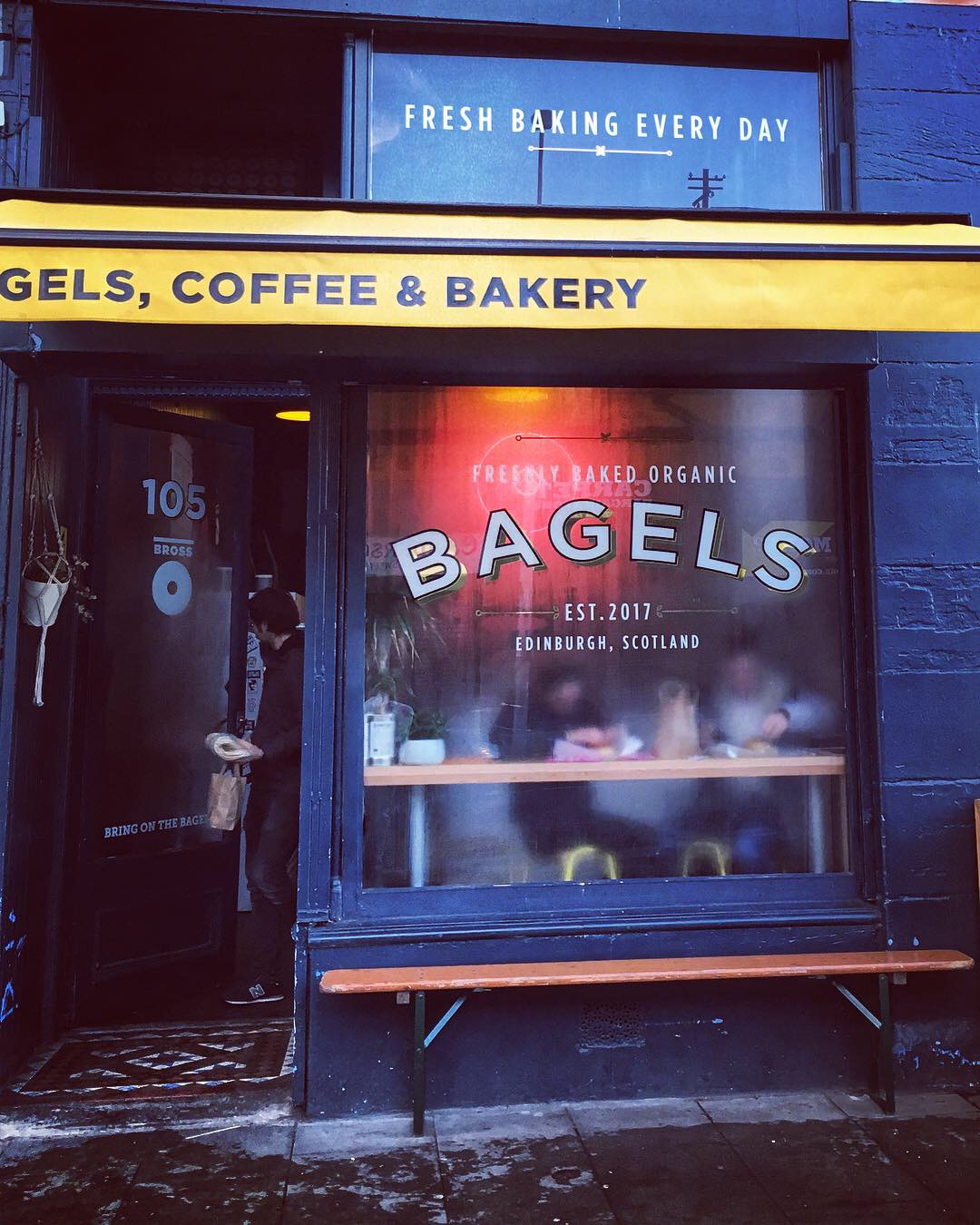 The most delicious way to fill your hole (their motto), Bross Bagels are a force of nature in Edinburgh, with five locations opened in less than three years (the Stockbridge outlet is coming very soon). Vegans are in no way an afterthought with their hot and cold filled-bagel menu, and outrageously scrumptious Vegan specials feature every week. The Vegan Festive Bagel – with herb roasted butternut squash, cranberry relish, sage and onion stuffing, lettuce and vegan mayo – was a sell-out over Christmas. And their vegan brownies also got big props from Laura**
Little Fitzroy
Little Fitzroy is a snug coffee shop on Easter Road with drinks poured by a Melbournian who really knows her wakey wakey juice. A full vegan menu is served Friday to Sunday from 10am, and currently there are Japanese Pancakes, Matcha Waffles, Apple Crumble Porridge and vegan cakes and pastries to enjoy. The sweet stuff is available all week too, made both in-house and by local bakers. The cafe is eco-friendly, dog friendly, person friendly and they make a point of promoting and selling other local traders' wares, whether it be coffee beans or even mugs. If you're slightly adventurous, try the Berry Affogato, with espresso, ice-cream and frozen berries. And yep, it's vegan!
Lucky Pig at Paradise Palms
Lucky Pig serve vegan and vegetarian 'soul food' at the tropical themed Old Town bar Paradise Palms. Think US diner faves like burgers, dirty fries, nachos, onion rings, fried chicken or Mac 'n Cheese. With something like 95% (I'm guessing, I didn't actually do the maths) of the menu being vegan, plus very reasonably priced cocktails at the bar, a Paradise Palms/Lucky Pig visit is something to look forward to whether you're vegan or not.
Brochan
Ever heard of a porridge cafe? Well, me either, until Brochan came along. Bar some honey/bee pollen here and there (which super strict Vegans can ask to be left off), everything here is plant based. And the weather right now gives you the perfect excuse to head there for some Banoffee, Lemon Meringue or Black Forrest (for example) porridge. Just try to resist actually putting a frame on it and hanging it on a wall, because it'll be the prettiest bowl of oats and fruit you've ever seen in your life. Oh and there's also toast, smoothies and cakes, in case you're not a porridge person.
We Sell Dumplings/We Sell Nuggets
These guys are kind of like a Vegan Yetti. As far as I can tell, they pop up each year in July for the Edinburgh Food Festival in George Square and then disappear into the night for another twelve months. Their vegan dumplings (main post picture) and nuggets were a big winner with my group of about ten who tried them out in 2019, so I'm letting you know to keep both your eyes peeled for them during any food related activites around town.
Dishoom
Handily, upmarket Indian restaurant Dishoom has a dedicated vegan menu available, so you don't have to go hunting for the appropriate icons to work out what you're going to order. Breakfast and brunch are hugely popular here (well actually, this place is pretty much busy all the time) and their Soy Keema No Eedu is quietly gaining legendary status. Dinner has a good number of options too. It ain't cheap, but the quality is undeniable, so this may be a great choice for a special occasion.
****************************************************
So there you are. We may not be anywhere near London's astonishing count of 152 Vegan nosheries, but in a very short space of time, the Edinburgh vegan scene has bloomed considerably.
**Pssst – if you're reading this Laura, thanks so much for your expertise 🙂