(Last Updated On: 22nd February 2019)
For those of us who love films, it's often a thrill to realise you're standing on the spot of a favourite scene of a favourite movie. For the traveler to Edinburgh, you might be surprised to learn just how many films have used the city as a back drop. But while huge cities like New York have a multitude of tours taking you to the sites of films settings, Edinburgh's a little more self help.
There's are a few dedicated film tours of Edinburgh you can take, but if you're more of a DIY tourist, using my list below you can be your own tour guide. If you're a big enough fan of the films here, you can even recreate those very scenes you love so much, just maybe skip this first one below.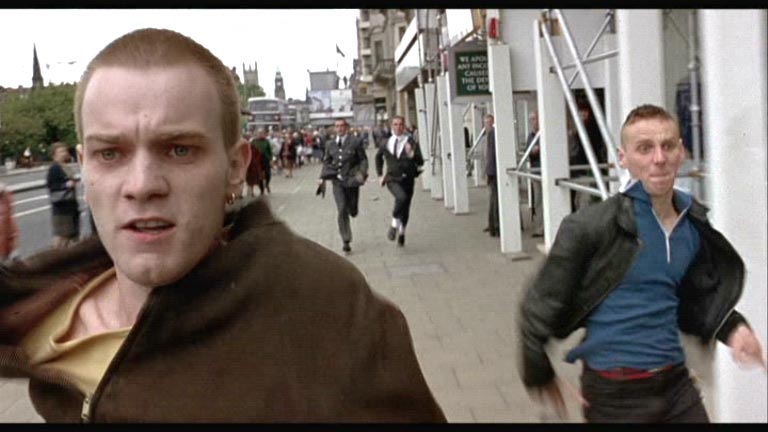 Trainspotting
Funnily enough, one of the most well known films (and books) of the 1990's to be set in Edinburgh was filmed largely in Glasgow. Oops.
The opening few seconds of Danny Boyle's Trainspotting, where the guys come racing out of a book store they've just shoplifted from, is Edinburgh's main thoroughfare, Princes Street. The next shot sees Renton colliding with a car as the other guys run away under a huge stone bridge. This is Calton Road, a side street that takes you to the back of Waverley train station. Aaaaand that's about it for Edinburgh I'm afraid. The rest was filmed in Glasgow and London.
If you're a Trainspotting superfan, I wouldn't recommend stealing from a book store, getting run over by a car or half of the things these guys get up to later on, but you could certainly take a nice little walk in their footsteps reciting his 'Choose Life' monologue, right?
T2/Trainspotting 2
The sequel, made some 20 years later, features Edinburgh quite a lot more than the original. Here's just some of them:
Edinburgh Airport – well this is pretty obvious, as Renton returns from Amsterdam.
Princes Street – briefly glimpsed by Renton from the airport tram and of course the original opening chase relived by Renton and Spud.
The Cav/Atik nightclub – the nightclub scene with Renton/Mark and Sickboy/Simon before they run into Begbie.
Old Town – Renton is chased all over it by Begbie after finding him in the nightclub toilets.
Calton Road – reliving the opening of the first film when Renton is almost run over by a car, Spud gets a bit emotional when he sees two young guys running down the same street.
Forth Road Bridge – crossed on foot by Simon and Mark when they have to get themselves back to Edinburgh after being left naked in a field in woop woop by gangsters.
Parliament – meant to be City Chambers when Simon and Mark try to secure funding.
Arthur's Seat/Holyrood Park – Renton drags Spud out running.
Harvey Nicholls department store – where Renton and Veronika have dinner.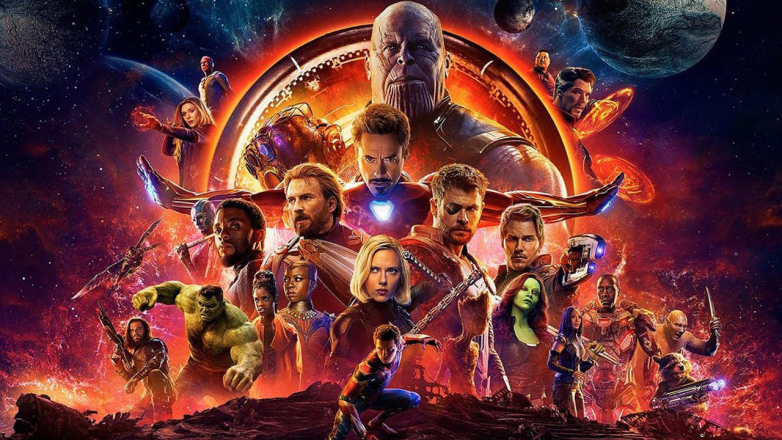 Avengers Infinity War
Cockburn Street – The trinkety gift shop Miss Katie Cupcake (where you can't actually buy any cupcakes) was taken over by the production team for months and turned into a Kebab shop that Scarlet Witch and Vision can be seen out the front of watching a news clip. This tall, thin building is actually a magnet for Instagrammers due to its strange shape and higgledy piggledy upper stories.
The Royal Mile – After the Cockburn Street scene, a big fight scene begins on The Royal Mile and in particular, around St Giles Cathedral. And apart from a couple of flashes of Waverley Station, that's about all for Edinburgh scenes.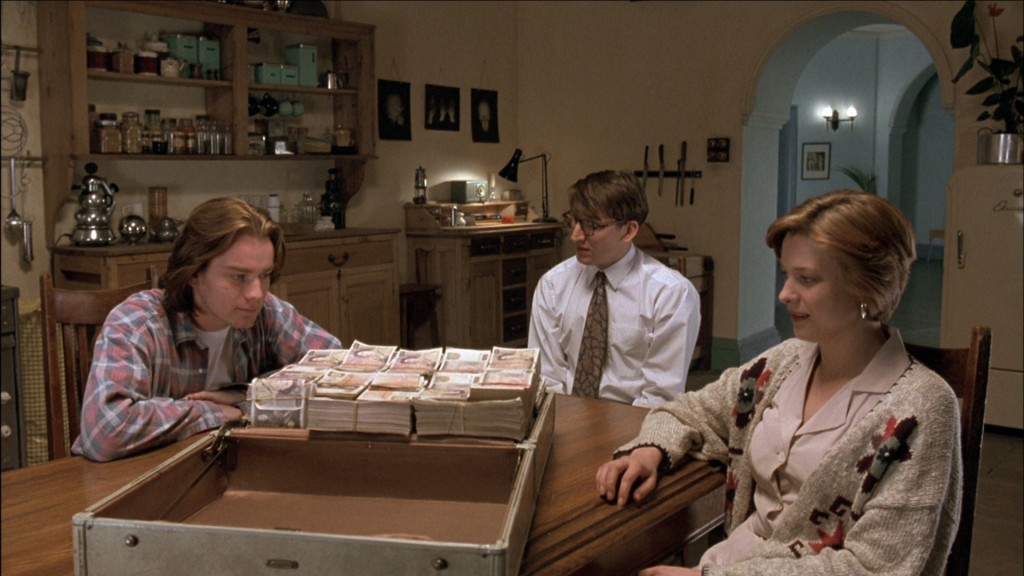 Shallow Grave
If you haven't heard of this one, it's Danny Boyle's 1994 black comedy about three housemates who find their fourth housemate lying dead of a drug overdose next to a big pile of cash. Filmed two years before Trainspotting, it also stars Ewan McGregor, but this time looking completely different from his Trainspotting character Renton, the thin, pale, heroin addicted layabout. Just like Trainspotting though, although it's set in Edinburgh there's really only the first scene filmed here. After opening in New Town on North East Circus Place, again production then moved to Glasgow for the rest of the shoot.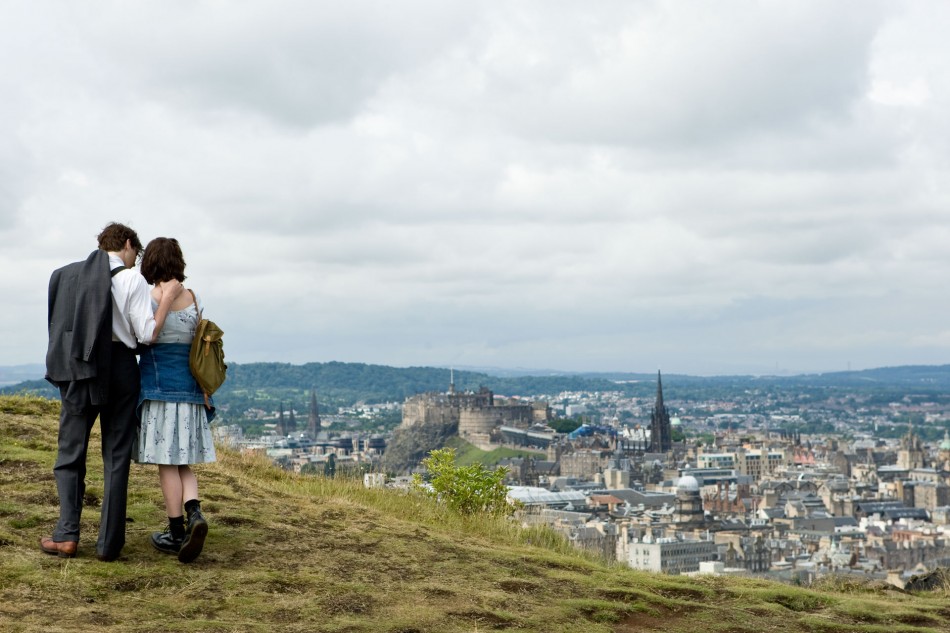 One Day
Any hopeless romantics out there? Well, if the film version of David Nicholl's 2009 best selling book is one of your faves, then you'd better schedule yourself your own 'one day' to cover all the Edinburgh sites shown in the film. Following in Dex and Emma's footsteps will take you from New Town to Old Town and then up Edinburgh's very own volcano, Arthur's Seat.
Here's a list of the places Dex and Emma are seen when they first meet on graduation day to help you along:
Corner of Forres Street and Moray Place, Newtown – their first kiss.
Parliament Square, Old Town – Dex, Emma and friends meet up here at the end of graduation night celebrations.
Warriston's Close, Old Town – Dex and Emma walk down the steps from the Royal Mile down to Cockburn street.
Arthur's Seat – Dex and Emma climb it the morning after they first spend their night together.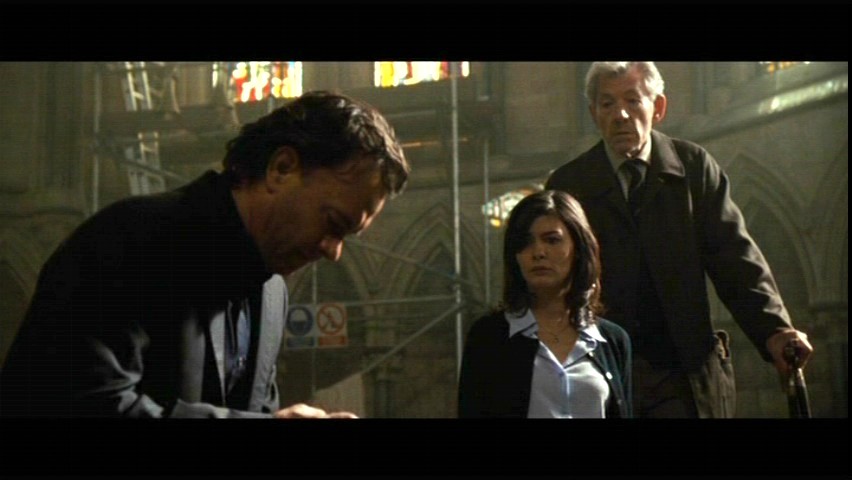 The Da Vinci Code
Dan Brown's gabillion-gillion selling blockbuster book, The DaVinci Code, was made into a pretty average film with Tom Hanks and Audrey Tatou in 2006. If you're one of the three people on the planet who didn't read the book, you'll not know that after a sort of religious relic treasure hunt taking them all over Europe, the main characters end up in Rosslyn Chapel, Edinburgh. Although it's often thought to be found in the city itself, Rosslyn Chapel is about eight miles south in a small town called, surprise surprise, Rosslyn.
I won't spoil the ending for you three out there, but a visit to Rosslyn Chapel is something I'm sure even non Dan Brown fans would enjoy. It's a fascinating little church built in 1456, full of incredibly ornate carvings which cover just about every square inch of the interior. Thanks to Dan Brown, past rumblings of the church's connections to Freemasons, the Knight's Templar and the Holy Grail have helped it become a major tourist attraction.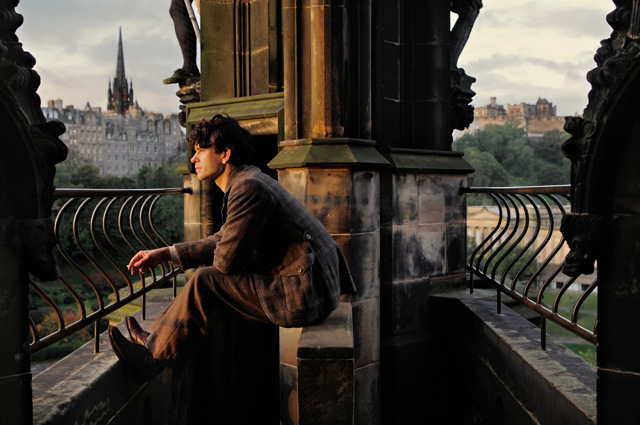 Cloud Atlas
I've seen Cloud Atlas, but since it's one of those perplexing films that you have to really concentrate on, I have absolutely no idea what it's about. I'm sure I'll rectify that with a re-watch one day when I'm feeling particularly awake, but for those of you who actually paid attention, quite a few Edinburgh spots will look familiar to you.
Here's where they were:
St Ninians Row, Victoria Terrace – the dream sequence with Frobisher and Sixsmith smashing porcelain crockery.
The Scott Monument – the enormous, ornate Gothic structure which Frobisher climbs to the top each day for a bit of a think.
The City Chambers Courtyard – where Frobisher disappears through a drainpipe.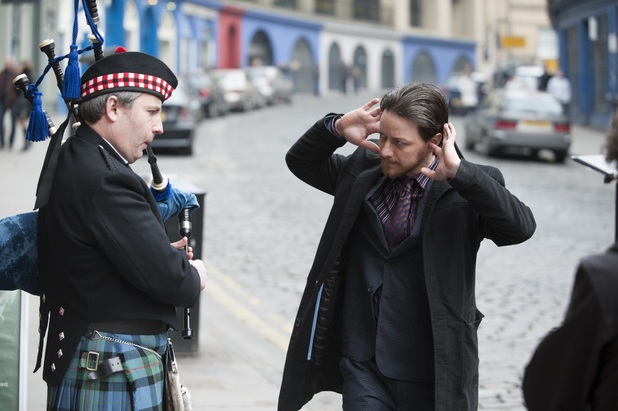 Filth
Another film based on an Irvine Welsh novel, Filth stars James McEvoy as a downright filthy human being who just happens to also be a policeman out to get a promotion – by any means necessary. As with Trainspotting, if you're the type of person who likes to recreate film scenes for your holiday snap shots, best to give this one a miss.
Here's where you can find yourself some filthy film locations:
Edinburgh Castle entrance – Filth's opening scene.
Victoria Street – the scene in the picture above on one of Edinburgh's most distinctive shopping streets. The cobblestone Victoria Street curves up from the Grassmarket to George IV Bridge and is known for it's shops, bars and cafes with multi-coloured facades.
The Grassmarket – Bruce antagonises a child with a balloon.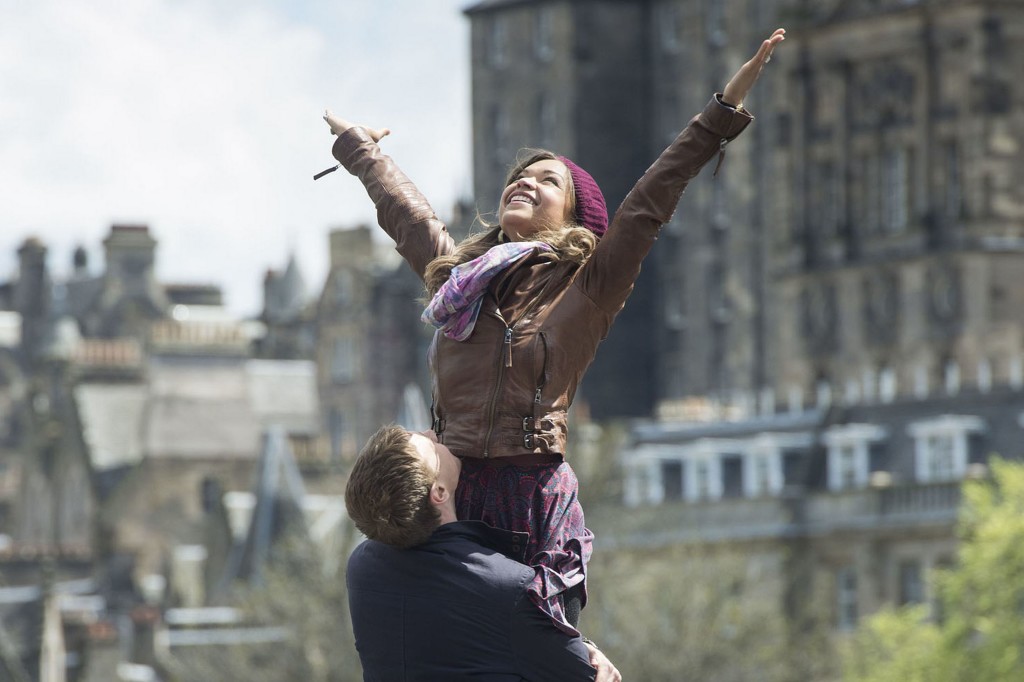 Sunshine on Leith
Like One Day, in that so much of it was filmed here, you could spend quite a bit of time retracing the steps of the characters in the 2013 musical Sunshine on Leith. A port district just north of Edinburgh's city centre, Leith is full of funky cafes, bars and restaurants, the bulk of which you'll find on Leith Walk or centred around the Leith Shore area. Sunshine on Leith was adapted from the stage play of the same name and features songs by 1980's Scottish band The Proclaimers.
Here's the film locations from the scenes you're most likely to remember:
North Bridge – opening scene with Davy and Ally.
Leith Shore – Ally and Liz sing Letter From America.
Calton Hill – Davy and Yvonne sing Misty Blue.
The Mound – the big finish – Davy and Yvonne sing 500 Miles.
Constitution Street – Davy and Ally sing I'm on my Way.
The film spends so much time in Leith and Edinburgh, tourist board Visit Scotland has made a map to help you find all of the above, plus even more film locations.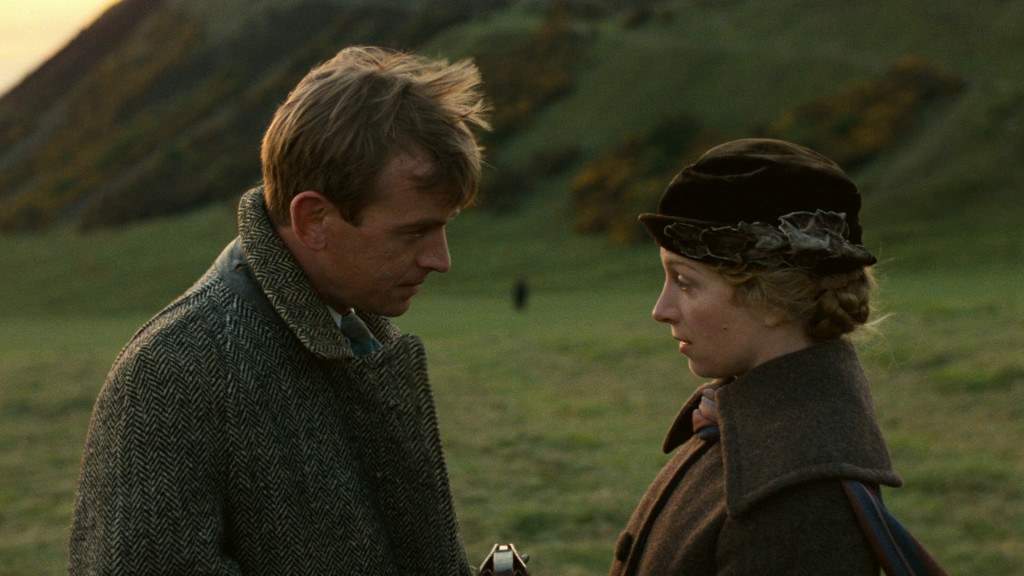 Chariots of Fire
Mention Chariots of Fire and most people immediately think of the famous training montage where the guys run on the beach in slow motion in their white t-shirts and shorts. That was actually filmed at St Andrews, 50 miles north of here. But there were still a few scenes filmed in Edinburgh:
Assembly Halls on the Mound – Eric enters for a religious meeting.
Oyster Bar Cafe Royal – where Harold takes the singer Sybil to dinner.
The Broughton McDonald Church, Broughton Place – The 'Church of Scotland in Paris' where Liddell preaches.
Hollyrood Park – where Eric and Jennie talk of his future plans.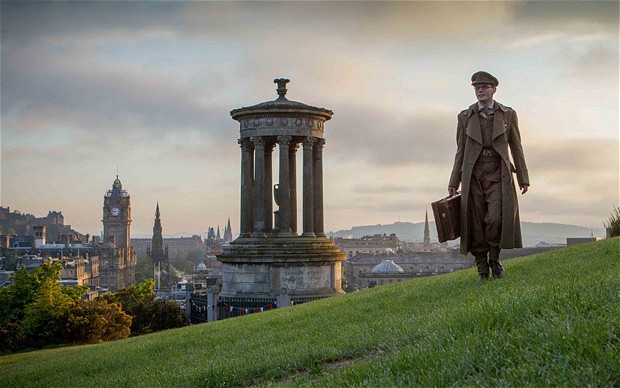 Railway Man
One of the newest movies to have been filmed in Edinburgh, 2013's The Railway Man, which has Colin Firth playing a real life WW2 Japanese prisoner suffering from post traumatic stress disorder, did little to keep me interested in it. Although I did perk up when I saw one of Edinburgh's most iconic spots featured as a young Eric Lomax comes home from war; that would be Calton Hill, above.
Calton Hill is so synonymous with Edinburgh, if you asked someone to show you three pictures of the city I'd bet you a whole case of single malt whisky one of them would be the view from Calton Hill. Even if you're not a fan of the film, Calton Hill's pretty much a 'must-do' for any visit to Edinburgh.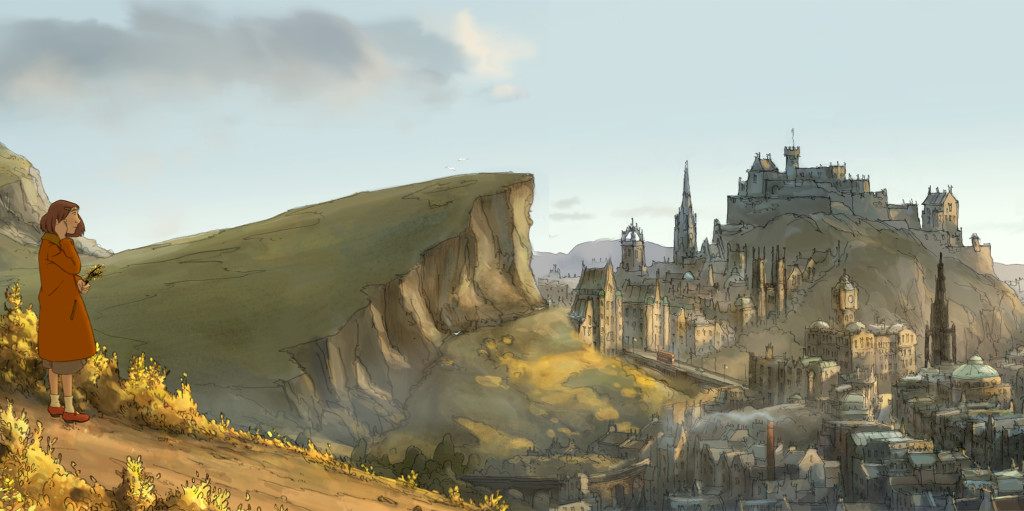 The Illusionist
You may be thinking of the 2006 film with Hugh Jackman and Edward Norton, but this Illusionist is the 2010 animated feature by Sylvain Chomet, creator of the brilliant (and more well known) 2003 animation, The Triplets of Belleville. Some of the many accolades The Illusionist received was an Academy Award nomination (it lost to Toy Story 3), a Golden Globe nomination and a Cesar Award win (French Academy Awards), all for best animated film. It's a sad but beautifully moving story of an illusionist who moves from Paris to Edinburgh and befriends a young girl, letting her believe he is much more successful than he really is.
It may be animated, but it gives a wonderful, if romantic, view of the Edinburgh of 1959. Some of the more recognisable Edinburgh scenes are:
Arthur's Seat – Alice walks up the Salisbury Crags sections to admire the view of the city.
Princes Street – The Illusionist does a show in the Jenner's department store window.
Broughton Street – the Little Joe Hotel boarding house where the Illusionist and Alice live.
George Street – where Alice visits a dress shop.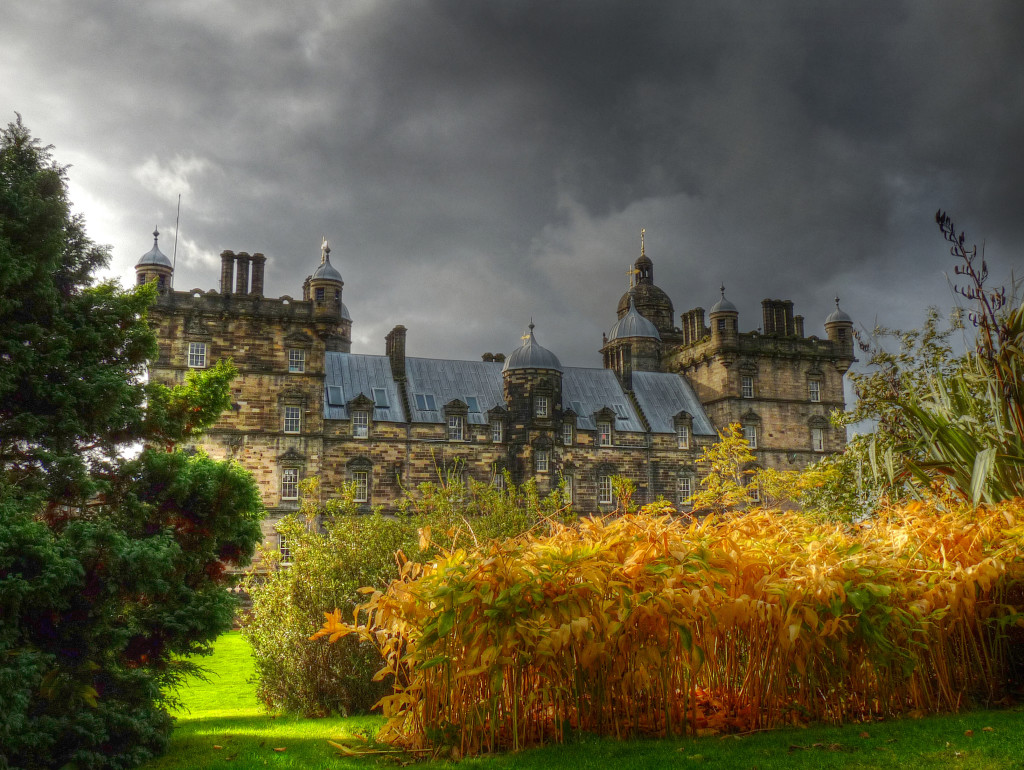 Harry Potter
Whilst none of the Harry Potter films were actually made in Edinburgh, it still has very strong ties to the city. Merely walking around the Old Town gives you a real sense of where JK Rowling's inspiration for her Potter world came from.
It's now fairly common knowledge that she wrote the beginnings of her first book in The Elephant House Cafe, and they do big business because of it, but it's not exactly somewhere I'd recommend people go out of their way to visit unless they are truly die hard fans. As a cafe, it's a bit underwhelming. Elephant House wasn't the only place Rowling wrote. She also spent a lot of time in  Nicholson's Cafe, which was owned by her brother in law. It's no longer there, but you can see a plaque commemorating her on the outside of the building at 6a Nicholson Street. These days it's called Spoon.
If that's still not enough Potter for you, you can also see JK's hand prints in cement in the City Chambers Quadrangle, just off The Royal Mile. Or if you take a wonder along Lauriston Place, you'll no doubt see the George Heriots School (pictured above), which is considered to be the inspiration for Hogwarts.
And of course, visit Greyfriar's Kirkyard and you can see the grave of Tom Riddle, aka Voldemort.
Edinburgh Harry Potter Self-Guided Private Tour
Stuff to Know:
George Heriots School is a prestigious independent primary and secondary school. You can visit each Saturday morning from May to September. See the Visit Scotland website for more details. Or, if you find yourself at one of Edinburgh's other major attractions, the Camera Obscura, you get a great view of the school from Camera Obscura's roof terrace.
If you are an all around film fan, you might be interested to time your trip for the Edinburgh International Film Festival in June.
The Scott Monument is open for visitors to climb the 287 steps to the top. Check the Edinburgh Museums site for more info.
Calton Hill can and is visited every day by oodles of tourists. At sunset each night it's besieged by cameras as the hill's position offers a beautiful view of the city as the sun goes down. Throughout the year, two of the city's festivals well worth checking out are held there, The Hogmanay Torchlight Procession on December 30th and Beltane at the start of May.