(Last Updated On: 19th July 2019)
I know it's supposed to be referred to as The Scott Monument, but its nickname – The Gothic Rocket – is just perfect. And it makes giving directions so much easier. I mean, telling someone to 'take a left at a big space ship that looks like it was built by Tim Burton' is much more tourist friendly than saying 'take a left at the big monument to Scotland's favourite author'.
Edinburgh's Scott Monument astounds me every time I see it. It's like a much more ornate Eiffel Tower and can be seen from many a corner turned or hill climbed while wandering around the city (see pic below from Old Town). But enough gushing. Let's get some facts out of the way. The Gothic Rocket is the largest monument to a writer in the world. I have no idea what number two is, but at 200 feet/ 61 meters tall, its monumental (sorry) size is indicative of just how revered Sir Walter Scott is in Scotland, and in particular his hometown, Edinburgh.
A statue of Scott and his dog, Maida, looms out from the base of the rocket and was sculpted by Sir John Steell (no that is not a typo) from Italian Carrara marble. There are also sixty-four statues dotted around the exterior of the structure, most of them depicting characters from Scott's novels (there's also two dogs and a pig). I'll leave you to discover who is who for yourself, because I'm way too lazy to research all that myself.
And that's enough of that.
Much more interesting is the story of the man who designed and built it, George Meikle Kemp. He was born a shepherd's son in Moorfoot, in The Pentland Hills just outside Edinburgh in 1795. Apparently when he was ten, he was sent on an errand to nearby Rosslyn, and that day saw his first Gothic structure, Rosslyn Chapel, which of course is now most famous for being a key plot point in The Da Vinci Code. Rosslyn was to be the catalyst for his lifetime love of Gothic architecture.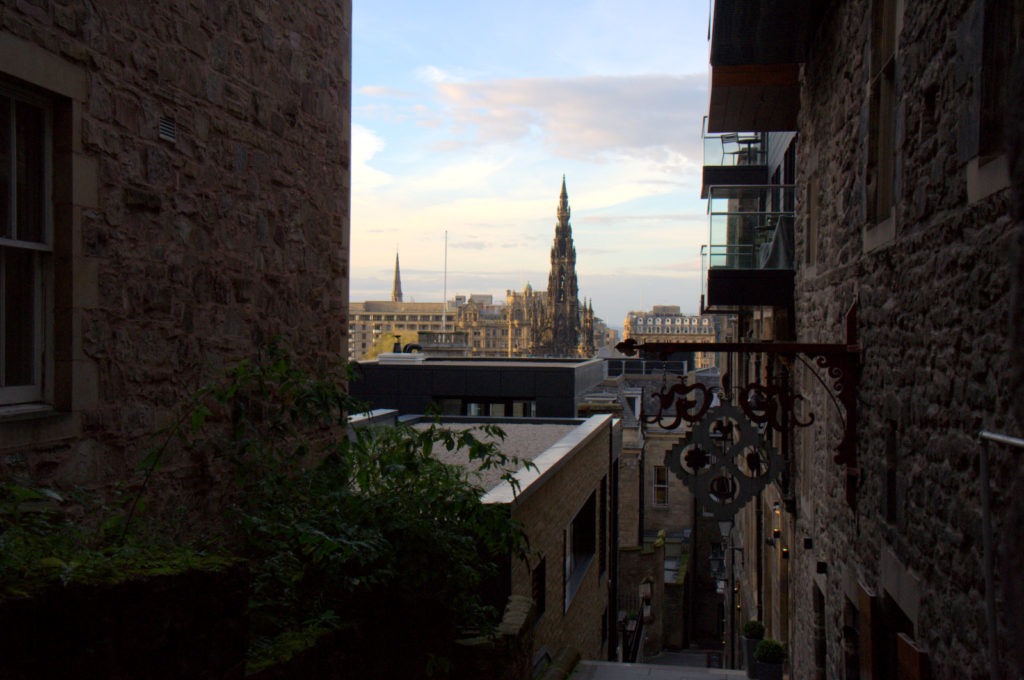 At 14, he took up a carpentry apprenticeship. When that ended, he moved around Britain, living and working as a millwright (a carpenter who built mills) and would spend his spare time walking up to 40 miles a day (people must have been so much fitter before public transport), so he could see and draw buildings that interested him. With no formal education as an architect, finding a job in that field was impossible, so he moved to France. Again he moved around from place to place and continued his own self-taught masterclass, making a living by getting carpentry jobs in mills and staying for a while in each place to study and draw the magnificent French architecture.
When he got back to Edinburgh, he found work as a draughtsman and soon became quite renowned for it. So in 1836, when a competition was announced to design a monument to Sir Walter Scott (who had died in 1832), stipulating it must be Gothic in design, you'd think Kemp was a shoe-in. But there was one small problem. He wasn't a trained architect, and he knew the hoity-toity establishment would no doubt look down their noses at an amateur thinking he could win such a prestigious prize. So he did the only thing a poor, uneducated boy from the hills can do – he lied. Kemp entered the competition as John Morvo, a name that was found graffitied on a stone at another Gothic building, Melrose Abbey in the Scottish Borders.
And just like the plot of any great underdog film, he then suffered a huge set back, because yes, the judges loved his design, but they were indeed too snobby to award the prize to a rookie. So out of the fifty-four entries, he came third, losing out to two well established English architects. Now at this point I probably would have just stuck my fingers up at them and given up, but George was more mature than me. And again, just like any good underdog plot, he got another chance when the judges changed their minds and decided to ask the top three to submit again. Meikle Kemp went back, improved his design and won the whole thing! Yey!
It's the Victorian architectural equivalent of "The Karate Kid." Seriously, why has nobody made a film of this yet? I've practically written it for you already, Robert Zemeckis.
The foundation stone was laid on August 15th 1840, his birthday. Construction began in 1841 and was completed in the autumn of 1844, but not before George Meikle Kemp tragically died, mere weeks before the completion date.
As he was walking to his Morningside home late one foggy night/morning from the construction site, he slipped and fell into the Union Canal in Fountainbridge and drowned. My first thought was that maybe he'd spent too long at the pub after work, I mean who drowns in a canal? But apparently he was sober.
Meikle Kemp's brother in law then looked after the construction until it was completed and Meikle Kemp's son laid the final stone.
And if that's not enough to win this story the Oscar, I don't know what is.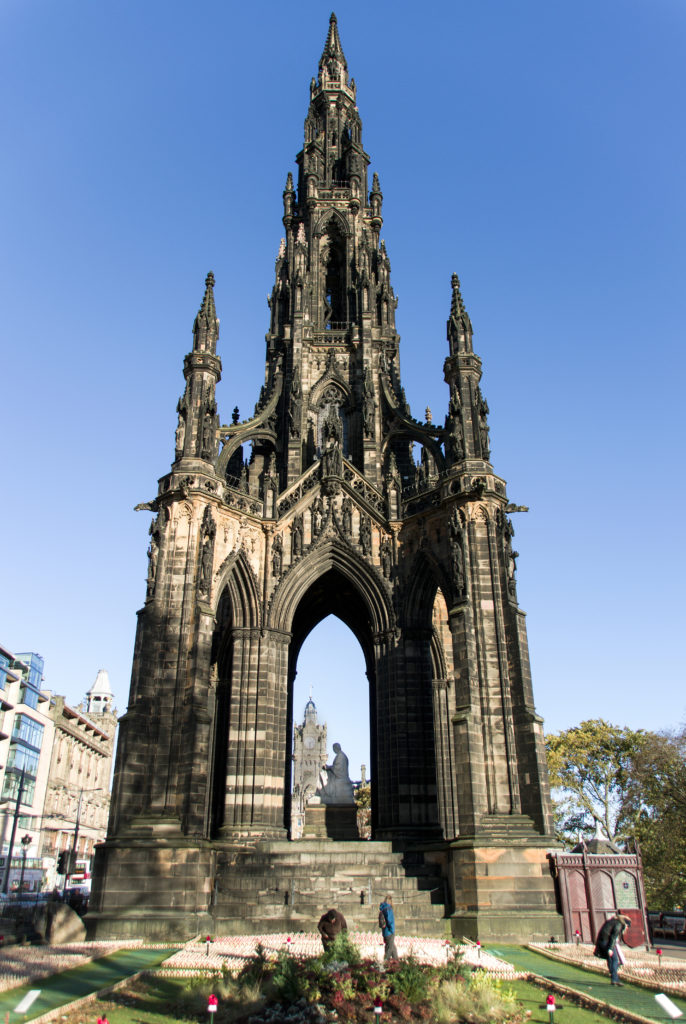 Stuff to Know
Obviously, The Scott Monument is not quite as clean as it would have been 170 years ago. In the 1990's there was talk of giving it a big scrub but after much scientific investigation it was concluded that any kind of cleaning operation would cause too much damage and leave the Binny sandstone patchy and prone to more erosion. They did however replace a few damaged areas altogether and over the years various structural repair works have taken place.
For a mere £5 you can, if you like that type of thing, climb to the top of The Scott Monument to look at views like the one below. But just so you know, there are 287 steps. That's a lot. It's hard. And the closer to the top you get, the windy (that's windy as in twirly, not windy as in breezy), medieval staircase gets narrower and freakier. If you're not reasonably fit or get any kind of vertigo, give it a miss. It's a miracle I'm even here to write this thing.