(Last Updated On: 14th February 2019)
How do you get people to flock to your bar? Easy. Put the word secret in the name. Well, it worked for me with the Secret Polish Vodka Bar, or as it's also known, Secret Arcade Bar. And now that I'm in on the secret, I'm happy to announce it's a place I'd go back to. In fact I did go back, this time to eat. OK, and to drink some more too.
If you take away the 'secret', you'll find Arcade Bar is a haggis and whisky restaurant on Cockburn Street. Enter Arcade Bar and you can fill up (and I do mean fill up, the portions are huge) on variations of the Scot's favourite sheep's offal dish, then take your pick of around a hundred different whiskies on offer. But if you head toward the back of the restaurant and venture up a couple of slightly dodgy looking wooden stairwells, you'll find yourself in a tiny bar dedicated to Polish Vodka. Now you can add the 'secret' back in, because this is the Secret Arcade Bar.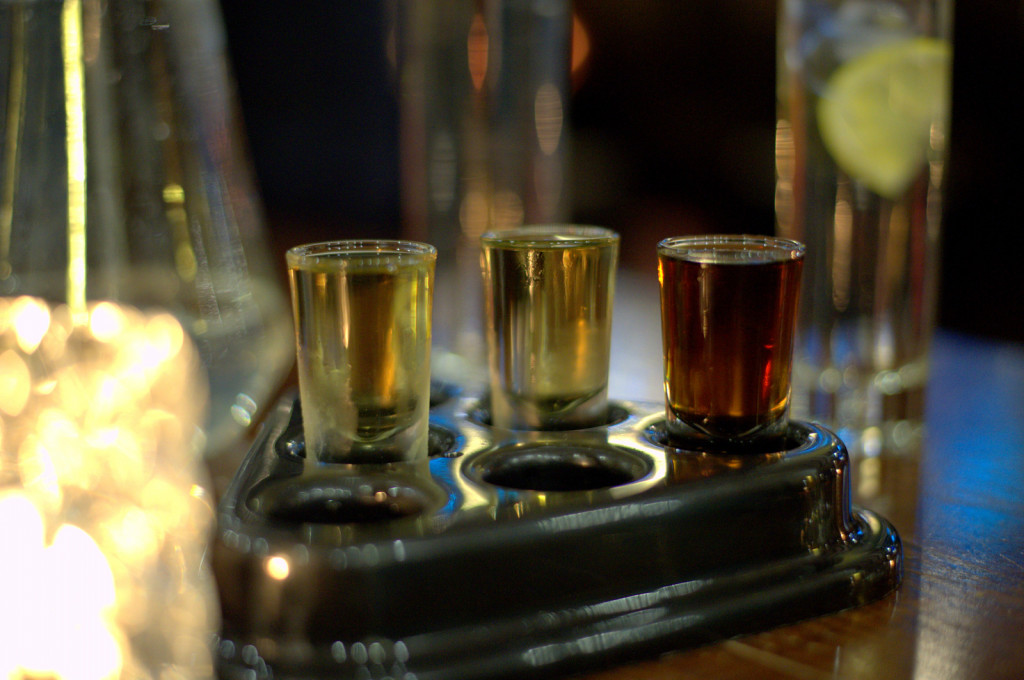 Vodka shots are served to you in these handy containers, perfect for getting multiple vodkas back to the table in one go.[/caption]
The bar area would only seat about twenty people, but there's another section to the back with room for about ten more. Except for two glowing mosaic chairs, the decor is quite unassuming; exposed stone walls, a small bar and regular, unfussy chairs and tables. But that's not a worry, it's the vodka you come for, not the decorations, right? Service is swift and friendly and patient, because there's usually a lot of umming and ahhhing while you got to grips with the huge Vodka menu.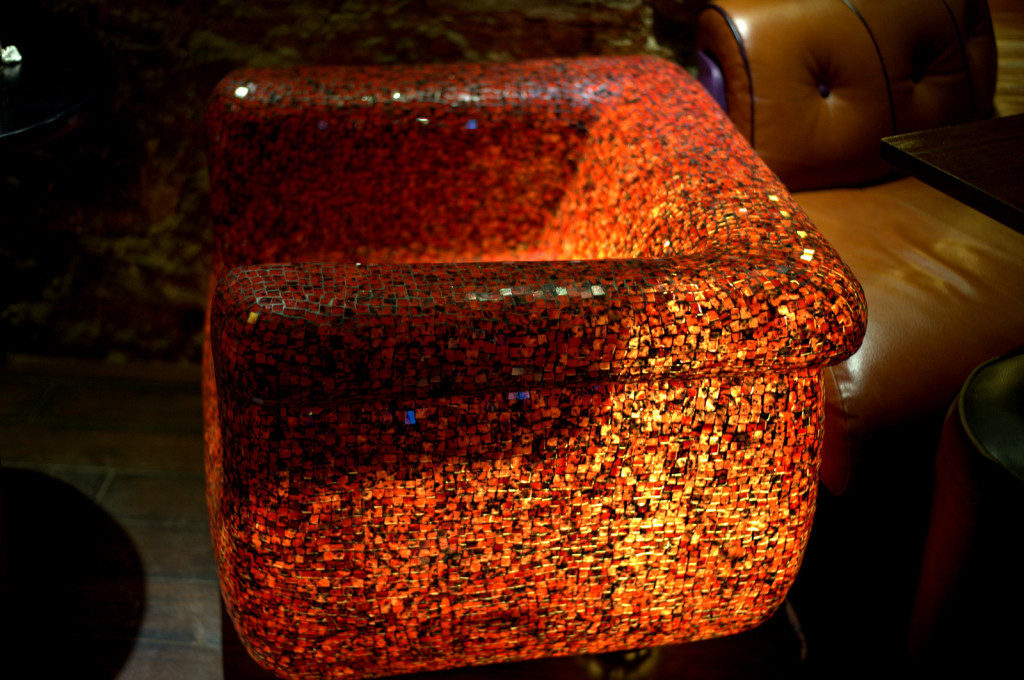 It's a thing of beauty. Just not very comfortable.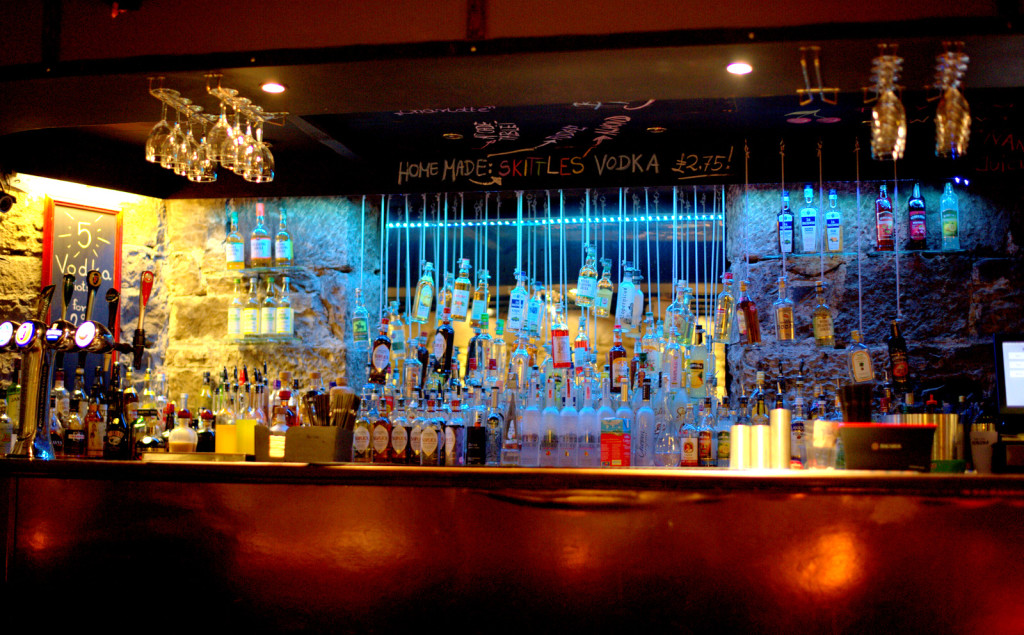 Hello, Skittles Vodka!
Like the whisky downstairs, there's over a hundred different flavours of Vodka to choose from upstairs. A large menu is divided into sections labelled fruity, pure, spicy, exotic and different. Price-wise the best option is probably to take advantage of their 5 shots deal for £13.99. When I first went there it was the week after Christmas, so the Eggnog Vodka Christmas Special was a winner with all my group. By about round three, we ended up drinking that alone. By the end of round four… well, who knows what the hell happened after round four.
While we're on that subject, and at the risk of sounding like your granny, if you're going to stay for a while and try a couple rounds of five Vodkas, remember to take your time. Maybe even see if you can slip in a jug of water for the table there somewhere. Take my word for it, the potency of the Vodka will sneak up on you. As Secret Arcade themselves say on their website, "Vodka's cheaper than Botox, and paralyses more muscles!" 
Or better yet, you could have some food before or during your Vodka adventures. If you've not had haggis before, Arcade Bar is a great place to break yourself in.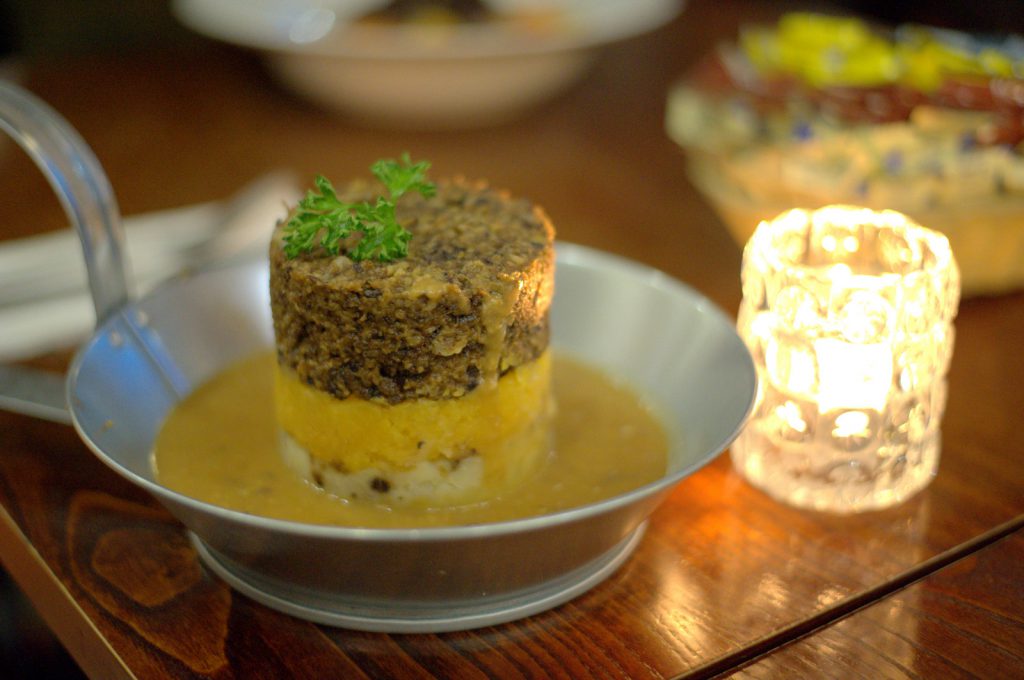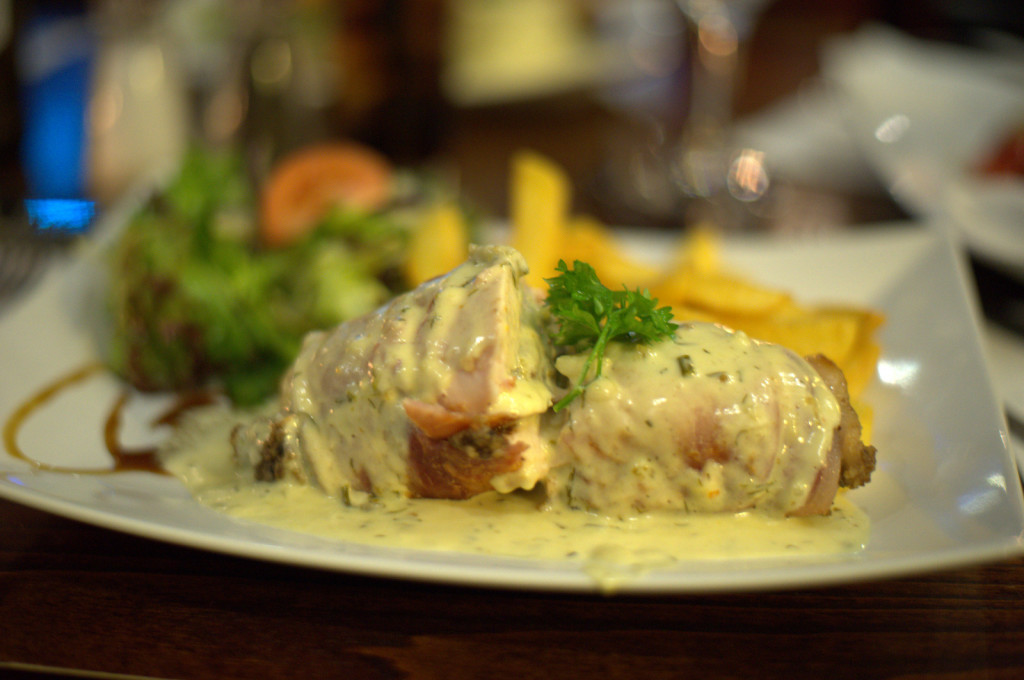 Stuff to Know:
Getting there: If you're going to eat at Arcade Bar first, it's not too hard to find. It's the yellow building in the picture below.
Address: 48 Cockburn Street, Edinburgh EH1 1PB.
Website: www.arcadepub.co.uk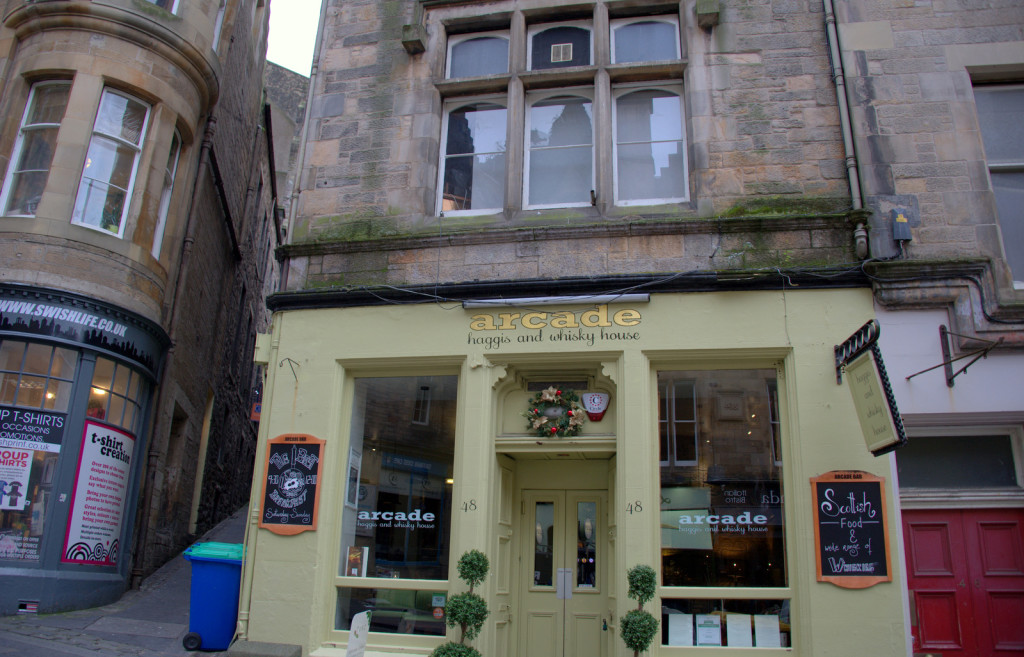 If you're just going to the Vodka Bar, you can make yourself feel all secret squirrel by entering through the door on Jackson's Close. That's the alley on the left side of the Arcade Bar photo above. If you want to be even more secret squirrel, you can enter Jackson's Close from the other end, the Royal Mile end, and then you get to walk down a dark, imposing alley before going through the secret side entry and up the secret side stairwells.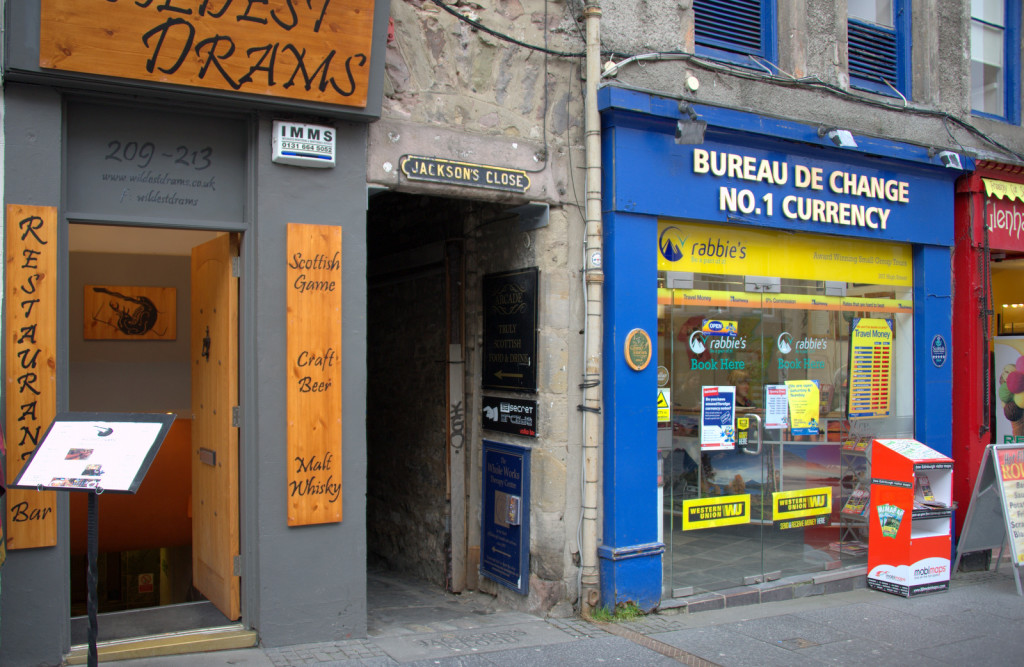 Jackson's Close entry from The Royal Mile[/caption]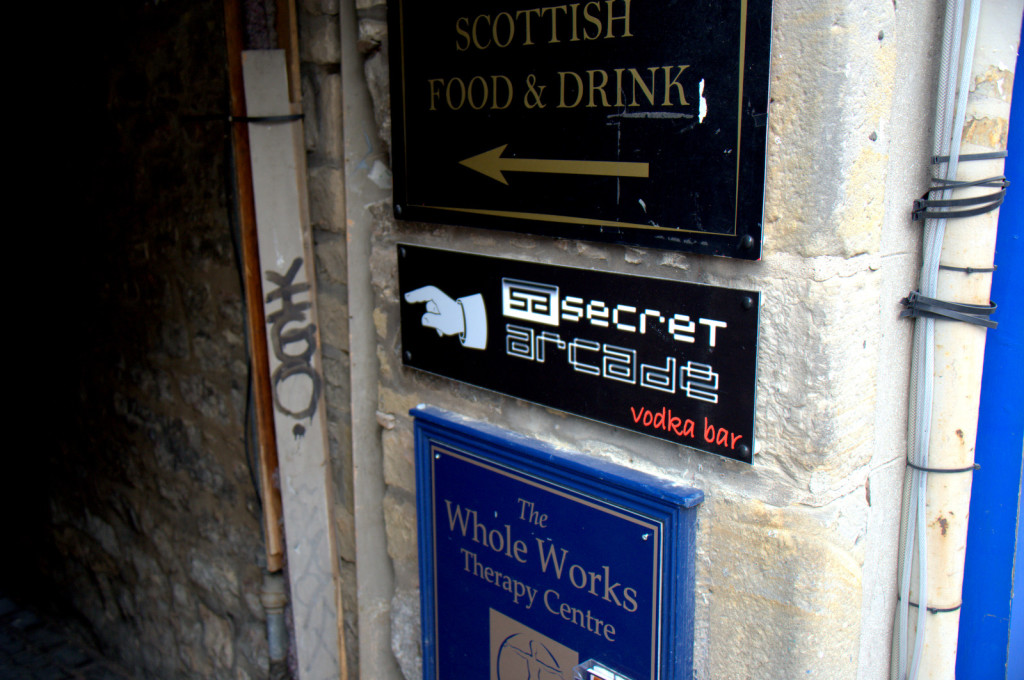 As you can see above, there's a sign, so it's not really all that secret. But who reads signs?
As it's so small, the Secret Polish Vodka Bar gets crowded pretty quickly. If you're going to eat first, tell them you want to go to the bar later and they may be able to reserve you a table upstairs to both eat and drink. From what I observed though, it's more the kind of place you'd go for a quick shot or ten before you carry on elsewhere. There were waves of it being super busy, but nobody seemed to stay very long. So if you want to settle in for a while, just be patient and you should be able to get a seat.