(Last Updated On: 15th August 2020)
You're in Edinburgh, you know you'll have to eat haggis at some point. Yes, you will. Don't argue with me now. You're doing it. Remember though, like any food, there's good haggis and not so good haggis, so for a successful first try you really need to make sure you seek out a verified 'good haggis' spot.
When it comes to traditional dishes that look terrible but taste lovely, Scotland is king – take for example Stovies, Porridge, Black/White pudding, Clootie Dumplings – but Haggis is the one that gets the most negative press. Even Visit Scotland, one of the country's official tourist sites, admits 'although it's an object of Scottish culinary fascination around the world, it certainly is not a beauty queen'. Indeed.
Anyone who hopes to get a visitor to try haggis for the first time, should probably keep this part quiet, but I'll risk telling you exactly what you're going to be eating. Haggis is sheeps' pluck (that means heart, liver and lungs) mixed with oatmeal, onions and spices and then traditionally cooked in a sheep's stomach, although today usually in something more like a sausage casing. Think of it as like a really peppery, soft textured but dense mince. The lung part is what keeps haggis banned from import to the US. So if you're American, all the more reason to try it here in its homeland.
Still with me? Come on, be brave, it's tasty, honestly.
The most traditional way to eat haggis is as a dish of Haggis Neeps 'n Tatties. which means with turnips and potatoes. But more frequently today, chefs are using it in all sorts of new ways, so don't be surprised if you find it popping up on menus all over town.
Here's a few places where you can't really go wrong.
Arcade Haggis and Whisky House
Arcade is a great place to start if you think you're brave enough to give a big serving of Haggis a try. Their menu is almost entirely traditional Scottish dishes,  but on the haggis front you can choose from a stack of Haggis Neeps and Tatties (with either a Whisky or Drambuie sauce), a Haggis Burger, a Chicken Breast stuffed with Haggis (pic above), Vegan Haggis or if you're there for breakfast, you'll get some haggis with your Full Scottish Breakfast. Downstairs is a regular restaurant set-up, but upstairs they also have the Secret Polish Vodka Bar, and if you want, you can ask to have your meal in the bar when you book. Servings are big and prices are very decent considering their location smack in the middle of The Royal Mile touristy bits. 
Los Cardos
You may ask yourself why have I put a Mexican take-away on the best Haggis list? Because Los Cardos does a Haggis Burrito that is praised all over town, including by none other than Irvine Welsh! (that's Mr Trainspotting, if you're drawing a blank). 
The Black Fox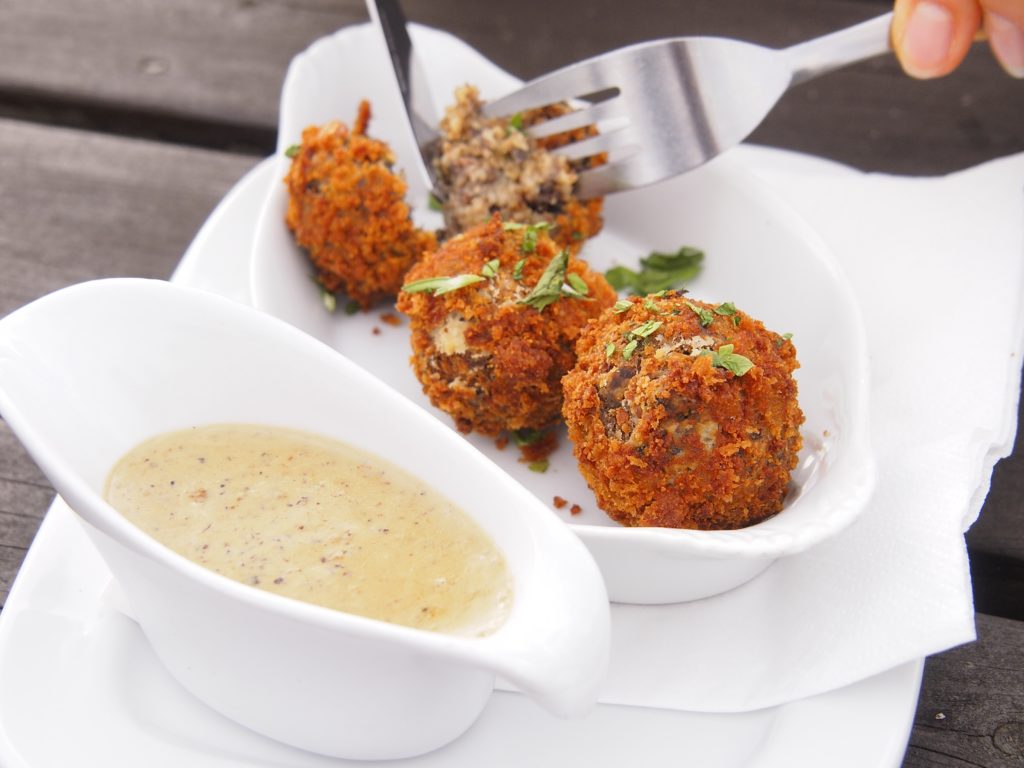 And again, why is a Leith burger and cocktail joint on the Haggis list? Well, if the thought of a huge chunk of a haggis tower gives you the heebie jeebies, but you still want to be able to say you tried it, Haggis Bon Bons are your answer – crumbed, deep-fried little balls of the peppery black stuff. The Black Fox does a really tasty, crispy, non-greasy version. If you want to try Haggis out on your kids or super squeamish adult friends, bon bons are a great disguise. Worked on me.  
Bross Bagels
Super-cala-bagel-licious Bross has a whole fleet of bagel hangouts in Edinburgh now, and for Burns night in January they bring back their Rabbi Burns (geddit?) special. So wrap your curious chops around a Montreal style bagel filled with haggis, a neep and tattie latke, whiskey maple mayo, caramelised Onion, and cheddar cheese. Phwoar. Now, if like me you're a fussy fuss-pot eater, keep in mind that fillings are generous here, so you'll definitely know what haggis is all about when you bite into one of these. If you've not been initiated with some bon bons yet, maybe share it with a friend. There's also a vegetarian version too.
Teuchters Landing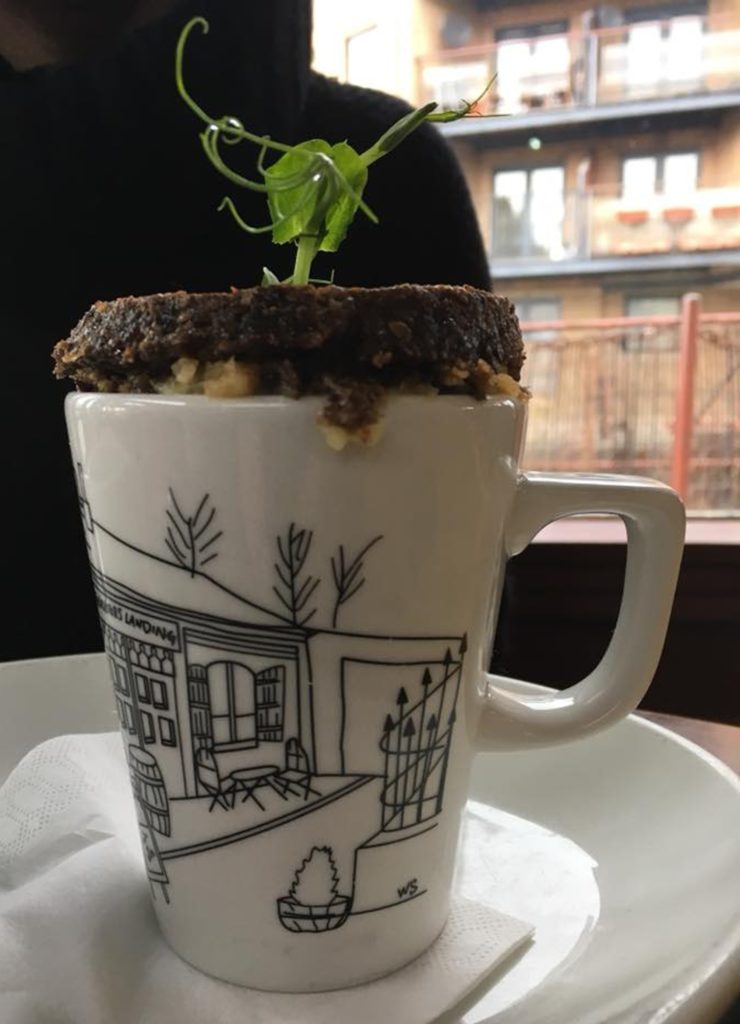 As part of their mug range, as in dishes that are quite literally served up in a mug, Teuchters' version of Haggis Neeps and Tatties is made with the excellent MacSween's Haggis and comes with mustard whisky cream. Ooof. Yum. If the mug's novelty factor isn't enough to win you over, the taste will be. You can choose a small or large mug, but if it's your first try, remember, maybe err on the side of caution and go small. I know I've said that three times now, but you know, I'm just looking out for you picky ones. Or maybe I'm just outing myself as a pain in the bum diner. Anyhoo, you'll most likely love Teuchters, so much you'll be back again anyway. 
Makars Gourmet Mash
Makars have three locations now, two sit down restaurants and one cafe where you can grab smaller portions of their restaurant best-of's to take away. It's all about comforting wintery favourites at Makars, with rich gravy and different flavoured mash potato to go with it. Their haggis is from a local Scottish producer, A.J. Hornig, and you can have yours either as a regular or vegetarian dish, try a bit in your mash or as a starter size serve of Haggis, Neeps 'n Tatties to break you in gently.
The Haggis Box
And last but definitely not least, you can pop your haggis cherry if you so wish with the street food version from The Haggis Box. You'll need to check their social media to see where they are, but they are usually at the Grassmarket Police Box on the corner of Victoria Street or The Old Tolbooth Market, located just off the The Royal Mile (and this is a cool place to check out itself). These guys do a steaming hot box of Haggis, Neeps and Tatties, available with a Whisky Mustard Sauce or Red Wine gravy. Plus you can have a vegan and gluten free version too!