(Last Updated On: 26th April 2021)
Food Trucks are, thank goodness, still super poplar in Edinburgh. And just like their long established cousins the world over, they've long moved on from the roadside greasy spoon versions serving lard soaked burgers, chips and a Full English. Today what you'll get is niche, superior quality food that is the brainchild of the country's most innovative and enthusiastic young chefs.
More and more food trucks are popping up each year in Edinburgh, but  here are my current personal favourites.
Crema Caravan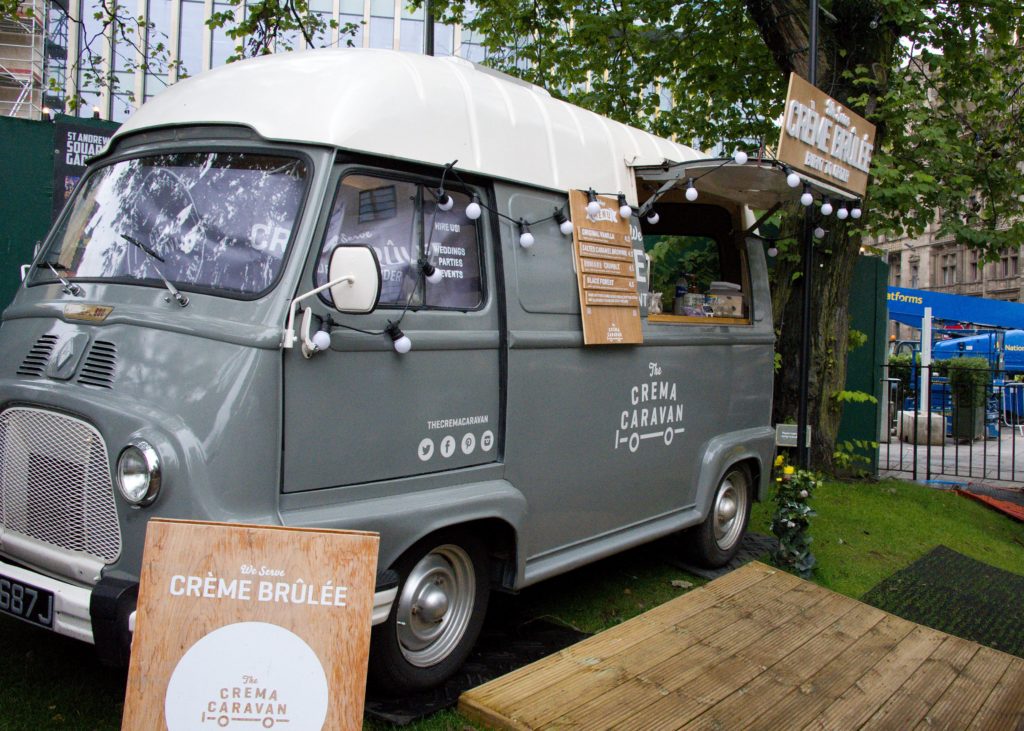 Crema Caravan does Creme Brulé. And that's it. Don't you love it when there's only one choice? Well I do. Unless it's fish and then I'd just have to go hungry. This one's served up to you from a restored Renault van called Florence, but don't let my first two sentences fool you, there's plenty of choice to be had – with the toppings. On any given day you might get to choose between Salted Caramel, Apple Crumble, Strawberry Meringue, Cardamom and Orange, Peanut Butter Blondie or Black Forrest. They are Edinburgh food truck veterans and won the best dessert award in The British Street Food Awards 2015, and were joint winners in 2018 of The Scottish Street Food Awards.
Ròst Eats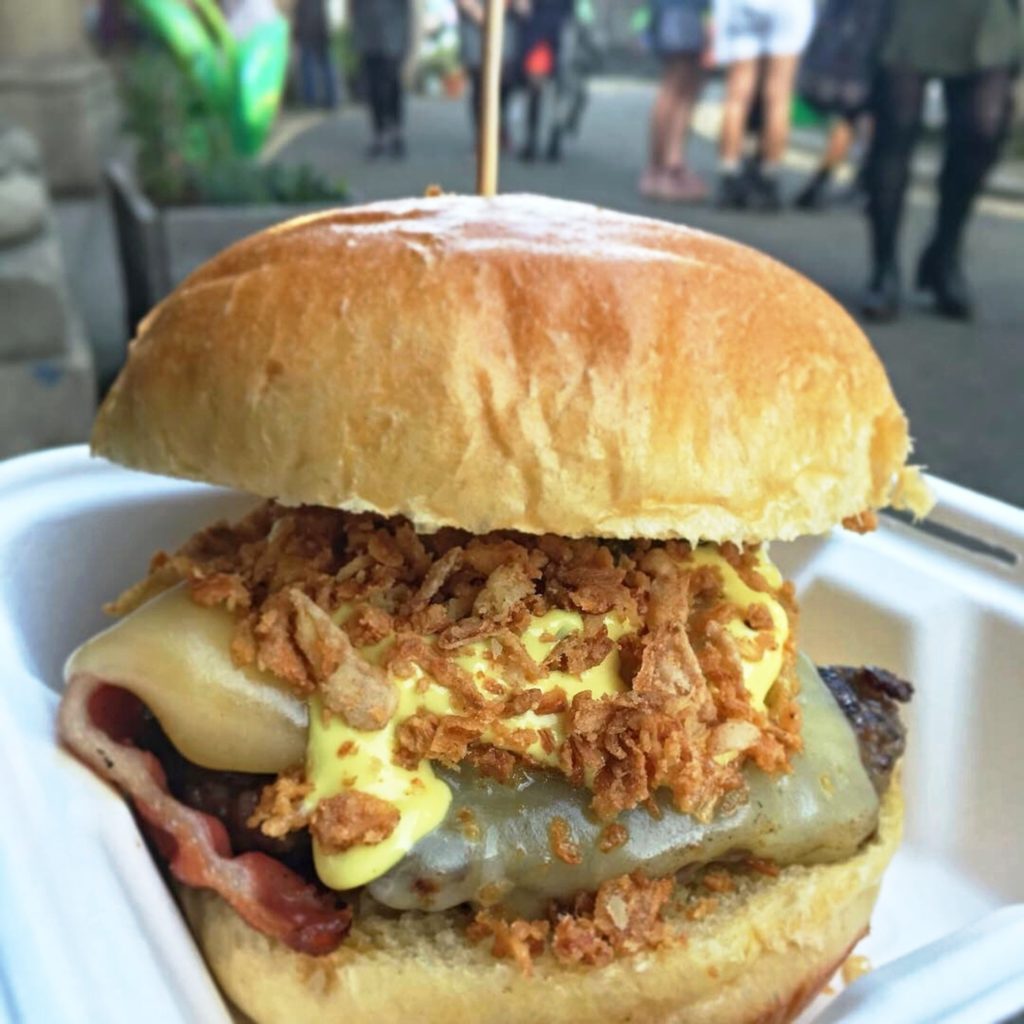 Think sliders, burgers and bao buns, but then turn up the gourmet factor by also thinking game, top quality fish (mussels/smoked salmon) and home made deli meats. At Ròst Eats you'll get offerings like Venison Pastrami Burgers, Peanut Butter Crunch Pheasant Burgers, Moules et Frittes and Wild Mushroom and Parmesan Arancini. It's outrageously delicious and I felt slightly posh for a minute. But don't worry, then I got an Irn Bru.
Barnacles and Bones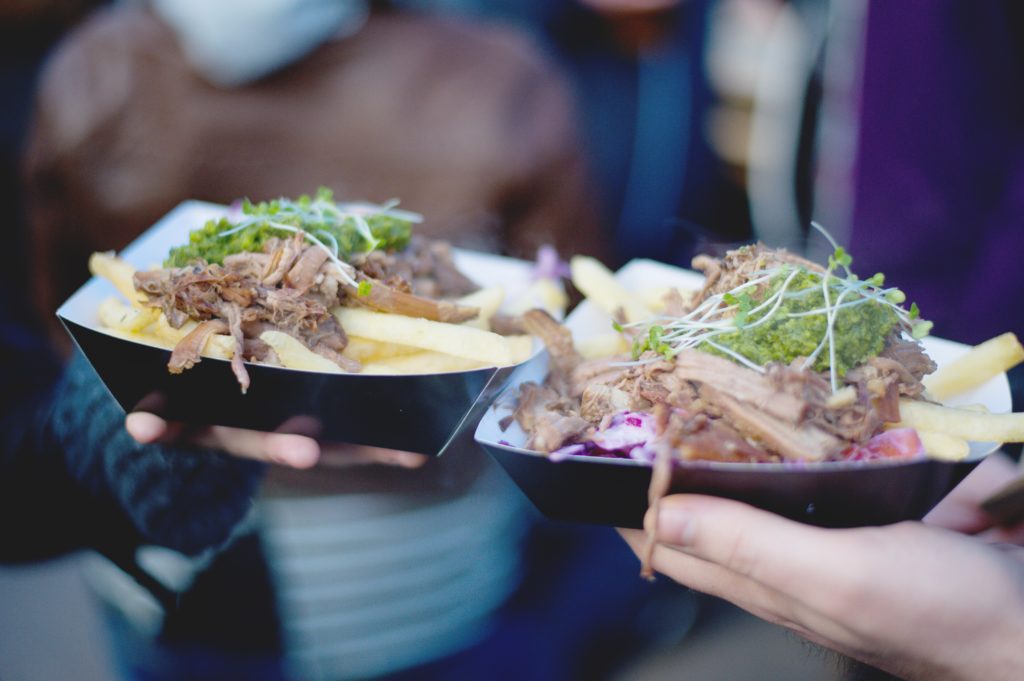 In their own words, Barnacles and Bones "bring shellfish & obscure cuts of meat to the plate". Like Ròst Eats, it's all a bit more sophisticated than your everyday pizza and burgers. And there's absolutely nothing wrong with that. On the menu you'll find choices like slow cooked beef rib with sherry gravy, crab with home made lemon mayo, tarragon salted fried and  crab and sweet corn fritters.
The Buffalo Truck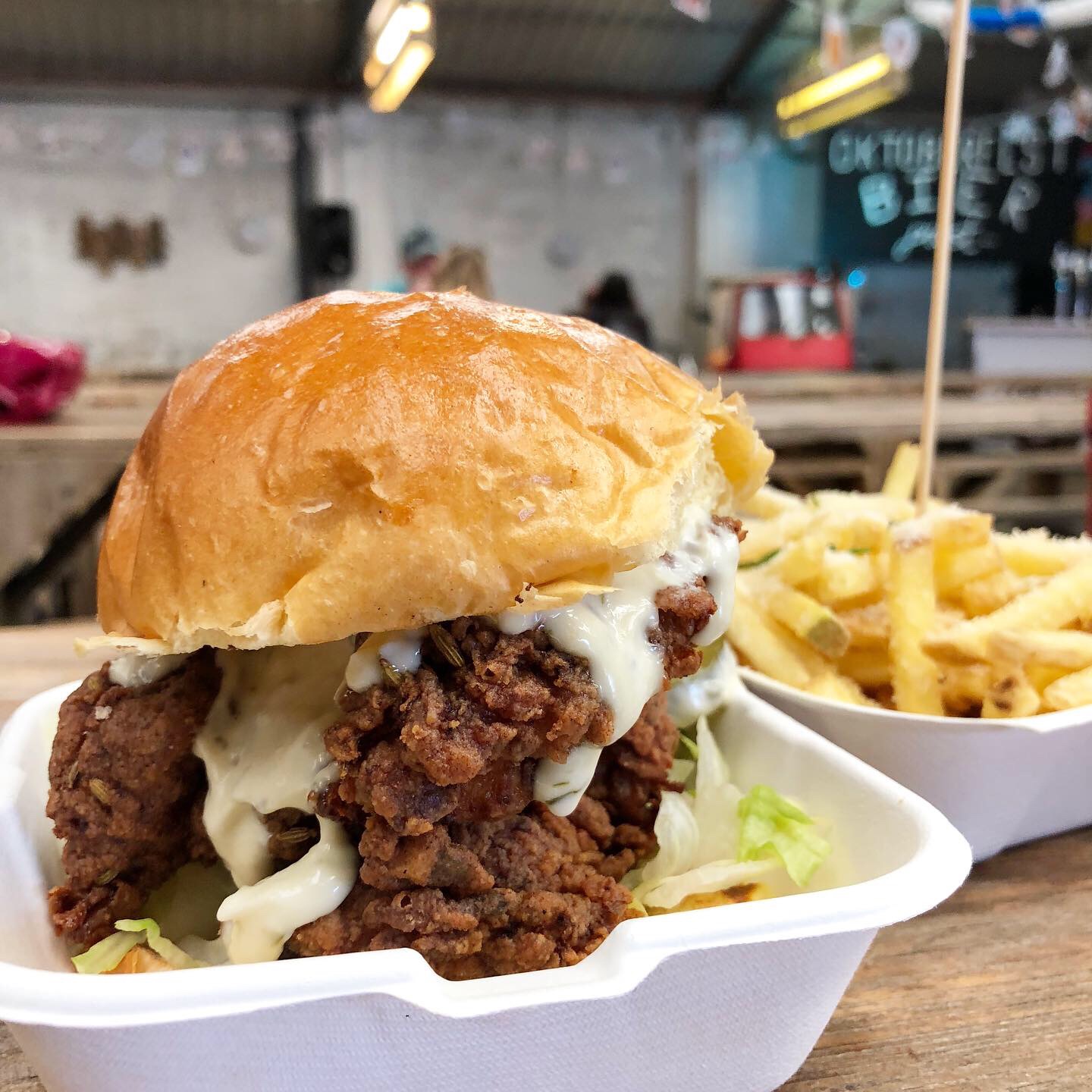 Oh lordy, just writing their name makes me crave one. These are hands down the most amazing buttermilk battered chicken burgers you will have wrapped your chops around in a long, long time. If a Stuff Edinburgh accolade isn't good enough for you, The Buffalo Truck was the winner of The Scottish Street Food Awards in 2017, joint winner in 2018 and People's Choice winner in 2019. I mean, just look at that pic.
The Peruvian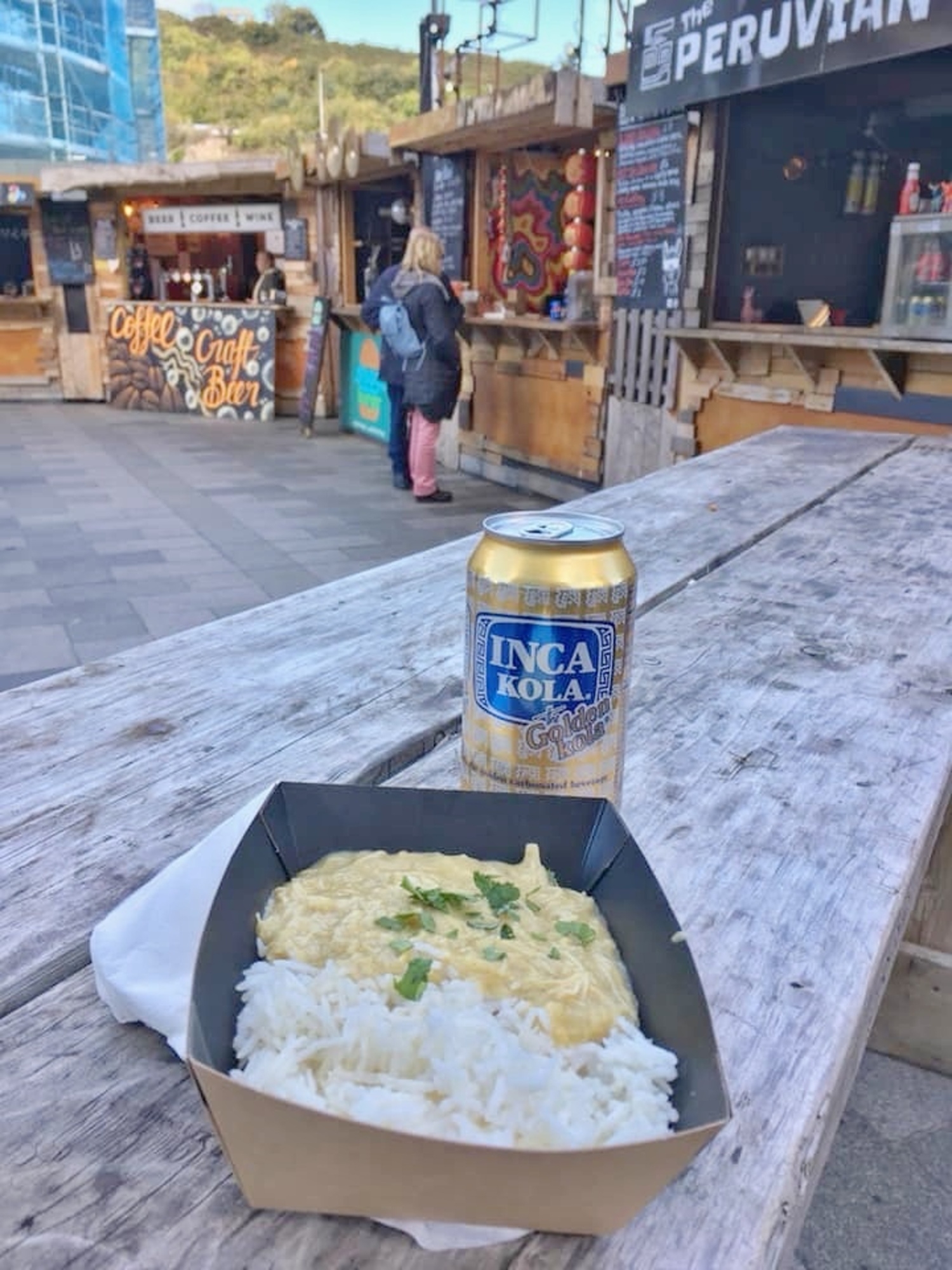 This is Scotland's only Peruvian street food vendor, serving traditional recipes of the best kind – ones taught to them by their mother and grandmother. There's favourites from Peru like Lomo Saltado (marinated steak, onions, tomato, rice and chips) and Aji de Gallina (creamy chicken stew with potatoes and rice), but also popping up on their menu are Anticucho (spicy BBQ cow hearts) and Leche de Tigre Ceviche (lime cured fish with sweet potatoes, corn, chilli, onion, coriander). You can even get some Inca Kola to wash it all down with. Remember this one. Wouldn't want you to miss them.
Wanderer's Kneaded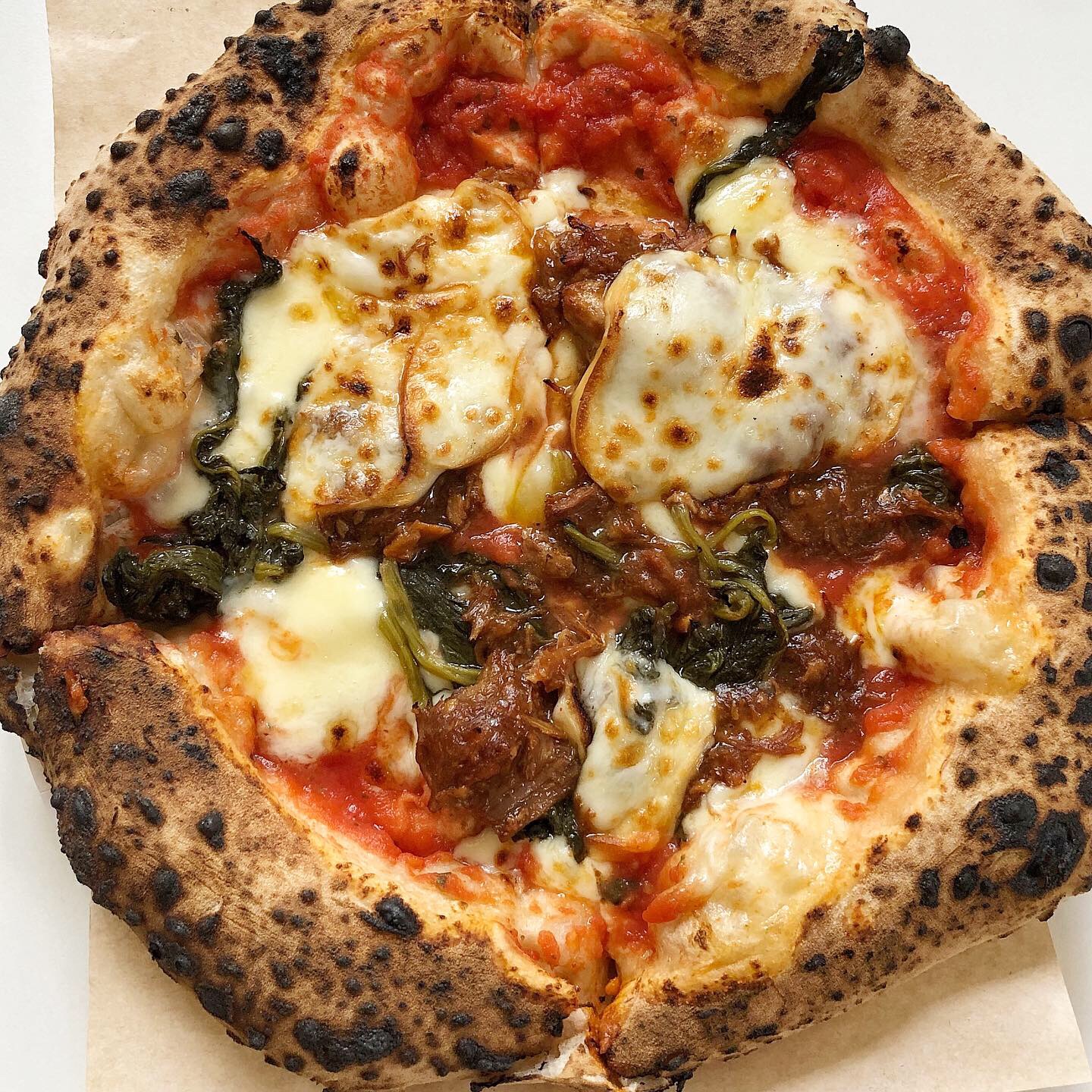 Well the picture says it all really. Or maybe not, because although Wanderer's Kneaded make pizzas that look as good as that there specimen, you'd probably be hard pressed to guess the ingredients. They love to come up with combinations to surprise us all with. This is the It's Never Too Late to Break Bad, with slow roasted pulled pork, pickled friarielli and Scamorza cheese. I mean… ooof.
Stuff to Know:
Most of these food trucks make regular appearances at The Pitt Market in Leith on the weekends, but check the links and their social media and current locations.
Also, during festival season, Edinburgh has food trucks all over the place. Head up to George Square, where the large garden is always surrounded by food trucks from all over Scotland, not just Edinburgh. There's also St Andrews Square, George Street or right next to Waverley Station steps during summer and winter festivals.