(Last Updated On: 5th May 2021)
A surprising number of brave souls have opened new food outlets in Edinburgh in the fourteen months or so since we all first heard that dastardly word – Covid-19. And against the type of odds none of us could have ever dreamed of (well, unless we were huge fans of the film Contagion) they not only survived, but many of them thrived.
Below are my top picks of the new food spots that have boomed during 2020 and 2021. Full disclosure, I'm still making my way through this list, so can't give you my personal opinion on all of them yet. But the people have pretty much spoken, and they say these new spots are dishing up some seriously tasty meals. So why not go and support a new local business, now that they get the chance to test out their ideas the old-fashioned way, with actual bums on seats inside their premises?
Bundits of Leith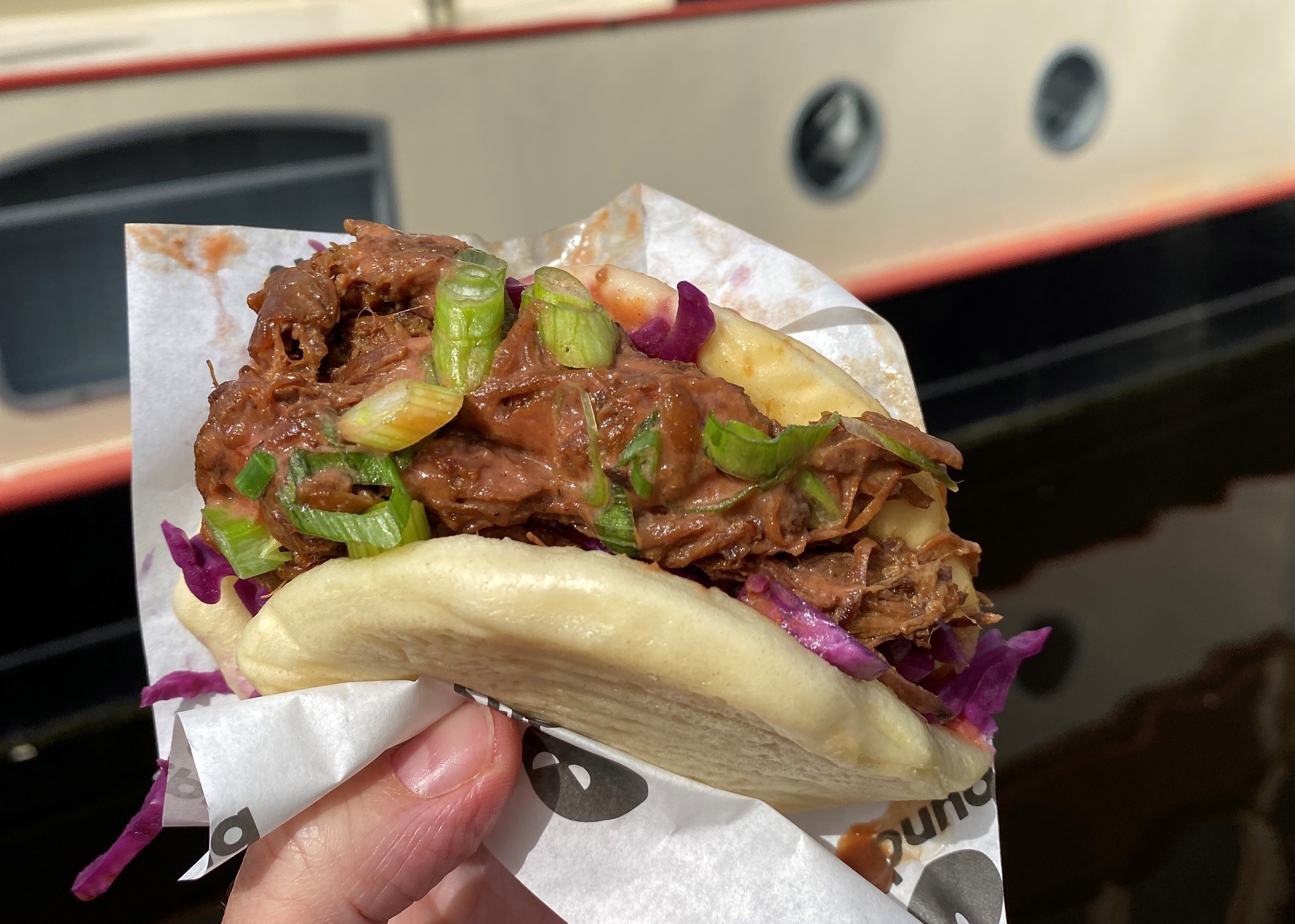 I did my fair share of lockdown daily walks this winter, and every time I walked past Bundits, it had at least 10-15 groups of people (that's groups, not singles) lined up waiting to be served, often in the freezing cold. From the owners of the more upscale New Chapter, and the now closed Otro, Bundits of Leith is a pop-up serving steamed Hirata Buns filled with Korean style meat and veg options. And I do mean 'filled'. Look at that thing.
If you're an early bird or sweet tooth, they've got breakfast and dessert Bao buns too. The Honeycomb and Banana Ice Cream Sandwich with Passion Fruit Curd was as good as it sounds. But, keep in mind it's difficult as a take-away to keep ice cream from melting. So be warned, you might have to defy a lifetime culinary habit and go ahead and eat your dessert first.
48-52 Constitution St, Leith, EH6 6RS
Butta Burger
Edinburgh's love affair with burgers keeps on keeping on. No complaints here. Butta Burger built up such a huge following during lockdown with deliveries, they've already been able to snag themselves a site on George Street. Oooh. Swanky.
With a slogan I can get right behind – Everything Tastes Better with Butta – they use double aged beef patties 'basted in our seasoned butta' and allegedly mahoosive fried chicken schnitzels 'marinated in our special seasoned Buttamilk'. With sides like Parmesan and Rosemary Chips, Kiev Chicken Fingers, Marrow Mayo, Chicken Gravy Mayo (phwoar) and Malteser Shakes, I may need to rope in some mates to help me out with this visit. Can't see that being too difficult.
137 George St, EH2 4JY
Jimmy's Fried Chicken
This is Michelin starred chef James Murray's take on the ultimate fried chicken – think free range, organic birds, foraged ingredients, elderberry syrup glazing on the drumsticks and nose to tail Yakatori skewers cooked on coals. Jimmy's Fried Chicken, or JFC, were serving out of a hatch from from their spot at the Swanfield Industrial Estate over winter, but were asked to find an alternative venue. The large crowds queuing each weekend to try to snag JFC's first-come-first-served offerings was deemed a non-no for lockdown.
So now JFC will be popping up at different locations throughout summer. They've already completed a short residency at local legends Bross Bagels' Portobello outlet, so keep an eye out on their social media for how to catch them next.
Brioche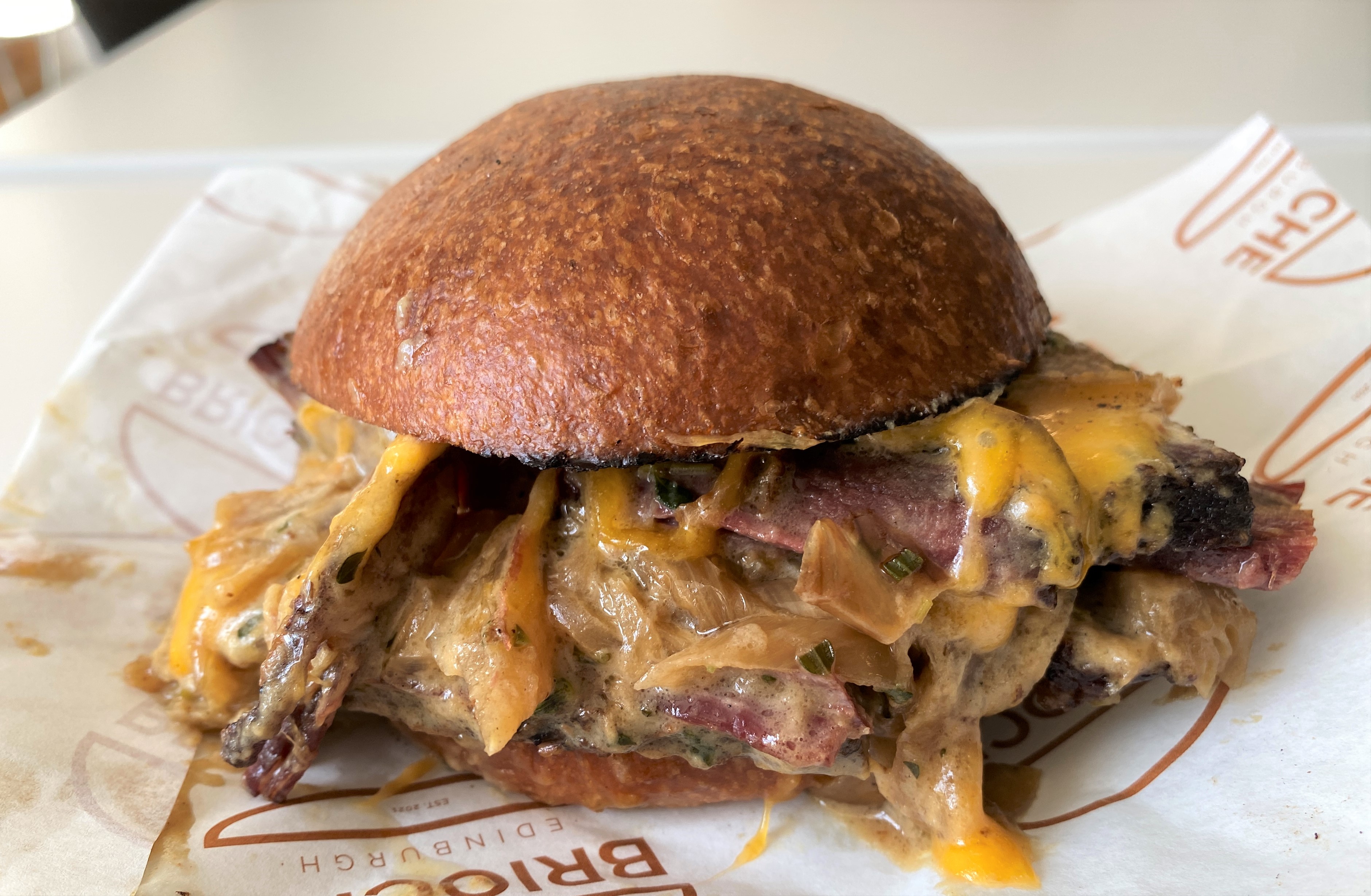 Here's a place proving good ideas are often simple ones. I mean, who wouldn't like Brioche stuffed full of 'deli-inspired' deliciousness for breakfast, brunch and lunch? The Philly, above, is Brioche Edinburgh's take on a Philly Cheese Steak, and it was a hefty, meaty, cheesy delight. Excuse the mess I made for this picture, but LOOK at all that oozing goodness. And, as the place is called Brioche, I feel I must comment on the bun. It was as it should be, sweet and buttery, and despite all that hot filling it didn't fall apart, a common downfall of brioche buns.
I nearly went for the Madam (pulled pork, Bechamal, cheese and a fried egg) but was also tempted by the Nacho Libre (spicy pulled chicken, Pico de gallo, sour cream, coriander, cheese and crispy onions). They've also got hot dogs/subs, breakfast buns, cakes, pastries and the occasional special. Hmm, visit number 2 is surely not too far away.
144 Dundas St, EH3 5DQ
Fin and Grape
Fin and Grape? Seafood and wine. Get it? Seafood. Wine. Fin. Grape. Anyhoo, Fin and Grape's lobster rolls were the superstars of their lockdown Grab & Go specials, causing socially distant stampedes throughout winter, Block-fulls of Edinburgh residents suffered major FOMO for weeks as the rolls sold out every time they appeared on the menu.
Having worked at Fishmarket (among others), Chef-Owner Stuart Smith really knows his sea creatures. Menus will be changing regularly, but if the Instagram shots are anything to go by, fish lovers are in for some expertly cooked, beautifully plated Bistro-style dishes.
19 Colinton Rd, EH10 5DP
Hau Han
So I'm cheating a bit here. Hau Han opened in 2019, but word really seemed to get out during the latest lockdown about their mix of Hong Kong style Cantonese and British-Chinese dishes. Indeed, a friend confirmed for me recently that Hau Han is anything but your bog standard Chinese take-away.
There's no MSG, no artificial colouring or flavours, ingredients are light and fresh, and, as the menu is not the usual Chinese restaurant door stopper size, what you get is a smaller number of dishes done well. What's luring me for a visit soon though is the Man Tau, a Hong Kong dessert that's basically doughnuts with a condensed milk dipping sauce. Hello. Yes please!
88 Haymarket Terrace, EH12 5L
#fish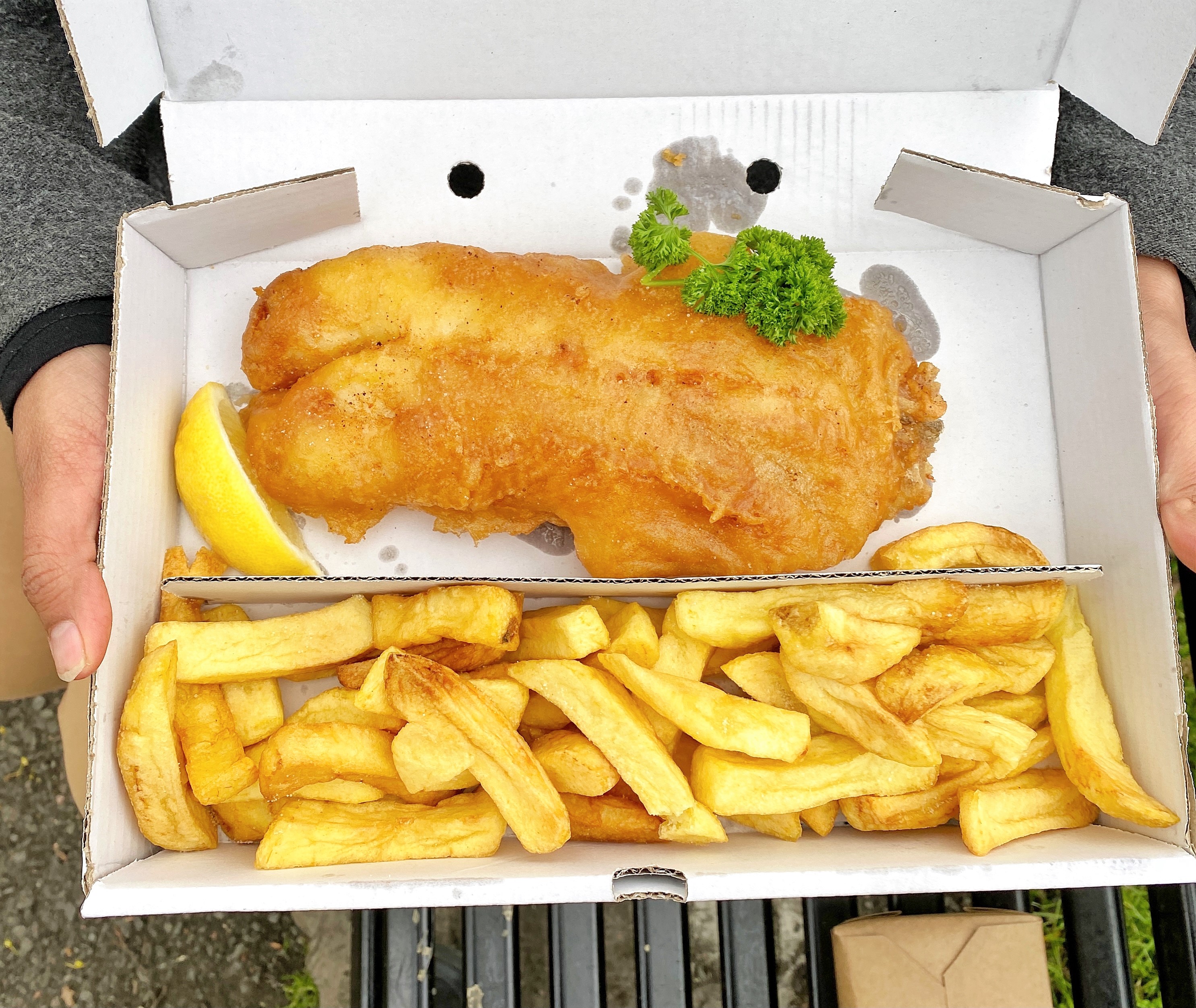 I've lived in Edinburgh for 8 years. And as much as I love the tradition of old-school, cheap as chips (sorry) fish and chip shops, I've been patiently waiting for more gourmet versions of the British take-away fave to finally hit town*. And here it is, a chippy that not only has things like Whole Tail Scampi and Herb Battered Stone Bass, but a raft (sorry sorry) of vegan and gluten free offerings like Thai Carbana Cakes, Vegan Haggis Fritters, Spicy Bean Burger, Halloumi Fries and Dauphinoise Potato.
Most impressive to me, #Fish cook everything to order, which is very much as it should be for a chippy, in my opinion. Daily changing specials like Lobster Mac 'n Cheese Croquettes, Lemon Sole Goujons and Crab Bon Bons with Pineapple Salsa keep each visit interesting, while showing they really do mean it when they say their fish arrives fresh every day. The Marchmont location only opened in June 2020, but hopefully their second branch opening in Haymarket in February 2021 means one might appear closer to me in Leith soon. Cough. Hint.
Marchomont – 98 Marchmont Rd, EH9 1HR / Haymarket – 10 Clifton Terrace, EH12 5DR
The Chippy – by Spencer
Oh look, here's another one. See, posh chippies is a good idea. Like #Fish, The Chippy by Spencer also cook to order, they also have vegan/vegetarian and gluten free offerings, and you get a choice of battered, breaded or baked here too. But what's caught my eye on the menu are the Haggis Spring Rolls. And Prosecco. I mean…
 79A Broughton St, EH1 3RJ
Gulp Ramen
Opening in late 2020, this compact new place was packed for the couple of months we were allowed to sit inside and eat food before lockdown 2.0 started. It's obvious this is not just your average noodles with meat/veg in broth kinda place. This is class. First there's a choice of two noodles made in-house, thin Hakata or thicker Udon. Then Pork, chicken and vegetable broths simmer way for at least 60 hours before coming to your plate (err bowl). Daily Asian inspired specials that they call 'snacks' have included Tartar of Red Deer Loin, Smoked Pork Cheeks, Roasted Veal Sweetbread and Lobster tails as the main ingredients, so foodies are bound to be excited by repeat visits.
Seating is limited, so it works on a first come first served basis, just FYI.
9 Albert Pl, EH7 5HN
Moo Pie Gelato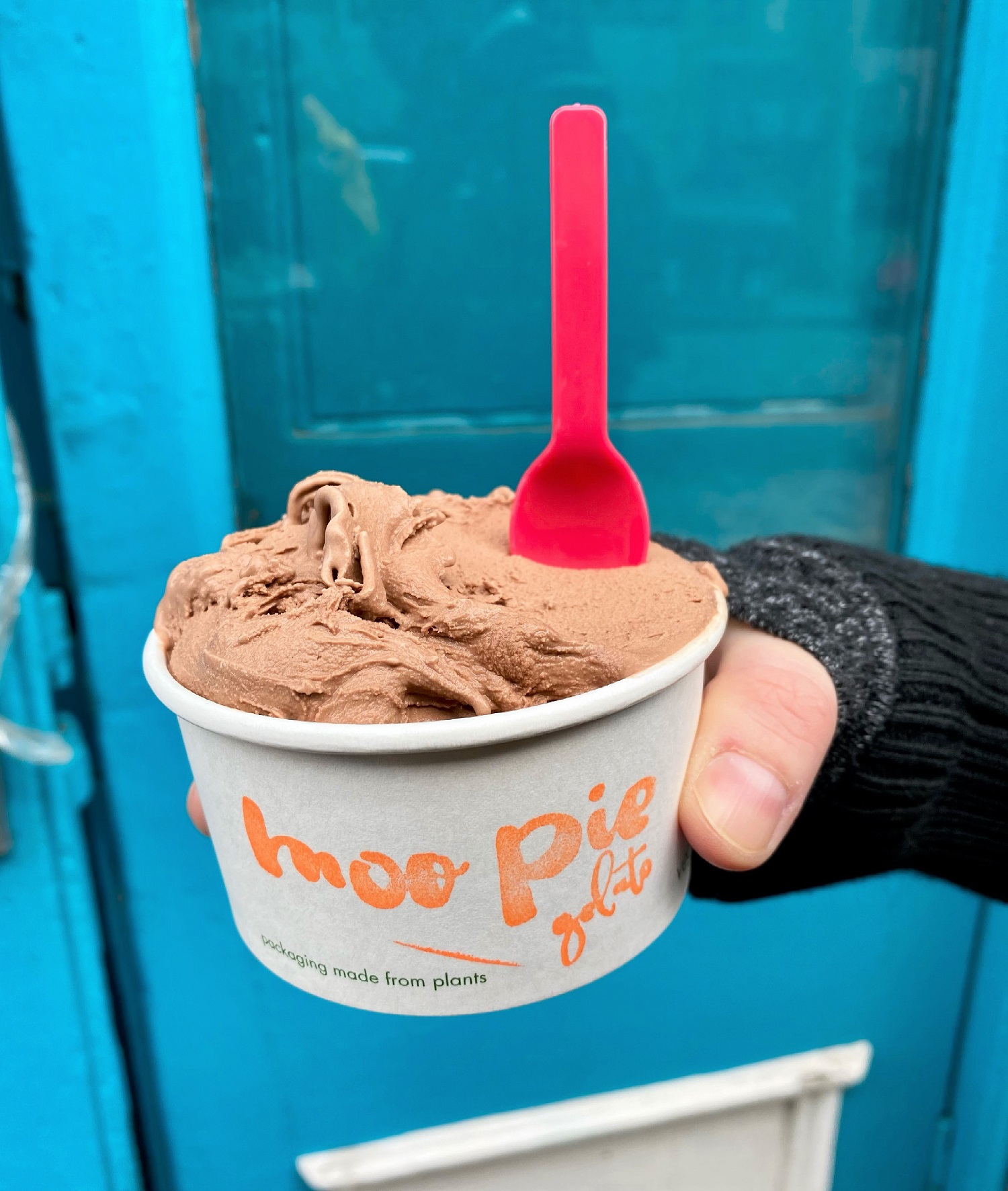 Ok, here we go again. I feel I must justify Moo Pie being on the 'new place' list. Ahem, so, whilst they've been around since 2016, it was only during the recent lockdown that they opened an actual scoop shop. Ummm, OK that's a lie. They actually opened the shop in summer 2019. But a friend told me last week she'd never heard of them, and that's just tragic. So I feel it's my duty to get the word out more, in case others are similarly in the dark. I recently had the best Choc-Orange ice-cream I've ever had in my life here, and I've been to Italy a bazillion times, so, that's saying something.
Just get yourself to Moo Pie Gelato. They do small batches of the smooooothest, creamiest scoops of dairy goodness you'll find anywhere in Edinburgh. Flavours change regularly, but there's usually only a few choices because, you know, it's small batch. ie: fresh every day. Past options have included Orange, Cherry and Amaretti, Cinnamon Toast, Hot Cross Bun and Caramelized White Chocolate. But there's also some more challenging flavours like Earl Grey and Lemon or Pickle for the sophisticated/bonkers (take your pick) people out there.
If you want to really indulge though, try a cookie sandwich. This is a 'flavour of the month' soft serve smooshed between two home made cookies and finished off with sprinkles. Sadly I missed the December one that had Sticky Toffee Soft Serve, Ginger and Molasses Cookies and dark choc shards. Still kicking myself over that one.
26 St Mary's St, EH1 1SU
Salt Cafe
Same location, same name, new owners, new menu. Popular Morningside cafe Salt reopened in summer 2020 with new owners, husband and wife team Steve and Liv. Brunch is still their focus, and in just under a year they've managed to dial up an already popular menu by making the most of their own talents and experience. Steve is a butcher and chef who has worked in Michelin restaurants, so all the bacon, sausages and black pudding are made fresh by him. Liv not only runs the front of house, but bakes most of the cakes, brownies, cookies and slices you'll likely be tempted to try.
As they're committed to using local artisan suppliers (Edinburgh Butter Co, Kilted Donuts, Wild Hearth Bakery, Corrie Mains Free Range Eggs, Mosgiel Farm Milk) for everything they don't make themselves, head here for excellent quality versions of your brunch favourites like Fry-ups, Pancakes, Porridge, Eggs Benedict and Avo on Toast.
54-56 Morningside Rd, EH10 4BZ
Aemilia
This is another husband and wife team pandemic success story. At Aemilia, Kip and Giada make fresh, handmade pasta and sauces, Focaccias and desserts every week to deliver to your home. In only one year, word has spread so much that The Times newspaper recently featured them, with a perfect score of 10/10. Menus change every week, with delivery on Wednesday and Thursday to Edinburgh city centre, and Friday and Saturday to East Lothian.
With it all going so well, Aemilia will soon be opening a shop on High Street Portobello, in what was Bross Bagels' first ever Edinburgh location, and where I'm sure the offerings will continue to expand.

*I should qualify that statement under the #Fish section. Technically Berties on Victoria Street has gourmet chippy offerings and quite a few veggie choices alongside their old school chip shop regulars. So to my knowledge, they were the first Edinburgh city centre chippy to jump on the chippy posh-nosh waaaay back in January 2019.