(Last Updated On: 2nd February 2020)
If you've been reading a few 'Best Pizza in Edinburgh' lists, you might be having a sense of déjà vu. Yes, there's a few pizza joints that are miles ahead of the rest, but the Edinburgh pizza game just keeps getting better and better. There's bound to be a couple of new ones on this list you haven't heard about yet. So stop your searching people and just trust me, these are hands down the best pizzas in town, right now.
Civerinos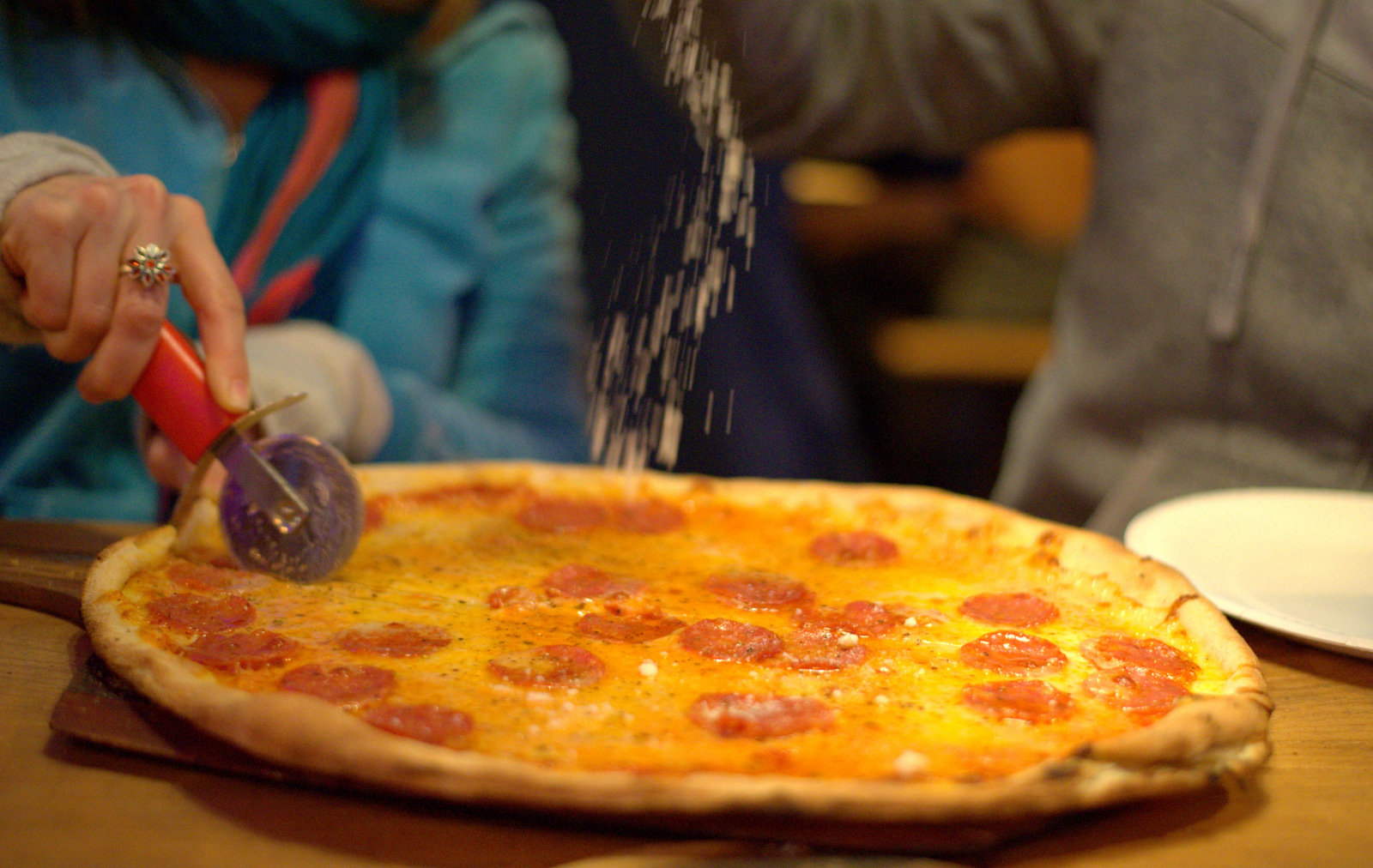 When it opened in 2015, Civerinos quickly became many Edinburger's favourite place to grab a (sourdough thick crust) slice. Today they've got three locations, all with a slightly different pizza concept.
If you want a fun meal, super friendly staff and some Italian street food choices, head on down to the Hunter Square restaurant, just off the Royal Mile. You could also try their 2nd outlet, Civerinos Slice over near The Meadows for the same tasty pizza, just ordered by either a 20″ (!) slice or a thicker, square 'Grandma Slice'. Or maybe their pizza pub in Southside, The High Dive, is what you're after,. Here you can even order a pizza dough Breakfast Butty! Whichever one you choose, the pizza at all three is top class.
Wanderer's Kneaded
Is this Edinburgh's best pizza street food van? Yes, indeedy. And it's not just your run of the mill toppings on offer here. At Wanderer's Kneaded you'll find inventive pizzas like The Never Too Late to Break Bad (Scamorza cheese, Friarelli and slow-cooked pulled pork) or Don't Tell the Countryman (pear, Gorgonzola and honey roasted walnuts), all wood fired and atop owner Francesco's signature soughdough (ie: super soft and springy).
If you just can't get out of your comfort zone and try something new though, don't worry, there's always a classic choice like a Margherita too. Check the link above to see where you can find them this week. Oh and, in case you were wondering, that's the Deconstructed Guac in the pic above and this article's main pic is the Surf 'n Turf. Yum.
Pizzeria 1926
As the sister venue of very well regarded Italian/Napoli restaurant Locanda de Gusti, it's no surprise to find authentically Neapolitan pizza at Pizzeria 1926. And, no surprise again, they're all about using only great Italian ingredients and traditional pizza flavours here.
It's so traditional, you also get to try Pizza Fritta, a Neapolitan style of pizza with fried dough that's never really found fame outside of the boot. Imagine a Calzone, but with fillings encased inside two discs of dough lain on top of each other, instead of just one piece of dough that is folded in half. If that's not just made your eyebrows shoot up in excitement, there's over twenty 'normal' style pizzas on the menu, so your brows will have plenty more chances to say hi to your hairline I'm sure.
Pizza Geeks
Their Dalry restaurant may be fairly new to Edinburgh, but these geeks were building up a fan base around the Edinburgh festival and food scene for a few years prior to securing a permanent spot. The 'geek' part refers to their love of comic and sci-fi films and television, and it's put to good use with their décor and pizza pun names – for instance there's no Vegetarian on the menu, here it's The Wildling.
Put all the gimmicky stuff aside though and you'll still be left with delicious pizza. Pizza Geeks also have a great charitable spirit, with a two for one donation option that means a free pizza will go to an Edinburgh homeless person. #maythesaucebewithyou indeed.
Dough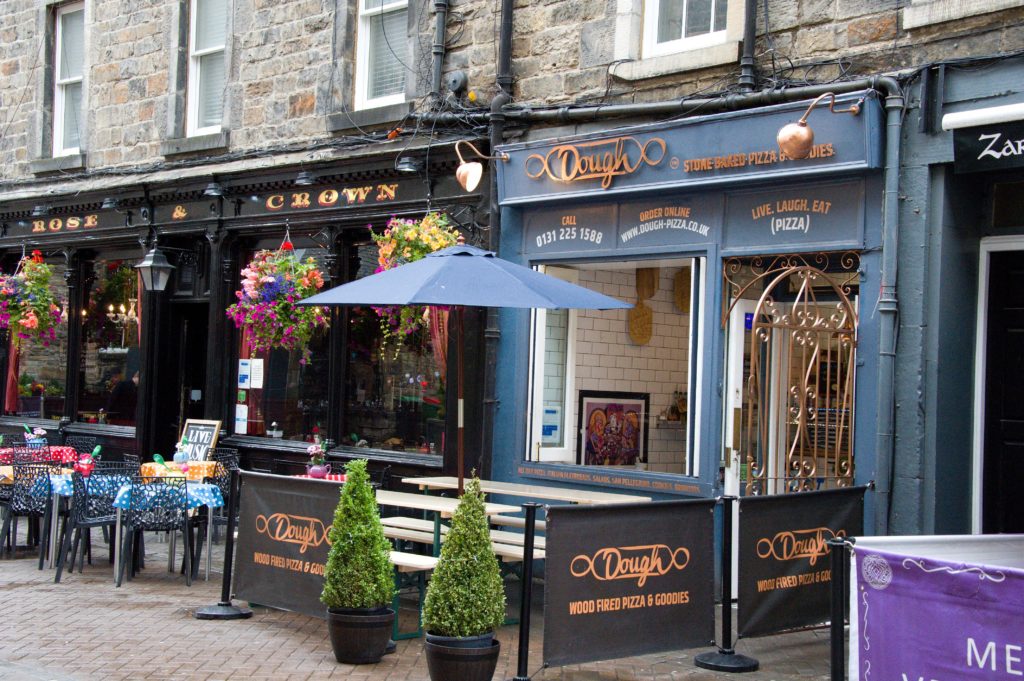 Dough, like Civerinos, quickly climbed to the top rung of Edinburgh's best pizza ladder when they opened in 2017. Another thin based, wood fired, Napoli style affair, Dough has the advantage of selling their pizza by the slice too. Both of their locations are itty bitty, so if you're lucky you'll be able to grab a seat, but for most it's a take-away option.
Another bonus here is they make their own in-house infused oils to finish your pizza off with and there's even a pot of fresh basil that you can tear straight off the plant and add yourself, if you so please.
Razzo Pizza Napolitana
The new kid on the block, having just opened in May 2019, Razzo Pizza has Leithers and other in the-know Edinburgh residents' taste buds in a tizzy. Unassuming is definitely the word here, both menu and location-wise (it's located on a street not exactly renowned for food excellence, although that's slowly changing).
By using both the best of the traditional ingredients and then following through with the appropriate traditional cooking methods for each dish, the simple seeming menu Razzo delivers on an unexpected level of yum. The pizza dough is left for 48-60 before it's called up for duty. and as the pizzas are single serves, the prices are low. Meaning, if you've paced yourself, there'll be room in your stomach and your wallet for dessert.
Stuff to Know:
Vegan Pizza
While Civerinos, Dough, Pizzeria 1926 and Razzo have a vegan pizza on the menu, if you want to stick only to eating at locations with a big commitment to plant based foods, head to Harmonium or Novapizza. Or you could try @pizza, the build your own pizza restaurant where there's vegan sauces, veggies and a vegan cheese, so you're free to concoct your own endless vegan pizza variations.
Origano/La Favorita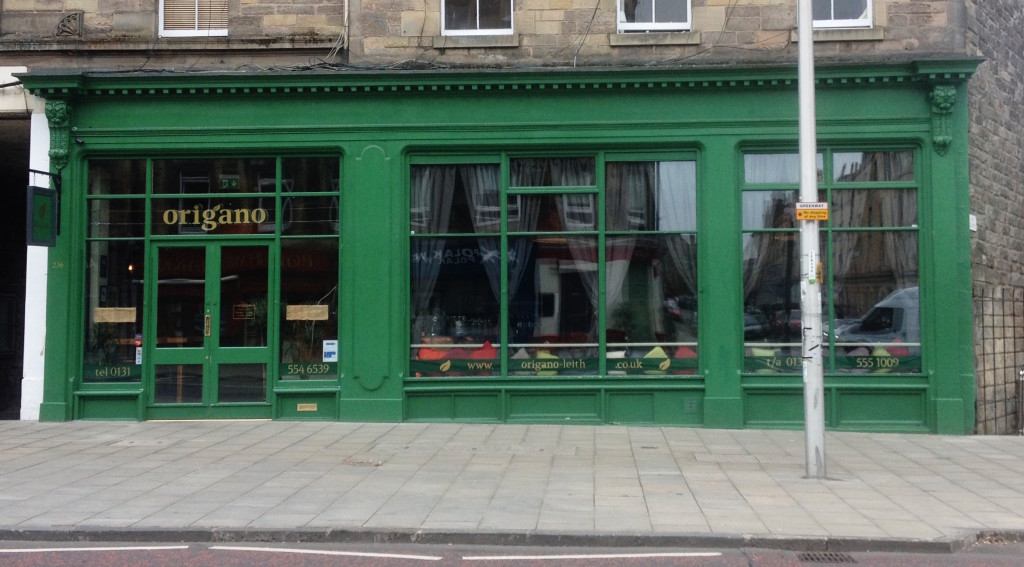 For many years, Origano (open since 2011) and La Favorita (2005) were the firm locals' favourites, with pretty much everyone in Edinburgh swearing allegiance to one or the other. But competition is huge now, especially with the influx of great pizza from all the new places I've mentioned above. Thanks to the loyalty of all the old-schoolers though, Origano and La Favorita are still going strong. Origano is a low lighting, almost romantic date night spot (still getting raves for its anti-pasti platters too) while La Fav over the road is more of a super slick operation, its army of yellow delivery cars often seen tootling round town and so many Italian waiters inside you'll think you've been teleported to Italy.
And if you really must…
Of course there is one other pizza you're more than likely not going to get anywhere in the world except Scotland. And if you're one of those people who like to have tales of outrageous or just plain crazy stuff that you did on your holiday, then maybe you'd like to try the Deep Fried Pizza. Yep, in Scotland, any local chippie will not even bat an eyelid if you ask them to pull out a piece of cardboard (otherwise referred to as frozen pizza) and throw it in the deep fryer for you. If you've reached the point of a night out where this option actually sounds appealing, it's no use trying to appeal to your good taste and style, so let's just leave it at that.