(Last Updated On: 20th April 2020)
Edinburgh is a perfect city for bike riding. As a city built on seven hills, that statement might be a bit hard to believe. And if you've spent any time walking up and down those hills, you'll probably think I'm nuts. But trust me, Edinburgh has a very cool and very accessible system of relatively flat bike trails, which make a day's cycle an option for even the most aerobically challenged among us – me included.
One of my favourite Edinburgh rides is to the tiny seaside village of Cramond, via the Roseburn Path and The Blackhall Path. Most of the path is simple to follow but there are a couple of confusing points. I like to think I have a good sense of direction, but even with old school maps and no end of phone apps, I still managed to miss a turn the first time I cycled there. So, below are my handy photographic instructions to hopefully help you avoid the same fate.
There is of course a way to get to Cramond via boring old roads, but I'm going to show you a much prettier route. This way is again great for any fitness level as it's either flat-ish or gloriously downhill all the way there.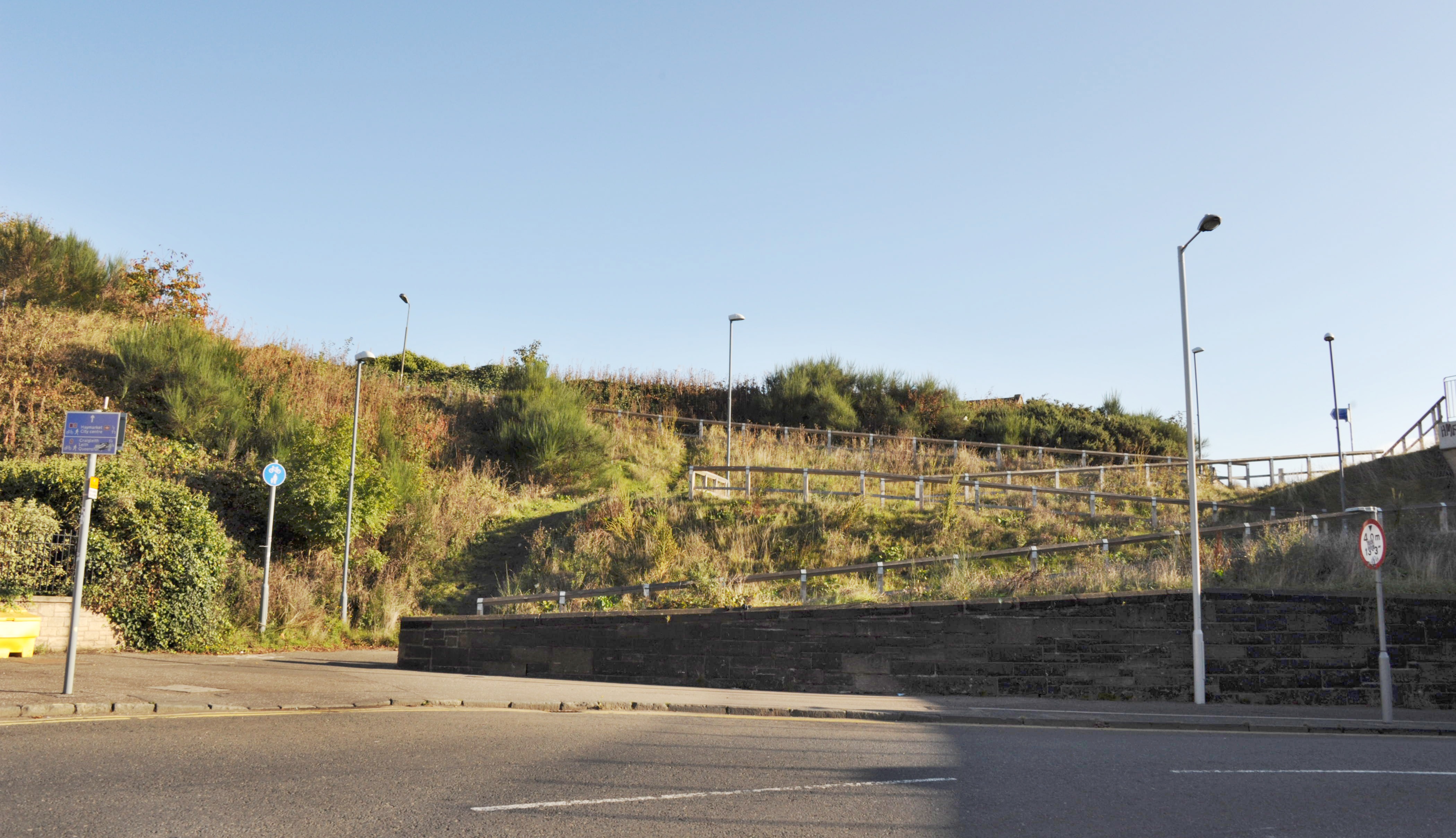 This is the rather uninspired beginning to the Roseburn Path, in Edinburgh's west. If you live or are staying nearby, then cycle yourself up that maze of a trail and you're off. Remember, you can join at any section you like though.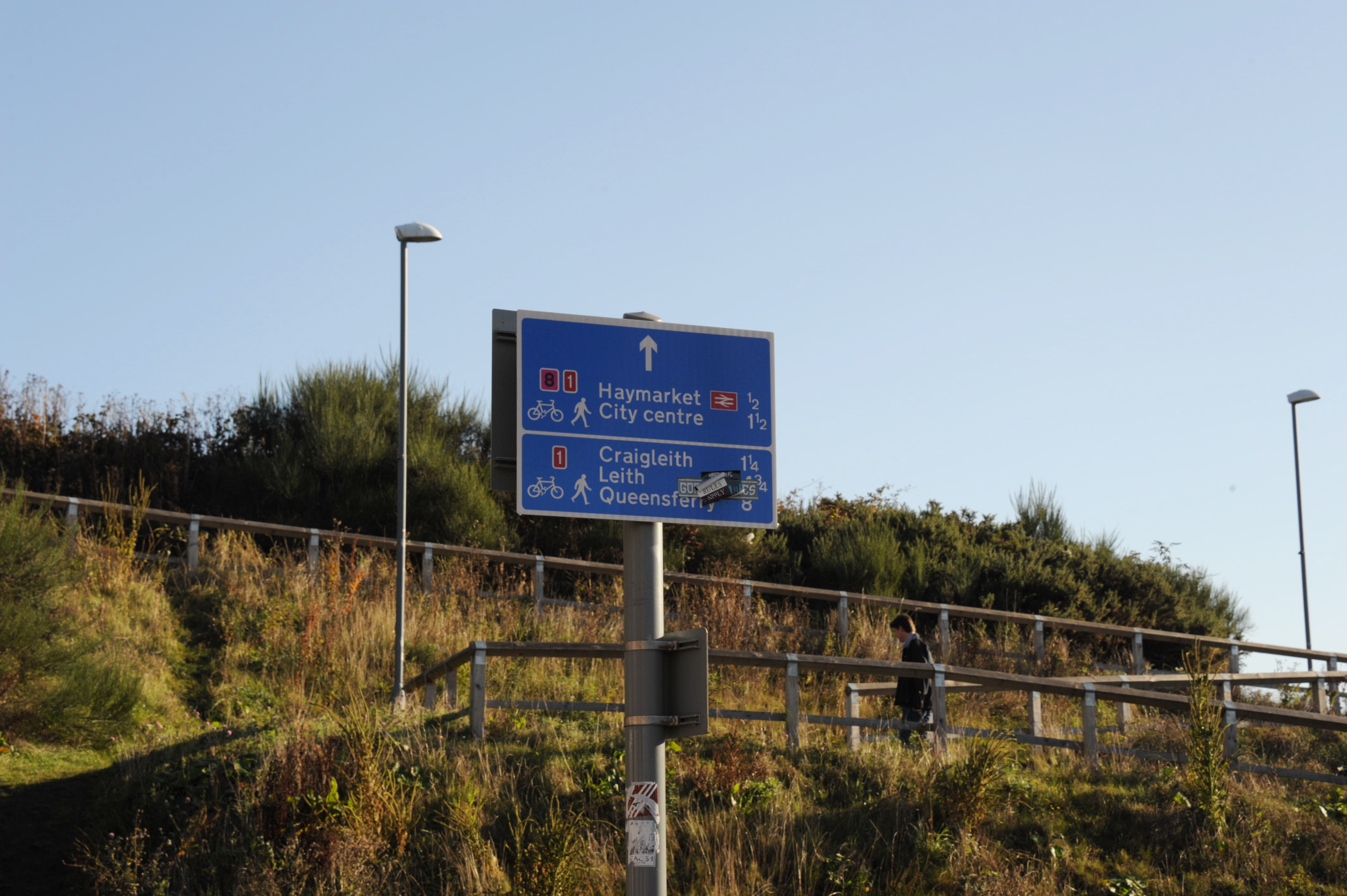 It's well signposted, so make sure you look out for these blue signs along the way.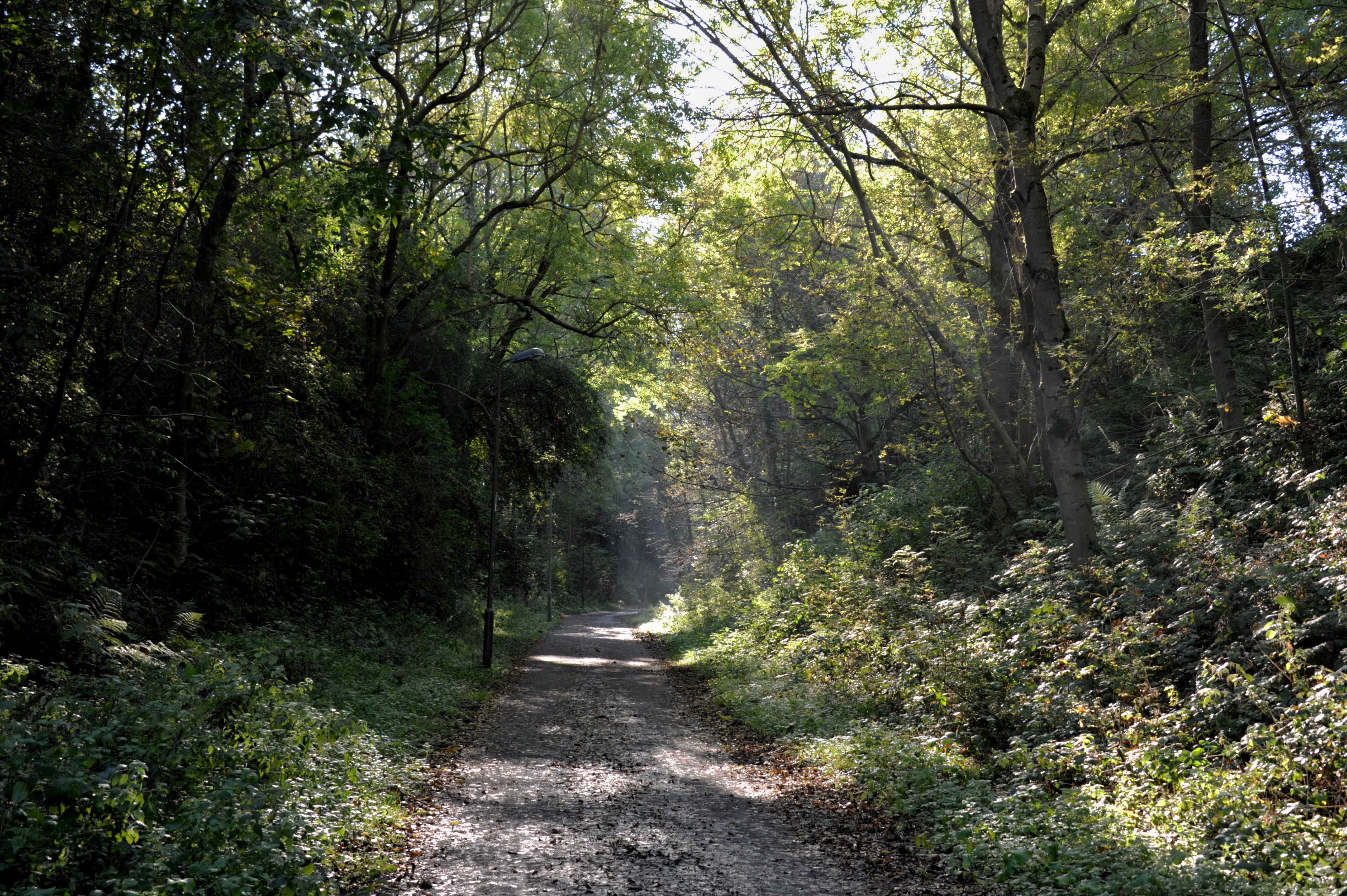 Once you join the Roseburn Path, you'll be cycling through lush greenery. Nice, right?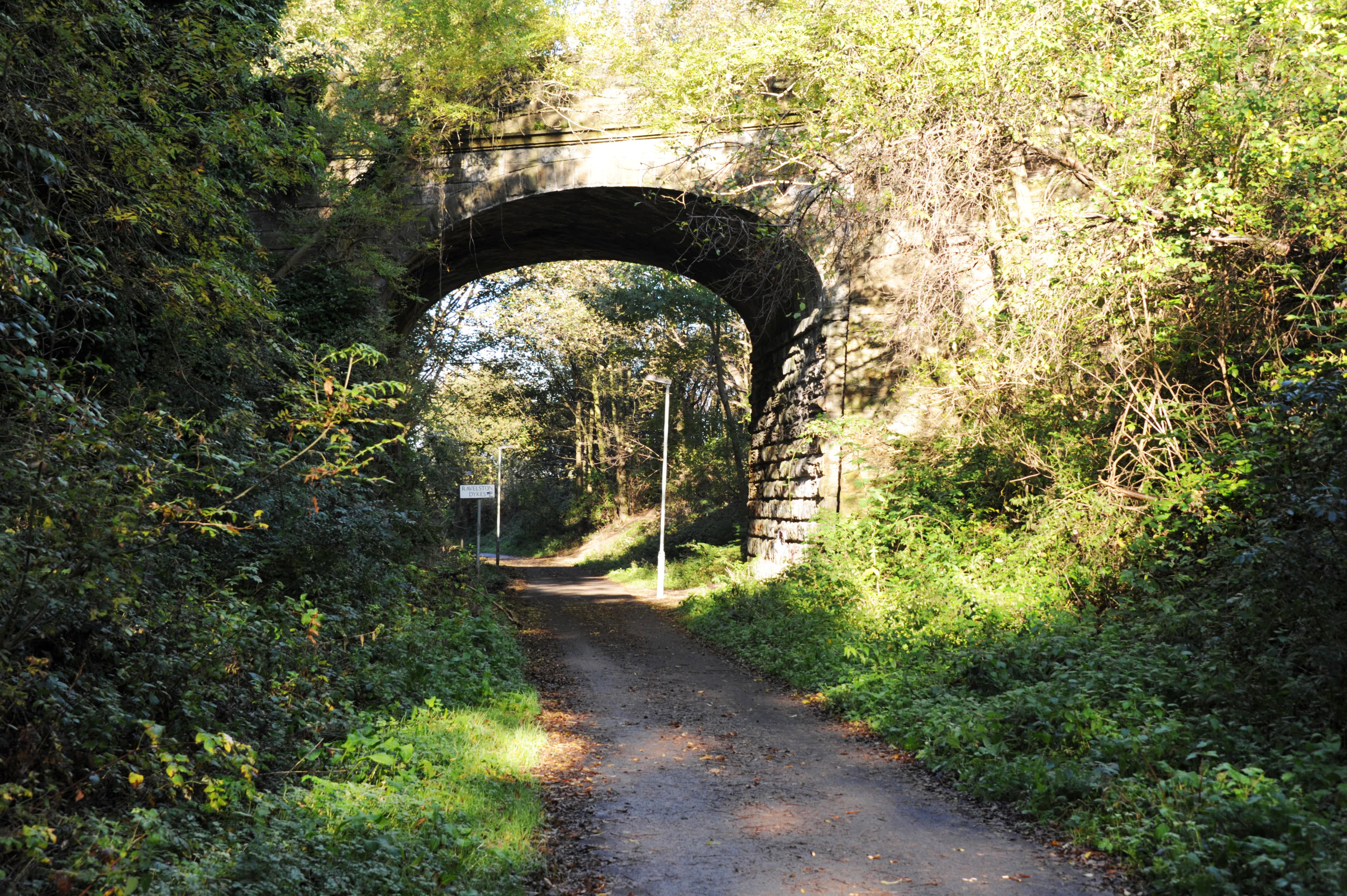 Much of the path is along old railway lines, so you'll see plenty of railway bridges like this.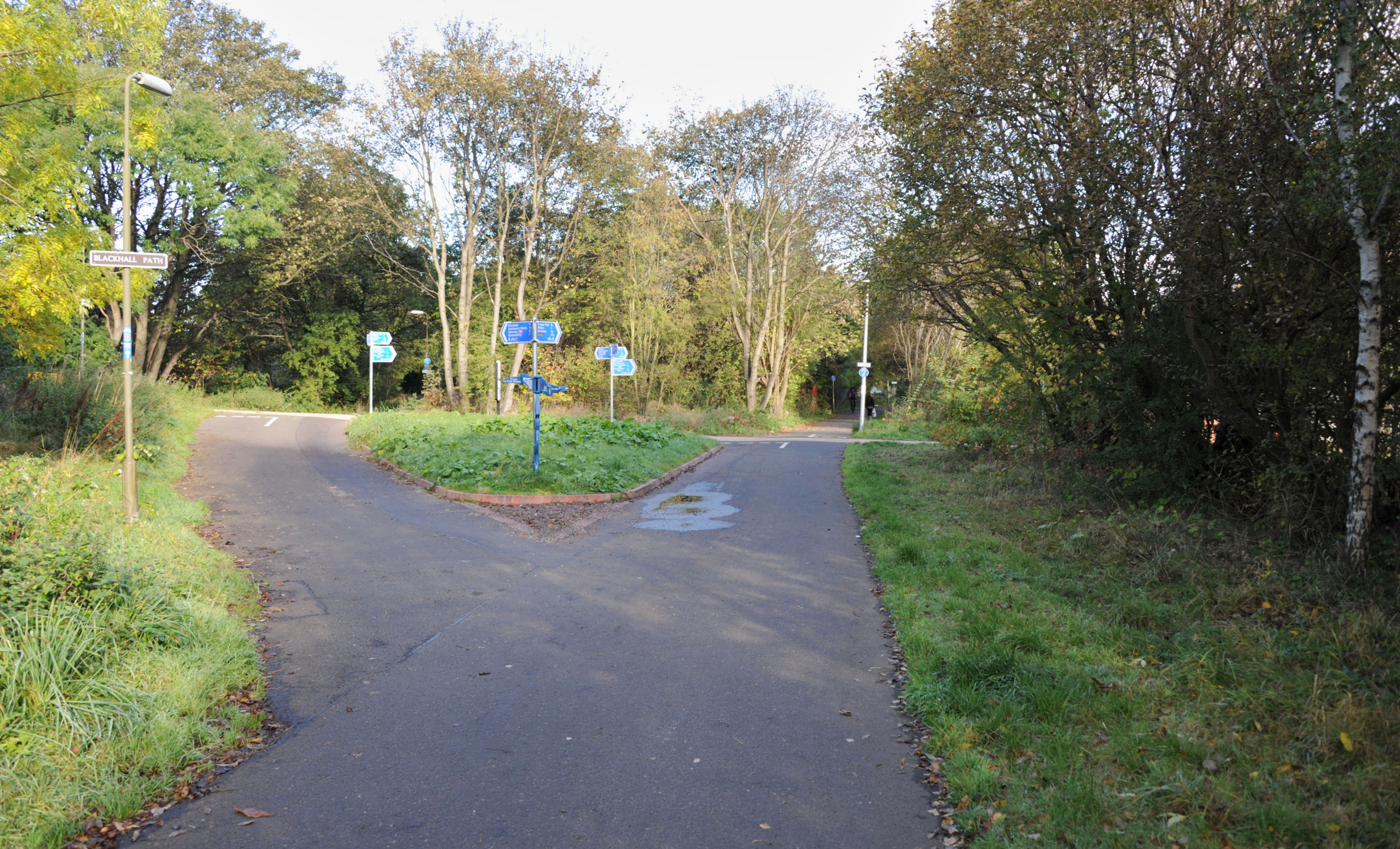 When you come to this intersection, you want to go left. Follow the signs for Queensferry.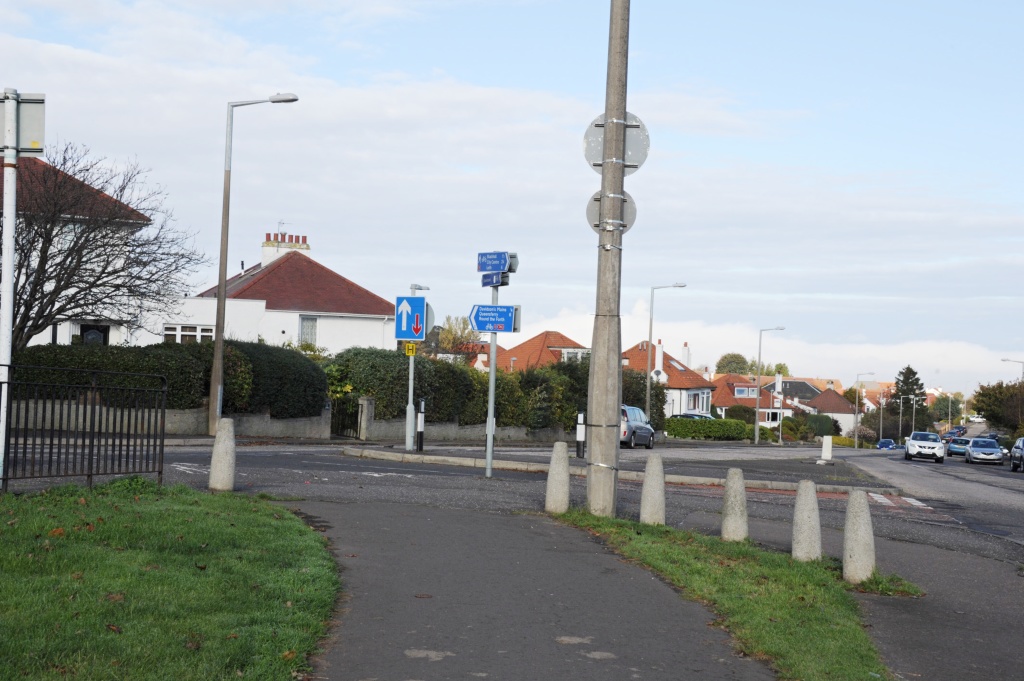 At the end of this section, the cycle path seems to stop at this point in the above photo. You could from here just go straight ahead on the road and keep going straight until you reach the water. Then head left along the seaside promenade all the way to Cramond. But if you want a bit more of a scenic route, there's more handy blue signs to keep you going in the right direction, which in this case is actually to the left, onto Blackhall Path. Confused? Sorry, just turn left here.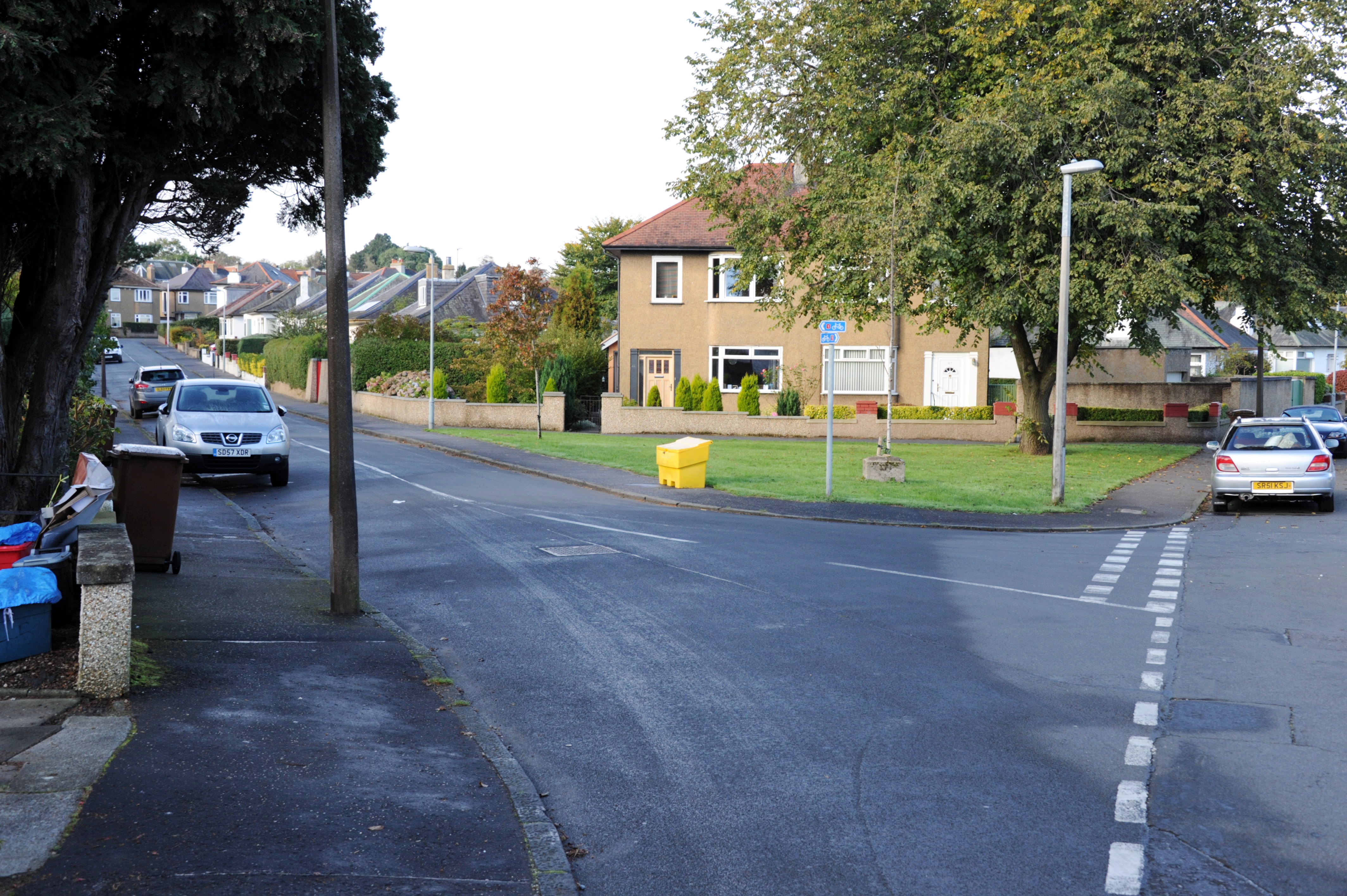 If there's anywhere you'll take a wrong turn, it's this section. It feels like you're just cycling through the burbs – which you are – but again, follow the blue signs. You can just see this one above, behind that yellow grit bin, so here you turn left. This turn is the first left you'll come to after turning left at the above pic and is still the Blackhall Path.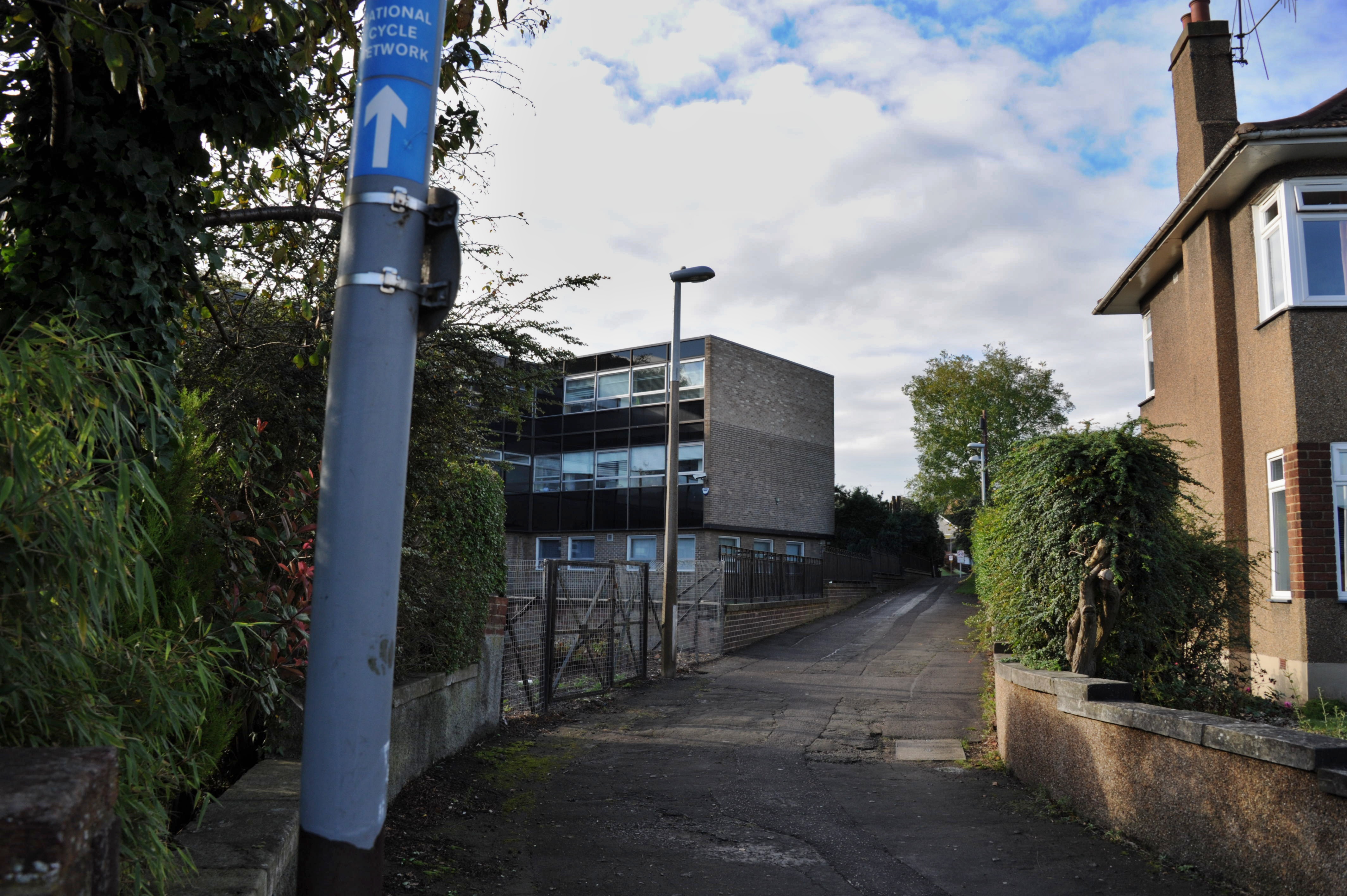 Mmm this part is not very inviting is it? This pole is a little harder to see, but look to your left and watch out for the blue stickers on a pole at the beginning of this pathway between local houses.
At the end of this little slipway, you'll come to traffic lights. Cross over and keep cycling straight ahead, up a bit of a hill (don't worry it's not very long) and suddenly you're in what I call Edinburgh's Beverley Hills, but what is really Barnton Avenue. You can tell the price of real estate has gone way up because the gates at the end of the driveway are suddenly elaborate constructions and every property has a name. Well, there's that, plus the houses are suddenly the size of small resorts.
Follow this road and you'll go weeeeeee all the way down a big hill, through some barriers on either side of a golf course, along another section of hedge lined Beverley Hills properties and then come to another traffic intersection at a main road. Here you're crossing over and going straight, into Braepark Road.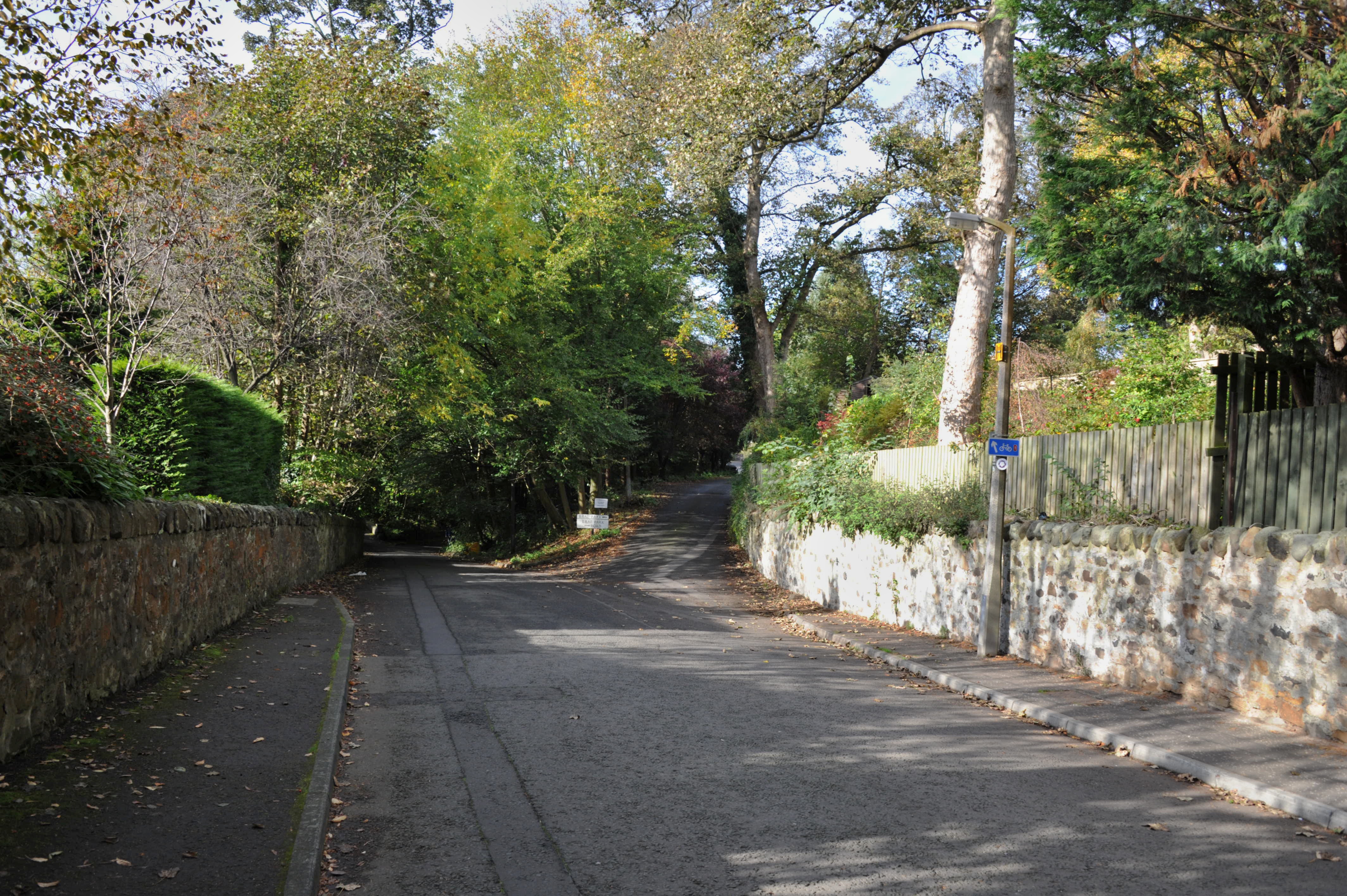 Almost immediately there a bit of a fork in the road. If you follow the blue sign on that pole, on the right, you'll be in Cramond in no time. But if you want a bit more of an adventure, keep left.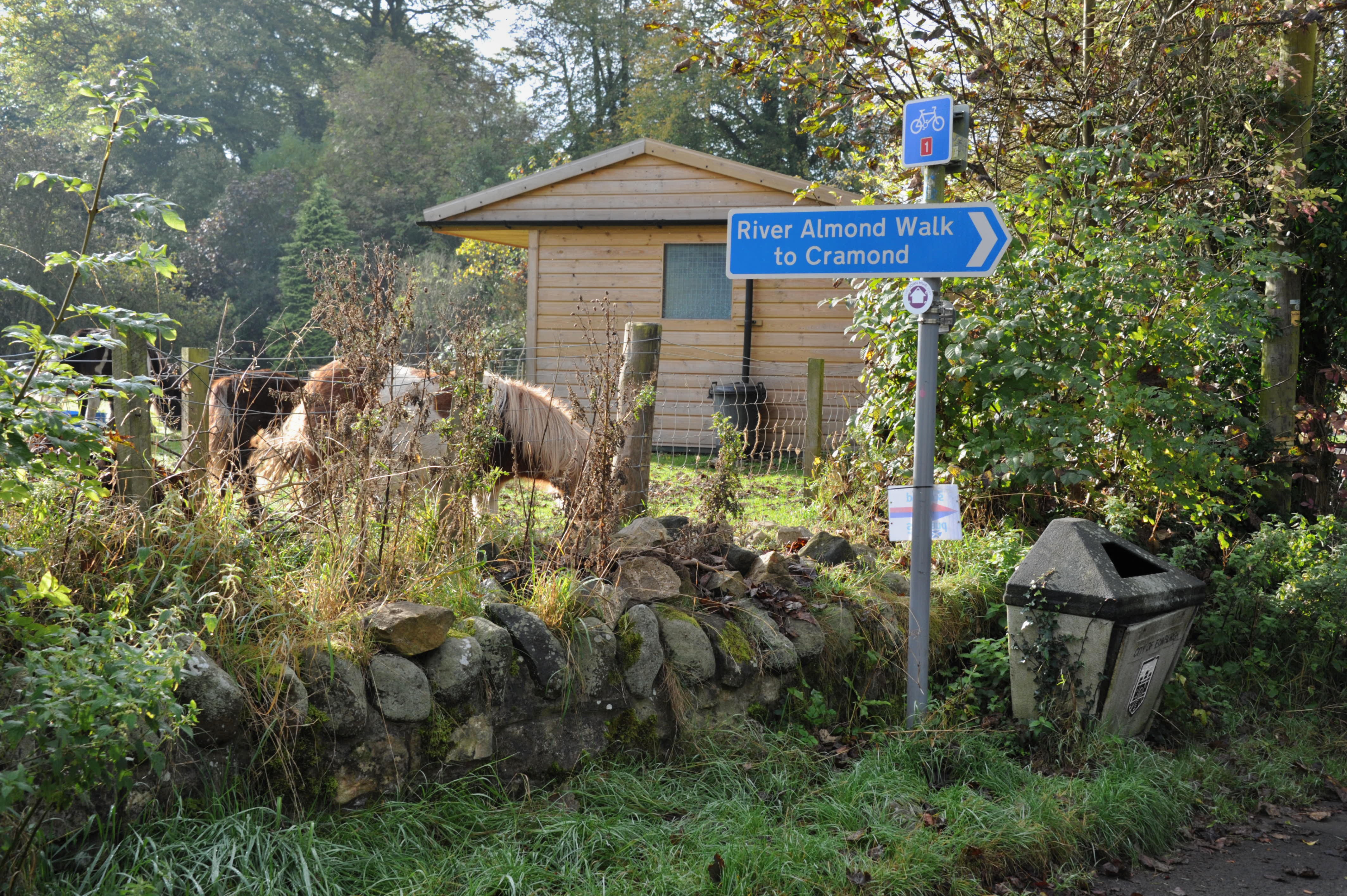 From here you'll realise why I've made you schlep out this way. Suddenly you're surrounded by nature. And look, there's horses. Well, ponies. When you see this River Almond blue sign, turn right.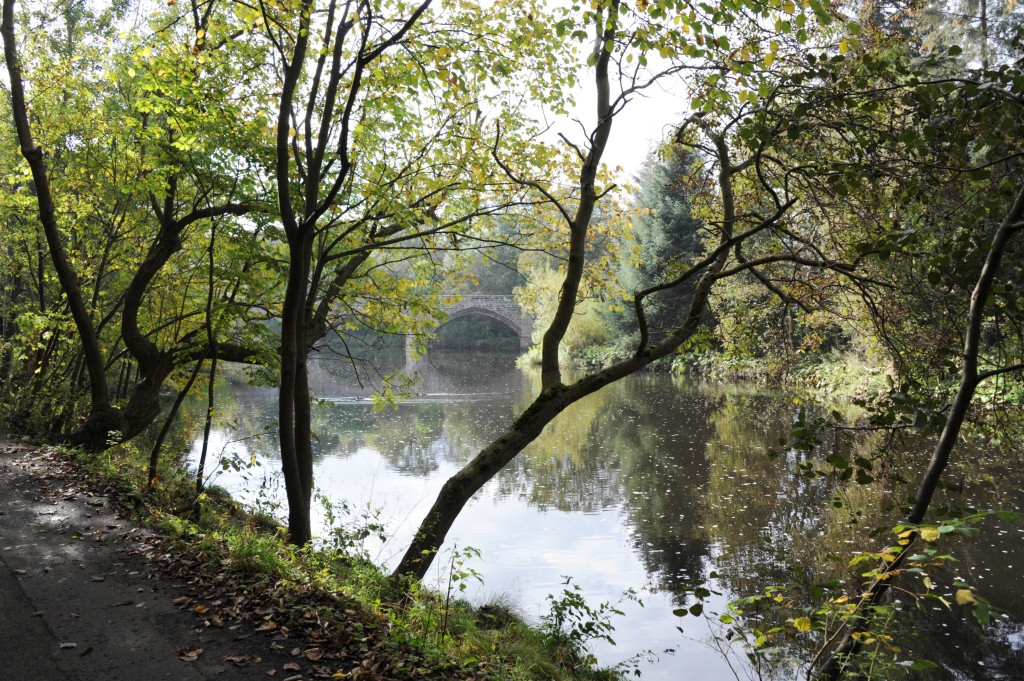 Feel free to take your time at this point, stop and smell the Sycamores and commune with nature etc. The strenuous part I spoke about above is on its way, so you might benefit from a rest.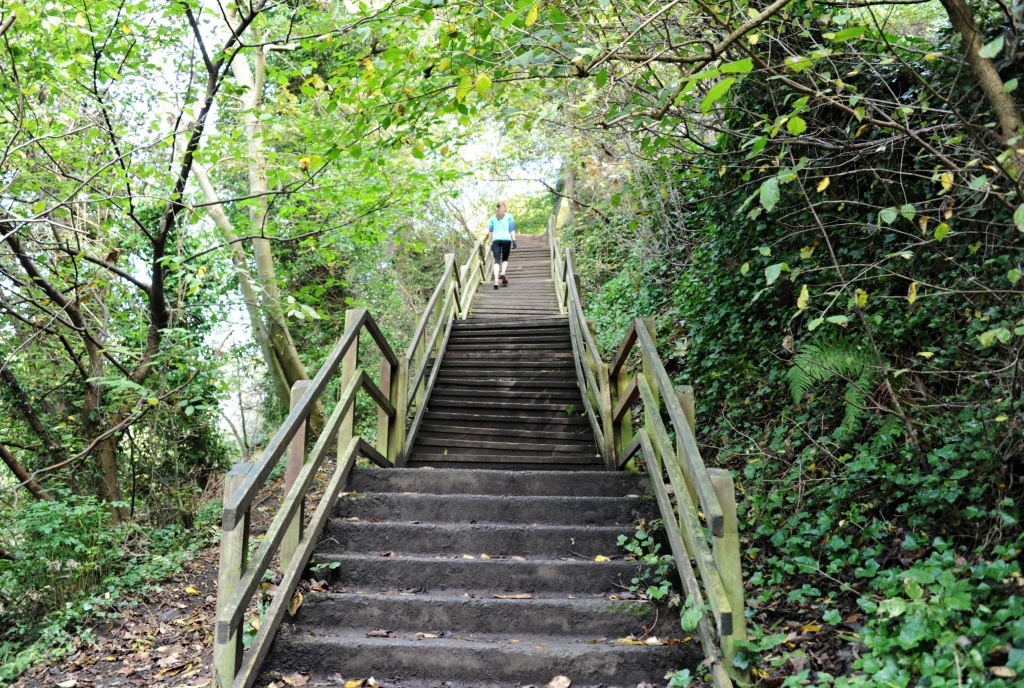 And this above is where you'll have to work some muscles. Stairs. Yep. Oops. Throw your bike on your shoulder and haul both of you up these steps. Don't forget, what goes up must come down, there's more on the other side, but of course, that part's not quite as hard.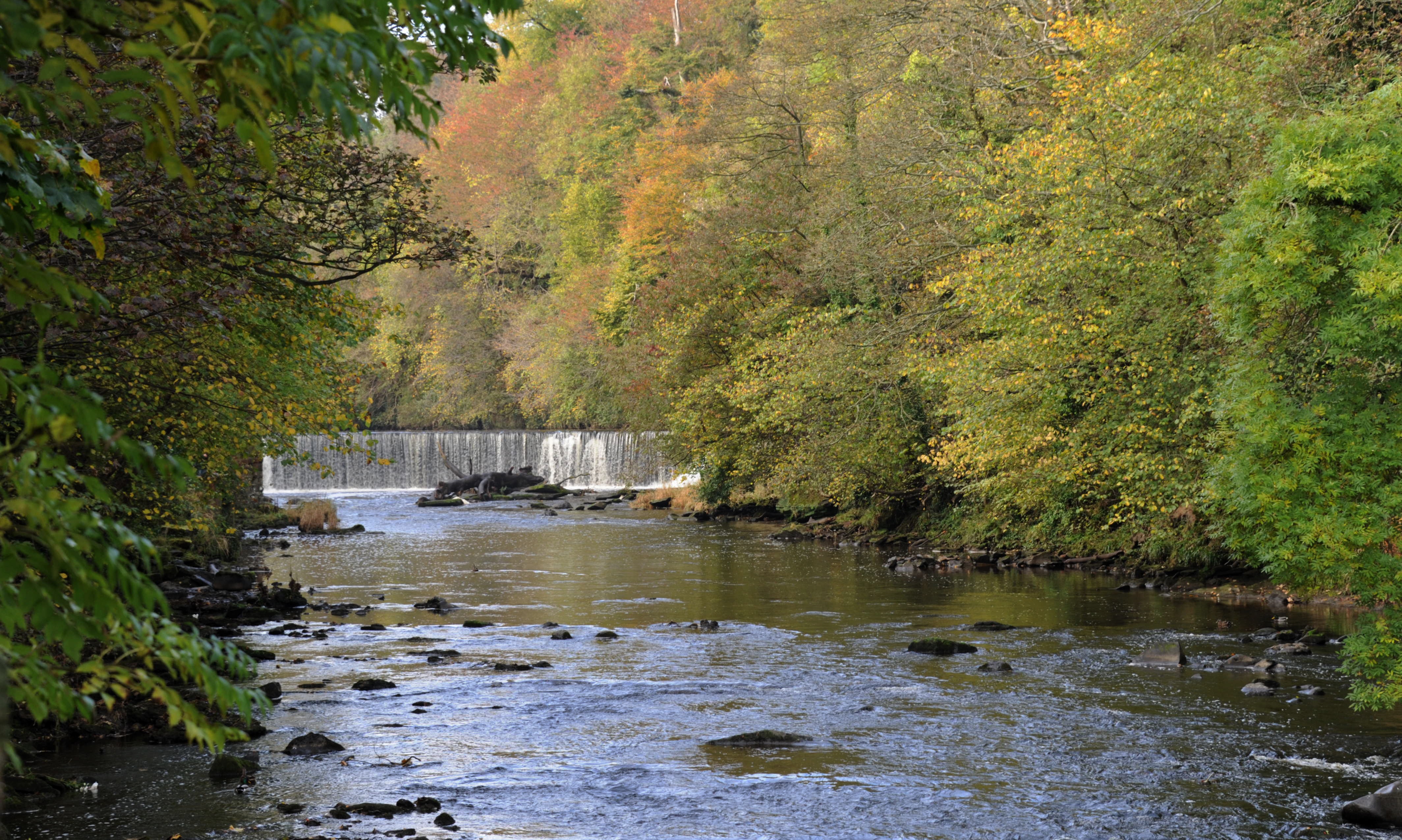 A little bit further on, here's the pay off for that heart pumping stair section – you're rewarded again with a little waterfall. If it's summer, you might see daredevil kids jumping off it, into what looks to anyone who doesn't live here like a sure way to get a spinal injury. But to a kid in the know, it's 'the deep spot'.
Once you're in Cramond, you'll no doubt notice these little structures below. And once you're up close, you'll notice they're actually anything but little. This is Cramond Island, or rather the walkway to the island from the mainland. Cramond Island is definitely somewhere you'll want to spend a couple of hours, but it can only be accessed during low tide, so have a read of my post here first so you're all clued up and don't get stranded overnight.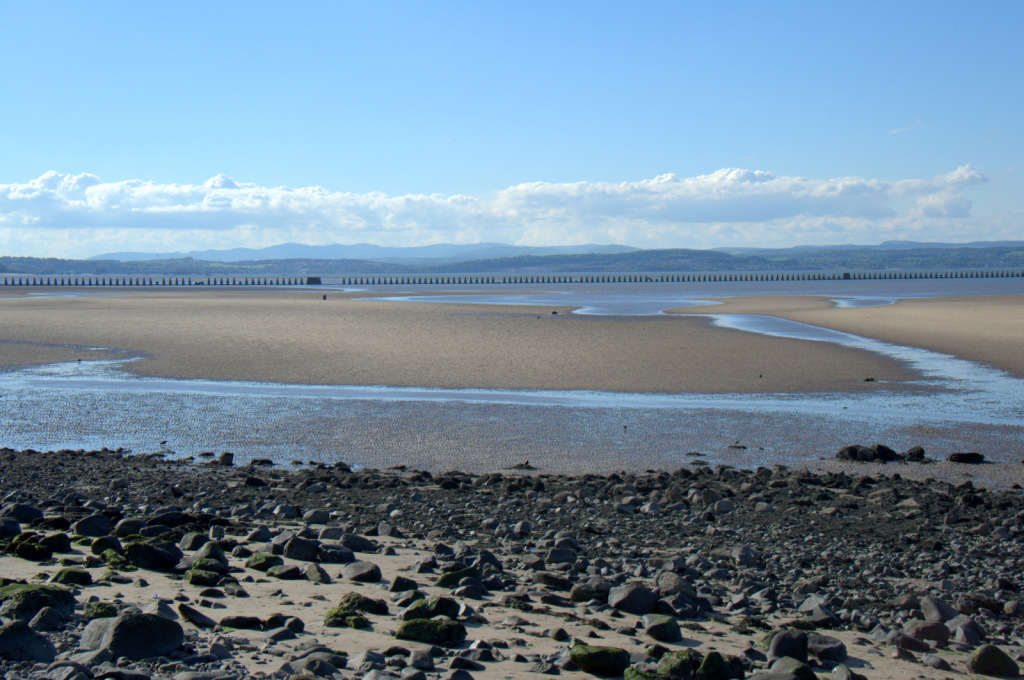 Once you're ready to head back home, you have two options; back the same way, which means a long, tough slug up that Beverley Hills road you enjoyed whizzing down so much, or the easy, but decidedly less attractive route.
Let's go the less attractive route, yes? Works for me.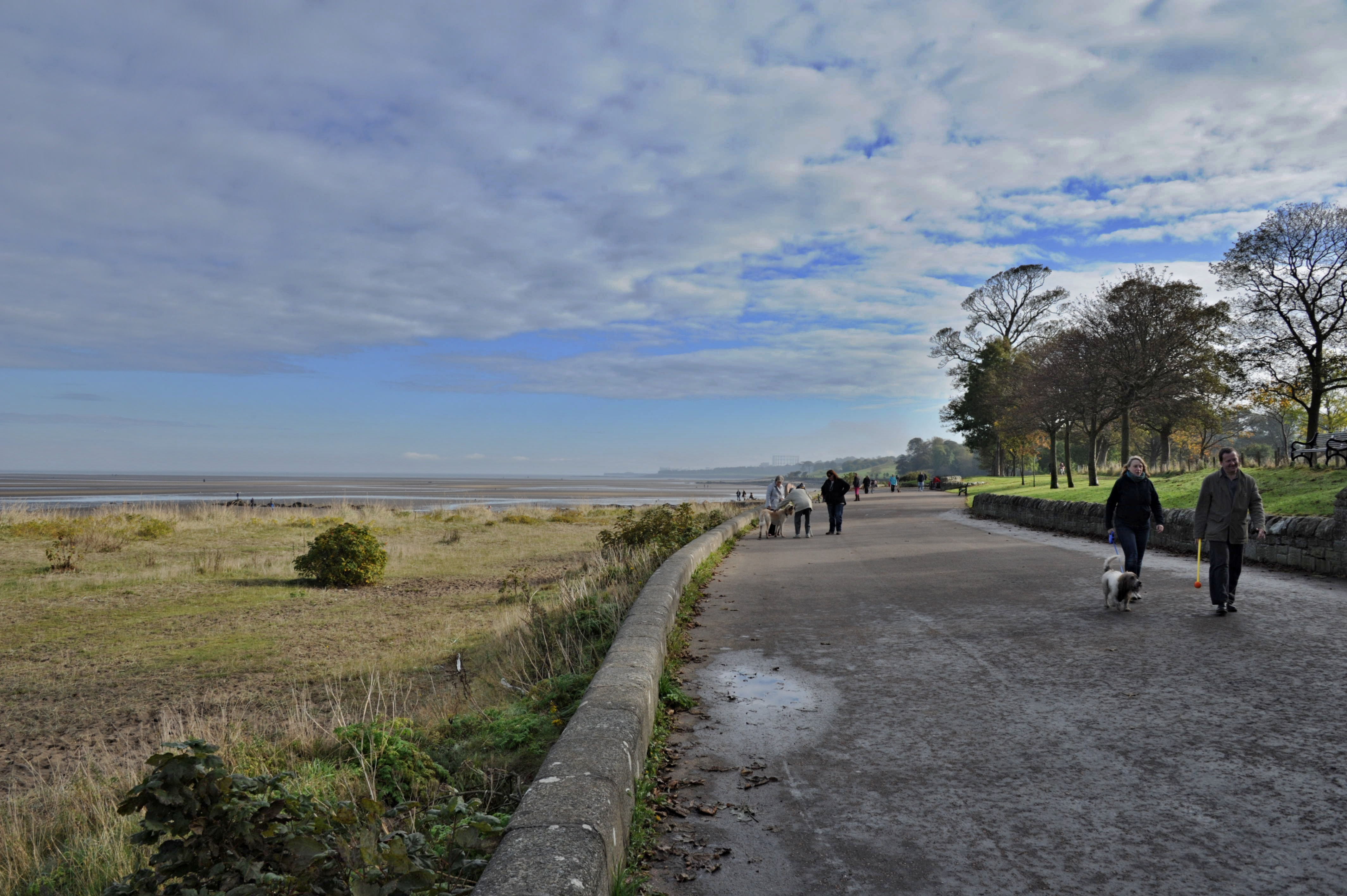 Follow the shore path pretty much as far as it goes. Depending what time and day you go, this might be pretty busy with Mums, Dads, kids, dogs, cycles, tricycles, wayward soccer balls and unsteady kids on skates. So maybe take it slow.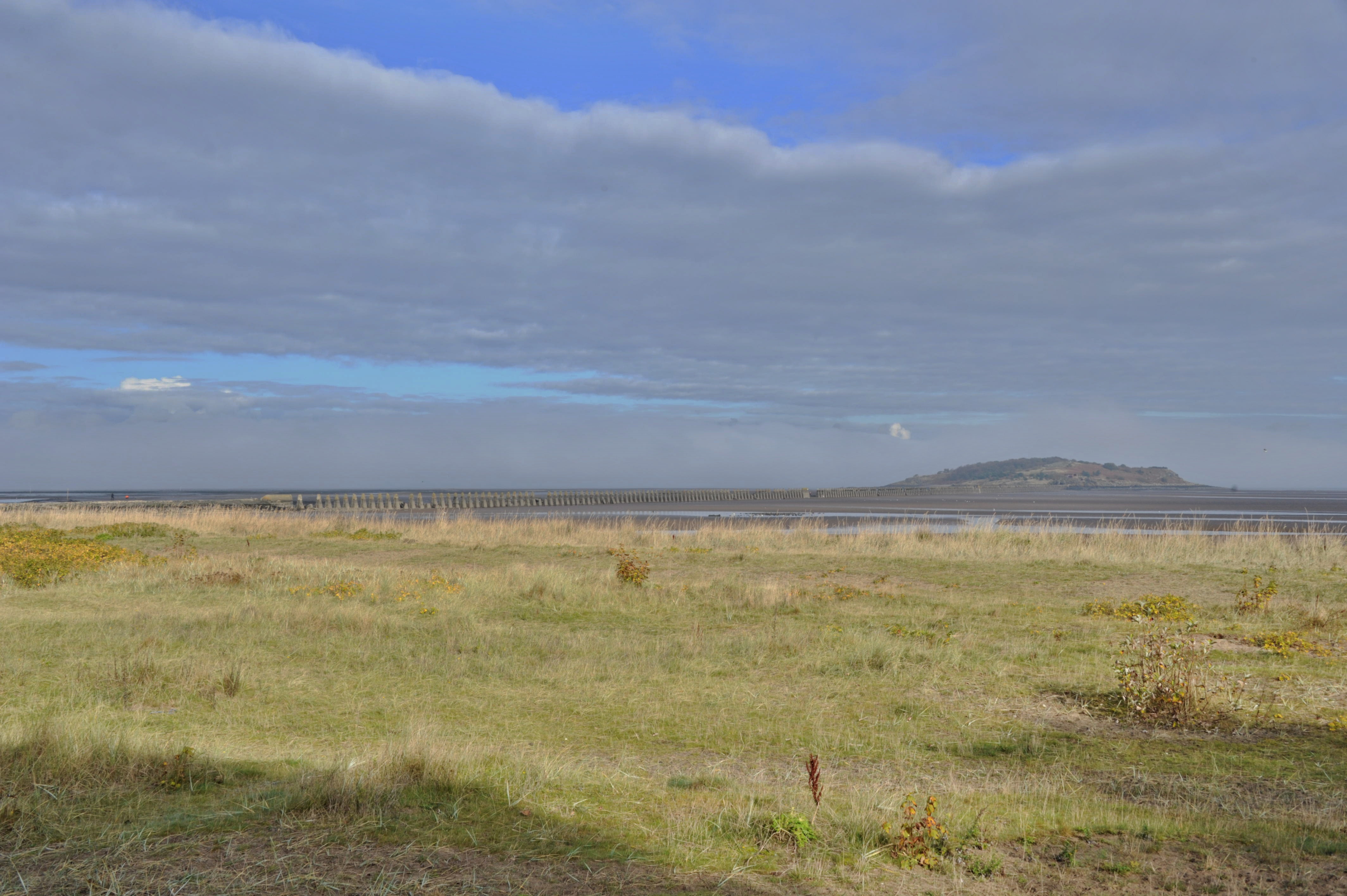 I've said before that the Edinburgh coastline is not what we'd traditionally class as beautiful, but it sure does have a rugged charm, as you can see in the shots below.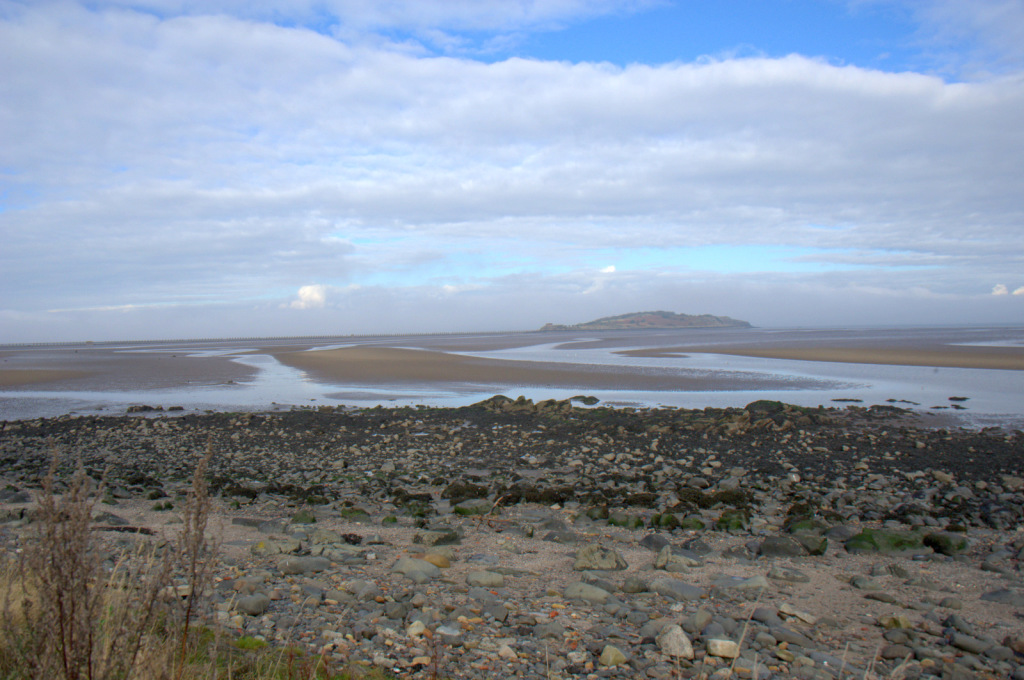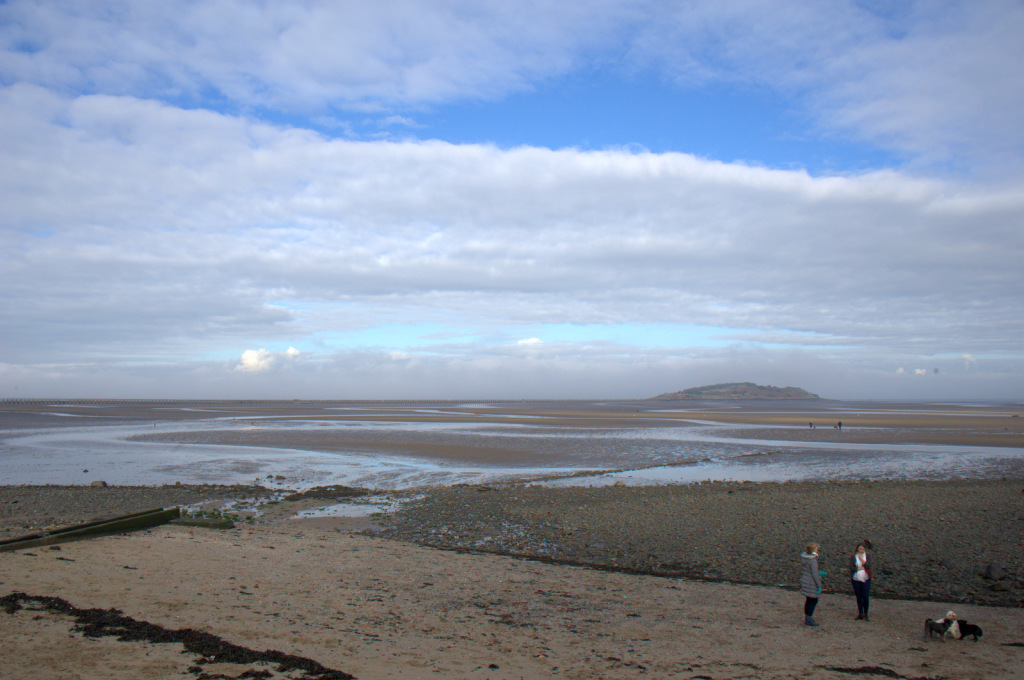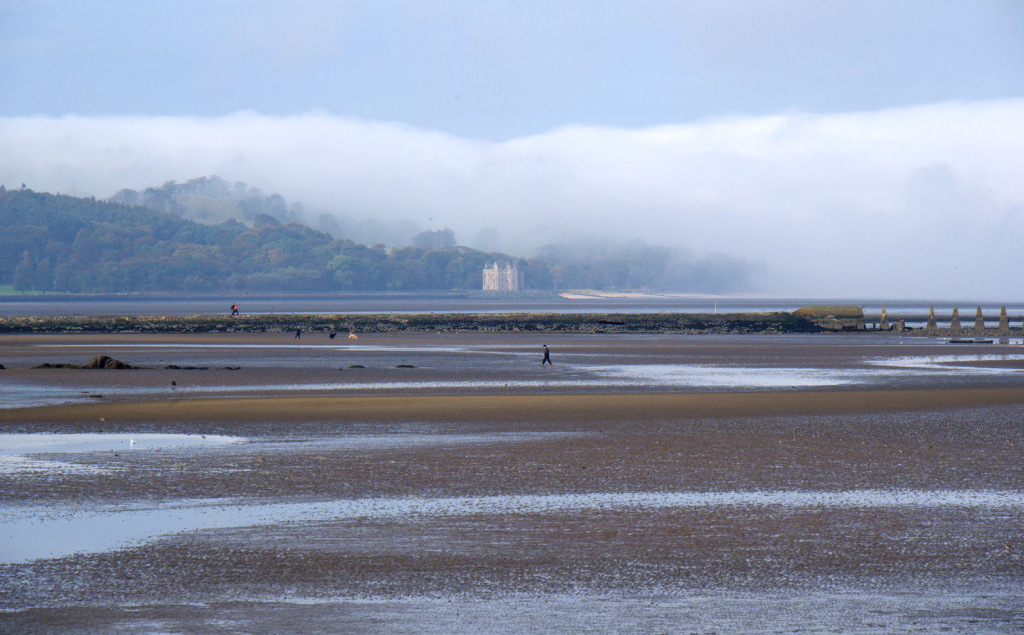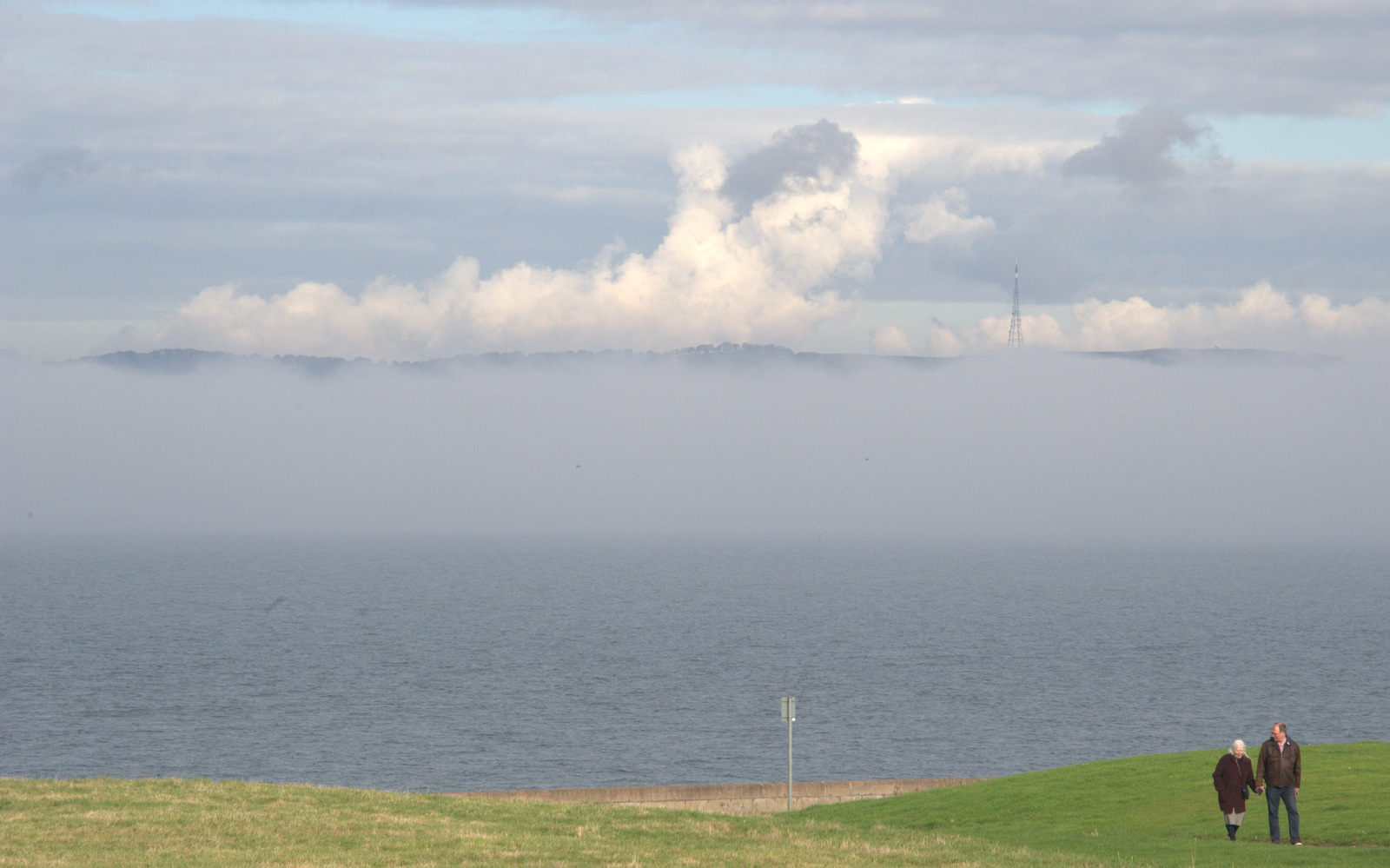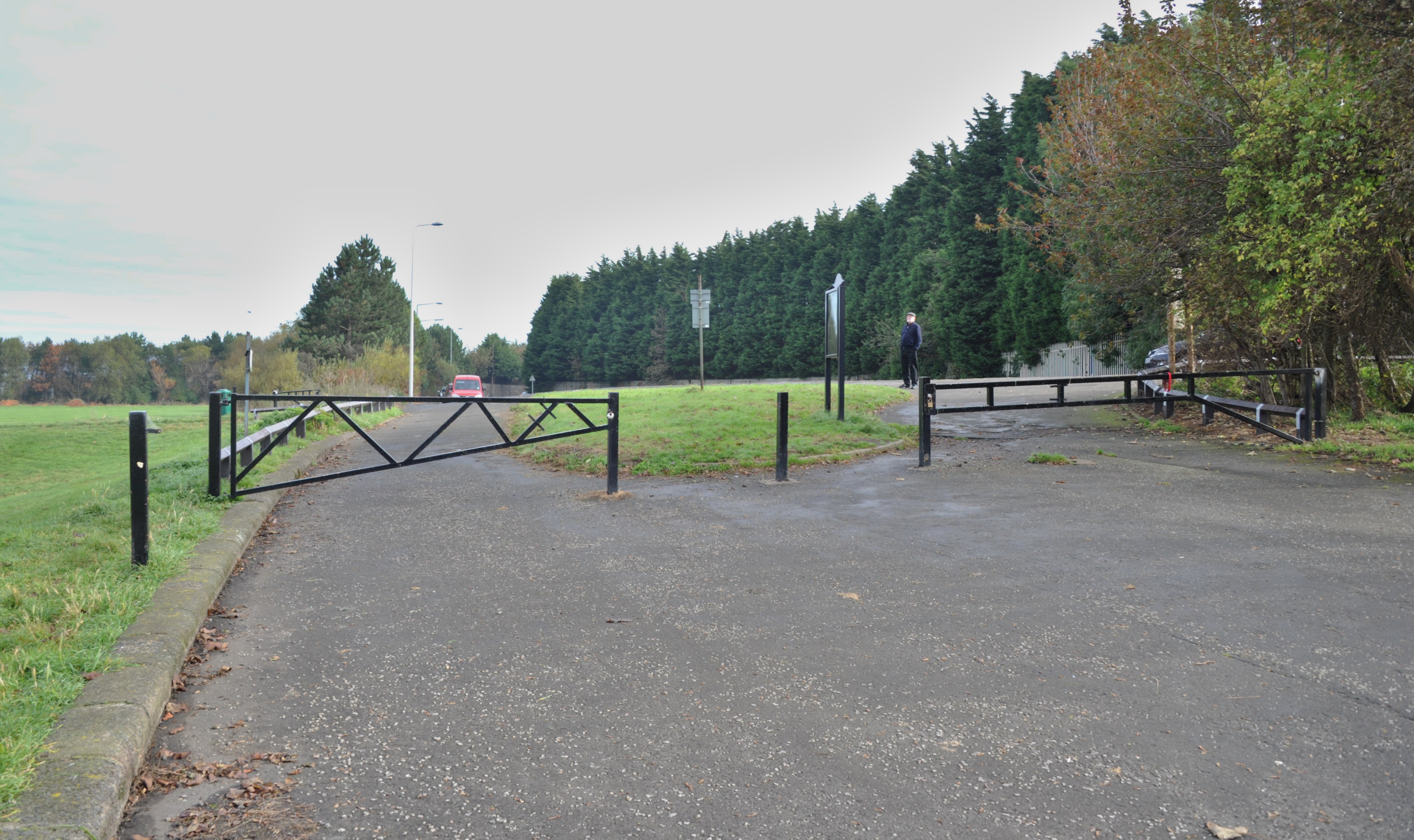 When you reach these barriers, go through them and turn the first right. Take the path on the left hand side that you'll see fairly quickly.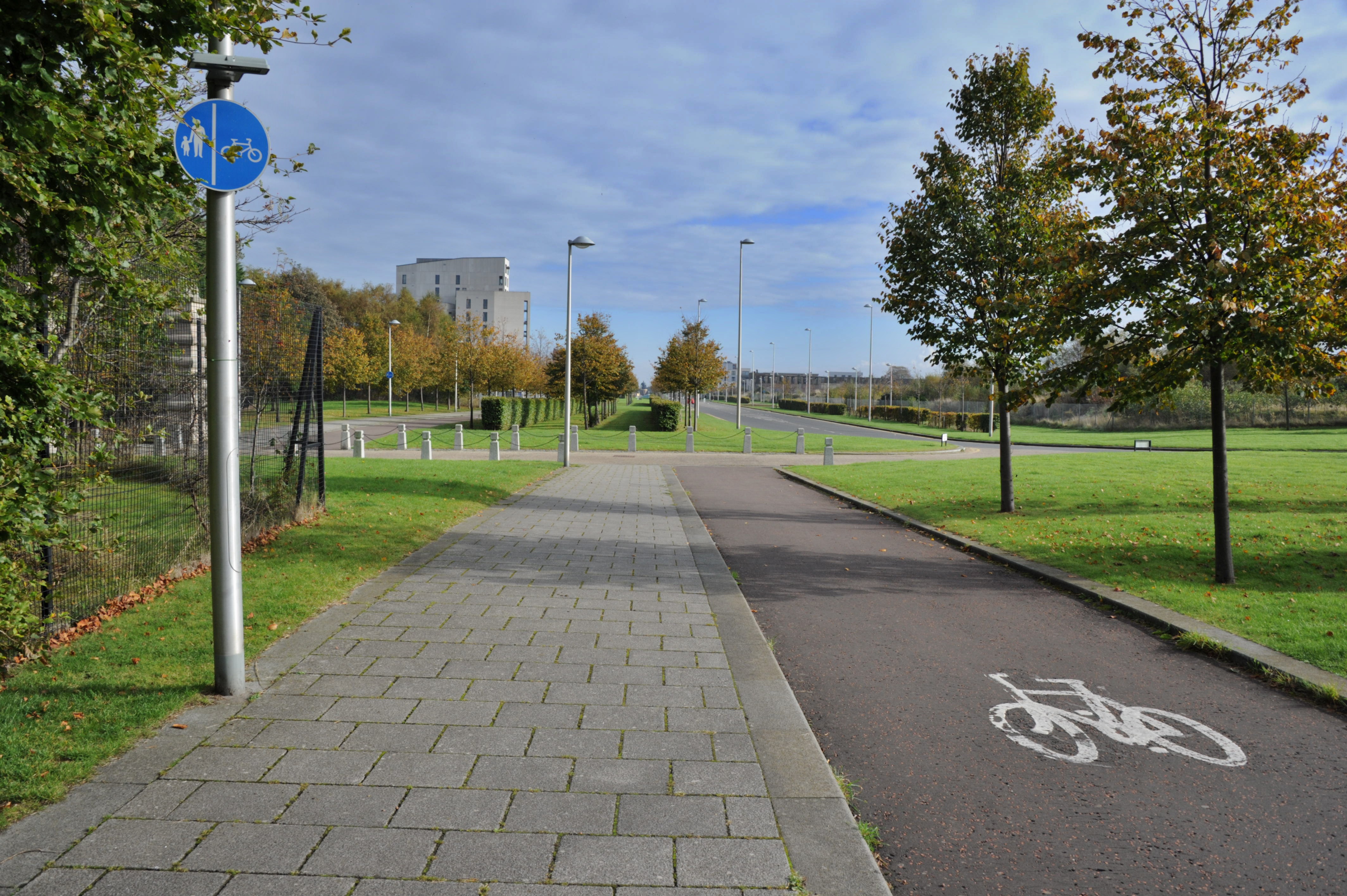 Straight ahead along that main road, after you veer slightly right, there is an entrance to another bike path on the right hand side of the road. Remember to look out for blue cycle path signs like the one below.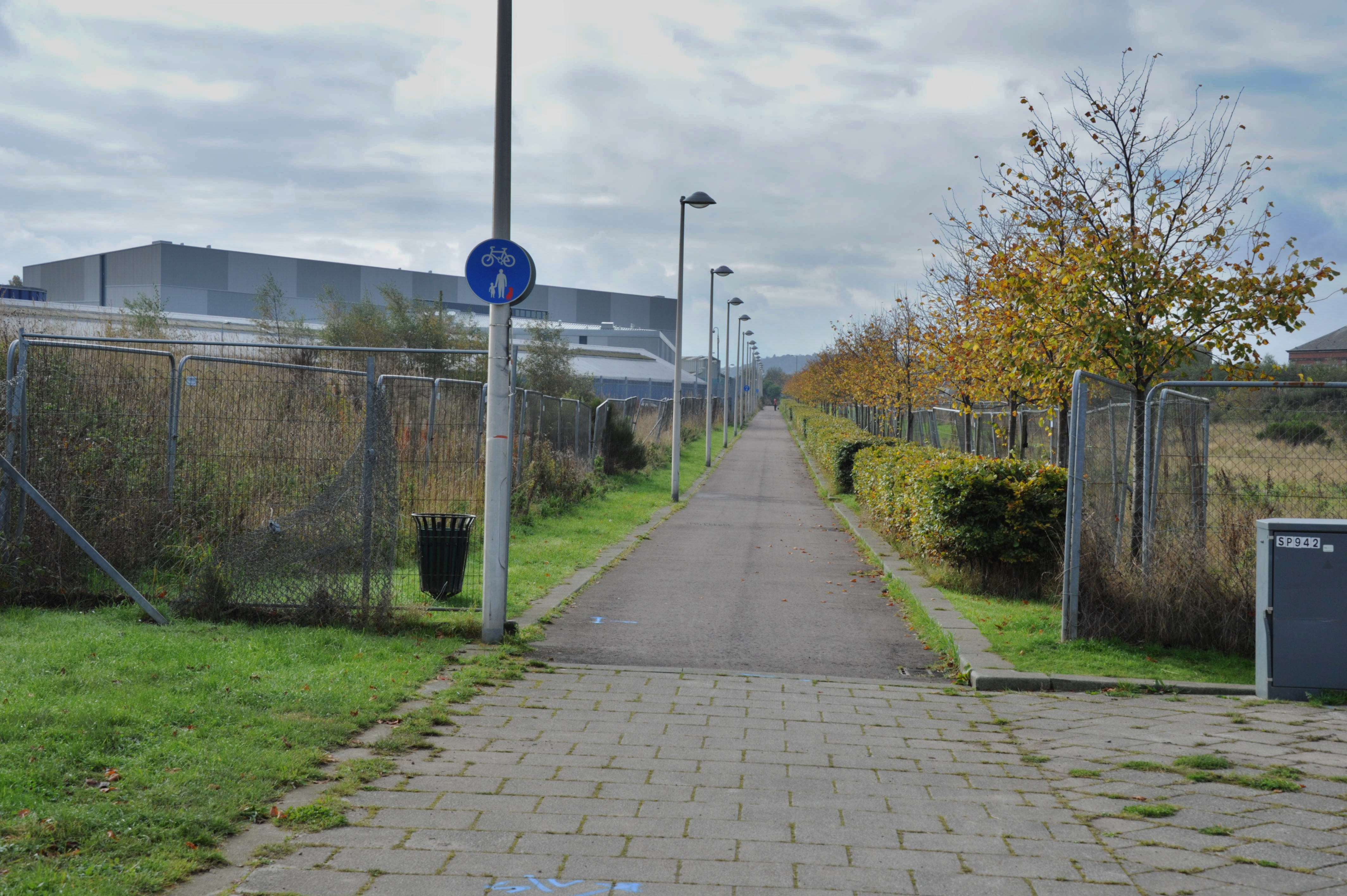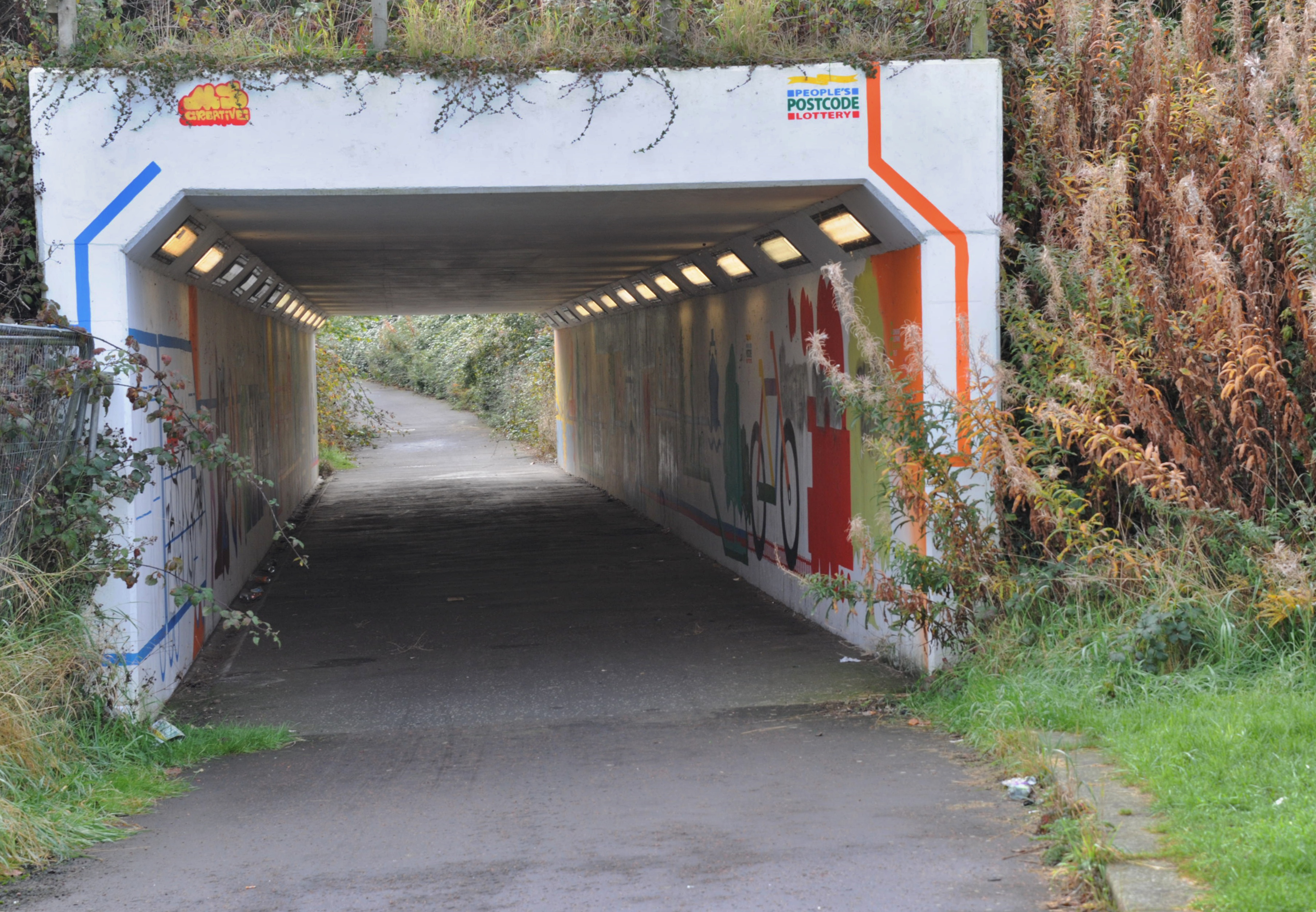 Once you go through this tunnel, you'll be cycling alongside a busy road for a few hundred meters until you come to the spot below.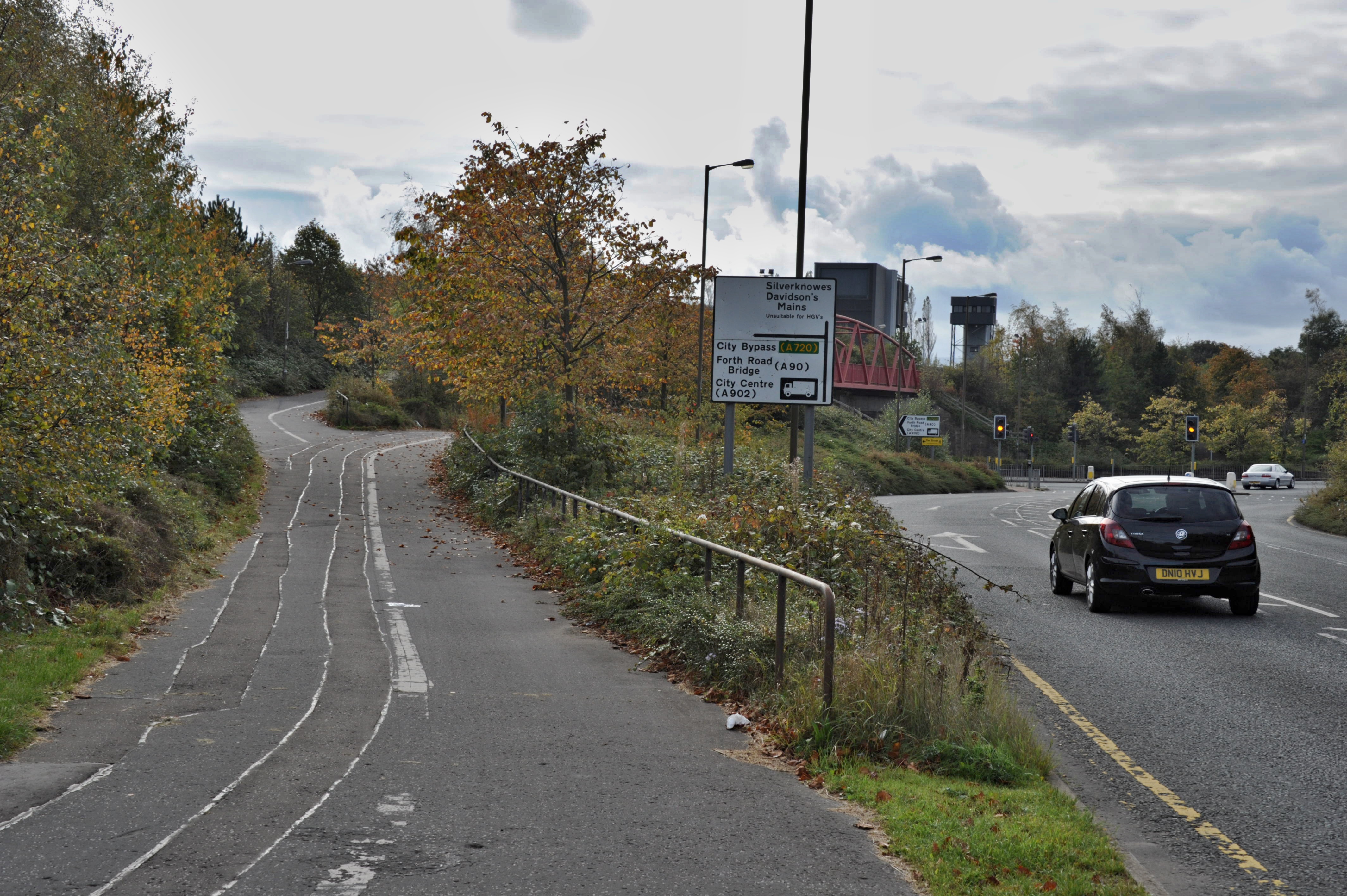 Stay left here. You're going to be cycling over that red bridge you can just see here in this shot behind the road sign.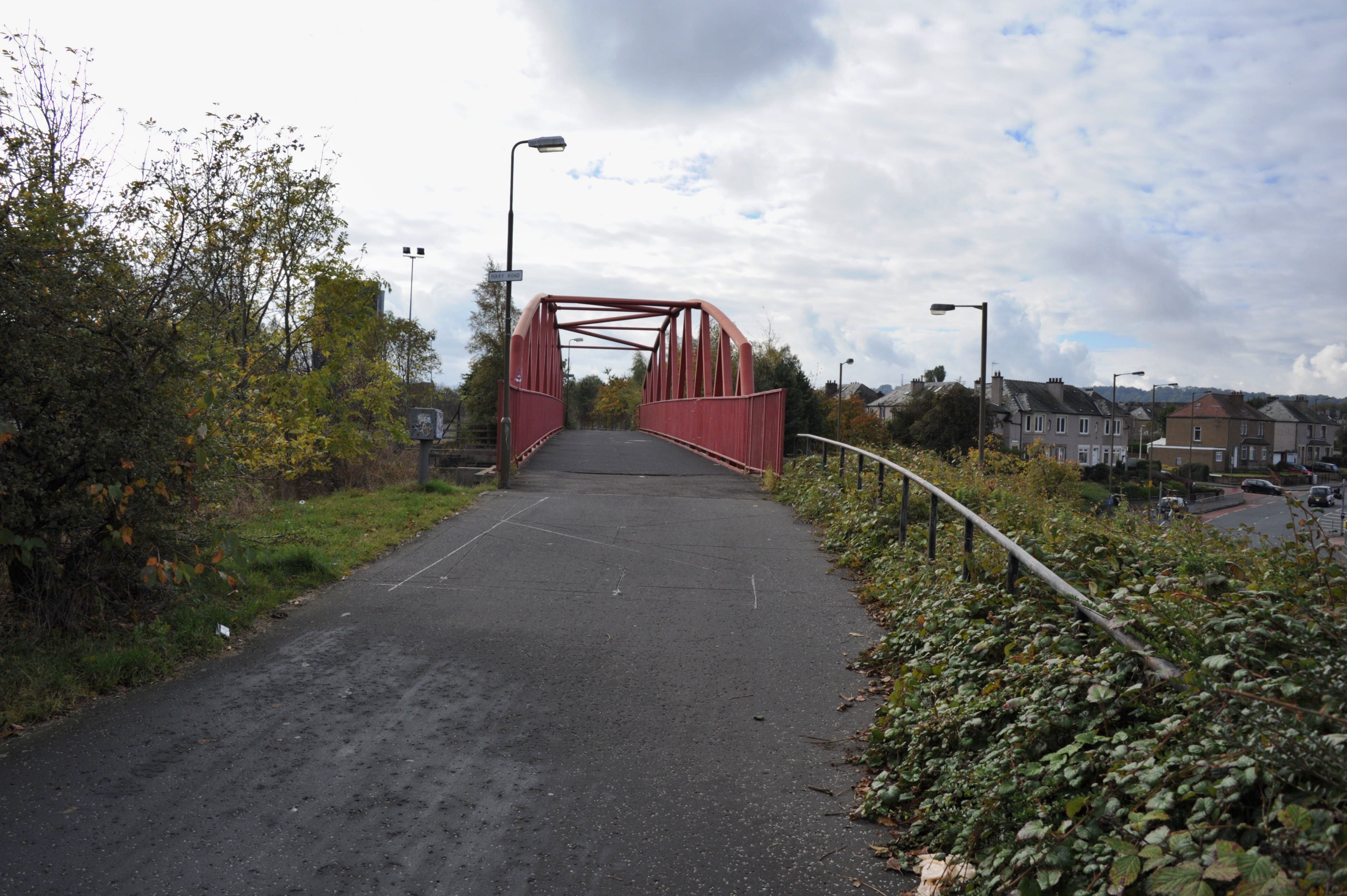 Take the next right and you'll see the bridge…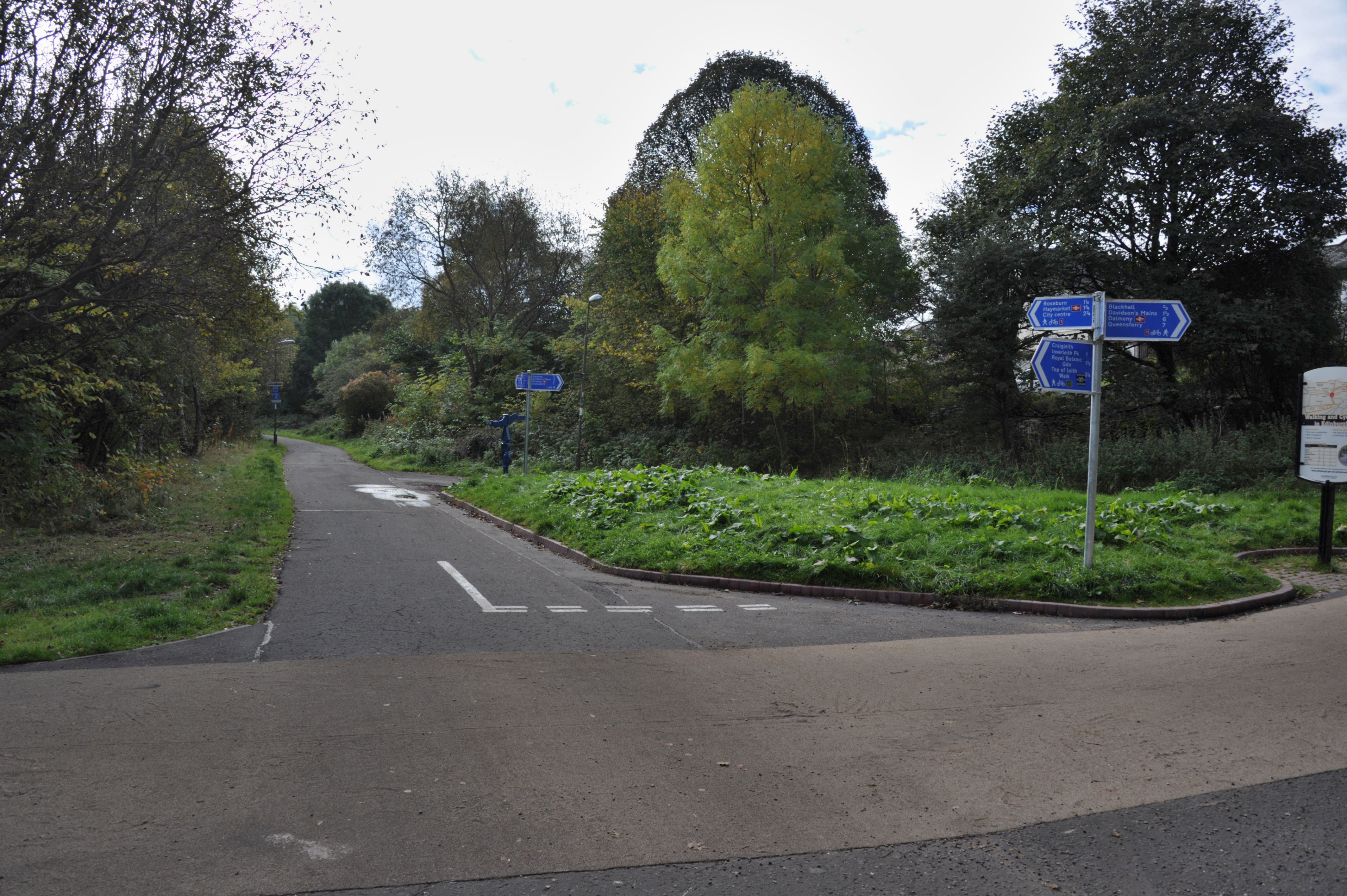 And it's pretty much now a straight cycle until you come to this large-ish intersection that you went through on the way there. From this side, you're just going straight ahead.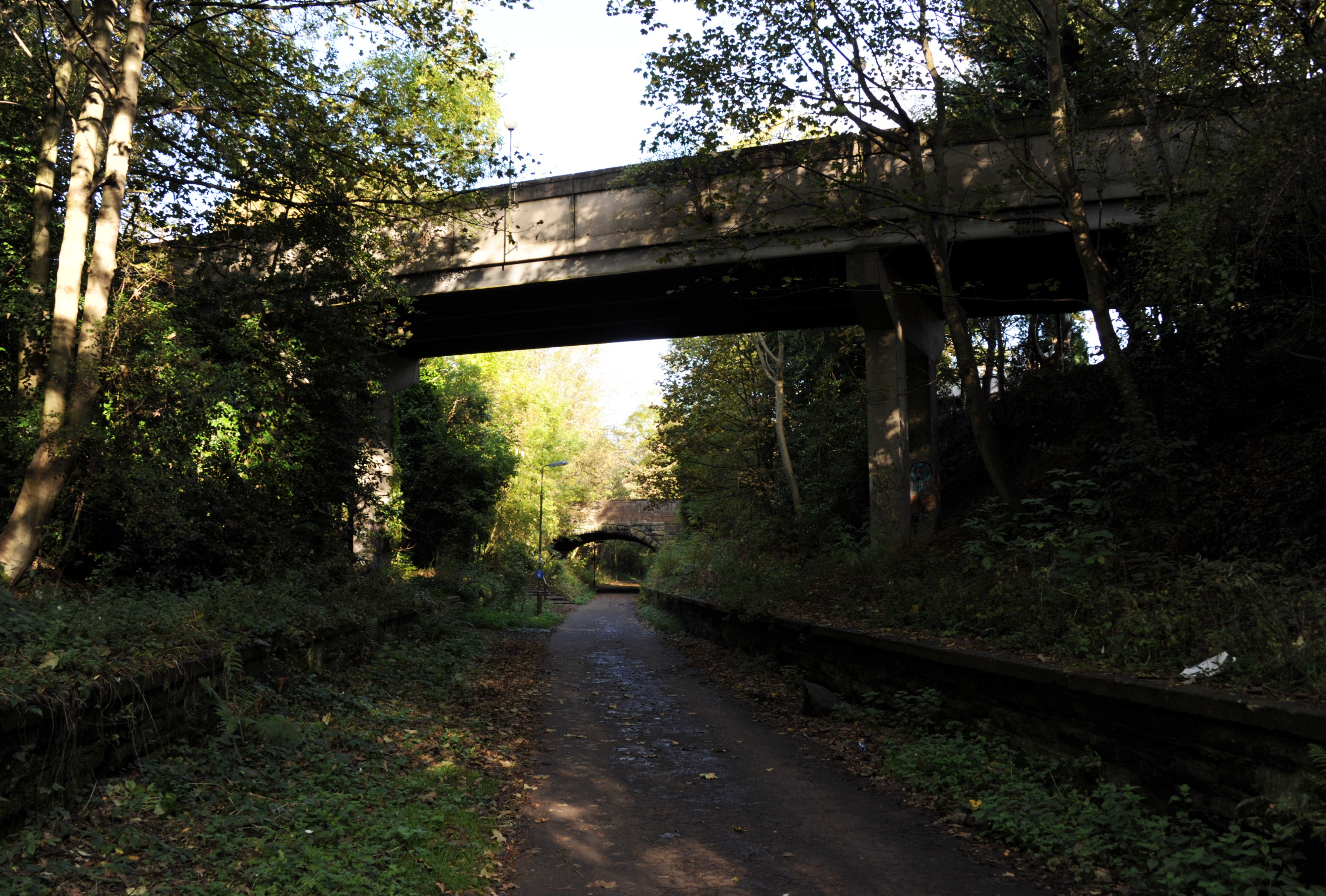 Now you're free to enjoy the Roseburn Path for the next couple of kilometers, all the way back to your starting point.
And just think, after all that outdoorsy fun, you can treat yourself to an Edinburgh sized pub-grub dinner and not feel any guilt at all. Isn't exercise great?
Stuff to Know:
If you start your ride at the beginning of the Roseburn Path (map below), the closest cycle hire is Grease Monkey Cycles, only about 100 meters away in a nearby industrial park.  They also have a delivery and pick up service.
If you're staying in other parts of town, Bike Trax in Tollcross and Leith Cycle Company in Leith are a good place to start.
If you're going to walk over to Cramond Island, don't forget to ask the bike store for a lock so you can keep the bikes secure on the mainland while you're off exploring.
Cramond is about 4-5 miles (6-7 kilometers) from the city. Riding straight there with no mishaps takes about 40 minutes. But you'll probably want to stop off along the Almond River or take your time in certain sections, so it could be anywhere from an hour up.