(Last Updated On: 2nd August 2021)
Leith has been labelled 'up and coming' for years, but if the increase of foot traffic down to the very end of Leith Walk and the amount of new shops, restaurants and bars moving in is any kind of barometer, I'd say it's already arrived.
There are now so many great places to eat and drink along Leith Walk, Leith and The Shore, I've had to write two separate lists. So here's one for the best of Leith Walk, and this one has my favourites for the rest of Leith and The Shore. Go hungry people, there's a lot to check out.
Roseleaf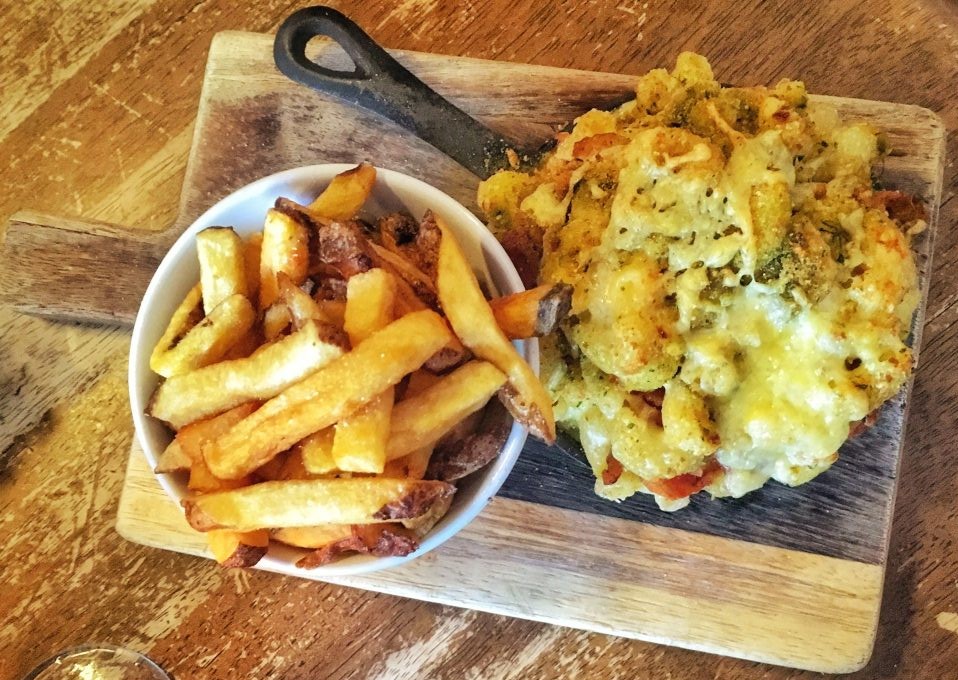 The best word to describe Roseleaf is 'lovely'. It's a lovely little neighbourhood pub with delicious, homemade style food with a few 'healthier' flourishes thrown in the mix, just to make sure we all get our veggies in there somewhere. It's one of the best places in Edinburgh for breakfast and brunch and they're also known for their 'Pot-tails', which are basically cocktails served in teapots. If you're a Mac fan, Roseleaf's Mac 'n Cheese is tops!
23-24 Sandport Pl, EH6 6EW
Café Domenico
Domenicos is an unassuming family run Italian restaurant quietly serving up exceptional, homemade Italian food. Locals have been going here for years, but word has spread finally. If there was an award for the restaurant most frequently dubbed a 'hidden gem' this would be the winner hands down. Seriously people, it's time to roll out a new cliché. It's also a great choice for a lunchtime takeaway sandwich or wrap if you're checking out The Shore and just want something simple to eat.
30 Sandport Street, EH6 6EP
Fishers
Being so close to the sea and with a rich history in boat building, fishing and trade, there's lots of great places in Leith for fish. Fishers just happens to be one that is housed in a 17th Century watchtower and is considered by many to be the best seafood restaurant in the city. The vibe is unfussy and casual, and you can choose from the slightly fancy A La Carte menu or the crowd pleasing Fishers Favourites.
1 The Shore, EH6 6QW
Nobles
It looks just like a traditional British pub (originally opened in 1896), but it doesn't act like one. You're not coming to Nobles to have a few beers with your mate. Well you could, but that would be a waste. You're coming for their amazing takes on traditional Scottish dishes. Like Roseleaf, Nobles also has one of the best breakfast/brunches in the city. Dishes are a couple of pounds more expensive than other places in the area, but it's warranted for the quality.
44A Constitution St, EH6 6RS
Ostara
The food presentation at Ostara is so good you almost want to put a frame around it and hang it on the wall. Brunch is what they do best, but they're also now also open for dinner on Friday and Saturday nights. It's right by the Water of Leith too, so if you're out for a cycle day, it's a great place to stop by either before or after your ride.
52 Coburg St, EH6 6HJ
Teuchters Landing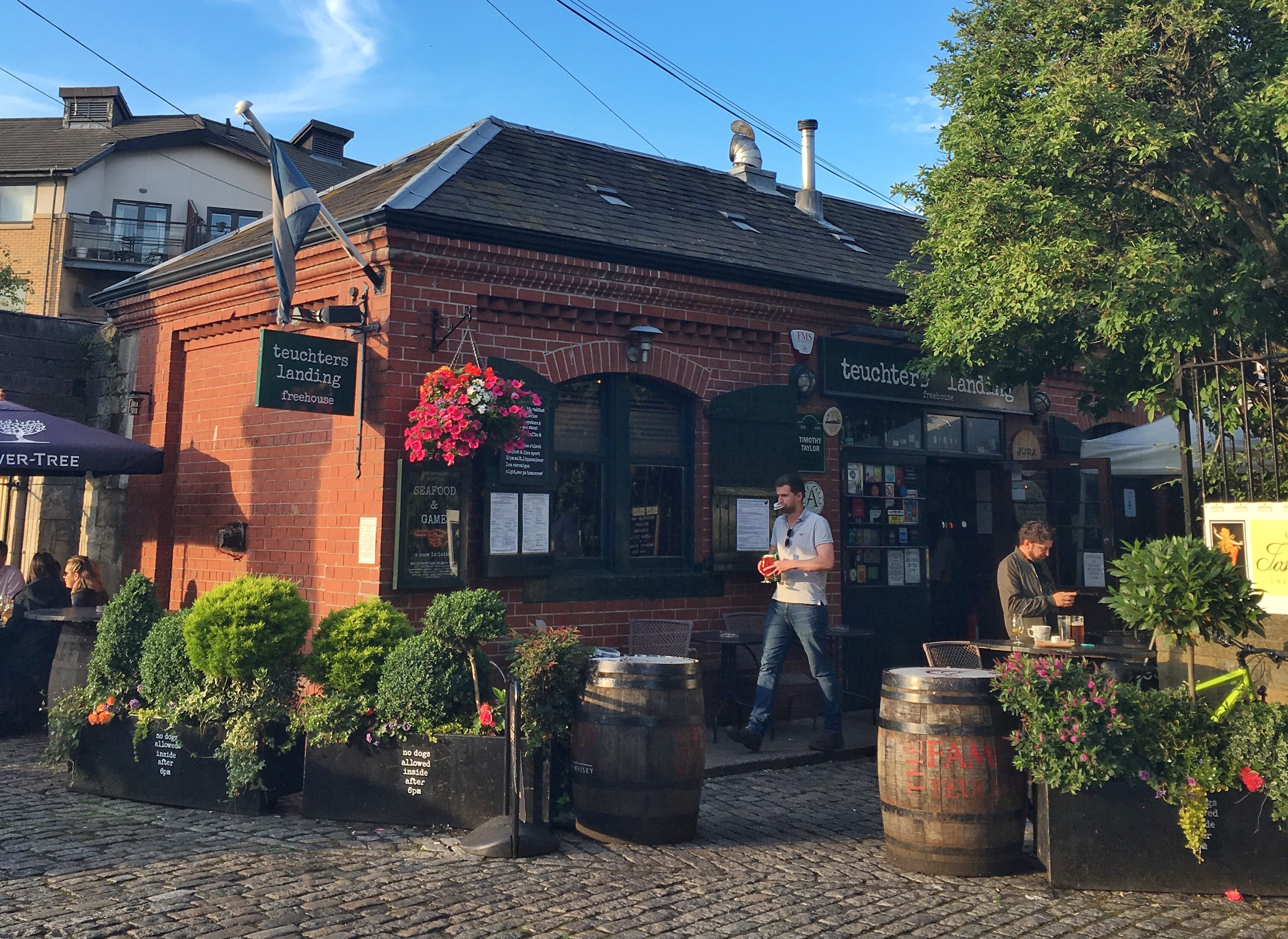 One of my top 5 places to eat in the whole city, Teuchters is a down to earth, traditional Scottish pub with very tasty, no nonsense, affordable pub favourites. It's sort of hard to find and a little bit of an in-the-know place, so is usually full of locals, filling up all the nooks and crannies inside and making use of the plentiful outside space (including the much sought after pontoon) if it's a sunny day. For a bit of a laugh, see if you can win the 'hoop of destiny'. And no, I'm not gonna explain that, you'll just have to go and see for yourself.
1C Dock Place, EH6 6LU 
King's Wark
Oh look, it's another traditional Scottish pub, serving traditional Scottish pub food. But wait, the King's Wark is in a 15th century building (built in 1434). That's almost 600 years old people. If history's your thing, you should feel it practically seeping out of the walls here.
36 Shore, EH6 6QU
Chop House Leith 
Here you'll get high-end steaks (OK and some fish) cooked over an open flamed charcoal grill for maximum flavour. Besides the steaks though, there's burgers, hotdogs, lobster, desserts and cocktails. Pretty much everything at Chop House Leith is just yum.
102 Constitution St, EH6 6AW
Toast
Toast is a wine bar/cafe, but they are very popular for brunch. If you visit a bit later though, you can try their evening small dishes and wine pairings. With exposed brick walls, big windows that look out onto The Water of Leith, it's a great place for a relaxed people watching session. Oh and the bread/toast? Sourdough of course.
65 The Shore, EH6 6RA
Tapa
There are quite a few Spanish tapas style of restaurants in Edinburgh, but Tapa would be one of the few authentic ones. How does aubergine crisps drizzled with honey or warmed goats cheese with caramelised sugar, pistachios, chilli and peach aioli or croquettes of Iberian black pig cheeks with a caramalised apple and sherry salsa sound to you? Did you dribble a bit reading that? Well good, off to Tapa you go then.
19 Shore Pl, Leith, EH6 6SW
The Kilted Donut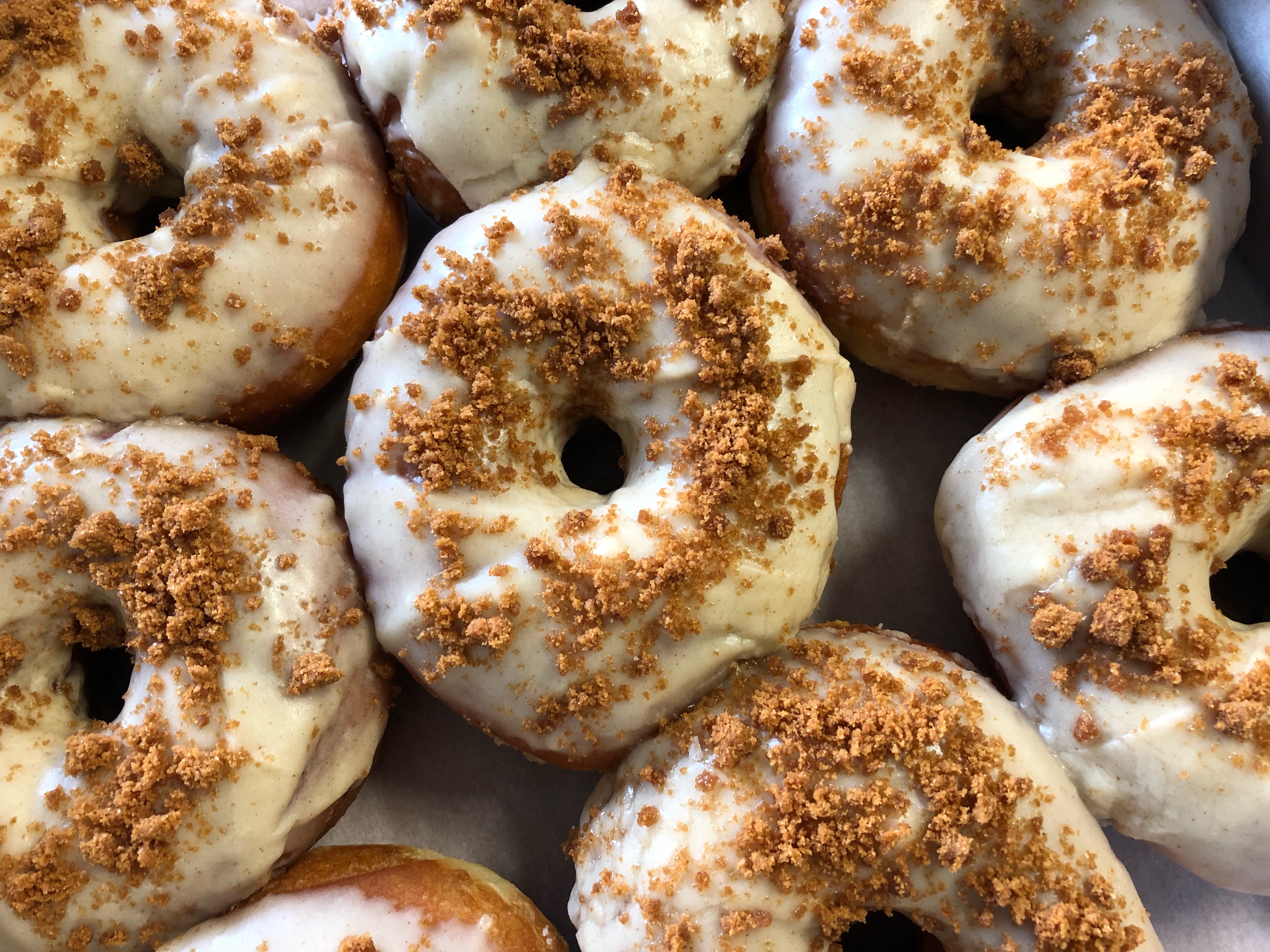 What you'll find at The Kilted Donut are US style 'donuts'; big, hulking balls of dough, either filled or round, with flavours like Maple Bacon, S'Mores, Banoffee and Boston Cream. Each day there are six flavours available from a roster of over twenty, plus weekly specials that, if popular, become permanent. For me it's usually the classics like Cinnamon and Sugar or Lemon Drop that take my fancy, but I have often gone a bit crazy and tried specials like the Unicorn, Apple Crumble and Boozy Blueberry. I mean, you just have to, don't you?
191 Great Junction St, EH6 5LQ
Razzo Pizza Napolitana
There's a hell of a lot of great pizza in Edinburgh now, but Razzo Pizza Napolitana, for me, has the best pizza in Leith. It's Naples style (obviously), thin crust, and made with authentic Italian ingredients and cooking methods. There's a small dining area, but no booking available, so it's first come first served for eating in. If you're a cheese fan, make sure you check out the Mozzarella in Carrozza, which is basically fried cheese. Yes please.
59 Great Junction St, EH6 5HX
Printworks Coffee
Nothing fancy here, Printworks is just a great little cafe feeding and watering us with food and drink from some of Edinburgh's (and London for the coffee) best producers.
42 Constitution St, EH6 6RS
Stuff to Know
Leith is also the place to go if you're feeling particularly flush and looking for a Michelin style of meal. Fancy is not really my bag (or my wallet), so I haven't been to any of them (Martin Wishart, Kitchin, Timberyard). But if I was going to choose a fancy meal in Leith, I'd go for a fancy meal on a fancy boat – at Fingal, a luxury floating hotel. You can stay overnight on Fingal and indulge completely, or just book a visit for afternoon tea or dinner. Everything is top notch here, and to prove it, Fingal has just been ranked in the top 1% in the world for small hotels on Tripadvisor.
And don't forget, the above are all the best places to eat and drink in Leith that aren't on (or just off) Leith Walk. Those places are listed with oodles more great choices in a separate post here.