(Last Updated On: 24th July 2021)
Edinburgh residents love a good old plonk in a park, and one of the nicest places to plonk in this city is The Meadows, a big, kidney shaped chunk of greenery just south of the city. A mere 10 minute walk from the crowds of The Royal Mile, it's the perfect place to wander to, breathe some fresh city air (??) and ponder views of Edinburgh Castle and Arthur's Seat.
If it's a sunny day, half of Edinburgh will no doubt be there too, so people watching is at a premium. Many will be having an alfresco meal with a portable BBQ (try to sit upwind, those things smoke!) while others play frisbee or honing their fire twirling or tightrope skills. All sorts of ball sports will likely be going on and, if you're lucky, you might see a local re-enactment group practicing with their long swords and daggers. Along that vein too, keep an eye out for Edinburgh University's Harry Potter Society indulging in a spot of Quidditch. Yep, it's all the regular stuff you're likely to see in any park. But this one is lovelier. I swear.
You can also amble down (or up) Middle Meadows Walk, shade yourself along tree lined paths or wander around the Quarter Mile development and ogle the super expensive glass boxes wealthier residents like to call apartments. There are buskers, cafes and at the top of Middle Meadow Walk you'll find local legend, Tupiniquim (gluten free Brazilian crepes). In warmer months, The Pavillion Cafe in The Meadows' south end throws out some chairs on the lawn in front of their shed-like shop and serves all sorts of snacks. Perfect for more people watching if you're not one for sitting on grass. I know you're out there.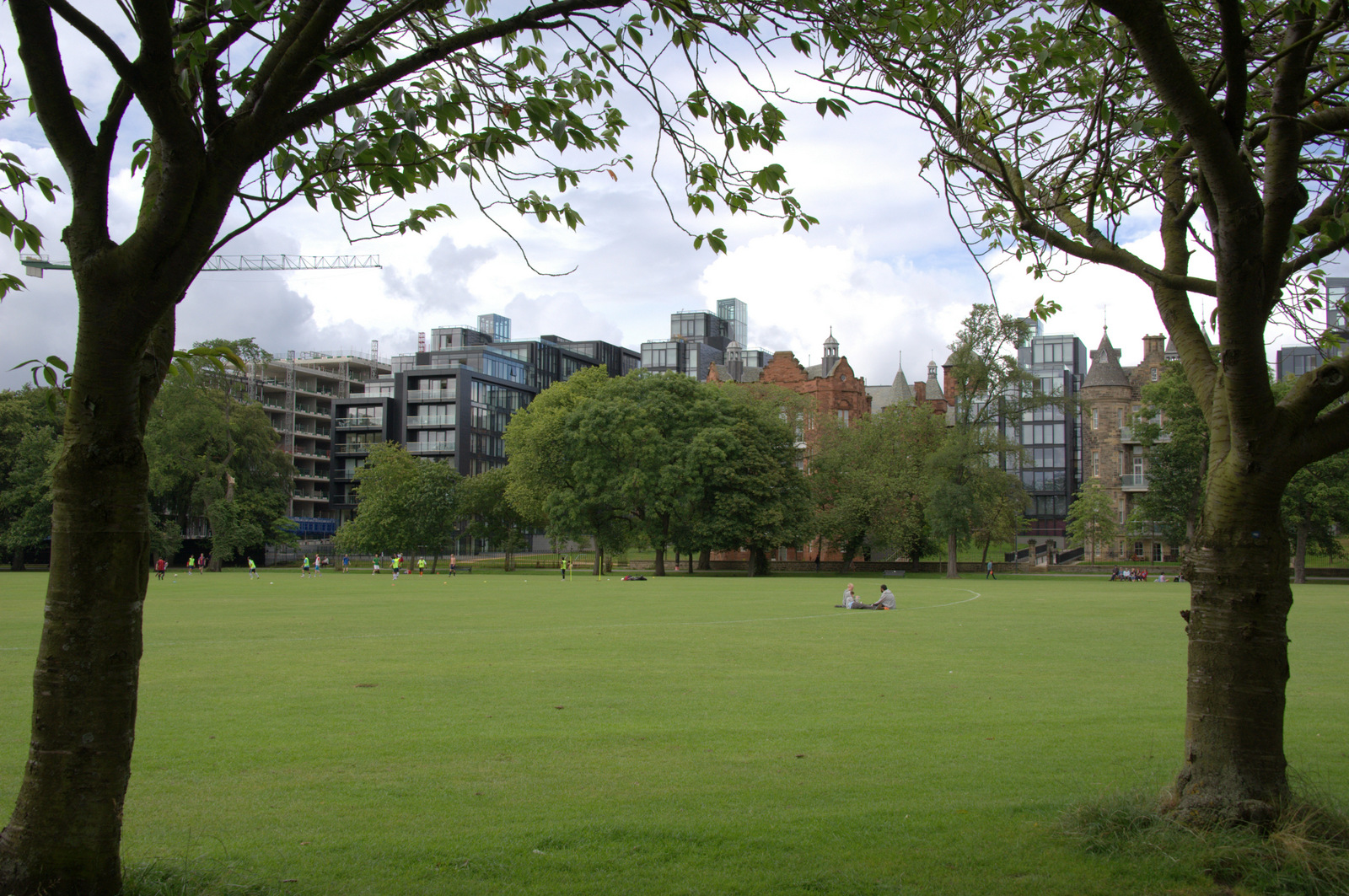 Don't think The Meadows is only for summer though. It's super atmospheric in winter, all misty and gloomy, great for a (brisk) walk if you're desperate to get away from the crowds for a bit. Or, you could take advantage of another patch of greenery just south of The Meadows; Bruntsfield Links. Here you'll find a pitch and putt golf course, so if you've packed some clubs – of course you have, you're visiting Scotland – bring them along and have a bash. But mind the people will you? And in late Spring, the blooming cherry blossoms along the Meadows walkways are almost a tourist attraction themselves.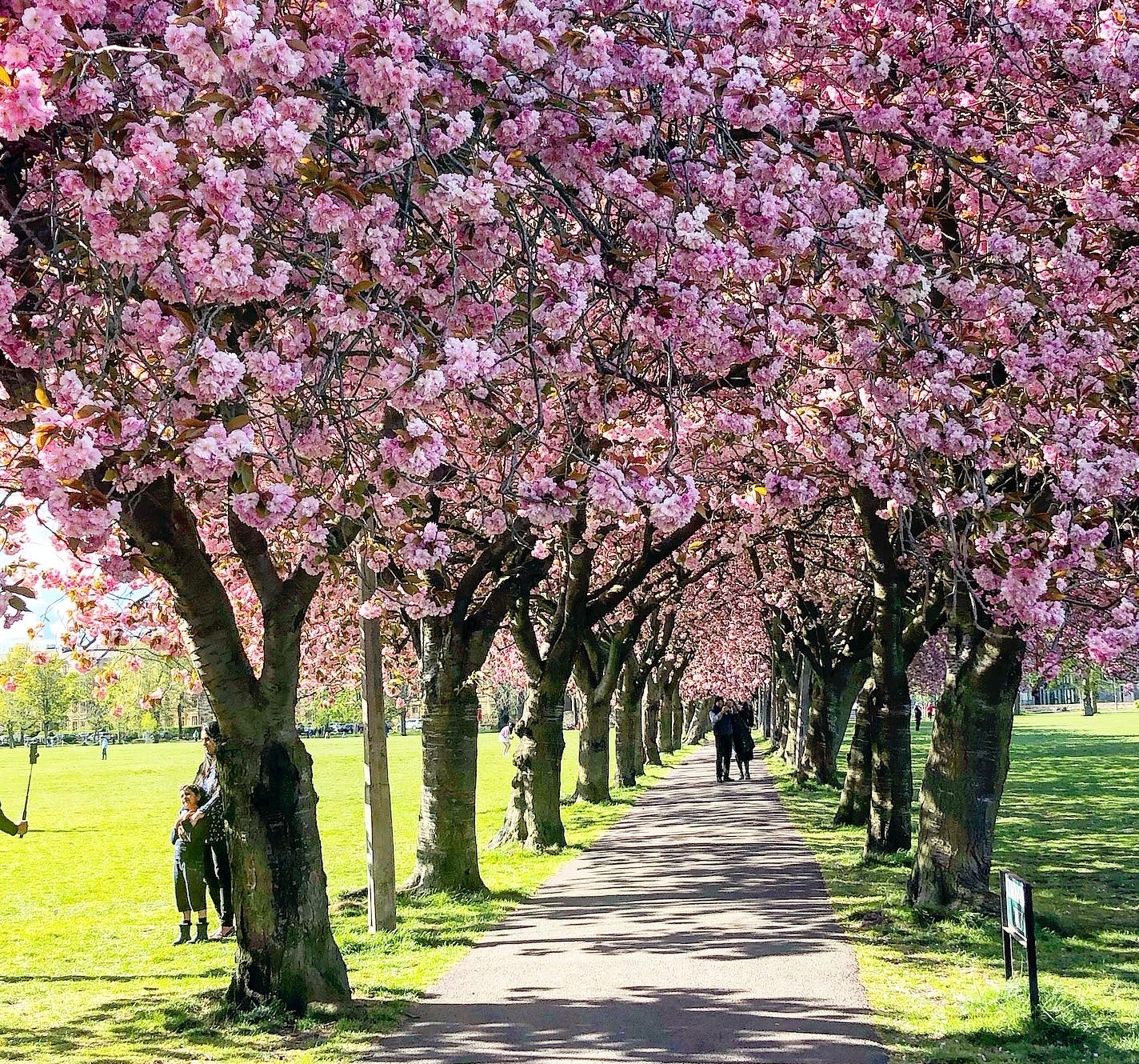 All sorts of events happen in the Meadows throughout the year too. There's the Meadows Marathon in March, the (free) Meadows Festival in June and various Fringe events in August. Come Hogmanay, The Meadows is also the perfect place for viewing the new year's fireworks over the castle if immense crowds are not your thing.
As well as space to play cricket, football etc, there are tennis courts which can be booked, toilets and a couple of play areas for kids. For info on how to book their facilities, you can check the Edinburgh Council website.