(Last Updated On: 21st September 2019)
Edinburgh's Royal Mile is undoubtedly the most touristy street in the city, and we're often told if you want an authentic experience on holiday, then you're not going to get it in one of those. But come on, you can't come to Edinburgh and skip The Royal Mile. And you shouldn't, because amongst all those tourist traps it's possible to find authentic and interesting spots to learn about the city's history, to eat and drink some local fare and to get yourself or others some gifts to take home. But what's good and what's better to skip?
Historical Sites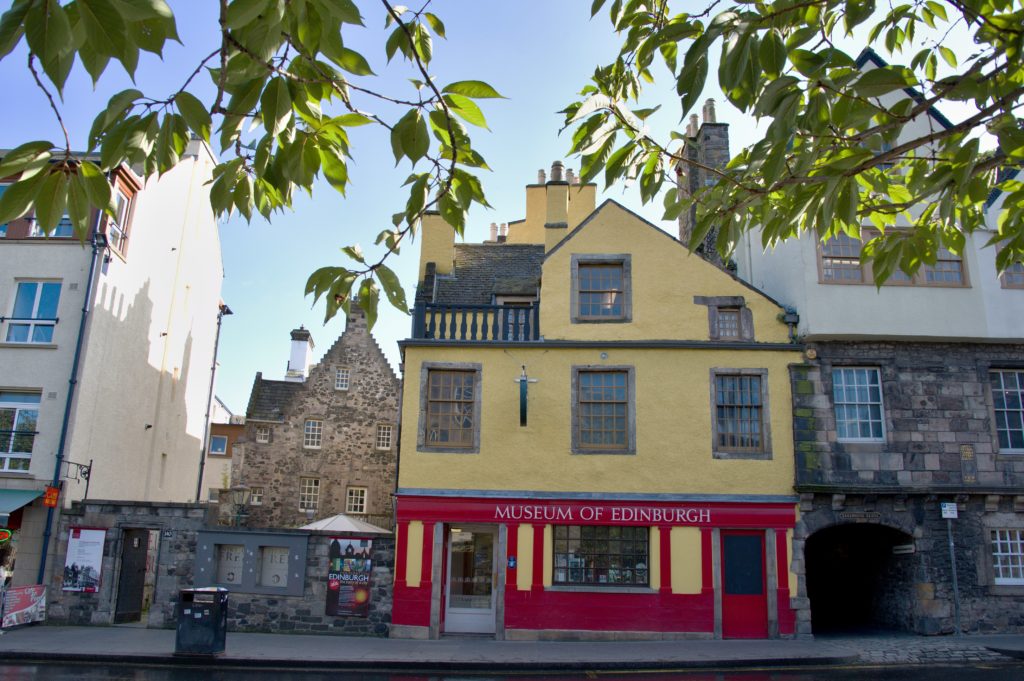 There are oodles and oodles of historical sites along the Royal Mile. I mean, just about every single building is a historical site. But if you're limited by budget and/or time, there are a few places I think are definitely worth checking out. Gladstone's Land, not too far down the hill from the castle, is a tenement building built in 1550, then upgraded to fancy apartments in 1617 by its one-time owner, the very wealthy merchant, Thomas Gladstone. It was saved from destruction in the 1930's and restored as an attraction that today gives us a brilliant feel for what life in Edinburgh would have been like hundreds of years ago – for the well heeled anyway – and includes one of the most ostentatious bedrooms I've ever seen.
Whether you're religious or not, churches are always worth a quick visit as they're often the oldest, the most opulent or historically fascinating buildings in town. St Giles Cathedral, the Church of Scotland's mothership, could almost fit all three of those categories. Its crown steeple, built in 1495, juts out above all else in the Old Town skyline but the building dates its origins (and four existing central pillars) back to the 12th Century. It also has some pretty cool stained glass windows and plenty of medieval Green Men to try to find lurking high up toward the ceiling.
The Museum of Edinburgh is a  small, bright-yellow Tudor building toward the end of the Royal Mile. What I really like here is the film playing all day on a loop that that'll have you all clued up on hundreds of years of Edinburgh history in about 15 minutes flat.
For something a little bit different, half a block off the mile on Niddrie Street,  St Cecilia's Hall and Music Museum is the oldest music hall in Scotland and re-opened to the public in 2017 after two years of restoration works. Originally opened in 1763, it is now the only place in the world where you can hear 18th century music being played on 18th century instruments in an 18th century building. Now there's some tourist bragging rights, right there!
And what about the two big kahunas – the castle and the palace? Well, I discuss both of these a bit further down.
Food and Drink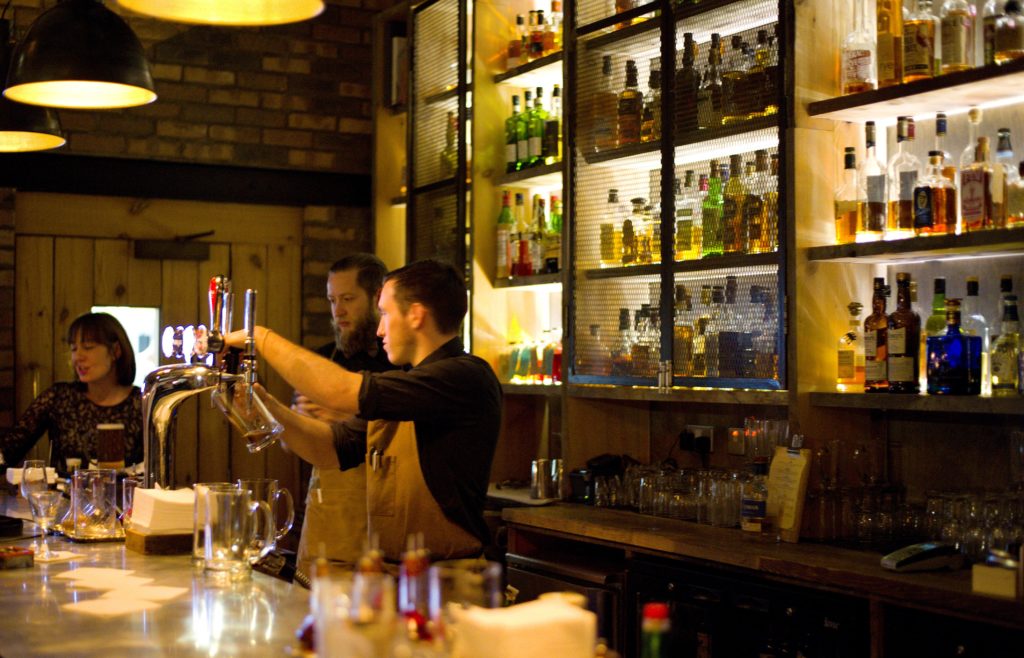 Being the busiest tourist strip in the city, there's obviously going to be lots of fairly average places to dine on The Royal Mile. But it's not all bad. On the casual side, both Burgers and Beers Grillhouse and Bubba Q will fill you to the absolute brim with greasy, meaty goodness. If you want something lighter, there's Sugarhouse Sandwiches, a simple, family run cafe with homemade sandwiches fillers, paninis and cakes or, just off the mile on Blackfriars Street, you could try Edinburgh Larder, a popular (ie: very busy), slightly more upscale (ie: more expensive) cafe that prides itself on using top quality, locally sourced ingredients.
The 10 Tastings of Edinburgh With Locals: Private Food Tour
If street food is your thing, on the lower end of The Royal Mile, look out for signs to the Food and Flea Market, where you can take your pick from any of the rotating food trucks taking residence there that month. Or if you want to have a more traditional Scottish meal, Whiski Bar and Restaurant does very good pub grub, including Scottish favourites Fish and Chips, Salmon, Cullen Skink, Venison and Haggis.
If you want to splurge a little bit, I'd head for The Devil's Advocate or Wedgwood. The Devil's Advocate (pic above) is a few steps off the mile on Advocate's Close and is housed in an atmospheric former pump house (ah, the irony). The bar has around 200 types of whisky, they make expert cocktails and also serve top quality food on their mezzanine level. If you want to reeaally splurge, Wedgwood the Restaurant has Michelin quality, Scottish/Asian inspired food, served in a much less snooty atmosphere than that may sound. Prices at both of these are on the high end, but it's more than justified for the quality.
Gifts
Whether for you or others, it's always nice to be able to find souvenirs that are authentic (or as authentic as a souvenir can be) and good quality. On The Royal Mile, you'll easily pick up a run of the mill tartan scarf/hat/jumper/kilt/mug or Highland cow soft toy, and maybe that'll do you fine. But if not, here's where to head. At Cranachan and Crowdie you'll find genuine Scottish food, drink and deli items, local artists' wares and super friendly service from owners Fiona and Beth (and sometimes Caley the canine). Cadenhead's Whisky Shop is the oldest independent bottler in Scotland and the place to go to pick yourself up a unique bottle or two. The staff here have vast knowledge of the stuff and are happy to take as much time as needed to help the novice buyer get something just right. If you can get to one of their tasting evenings, you won't be disappointed. You can get some gourmet fudge from the very traditional The Fudge House, who've been making their fudge on The Royal Mile since 1949. Or for a creamier version in a more hipster setting, there's The Fudge Kitchen on the mile too.
If buying for others, I doubt you'll be able to resist those last two till you get home, so maybe don't tell your Nan you're bringing her any and see how you go.
Secrets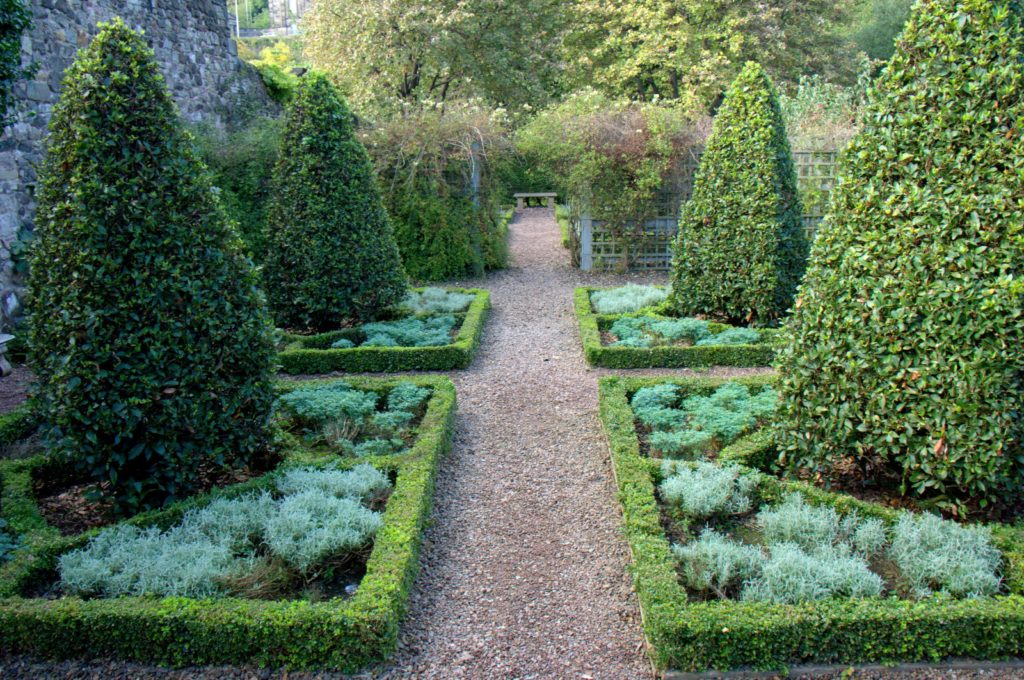 The older a city is, the more secrets it's bound to hold, so keep your eyes peeled for two of The Royal Mile's. Dunbar's Close Gardens is a little known 17th Century styled garden believed to have been built by one of my favourite locals, the revolutionary Patrick Geddes. It's a great spot to escape the hustle and bustle of The Royal Mile for a few minute's peace and quiet. And The Heart of Midlothian is a heart-shaped mosaic on the footpath outside St Giles Cathedral. If you didn't know to look for it, the only other way you might see it is if you noticed someone spitting on it. Yep, this gross habit is actually an homage to the past, as it is located in the spot where the entrance to the 15th Century jail known as the Old Toolbooth used to sit. Legend has it that as prisoners were freed, they used to spit at the front door on their way out to show their contempt. These days it's said to bring good luck. I imagine it brings more than a few disapproving looks from passers-by too.
The Castle or the Palace?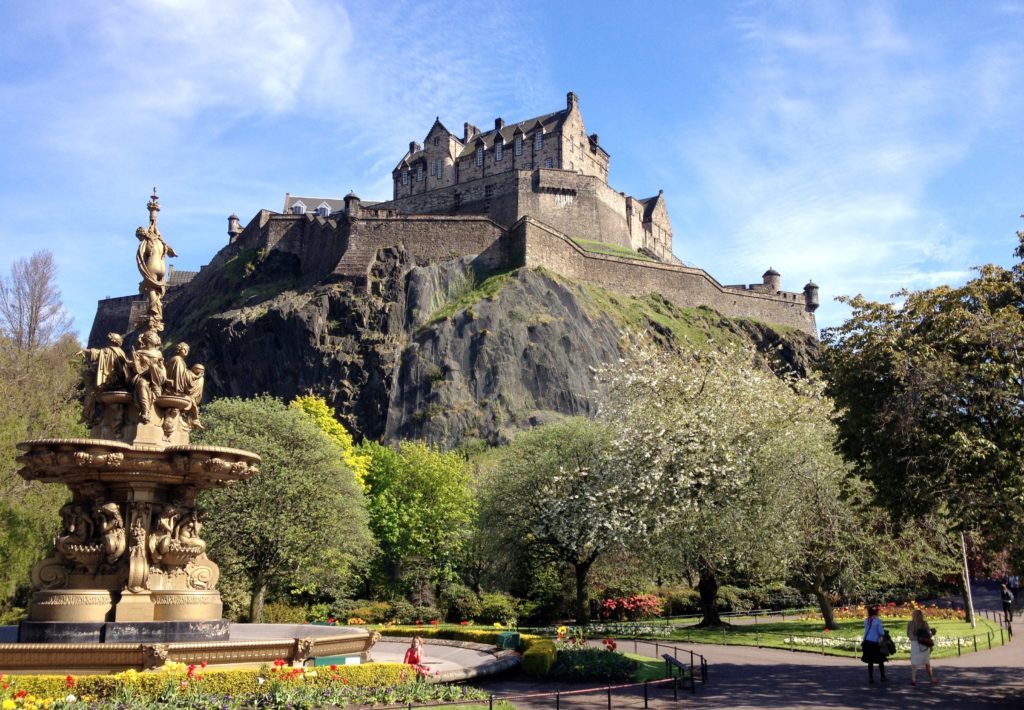 Now, none of you are going to take my advice here (and Historic Scotland will hate me), but I'll give it anyway. I may just be the only person in the universe who was unimpressed with Edinburgh Castle. The tourist visit I mean. It's waaaay too expensive, too tourist driven (gift shops every corner you turn) and too perfect for me. It's so well maintained it may as well be brand new. Give me a dilapidated, wreck of a castle any day. And yes, I know it is Scotland's most significant castle by miles, and it's almost 1000 years old and is an absolute source of national pride, and believe me, every time I look at it I get it, I feel allll that, and I think "What a magnificent thing you are!" But still, inside the thing, I felt a bit 'meh', like I was meeting a hero and they weren't funny or warm or engaging and didn't want to sign my poster (I don't do selfies).
If you happen to be visiting in September though, here's some good news, you can visit during the Doors Open weekend and get a free ticket. For everyone else, my advice is, ummmm, go to Stirling Castle instead. That's bloody expensive too, although about a fiver less than Edinburgh Castle, but it somehow just felt more authentic to me. I will admit though, I lucked out and visited Stirling Castle on a day when there were re-enactments and people in costumes and in character, so that might have helped shape that opinion.
In the same vein, the Palace of Holyrood House is lovely, but again, quite expensive since you only get to see a small section of it. If you're rich and have all the time in the world, knock yourself out. But if you've been to a palace before, or if you're strapped for time and/or moola, skip em both. Yes, I just said that.
Camera Obscura or Scotch Whisky Experience?
These Royal Mile tourist powerhouses are two of Edinburgh most popular attractions. So yes, they are touristy, very touristy. If you have kids, the answer is obvious; you'll be off to Camera Obscura. If you don't have kids, Camera Obscura is still a bit of fun and ahhhh, it has great views from the roof, but mmm, I don't think you're missing out if you skip this one. If you're visiting Scotland in-depth though and will get a chance to go to a real distillery, skip the Scotch Whisky Experience. If your time in Edinburgh is your only chance to learn about whisky, go to Cadenhead Whisky Shop that I've mentioned above instead. Their well-informed staff will help you gain a rudimentary understanding of the different regions, they have tastings and they're so well stocked, you're bound to find something really special and unique.