(Last Updated On: 3rd April 2021)
For a full cultural experience in any new country, immersing yourself in the local cuisine is a must. So to help get your head around what it means to be a Scot, or a Scot's gut, below is a list of the food and drink you should be keeping your eyes peeled for. As you'll quickly see, much of this list either sounds horrible, looks horrible, is a bit stodgy and often greasy and calorific. Well yes, but trust me, it's also delicious. So steady your stomach, throw the diet out the window and immerse yourself in Scottish gastronomy.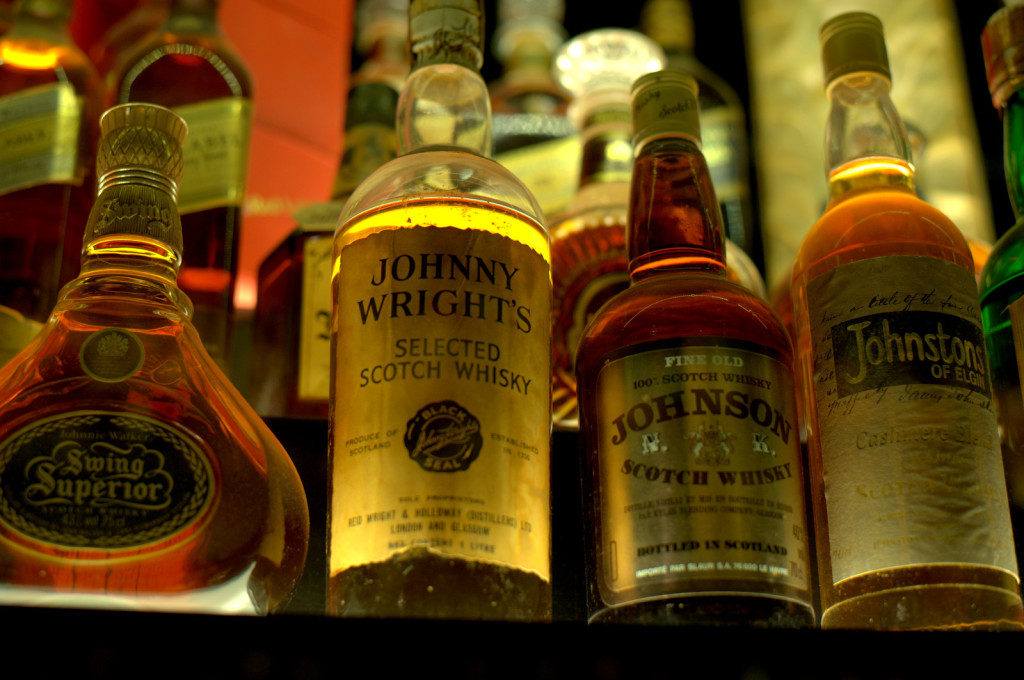 Whisky – Well, I'd be remiss not to start here wouldn't I? The famous amber liquid is distilled in five regions of Scotland, each with it's own distinct flavour; the Highlands, Lowlands, Speyside, Islay and Campbletown. Purists stick to single malt, but in the 1860's the invention of blended versions saw Whisky sales soar beyond its native Scotland. The recipe of a blended whisky can consist of up to 50 different single malts and it's now considered quite a skill to get it right. All I know is Speyside are the only ones that don't make me screw up my face when I drink them.
Where to get it – You're not going to have to look too far in Edinburgh to find yourself a wee dram. But if you want the luxury of a huge selection to choose from, try Whiski Rooms (bonus amazing views if you get a window seat) or The Devil's Advocate. Both of these are slightly upmarket, so won't be cheap, but they stock hundreds of varieties. If you want something easier on the wallet and more relaxed, go for Black Cat Bar in Rose Street or The Bow Bar on Victoria Street.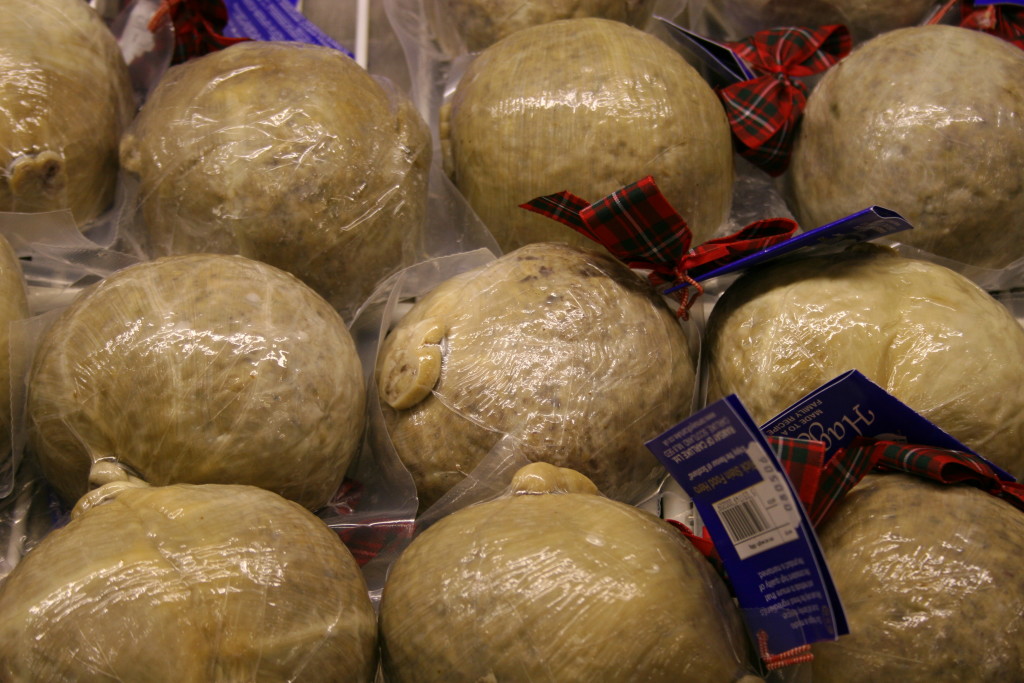 Photo – Chris Brown
Haggis – It's very hard to make this stuff look appetizing, and once you know what it's made of – sheep's innards, onion, oatmeal and spices, traditionally wrapped in sheep's intestine and then boiled – you'll know why. But guess what, Haggis is actually rather nice. If you're squeamish, try a Haggis bon bon first – small Haggis balls coated in breadcrumbs and deep fried. Everything tastes better deep fried, right?
Where to get it – Most restaurants who advertise Scottish cuisine will have Haggis on the menu. Or you could cook your own, in which case you'll want to head for legendary Crombie's butcher on Broughton Street. If you want to ease your way in with a  bon bon, the ones at The Black Fox (burger and craft beer place in Leith) and The Doric (traditional gastro pub in a 14th century building) are delicious. Teuchters (either location, but Teuchters Landing is my fave) will do you a mug of McSween's and The Haggis Box (check their social media to find them as they move about) will get you a street food/take-away version of Haggis, Neeps and Tatties.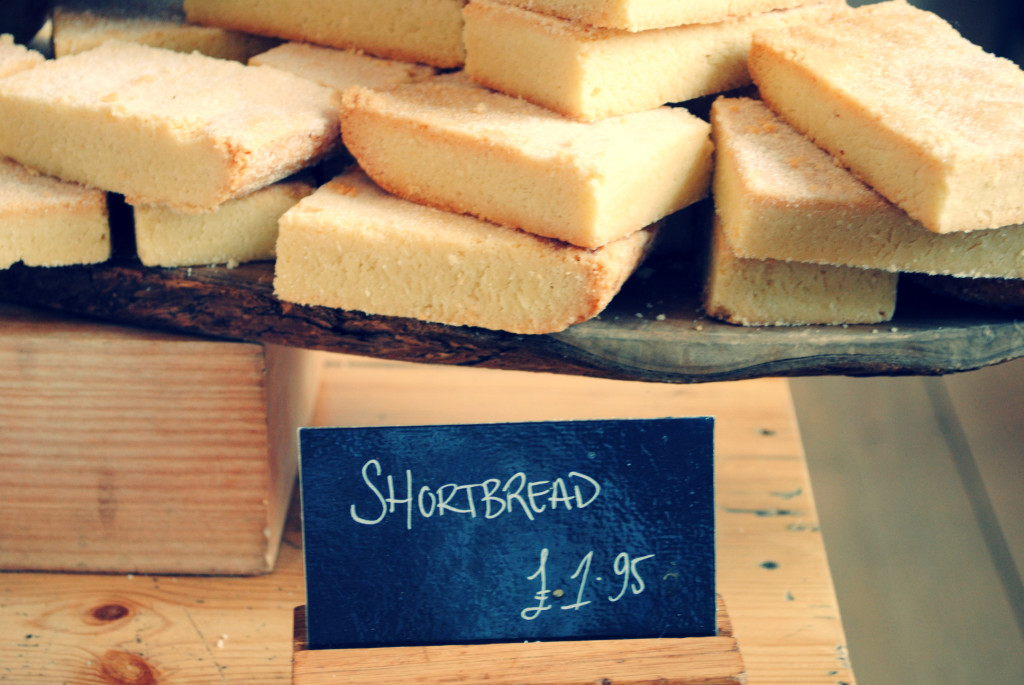 Photo by lilivanili
Shortbread – This famous Scottish biscuit is made of just sugar, butter and flour and is very popular not just in Scotland but all over the UK (and Australia, Denmark and Sweden). Not surprisingly it's very buttery, very sugary and quite crumbly in texture or 'short', to use a cooking/pastry term. You may need a drink to wash it down with.
Where to get it– Shortbread is available absolutely everywhere in the souvenir shops of Edinburgh, but you'll also see a few brands among the biscuits isle in the supermarkets. The best hand made stuff around town was Pinnie's and Poppy Seeds, but they have temporarily closed. Keep an eye out for them though because I'm sure they will be back and they really were far and away the best. And if you happen to find yourself in the Shetland Islands, get yourself invited to a wedding, as Shetland tradition sees the bride having a slab of shortbread broken over her head as she goes into her new house!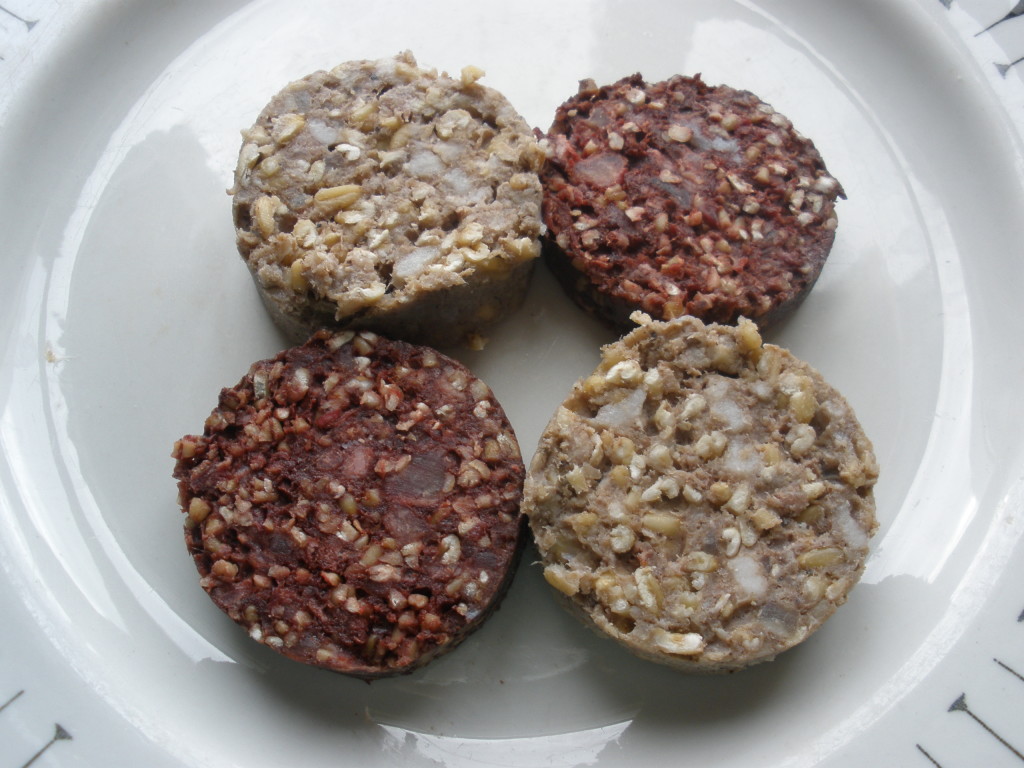 Photo – O'Dea
Black Pudding/ White Pudding – A UK breakfast staple, black pudding is a pork sausage made with oatmeal, onions, spices and blood. Yes, blood. It's mostly commonly cut into rounds and fried up to be included in the ubiquitous British 'full breakfast'. White sausage is basically the same as black, just minus the blood.
Where to get it – Anywhere you'll find a fry up. Or like with the Haggis, get some quality stuff from Crombie's butcher (imported from Stornoway in the north) and fry your own. It's also quite commonly available at local chippies, yep you guessed it, battered and deep fried.
Irn Bru – Pronounced 'Iron Brew', this Fanta looking soft drink allegedly outsells Coca Cola, making Scotland the only country in the world where Coke is not number one. Do a bit of people watching along any busy Edinburgh street in the morning and you'll no doubt see 20-something guys walking along with one litre bottles of the stuff. But it doesn't actually taste like Fanta, or have an orange flavour, it's more like vanilla. If you've ever come across a drink called Cream(y) Soda, you'll know exactly what it tastes like. For the rest of you, you'll just have to risk a cavity and give it a try.
Where to get it – Everywhere. Seriously, everywhere.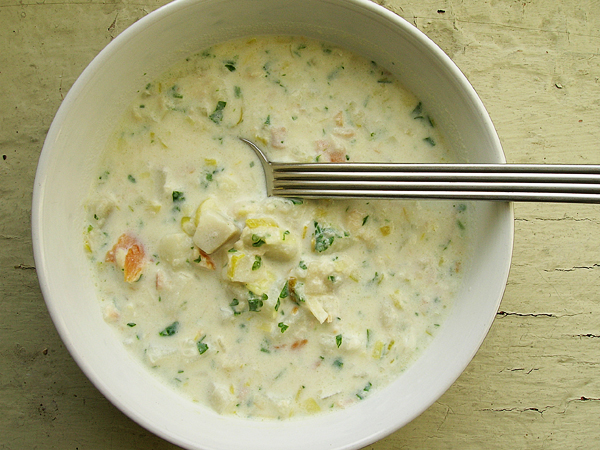 Photo – Pseph
Cullen Skink
No it's not a death metal band, but a soup made of smoked haddock, onion, potato, and often milk or cream instead of water. It gets its name from the place it originated, the north-eastern Scottish town, Cullen and the Scots term skink, meaning a shin or knuckle, from which the soup was often made.
Where to get it – It's not hard to find Cullen Skink at a restaurant in Scotland, and during winter months of course it should be even easier. Keep an eye out for the daily changing menus at legendary Edinburgh soup establishment Union of Genius and you'll be guaranteed a good one. Or try a very tasty mug of the stuff at my old fave, Teuchters Landing just off Leith Shore.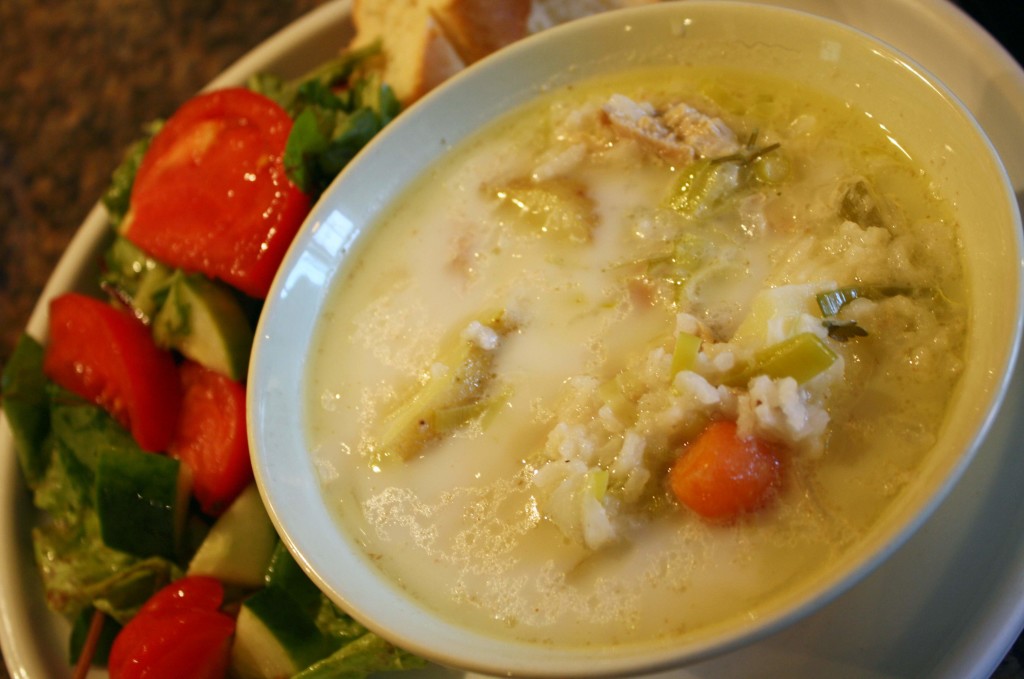 Photo – Rakka
Cock-a-leekie Soup
Another soup, this one's not too hard to decipher – chicken and leek. Dating back to 16th century, it traditionally has prunes in it, and sometimes you'll find it with rice or barley.
Where to get it – Again, try Union of Genius.
Tattie Scone
Tattie is slang for potato, but a tattie scone is more along the lines of warm flat bread rather than the sweet version of 'tea and scones'. You'll see tattie scones on breakfast fry-up menus where you'll often have the choice of the Full English or the Full Scottish. The ingredients offered for both are very similar, but only the Scottish will include a tattie scone. At its most basic, a tattie scone is a dough of mashed potato, flour, butter and seasoning rolled out and fried, then usually served cut into triangles. I have it on good authority (from my Scottish workmates) that if you've had a big night out, slapping a tattie scone in a roll is also the perfect greasy pick-me-up.
Where to get it – Anywhere that serves a Full Scottish breakfast will have a tattie for you. Local greasy spoons, like Snax have them all day.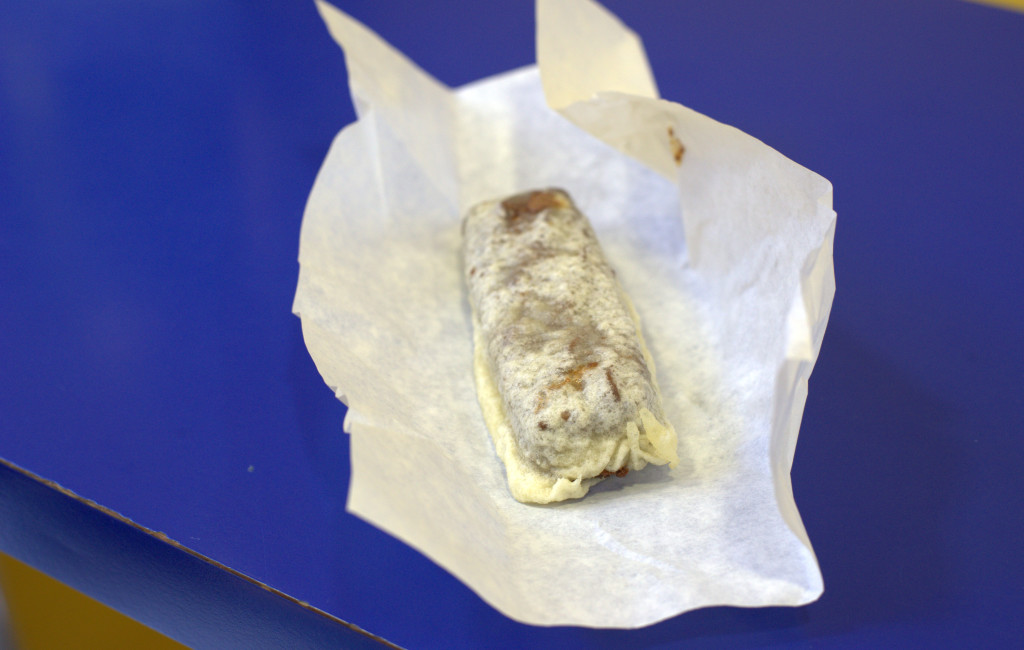 Deep Fried Mars Bar – Continuing with the fried portion of our menu, the good old deep fried Mars Bar is somewhat harder to come by than its legend suggests. The Haven chippie in Stonehaven claims credit for the invention in 1995, when they simply covered the well known chocolate bar in batter and threw it in the deep fryer. As you can see from the somewhat unfortunate looking shot above, I purchased one to try myself. I was actually expecting the batter to be thicker, so was pleasantly surprised that it was thin, almost tempura- like. And once again, it may look disgusting, but I'll tell you now, it was seriously scrumptious.
Where to get it – In Edinburgh, Piccante at the top end of Broughton Street and Clam Shell on the Royal Mile advertise them as a menu feature. But if you find yourself in any other old school chippie (not so much the newer more 'gourmet' ones), you could always just ask and I'm pretty sure they'd indulge you.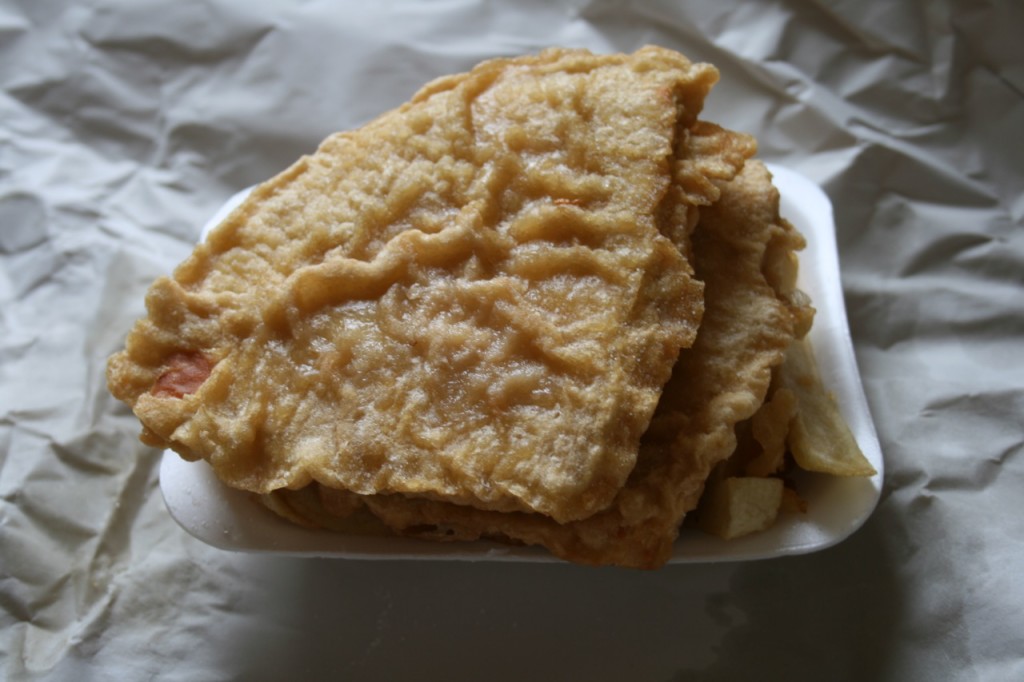 Photo – Jared Earle
Deep Fried Pizza – Just like it sounds; a pizza slice dipped in batter and deep fried. Oh my arteries! Apparently delicious.
Where to get it – Again, pretty much any old school chippie in Edinburgh will do a version of this for you.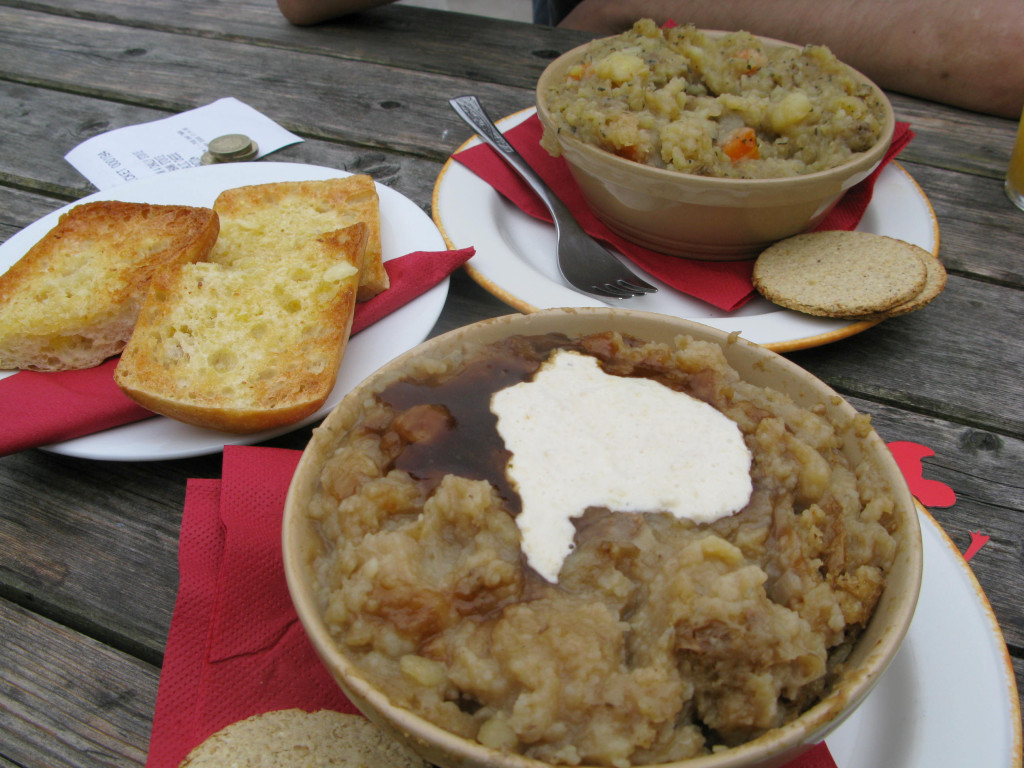 Photo – Clurross
Stovies – Umm, you know about what I said with the food here not being the most attractive; well, stovies just about takes the trophy. But as usual with Scottish food, it's all about the taste. Whipping up a batch of Stovies is what the Scottish do with their leftovers. The words 'to stove' means to stew in Scots, so Stovies are a stew of potatoes, minced meat or other leftover beefy stuff (roasted, corned), root vegetables like carrots and onions and a whole load of lard or butter. It's sometimes, like in the pic above, served with oat biscuits too, which to me seems a strangely delicate accompaniment for such a big plate of brown stodge. Don't get me wrong though, I say that as a term of endearment. It's a perfectly yummy plate of brown stodge.
Where to get it – Stovies are the kind of thing little cafes where builders frequent will have on their rotating lunch menu in winter. In fact the only place I've had it is just such a little builders caf, The Thistle Sandwich Bar on Thistle Street in New Town. If you're in the area, try your luck and see if they have it on the menu that day. If not, there's always the good old greasy spoons Edinburgh has plenty of. Or you never know, you might just find a posh version on the menu of more upscale restaurants.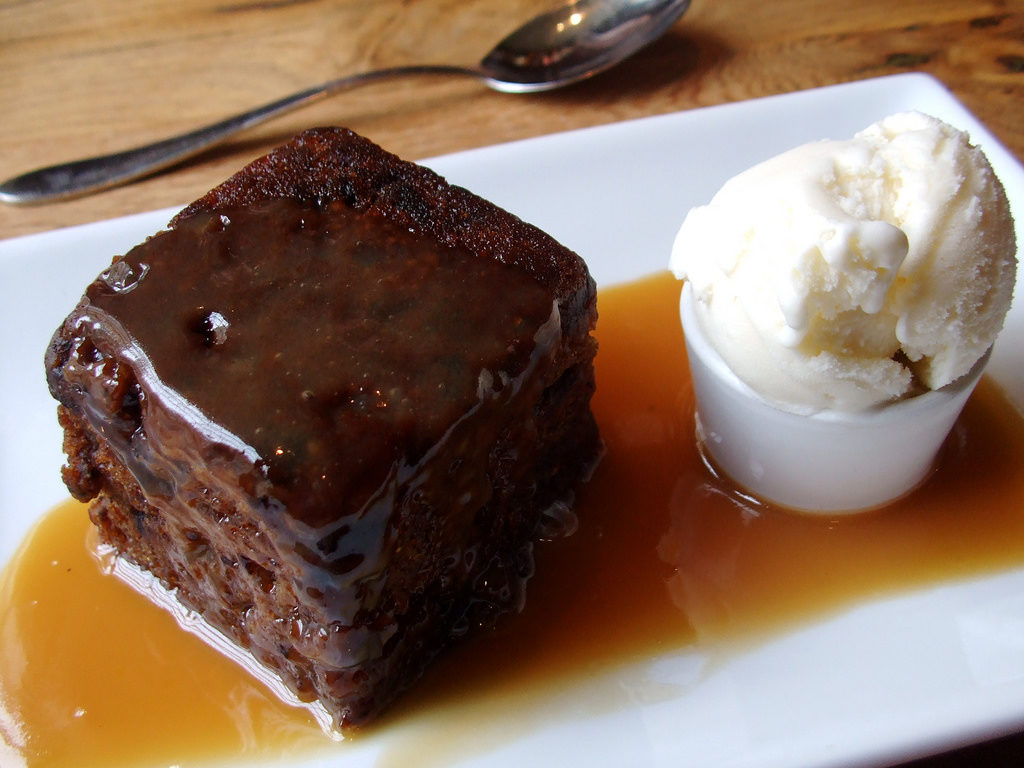 Photo – Flikr/Katherine
Sticky Toffee Pudding – This should just be called Delicious Delicious pudding, although 'sticky toffee' does a pretty good job at relaying that. It's basically a sponge cake made with chopped up dates, then drizzled with hot toffee sauce so that it seeps into the sponge. It's normally served simply with vanilla ice cream, but sometimes custard too.
Where to get it – Again, any restaurant that serves traditional Scottish food will usually have a sticky toffee pudding on their menu. So Whiski Rooms, Whiski Bar and Restaurant or The Doric. For the best of the best though, you might want to pull out the credit card and get yourself to Wedgwood the Restaurant for some serious, top quality sticky stuff. Or, if that's too fancy, get yourself over to Canonmills for my personal favourite, at The Water of Leith Cafe Bistro.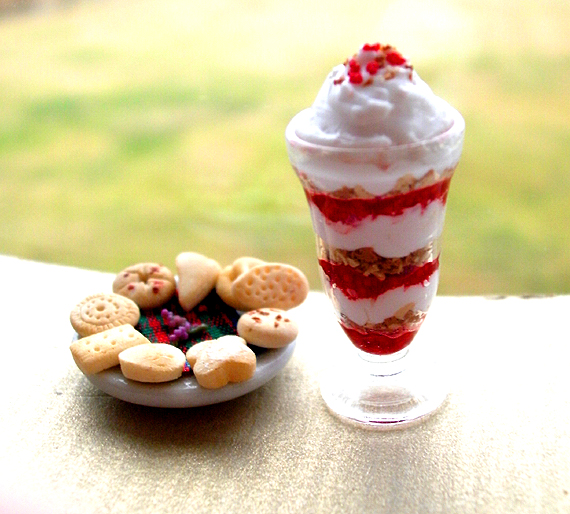 Photo – Homeward Flight
Cranachan – Oh now that looks a whole lot better, doesn't it? Cranachan is a dessert of whipped cream, honey, whisky and what I'm beginning to see is a Scottish diet staple – oats – all layered in a tall glass, similar to an Eton Mess. Raspberries are often added too but are not traditional. Cranachan used to just be a summer dessert but is likely to be found year round now.
Where to get it – At the risk of repeating myself, anywhere advertising traditional Scottish cuisine (like Whiski Rooms) is likely to have this on their dessert list.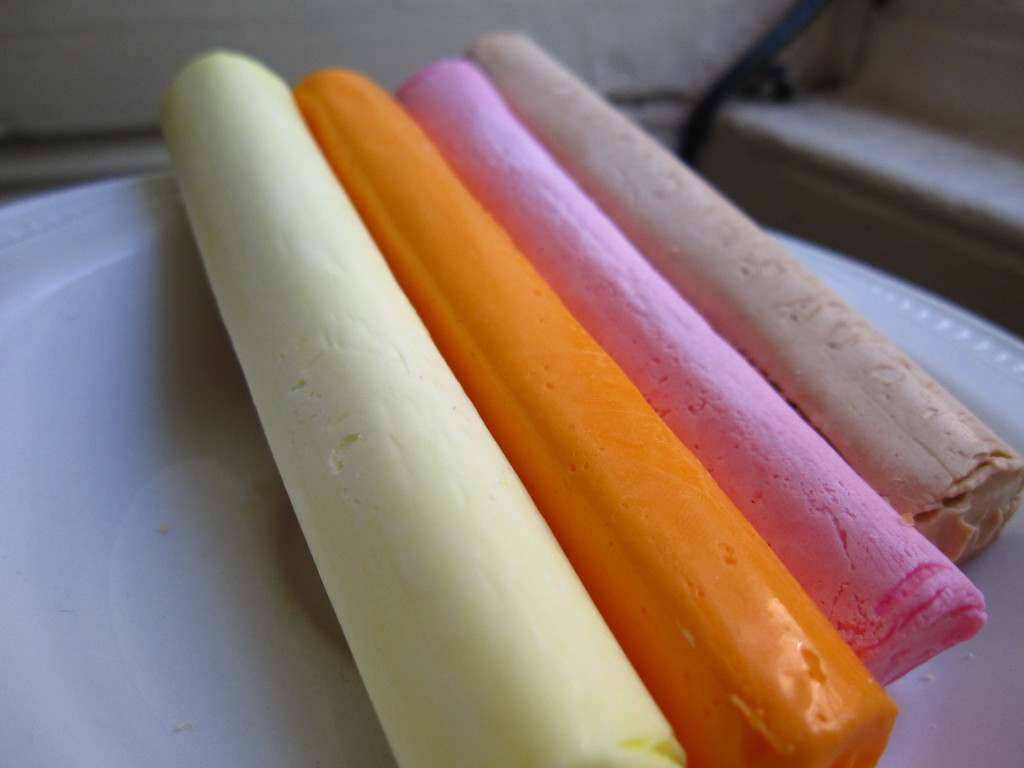 Photo – Kate Hopkins
Edinburgh Rock – Technically this candy is not eaten widely by Scots (although another of my Scottish workmates loves it), but I'm including it because you'll definitely see it in Edinburgh. It's more like something Scots might buy to give to their friends from abroad. It's made of sugar, water and cream of tartar and was apparently invented when inspiration hit after a batch of sweets that had been lying around for months were accidentally eaten. Umm, eww…
Where to get it – At a multitude of souvenir shops along the Royal Mile.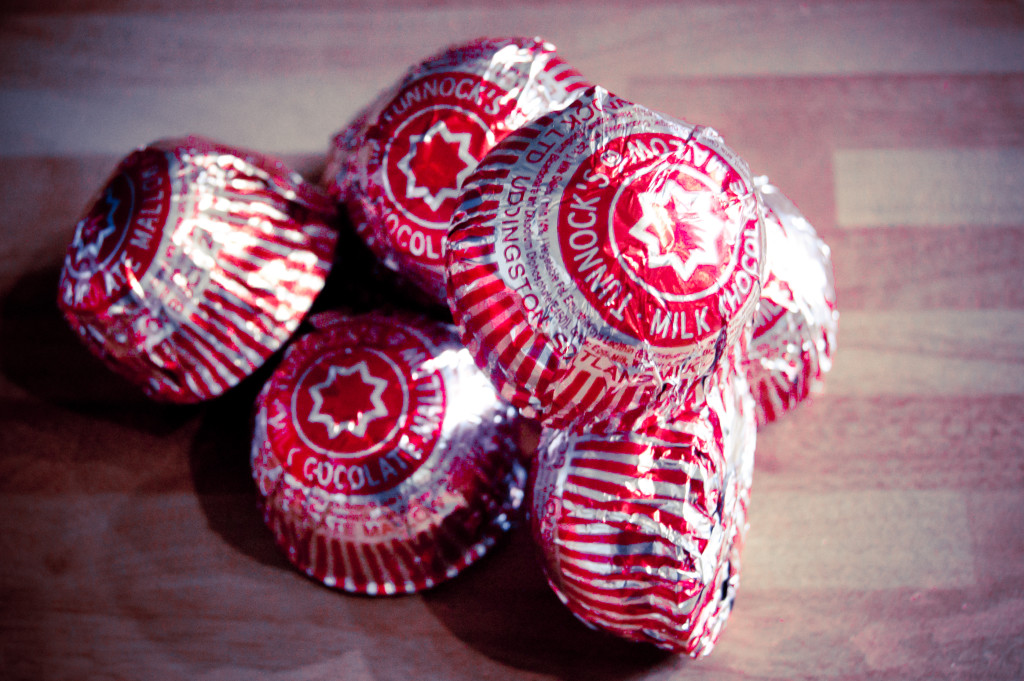 Photo – Melissa Gray
Tunnock's Teacake – Established in 1890, Tunnock's bakery have four main products, but if you watched any of the 2014 Glasgow Commonwealth Games opening ceremony, you will be familiar by now with their chocolate covered meringue and shortbread teacakes. Always popular, after the games sales went through the roof as people took themselves on a sugary nostalgia trip.
Where to get it – Scottish supermarkets and corner shops (convenience stores) will have them.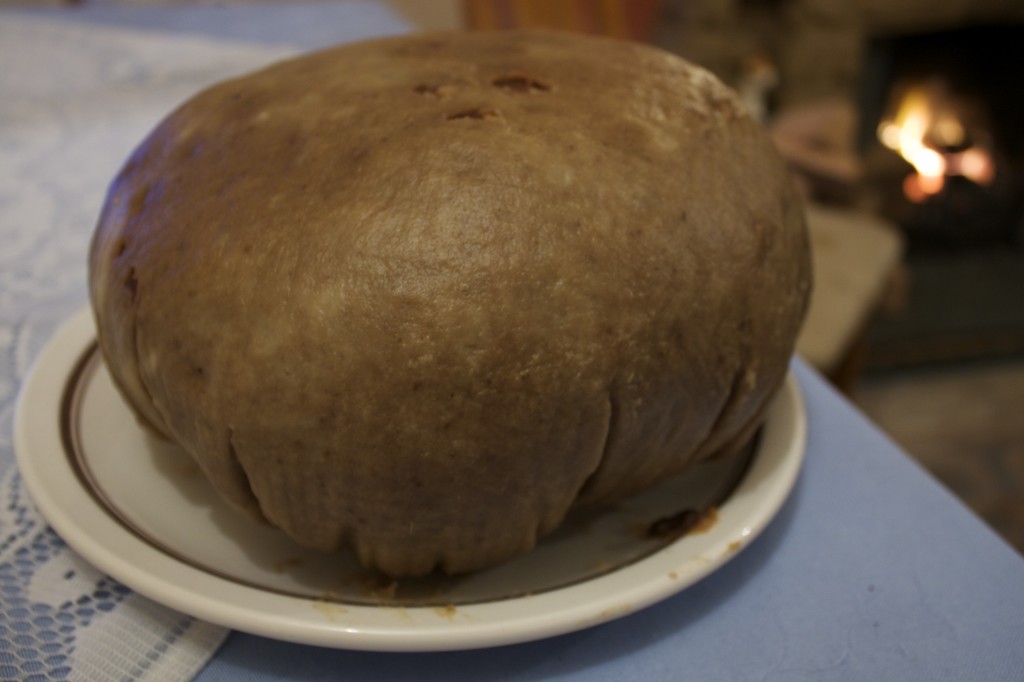 Photo – Matito
Clootie Dumpling – Yet another Scottish dish which suffers in the looks department (and looking very much like Haggis), to me a Clootie Dumpling is what I was served each Christmas for dessert by my grandmother. In Scots language, a Clootie, or Cloot, is a strip of cloth and here refers to the cloth that a fruit cake mixture is wrapped in before being boiled and then finished off in the oven. It's best eaten warm, with some cream, ice cream or custard and a nice little shot of whisky.
Where to get it – You're most likely to find Clootie Dumplings at traditional festivals like a Burns Supper or at family events, birthdays and Christmas.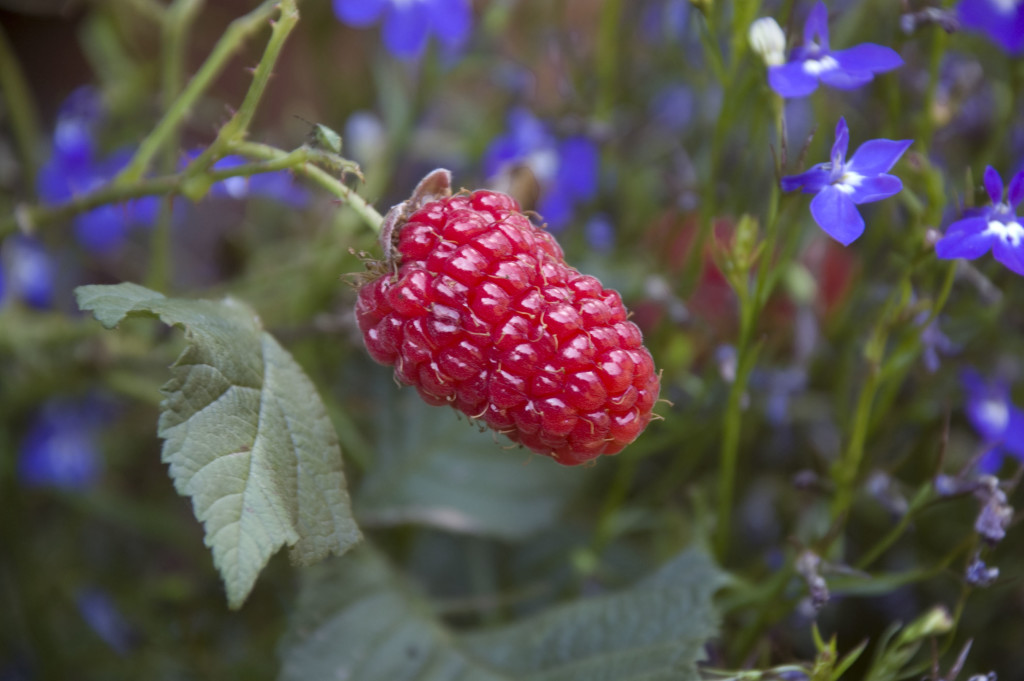 Photo – hamish
Tayberry – Somewhere in between a blackberry and a raspberry, the Tayberry is not a fruit you'll see in abundance in Scotland, but is something you should keep your eye out for anyway. I've included them here for the intrepid culture vultures among you, or in other words, the ones who enjoy trumping other people's holiday stories. I can pretty much bet none of your friends will have had a Tayberry.
Where to get it – Er, good luck with that. Tayberries can't be harvested in large quantities because they are very delicate and hard to pick. Machinery will just make them moosh. So you're most likely to find them in the wild, or in jam jars at dinky little souvenir shops in dinky little villages in the Highlands.
Stuff to Know:
Now you've conquered the basics, you can go even deeper into the pits of Scotland's stomach by reading my tips on How to Eat and Drink Like A Local.