Edinburgh's Best Food Trucks
Street food you'll love
(Last Updated On: January 1, 2018)
Food Trucks are finally having a moment in Edinburgh. And just like their long established cousins the world over, they've long moved on from the roadside greasy spoon versions serving lard soaked burgers, chips and Full English. Today what you'll get is niche, superior quality food offerings. More and more food trucks are popping up each month in Edinburgh and though I haven't been able to try them all, here's the one's I think are the best so far.
The Big Blu
The Big Blu is (surprise) a blue restored Citroen H van serving super yummy wood fired pizza (they even nab a spot of my Best Edinburgh Pizzas list). They have a wider menu if you hire them for a private function, but unfortunately I don't have any reason to put on a soiree and I'm not that rich anyway, so I can't tell you what else they do or report whether it's any good. Going from the pizza though and the fact the owner has a chefy background, I'd say you'd be in very good hands.
Crema Caravan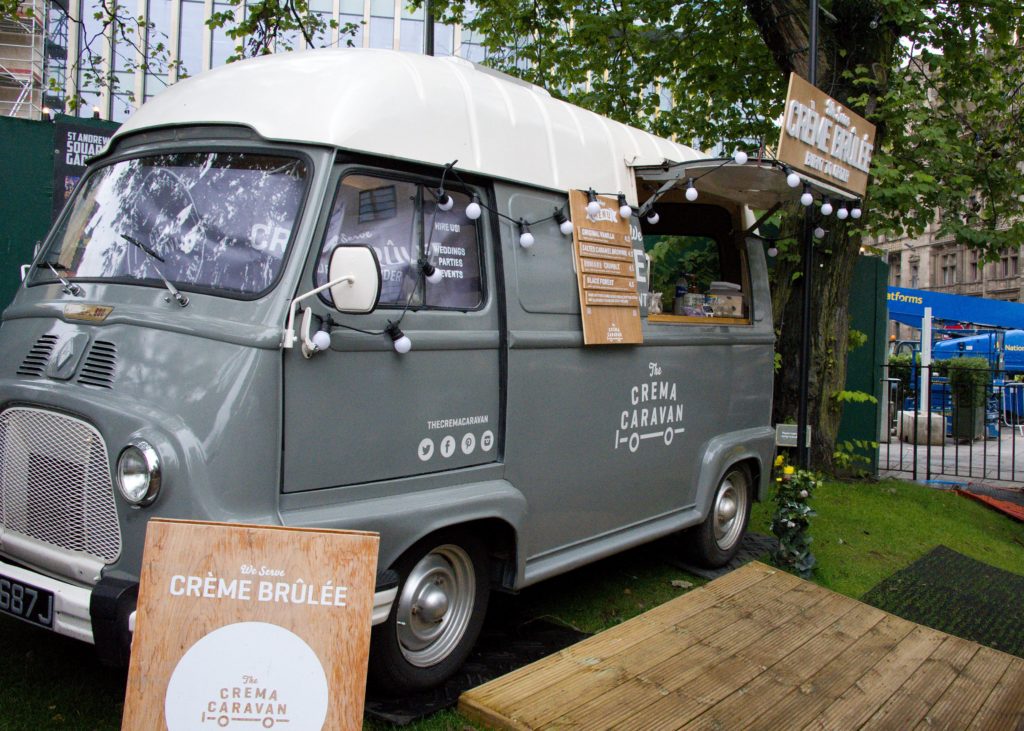 Crema Caravan does creme brulee. And that's it! Don't you love it when there's only one choice? Well I do. Unless it's fish and then I'd just have to go hungry. This one's served up to you from a restored Renault van called Florence, but don't let my first two sentences fool you, there's plenty of choice to be had – with the toppings. On any given day you might get to choose between Salted Caramel, Apple Crumble, Strawberry Meringue, Cardamom and Orange, Peanut Butter Blondie or Black Forrest.  Dribble. They even won the best dessert award in The British Street Food Awards 2015, so that tells you just how good it is.
Rost Eats
Think sliders, burgers and bao buns but then turn up the gourmet factor by also thinking game, top quality fish (mussels/smoked salmon) and home made deli meats. At Rost Eats you'll get offerings like Venison Pastrami Burgers, Peanut Butter Crunch Pheasant Burgers, Moules et Frittes and Wild Mushroom and Parmesan Arancini. It's outrageously delicious and I felt slightly posh for a minute. But don't worry, then I got an Irn Bru so order was quickly restored in the universe.
Jones and Son – Bespoke BBQ
No that name's not just a marketing ploy. Jones and Son is indeed a father and son team serving up southern US style BBQ smoked meats. They started out with pulled pork but these days it's mostly burgers on offer. But sometimes you might also find chicken wings, ribs or their old fave pulled pork making a guest appearance. Their burgers are accessorised with home made chutneys, rubs and jams too, which you can also find stocked in a few cafes around Edinburgh.
Barnacles and Bones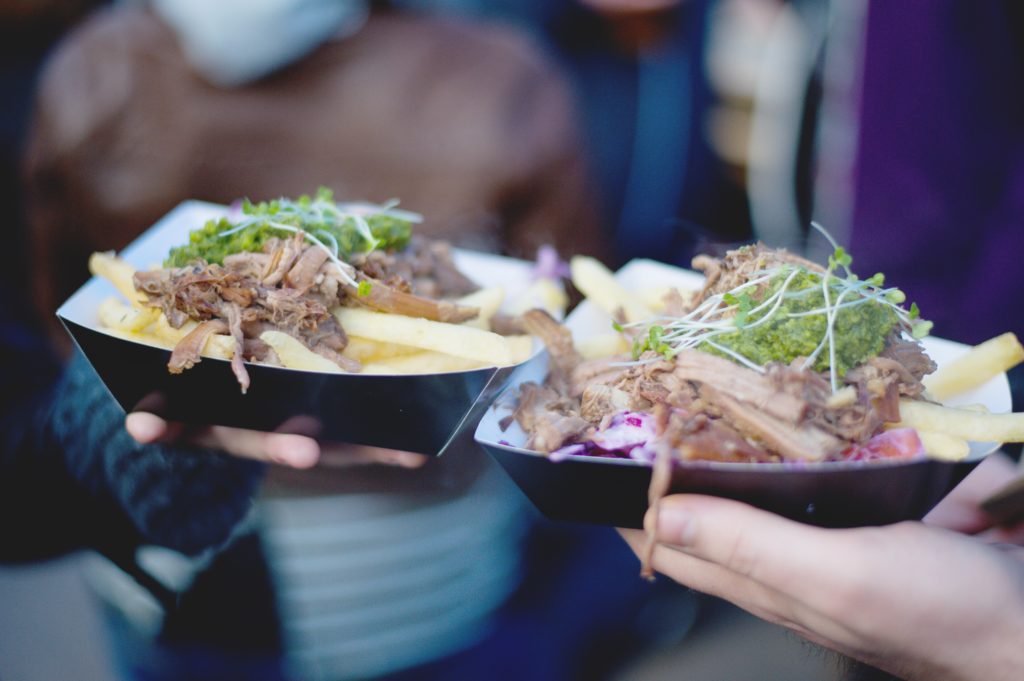 In their own words, Barnacles and Bones "bring shellfish & obscure cuts of meat to the plate". Like Rost Eats it's all a bit more sophisticated than your everyday pizza and burgers. And there's absolutely nothing wrong with that. On the menu you'll find slow cooked beef rib with sherry gravy, crab with home made lemon mayo, tarragon salted fried and  crab and sweet corn fritters. Unfortunately for these guys I neglected to take a picture and I can't find anything I can post without getting into copyright trouble, so if you're curious and until I get my act together and go back again, click here and let Google show you what I can't.
Stuff to Know:
So did you notice this is a pretty small list? Yeah sorry, but as I keep saying, I'm pretty picky when it comes to deciding food is good enough to talk about on this site. If it doesn't stand up to some silly standards I apparently acquired growing up in Melbourne, it aint gonna get the thumbs up from Stuff Edinburgh (or friends of mine who rave about somewhere that has food I don't eat – yes, like fish). Unless, on rare occasions, like, so far just the once, it's to tell you how utterly rubbish a place is.
If you want to try a whole concrete yard full of Edinburgh food trucks in the one go, keep an eye on The Pitt Street Market's Facebook page for their next gathering.