(Last Updated On: 18th July 2018)
If I asked you to tell me what you think of when I say 'Scotland', chances are castles would come to mind pretty quickly. And what if I then said hiring your very own Scottish castle for a self-catering stay is nowhere near as outlandish as it sounds? Would you believe me?
No? Well, hang on a second. Keep reading.
I have just returned from spending a few days in my very own Gothic castle, only a 1.5hr drive from the city. And even though Stuff Edinburgh is a website about what to do in Edinburgh, this was such a fantastic, unique Scottish experience, I think every visitor to Scotland should be clued up on it.
Thanks to the popularity of private accommodation sites like Air BnB and Home Away, it's becoming much more common for people to ditch the traditional hotel stay for self-catering holidays. And with hotel prices going nowhere but up, people are also slowly realising that finding a spectacular property to have all to yourself is often no more expensive than what you might splash out for a nice hotel. And sometimes it's even cheaper. All you need is a group of like-minded friends and/or relatives.
In Scotland of course, spectacular properties to rent include spectacular castles… like this place – Dairsie Castle in Fife.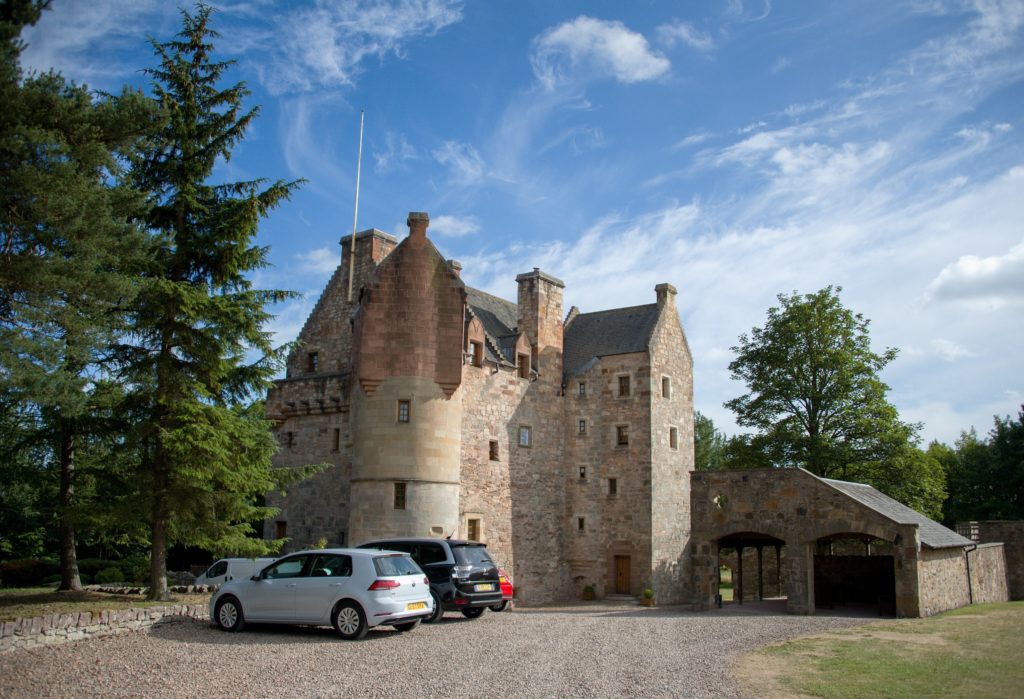 Oooh, looks amazing doesn't it?
A Brief History
Dairsie Castle is thought to have been completed in the early 14th century (14th!!!). Its biggest claim to fame is that it was the venue for a sitting of Parliament in 1335 and it was at one time a refuge for an escaping King James VI. The last known significant owner was the Archbishop of St Andrew, John Spotiswood in the 17th century.
The current owners began renovating what was virtually ruins in 1990's but it is today exlusively let as holiday accommodation.
Here's some more pics: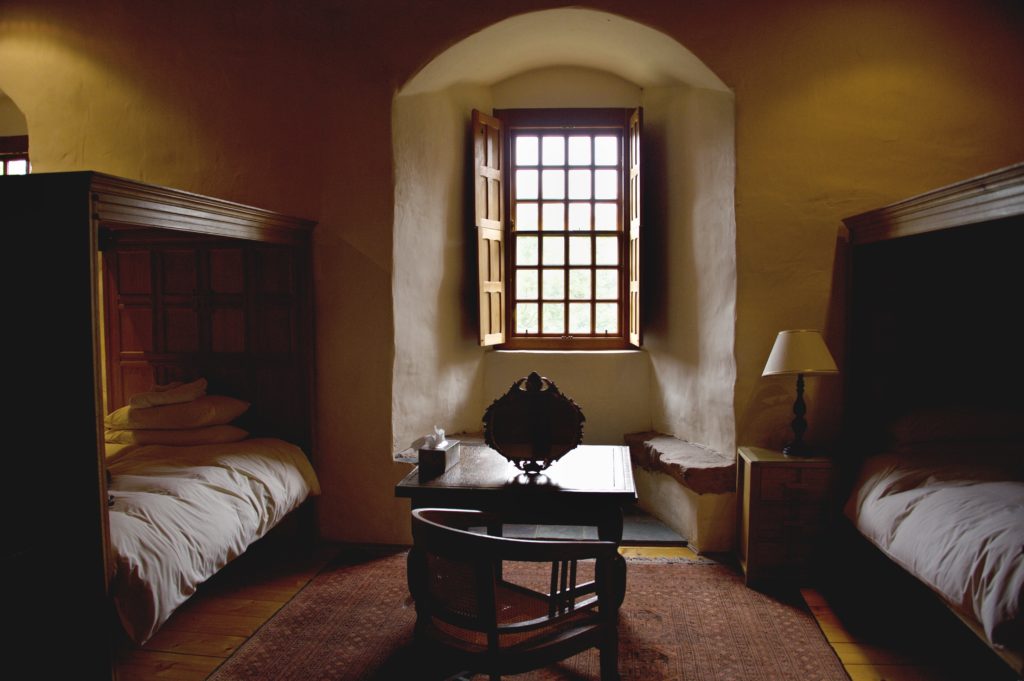 Part of the family room. what you can't see is a mahoosive, intricately carved, wooden four poster bed just to the left of this.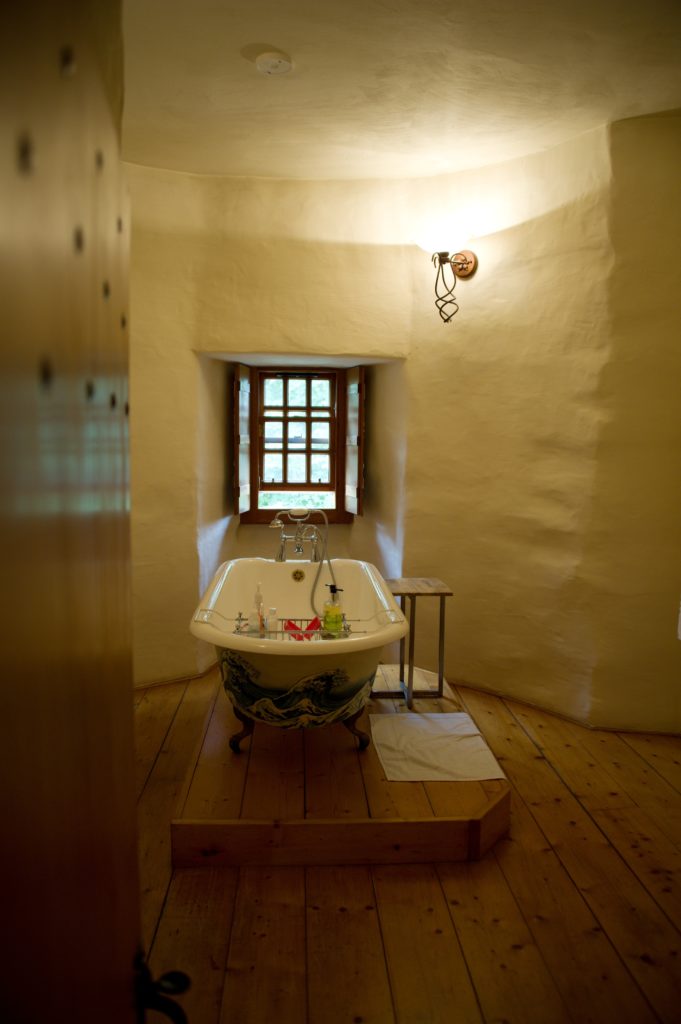 One of the bathrooms. Slightly roomy, yes?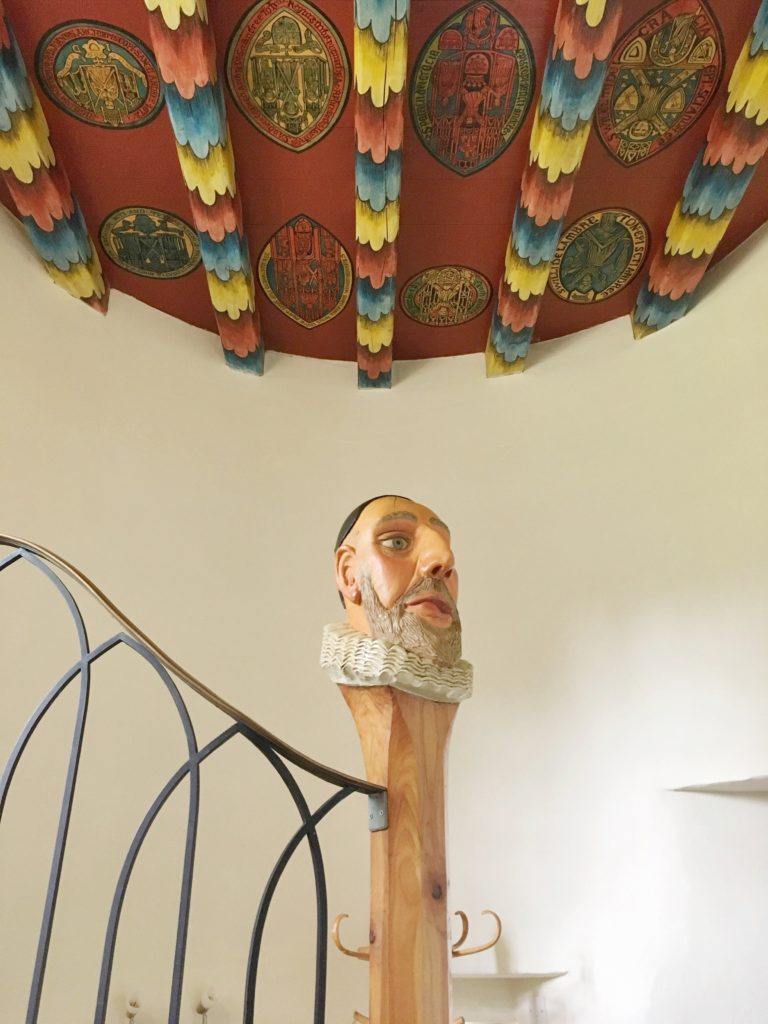 A little nod to Archbishop Spotiswood is one of the first things you see as you walk in the front door.
What's there to Do?
St Andrews – a seaside University town and where it all began for Prince William and Kate Middleton and the home of golf. (25 minute drive)
The East Neuk coast – with a must-do stop for the UK's best fish and chips in Anstruther (25 minute drive)
Drummond Gardens – Drummond Castle's spectacular terraced gardens, as good as any in Europe (1hr 15 minute drive)
Whisky and Gin Distillery Tours – there's oodles of distilleries within about a half hour drive from Dairsie Castle. And by oodles I mean around 10. Have a Google and pick your favourite.
Perthsire Tourist Route – not just gorgeous scenery, but plenty of small towns and villages to stop off in and attractions to check out.
Orrrrr… you could just choose to relax. With 6 acres of land, gently rolling hills all around, peace and quiet (except for sheep bleating in the distance) and the River Eden flowing by very close to the castle, unwinding is a cinch.
Stuff to Know:
Dairsie Castle can be booked via Air BnB or by contacting the owner via their website. It has 6 bedrooms, sleeps 14 and prices in 2018 start at £550 per night (£40 each when you have the full 14 people).
The castle is self catering, so remember you'll have to cook for yourself when you're not out sampling Fife's pubs and restaurants. For something really special – and if you're there for an event like a significant birthday or family reunion – you could look into hiring your own private chef for a one off magnificent meal in your very own magnificent castle. We did this, and I can highly, highly, 100% recommend Guiseppe Manzoli.
And that's all you need to know really. But remember, this is just one castle. Scotland is full of them. Go find your very own (or just stay at Dairsie!) and you could soon be sitting in an alcove staring stoically out a Gothic era-window like this too.