(Last Updated On: 27th July 2019)
You've made up your mind, you're coming to visit Edinburgh. Now what? World travel these days is fairly straightforward, and once you've done a bit of it most cities are easy to get around. But it still helps to do a bit of research on the basics. This will get you well and truly started then, a guide to the basics of transport, food, drink and weather in beautiful Edinburgh.
Getting into the City from the Airport
The vast majority of people take the tram into the city. I don't know why, because the bus is cheaper and quicker. But it took so bloody long to build the track and it cost an arm, a leg and probably a few civil servants' careers, it's likely a good thing it's being used so much. I prefer the bus, but I guess your decision should really be made after you've checked out the routes and know which one takes you the closest to your accommodation.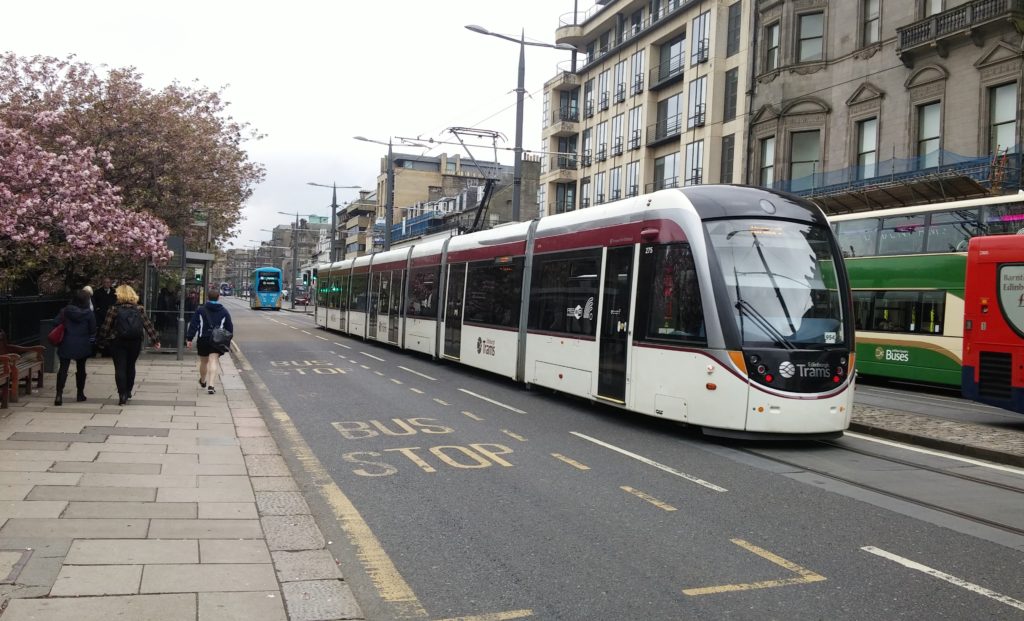 Tram 
The Edinburgh Tram's only purpose is to get people from the airport to the city. It is not part of an extensive rail system like in many other countries, and unless they happen to live close to a one of the few tram stops, you won't see many locals on it.
You need to buy your ticket before your journey.  If you haven't, you'll most likely get caught out by the ticket inspector and be asked to buy a ticket from them at a higher price. At the airport there's a ticket office just outside the tram terminal. All of the tram stops along the route have vending machines for tickets, but FYI, they don't give any change. You could also buy a pre-loaded card before your visit and have it mailed out to you, but really, there's no need to be that organised.
The tram takes about 45 minutes from the airport to its last stop at York Place. Trams leave every 7-10 minutes, depending what time of day it is, and leave the airport between 5am to 10.48pm Check their website for current prices
Bus
The Edinburgh express airport bus is called AirLink. When traffic is good, it will take you 20-30 minutes to get into town. Like I said above, it's a little bit cheaper than the tram too.
Taxis
Again depending on traffic, and what end of the city you need to get to, it's about 20-30 mins in a taxi. Prices will be between £20-£30. If there's a few of you and you're travel weary and just want something quick and painless, or if you just have lots of dosh to splash, then taxi it is.
Car Hire
Be aware of the smaller car hire companies in Edinburgh. They might be way cheaper in peak tourist season, but their small print means you will be asked to pay an enormous deposit. You get that back, yes, but can you do without a couple of grand available on your credit card while you're here?
It's also insanely busy at the airport during summer and will take ages to get through not just customs, but all the red tape at the car hire stand. This is a time when it actually does pay to be super organised, trust me. Friends of mine recently had a 1.5hr flight here from France, but it took them another 2 hours to get out of the airport and into their hire car. If you're coming in July or August, book your car waaay earlier. I'm talking 3 months at least (and if they have any kind of online pre-checkin procedure – use it) because daily rates for last minute booking in July and August are double and sometimes triple what they are the rest of the year. Ouch.
Picking up your hire car from Waverley Train Station usually means long waits too. It's a handy location and there's plenty of choice for which company to go with, but be prepared for at least half an hour in the queue at busy times.
Public Transport
Edinburgh has two train stations. The main one is Waverley Station, located in the city centre, right in the middle of Old and New towns. The other one is Haymarket, in the city's west. If you're coming by train from somewhere in the south (London, York, Newcastle etc) trains will often stop in Haymarket first. You'd only be getting off here if your accommodation was closer to Haymarket than Waverley, so have a look at a map. And keep in mind, if you're already in the UK, it's often easier and about the same time-wise to get here by train rather than take a plane (as long as the trains don't run into any delay issues). But just like with car hire, book your train ticket as early as you can. After losing my ticket to London once, I learnt the hard way that last minute train ticket prices in the UK are eye watering (as in I cried).
There are two local bus companies, but 99% of the time, you'll just be using Lothian Buses. The buses are amazing, you can get almost anywhere on them and prices are super cheap. Check the website for current pricing. You have the option of a single journey ticket, daily ticket or night ticket. You can buy a prepaid card, a booklet of tickets, buy a ticket on board (correct change only) or download an app to use your mobile phone.
Accommodation
Edinburgh has all the usual accommodation options that you'd expect to find in a major city; hostels, hotels, aparthotels, B &B's and Air BnB. It's a fairly expensive city no matter what option you choose. And if you're coming in August, you might wanna think about taking out a bank loan.
Dining Out
Edinburgh's restaurant scene has boomed in the last few years. But it's a tough arena, and a lot of them don't make it past a couple of years. The vast majority of places I write about on Stuff Edinburgh have been around for years and really established themselves. Check out my Top Stuff – Food and Drink page for oodles of recommendations.
Also, look out for deals. Anything close to a theatre will most likely have pre-theatre deals and others often do lunch specials. Being a university town, there's also student specials to be found if you're studying.
You should know, people in Edinburgh love to dine out. If a place is popular, booking for dinner on Thursday, Friday and Saturdays is a must. And if it's August, forget about getting in anywhere decent without a booking. Seriously, you need to book.
Most pubs and restaurants shut by 12 or 1am, except in August, when you can pretty much party 24/7 if you wanted. There are very few late night choices for the rest of the year, but I have listed some here.
Alcohol can only be sold in shops between 10am and 10pm.
Currency
The UK monetary system uses pounds and pence, not dollars and cents. Confusingly, there's Scottish, English, Northern Irish and Welsh pounds, and they're all legal currency in Scotland (but in all my years in Edinburgh, I've not come across Welsh or Northern Irish money here). Even more confusing is we now have £5 and £10 plastic/polymer notes from both Scotland and England, but £20 notes from both countries will remain paper until 2020. Good luck with that.
Weather
Don't bother checking the weather days ahead. It's so changeable there's really no point. You should just check it that morning and be prepared to move around your plans accordingly. Dress in layers, as most days you'll get a bit of everything weather-wise.
And the rain – yeah OK it rains. But as someone who has also lived in London, I can tell you happily that unlike England's capital, Edinburgh gets some sun almost every day. It might not be for long (or very strong) but you don't get days and days of grey or foggy misery-inducing weather like you do in other places in the UK.
May and June are best for dry, sunny days, July usually has lots of sunny days but also a couple of super high humidity and, weirdly, it seems every year, without fail, to rain the most in August. |Yep, when the festival is on.
Tips on Other Stuff
Edinburgh is a very walkable city but also seriously hilly and full of cobblestones. Comfy walking shoes are a must.
Traffic lights are probably the most frustrating thing about the city. Intersections have the stupidest system I've ever come across and you're often left waiting ages for that little green man. If you're wondering why everyone jaywalks, this is it.
Traffic is very busy most of the time; cars, trams, buses and bicycles. Be careful and look out for all of these when crossing roads.
Somewhat strangely, considering how hilly it is, cycling is very popular in Edinburgh. Always look out for bicycles too.
Repeat after me – if you are coming to Edinburgh in July or August, book rental cars as far ahead as you can. I repeat – prices double, sometimes triple if you book last minute.
Edinburgh is a very friendly dog city and you'll see them on public transport and in a lot of cafes and pubs.
And lastly – people are friendly. I know I've managed to come across as really stroppy in this guide but just ignore that vibe. Edinburgh is a very friendly town. You can chat to strangers and strangers will probably chat to you. Embrace it.
So, there's the basics of the city, here's some other posts that might interest you while you're researching:
The local/traditional food to try
The Best bits of The Royal Mile
The Super interesting story behind one of the city's most beautiful attractions
The best, affordable food in the city