(Last Updated On: 26th June 2019)
There's a lot about the UK that's hard for a new arrival to learn. Like all those different dialects, the fact that most dishes will have chili and how "Oh no, that's perfectly fine" really means "You are an idiot". But to me, by far the strangest difference is how early everything shuts. About 85 years ago, when I was young enough to even want to stay out all night, this was no great challenge. Granted, the later it got, the fewer and dodgier the choices became, but it was still quite easy to party till the sun came up. In Edinburgh, most of the city is shut by 1am. But if you're still young and/or sprightly, there are in fact a few places where you can boogie, chow down and then perhaps stock up your pantry all the way through till the morning after.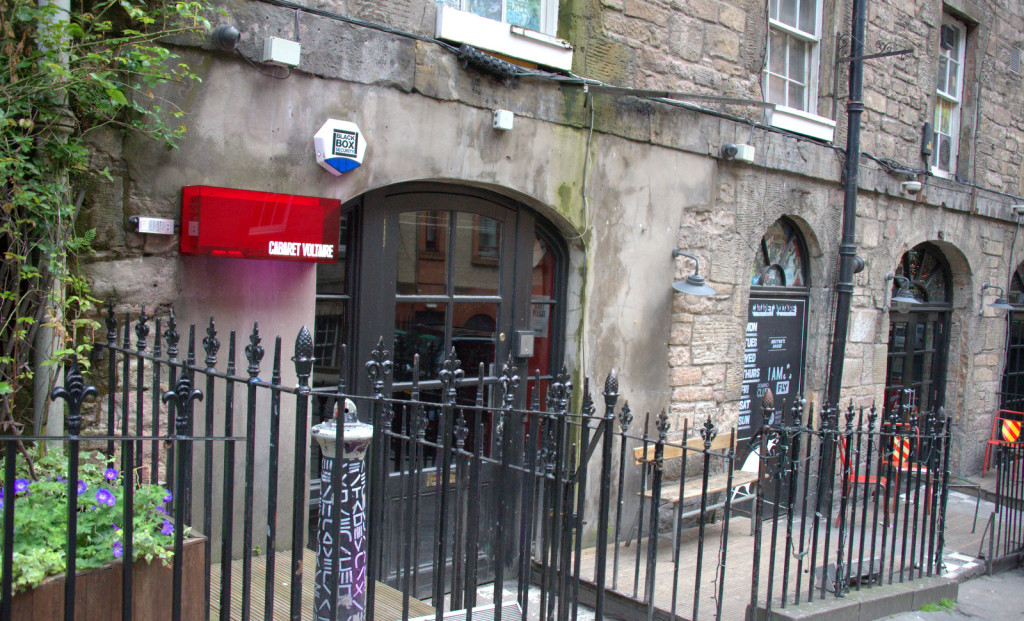 Cabaret Voltaire – open till 3am every night of the week
The cavernous Cabaret Voltaire is one of Edinburgh's most popular places to party and the downstairs dance floors are usually packed full of sweaty revelers. Its cave-like atmosphere is pretty constricting, so if you're claustrophobic, or just a big fan of personal space, this place is not for you. Regular nights run through the week, like Hector's House Tuesdays and Gasoline Dance machine each Saturday, and the bar can serve you up cocktails and craft beers aplenty. There's even a cafe upstairs where you can rest your weary legs and fuel up on a pizza.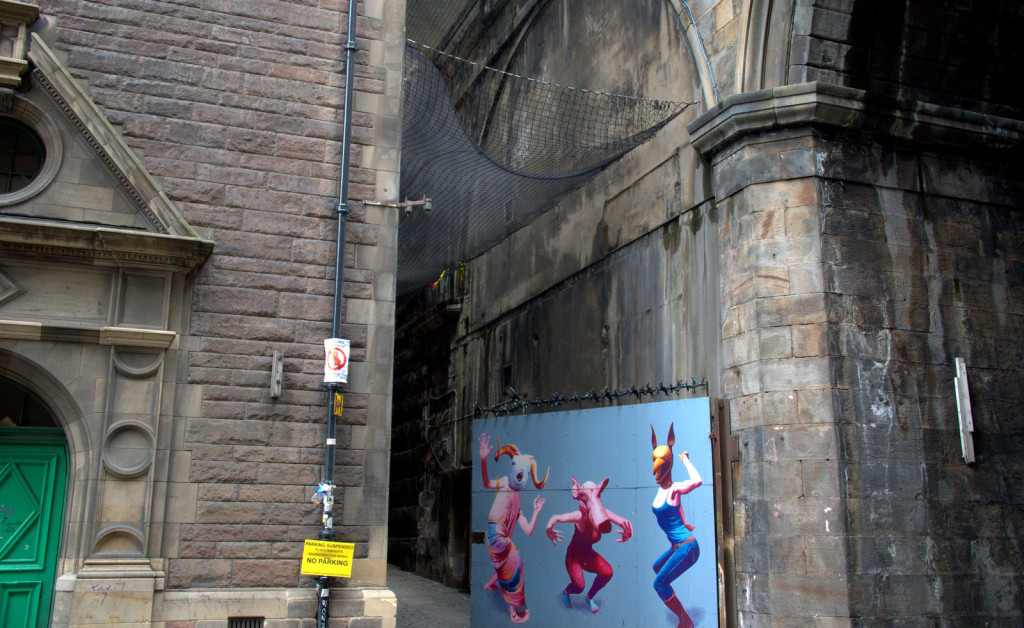 The Bongo Club – open till 3am most nights.
Owned by Edinburgh arts charity Out of the Blue, The Bongo Club has been around since 1996 and hosts club nights, live music, film and theater. They've got pretty much everyone covered from disco lovers, to soul, to house, hip hop and electro. There's even a monthly Sunday Rock n Roll Ping Pong night. It's also got the coolest front gate I've ever seen (above). Well maybe not 'ever', but it's up there in my top 5.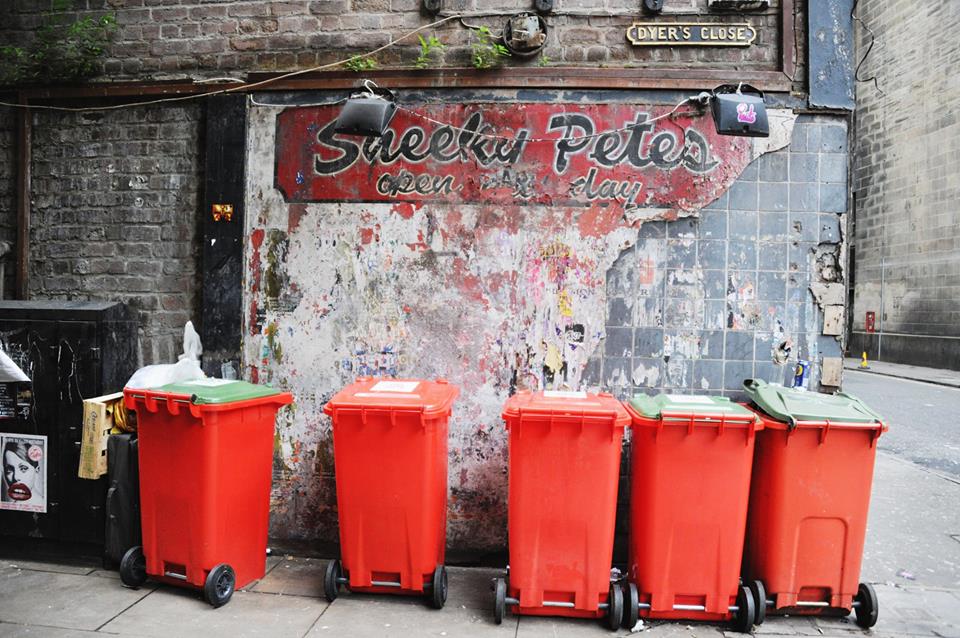 Sneaky Petes – open till 3am every night
Probably one of Edinburgh's most loved live music venues, Sneaky Pete's is a tiny, loud, sweaty club where you're just as likely  to catch a local band before they make it big as you are the latest underground superstar. They have regular house, electro, garage, techno and disco nights and as a bonus, super chilled out and friendly staff.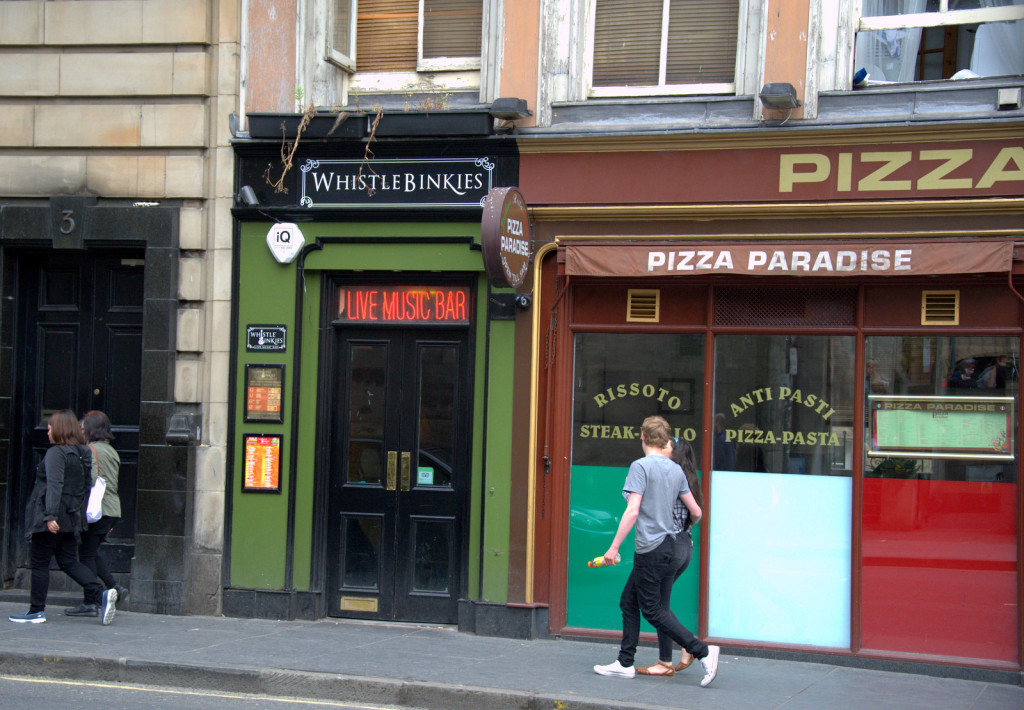 Whistle Binkies – open till 3am every night.
Whistle Binkie's biggest drawing card is the fact they have live music 7 nights a week. Their biggest drawback, for me anyway, is the stench. I don't know if it's alcohol stained upholstery, bad plumbing or just that general Old Town musty odour, but two friends and I only lasted about 15 seconds before we had to leave. But you know, it was early, the place was dead and we were sober. As the night wears on and the alcohol wears away your finer sensibilities, maybe you won't notice at all.
Ghillie Dhu – open till 3am every day
Why not get a bit of Scottish culture in you? Ghillie Dhu's upstairs has sit down dinners, where you'll no doubt get to try local Scottish favourites, followed by an after dinner Celidh (traditional Scottish dancing with a live band kind of like American line dancing). There'll be plenty in the crowd who know all the steps, so follow their lead and just give it a go. Or you can just head to the pub section for a more casual offering of food, drinks and live music. Ghillie Dhu is worth going to just to see the amazing architecture of what was once an Episcopalian church. The vaulted ceiling in the main hall is gasp worthy. If you're not there for an event, you're free to join the Celidh from 9pm for just £5.
Fingers Piano Bar – open till 3am
Maybe I am used to cryptic or pun names for businesses, but Fingers is not, as I first thought, a lesbian bar. Oh well. The owners were in fact being much more literal as it's simply a room with a bar and a guy playing the piano. This is not the sort of place you make a definitive plan to go to, it's just where end up if you're in New Town after 1am, because everything else is shut and you've not collapsed into a drunken coma yet. It's rowdy, the drinks are expensive and everything's kind of sticky. Apparently it's a hoot.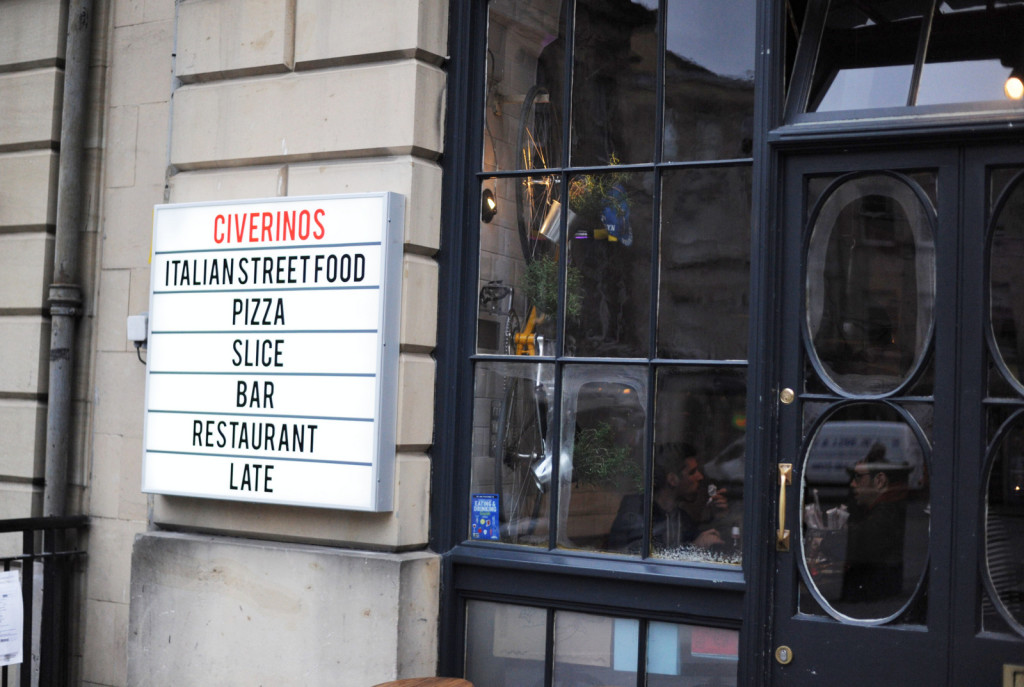 Civerinos
Civerinos – open Saturday's till 3am (but they're working on more late night openings).
If you want something tastier than a chippie to sop up that alcohol, you gotta get yourself a slice of Civerinos pizza. With a thin, sourdough base and typical Italian ingredients, it's one of the most authentic Italian style pizzas in the city. Plus the staff and atmosphere is so much fun, you'll think the party you just left is still going.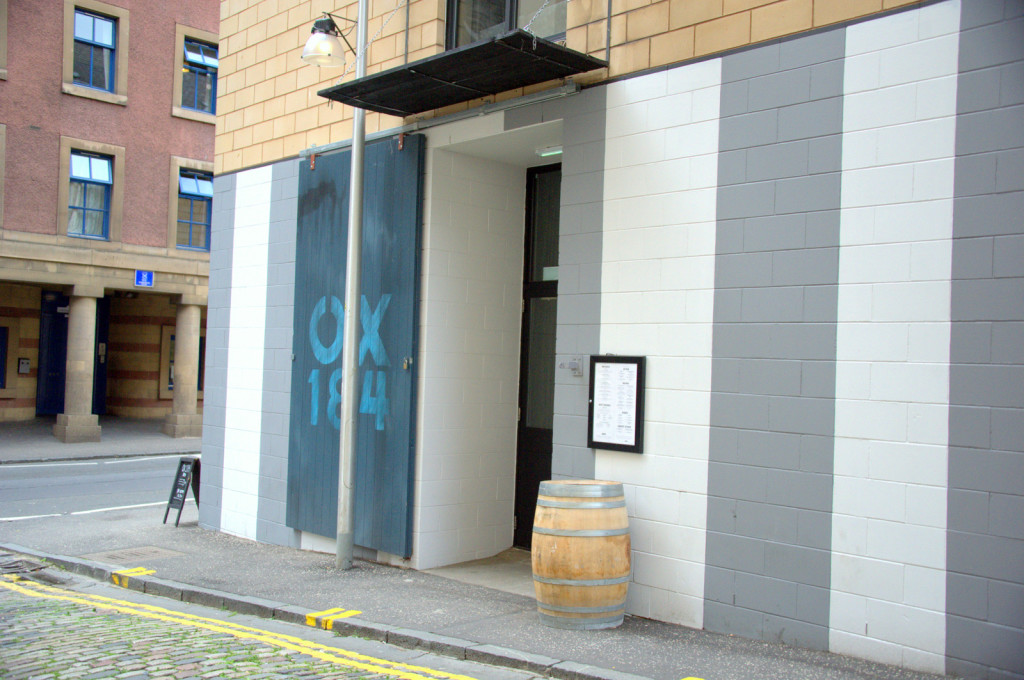 Ox184 – open till 3am daily.
Opening fairly recently in Edinburgh, if you're not already tanked and still have the ability to tell the difference between classy and trashy, this place will probably impress. It's reataurant/bar but there's security on the door, so some decorum is needed. And some balance too if you're going to try to navigate that stairwell to the upstairs section. Their specialty is American style wood fired grilled meats and food is served all the way up till 2.30am.
Henry's Cellar Bar – open till 3am Fridays and Saturdays
Like Sneaky Pete's, Henry's is an intimate one room affair. It's also an arts space which is hired out to give local singers, bands, comedians and spoken word artists a crack at honing their craft. On any different night you could get jazz, funk, ska, circus or even magic. So if you're up for more alternative types of entertainment, this'll be your place.
McGill's Bakery – open till 4am on Friday's and Saturdays
This place is so 'late night' it's almost open until the morning!  Serving munchie craving party people a menu of bakery stalwarts like pies, sausage rolls, breakfast rolls, sandwiches and a  selection of cakes, the only catch is it's located in Slateford, which is a bit of a trek if you're in the city centre.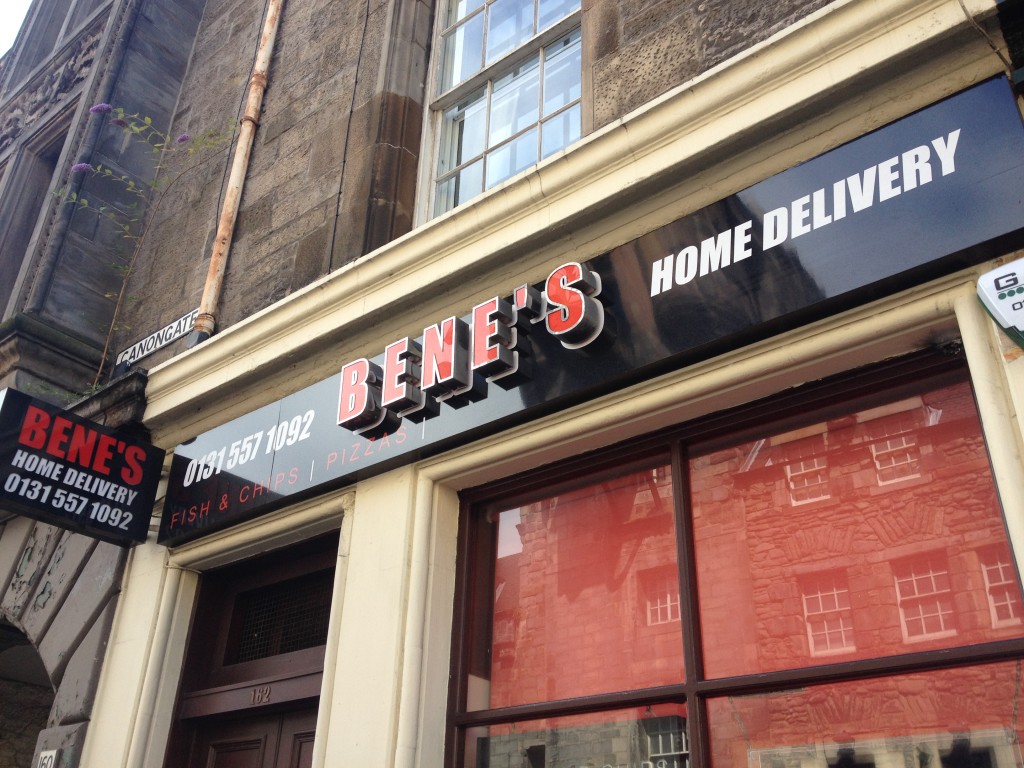 The Good Old Chippy
The choice of many a late night reveller, there's actually not too many around Edinburgh open past midnight.  On the Royal Mile, Benes (chippy to the Royals) will sell you a deep fried Mars Bar till 2am on Friday and Saturdays and La Campagnola, not far from Charlotte Square, just makes it by opening till 1.30am on Saturdays and Sundays.
Kebab Mahal – open till 2am Friday and Saturdays.
Reputedly the best Indian kebabs and curries in the city. And cheap too.
Palmyra Pizza – open till 2am Friday and Saturday.
Middle Eastern food and Pizza.
McDonalds Prince's Street West End – open till 2am Friday and Saturday.
Yeah OK fine, this is scraping the bottom of the barrel, but after one or twelve too many, you can't tell me it doesn't suddenly taste like the best meal you've had in your life. Well, maybe all week.
KFC Nicholson Street– open till 2am Friday and Saturdays.
And in my opinion, if you're going to clog a few more arteries, this does the trick even better than Maccas.
24 hour Supermarkets 
When 3am hits and all other avenues have been exhausted, you're only other choice is to grab some ingredients to feed that hangover that's either starting to show or will be in full force when you surface from the coma you'll be slipping into soon.
Right in the centre of town there's only Scotmid on Nicholson Street. Otherwise, depending on where you'll be crashing, a bit further out of the city, there's Tesco in Corstorphine and Broughton Road or Asda in Slateford/Gorgie and Leith.
Stuff to Know:
Opening hours across the city are extended during the Fringe, so the times above apply to every month of the year apart from August, when you could probably get through the whole month without ever going home. Also, take heed of what I said at the very beginning – the later it gets, the fewer and dodgier your choices. I'm not saying all of these places are fabulous (although some are), just that they're open.