(Last Updated On: 19th July 2019)
Edinburgh very rightly has a reputation as the greatest festival city in the world. There's so many of them there's only one month of the year you could visit and not find one. Considering how busy August is though, it's no wonder September is festival free. Never mind the organisers, the whole town probably appreciates a bit of a lie down. Here's a big old list of all Edinburgh's festivals and events. Use the links to go to their official websites for up to date info on the wheres, whens and whats.
January
Loony Dook – Part of Edinburgh's Hogmanay festival, this is a New Year's morning tradition that's become so big you have to pre-book a ticket to join. Basically it involves people in fancy dress risking hypothermia by jumping in the River Forth in South Queensferry. Yep, you gotta be a bit loony for this, but it's all for charity so you're forgiven the madness. I guess.
Burns Supper – A night when Scots put on their kilts and toast poet Robert Burns. It's often a formal and very traditional affair, but this is Scotland and there's whisky involved so I'm sure as the night goes on things loosen up a bit. If you're not on the guest list of a Burns Supper already, plenty of restaurants and hotels around town hold their own Burns Nights that you can join.
February
LGBT History Month – Organised by LGBT Youth Scotland (in conjunction with Creative Scotland), the whole country hosts events to celebrate the Scottish LGBT community's past and also shine a light on its future.
March
Edinburgh International Science Festival – Two weeks of events, exhibitions, workshops and performances dedicated to pondering what the future could possibly hold for humankind. With science, not crystal balls, obviously.
April
Edinburgh International Science Festival – continues from March with a second week in early April. See above.
May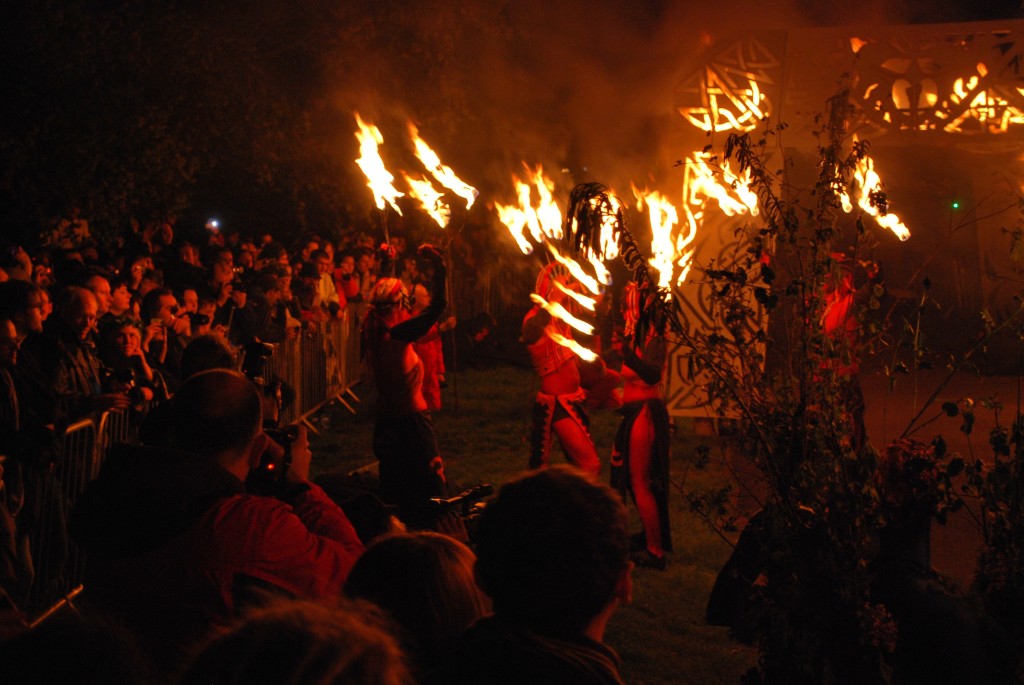 Photo: Martin Robertson
Beltane Fire Festival – Held on Calton Hill on April 30th, Beltane is a pagan ritual to mark the beginning of summer. This Edinburgh event used to be quite bohemian, but now it's a very big, very organised, three hour ticketed production from Edinburgh's Beltane Fire Society. Think immersive outdoor theatre, horned masks, flower head-dresses, painted faces, drumming and lots and lots of fire.
Jupiter Artland (May to September) – A summer outdoor contemporary art event held in the grounds of Jacobean manor house, Bonnington House, 25 minutes west of Edinburgh's city centre.
June
Pride Edinburgh – It may be a relatively small community but Scotland is one of the most gay friendly countries in the world. Each June Edinburgh promotes equality and diversity with a pride march in Old Town and music, entertainment and the odd caleigh (traditional dance) all over the city.
Edinburgh International Film Festival – Celebrating its 70th year in 2016, it's not quite Cannes or Venice, but a fantastic platform for local and international films. Oh alright and there might even be a Hollywood star or two.
Hidden Door – A non profit, volunteer run arts festival held in different abandoned spaces round the city each year. It's visual art, music, theatre and film where the secret location is just as alluring as the art. Originally run over a whole week, it had to strip back to a few days in 2019 due to funding issues, but 2020 looks like it will be back to full force.
Meadows Festival – a volunteer run, free music festival held over two days in The Meadows, one of Edinburgh's best and biggest green spaces.
Imaginate Festival – Theatre, dance and performance aimed at kids and otherwise known as the Edinburgh International Children's Festival.
Edinburgh Festival of Cycling – You might not think it because of all the bloomin' hills, but Edinburgh is a huge cycling city. This festival aims to showcase the very best of cycling culture over ten days with rides, workshops, talks, art and film.
Retina Scottish International Photography Festival – a whole month (spilling over into July) of photographic talks, workshops, competitions and events.
July (hint – many of those listed for August actually start very late July)
Edinburgh International Jazz and Blues Festival – It's a festival with jazz and blues. Simples.
Edinburgh International Magic Festival – Otherwise known as the Harry Potter Appreciation Festival. No it's not. It's a proper, serious festival on all things magic. There's performances, exhibitions, workshops and competitions.
Edinburgh Food Festival – not to be confused with the Foodies Festival in August which is a UK-wide ticketed event, the Edinburgh Food Festival is a free local event that has been going since 2014. Set up in George Square for over a week, there's oodles of delicious Scottish street food and local drinks to try and demonstrations from big name chefs throughout the week.
August
Edinburgh Festival Fringe – The big kahuna. The world's largest arts event. Perhaps you've heard of it.
Edinburgh International Festival – Three weeks of performing arts – dance, music, circus and opera.
Edinburgh International Book Festival – Two weeks of talks, special guest speakers and children's events.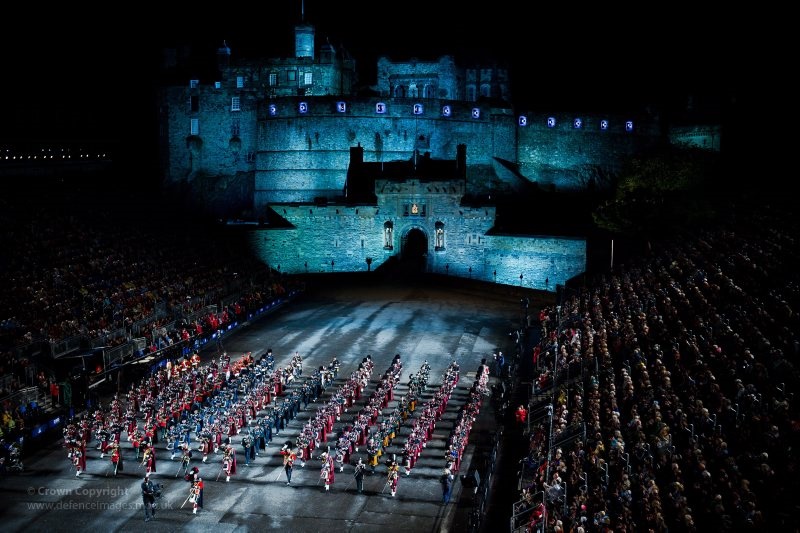 Edinburgh Royal Military Tattoo – No, it's not the Queenie and her family getting together to show us their latest ink. It's kilts, bagpipes, highland dancing and military bands performed by troupes from all over the world. But you probably already knew that. This thing is slightly popular.
Edinburgh Art Festival – the UK's largest visual art festival showcasing both local and international artists.
Edinburgh Mela – A weekend festival held on Leith Links that celebrates world music and dance.
Foodies Festival – Three days of cooking demonstrations with top chefs, baking classes, street food, craft beer, producers market, pop up restaurants and competitions. This is the Edinburgh stop off for a UK-wide festival that travels to different cities from May until August.
October
Samhuin Fire Festival – Much like Beltane, Samhuinn is also a huge production from the Beltane Fire Society. This one's on October 31st (yes, Halloween) and commemorates the pagan winter ritual. Again there's horned masks, wreaths of flowers, drums and lots of fire.
Scottish International Storytelling Festival – The Scots are legendary story tellers so it's no wonder this festival is getting bigger every year. As well as hearing the best in the business do their thing, you can attend workshops, lectures, exhibitions and networking nights.
November
Edinburgh Short Film Festival – erm, well that's pretty self explanatory then, isn't it? See the best mini movies from around the globe, with almost two weeks of showing.
December
Edinburgh's Hogmanay – The biggest New Year's Eve festival in the world. Hordes of tourists start appearing mid-December and by December 31st, Edinburgh's population has doubled. New Year's night, half the city streets are closed off for the party and you weirdos pay to stay out all night in the freezing cold listening to music and enjoying a beer or six.
Torchlight Procession – Also part of the Hogmanay celebrations, this is a sight to behold. On the evening of December 30th, up to 30,000 people gather to march through the city and up to the top of Calton Hill while holding real flaming torches. Once on the hill, the Up Helly Aa Vikings burn giant wooden sculptures to the ground. Fabulous.
Edinburgh Christmas – After all that, if you have any energy left at all, Edinburgh Christmas offers rides, markets, theatre, comedy, music, gifts, German sausages and all the hot alcoholic drinks you could ever wish for. Knock yourself out.