(Last Updated On: 12th October 2019)
Good quality, reasonably priced food. The fact that it's taken me so long to supply details of where to get exactly that in Edinburgh is terrible (Muriel). A thousand apologies. Consider that fixed with this big old list below.
Meals Under £10
The Pitt
Edinburgh's best street food all conveniently in the one spot. The Pitt, is a weekly gathering of food trucks in an industrial street in north Leith. When the initial weekend gatherings in an outdoor lot proved a huge success, they grew to take over the building next door as well. So now they have undercover dining and live acts to go with all the best street food in town.
Los Cardos
Often voted Edinburgh's best burrito joint, at Los Cardos around £8 will get you a burrito so filling it usually lasts me two meals. Bargain. There's beef, chicken and their very popular, (allegedly delicious) haggis version to choose from but whatever your meaty preferences, make sure to get them to add some homemade guacamole.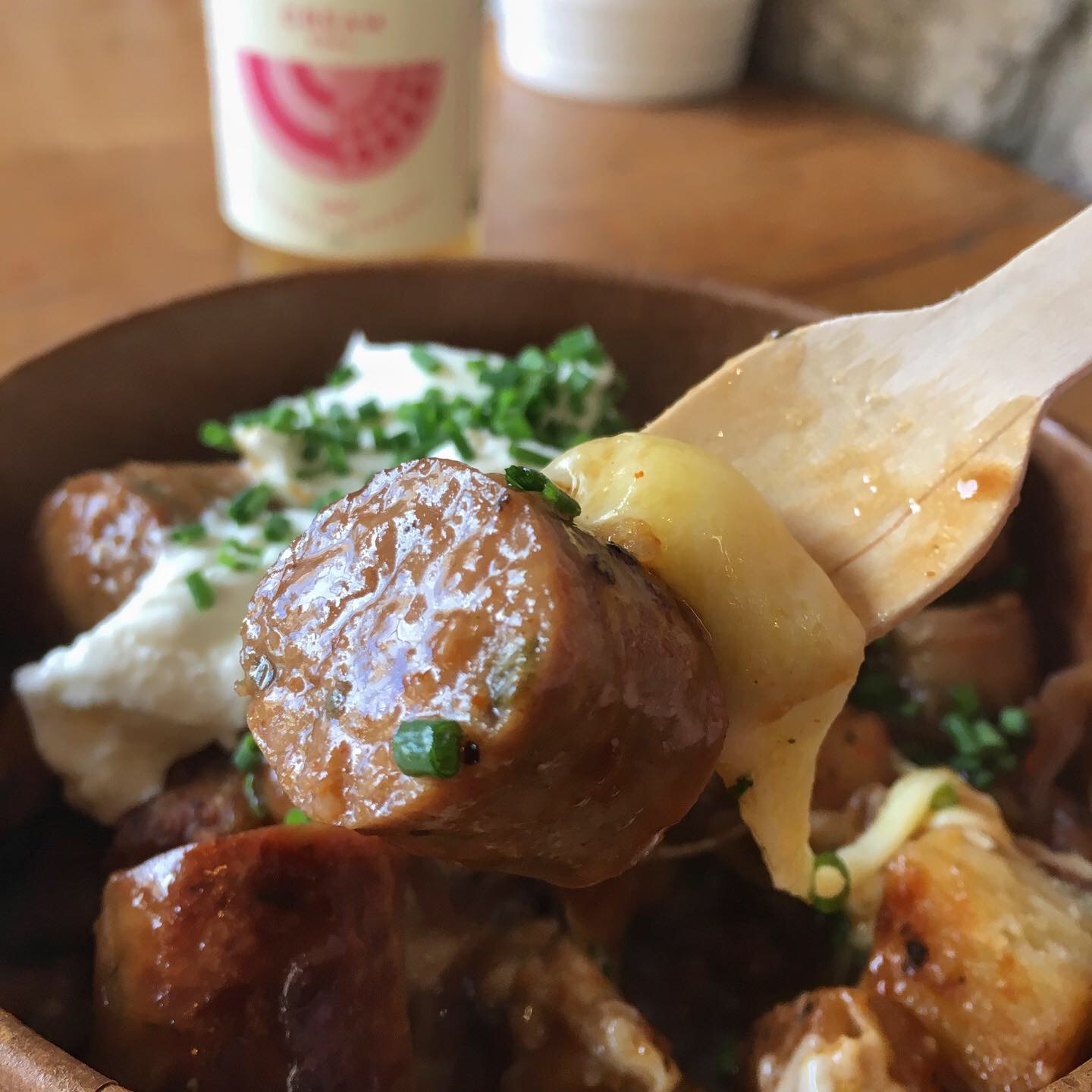 Makars Mound 2 Go
This is the newest venture for the already well established Makars Gourmet Mash (just a few doors down on the Mound). Mound 2 Go is a (mostly) take away lunch spot that keeps up the Makars' tasty comfort food ethos. Here they give you a take away bowl of gourmet (of course) mash, your choice of cheese melted over it, then topped with whatever scrumptious meat, veg and toppings take your fancy. That luscious looking forkful above is Wild Boar and Leek Sausage with Onion Gravy, Smoked Applewood Cheese, Sour Cream and Chives.
Taste of Italy
This is good, honest, affordable Italian café food. Pizzas are all under £10, panini's around £5, pasta £7.50 and there's Italian favourites like Arancini, Anti-Pasti, Bruschetta and Focaccia for snacking. Being very close to The Omni, The Princes Theatre and the bulk of the bars that make up Edinburgh's LGBT 'Pink Triangle' means Taste of Italy is often busy, but don't worry, swift service sorts that out.
Tupiniquim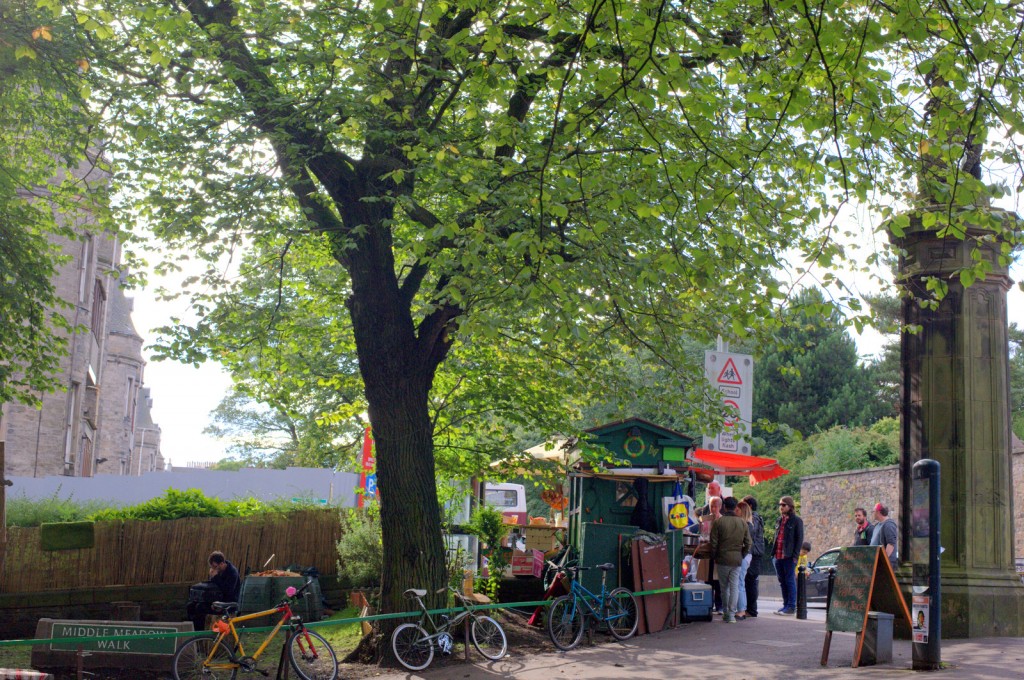 Supplying Edinburgh locals and visitors with gluten free sweet and savoury Brazilian crepes, Tupiniquim's home is one of Edinburgh's iconic Police Boxes, just at the top of Middle Meadows Walk.  They also do yumbo fresh juices, on Saturdays they serve Feijoada (a Portuguese/Brazilian specialty with beans and rice stew) and there's often live music on their little stage area just behind the police box. Just like most places on this list they are very popular, so there may be a bit of a wait for your crepe, but stick it out, it's worth it.
Union of Genius
With six homemade soups a day, three that stay the same for a month and the other three changing daily, and fresh bread from local bakers Dough Re Mi this is a healthy, cheap and (yep) popular choice for lunch among Edinburgers. There's oodles of vegetarian and vegan options and if all that goodness is just too much and you need a bit of sugar, Union of Genius also does gluten free cakes.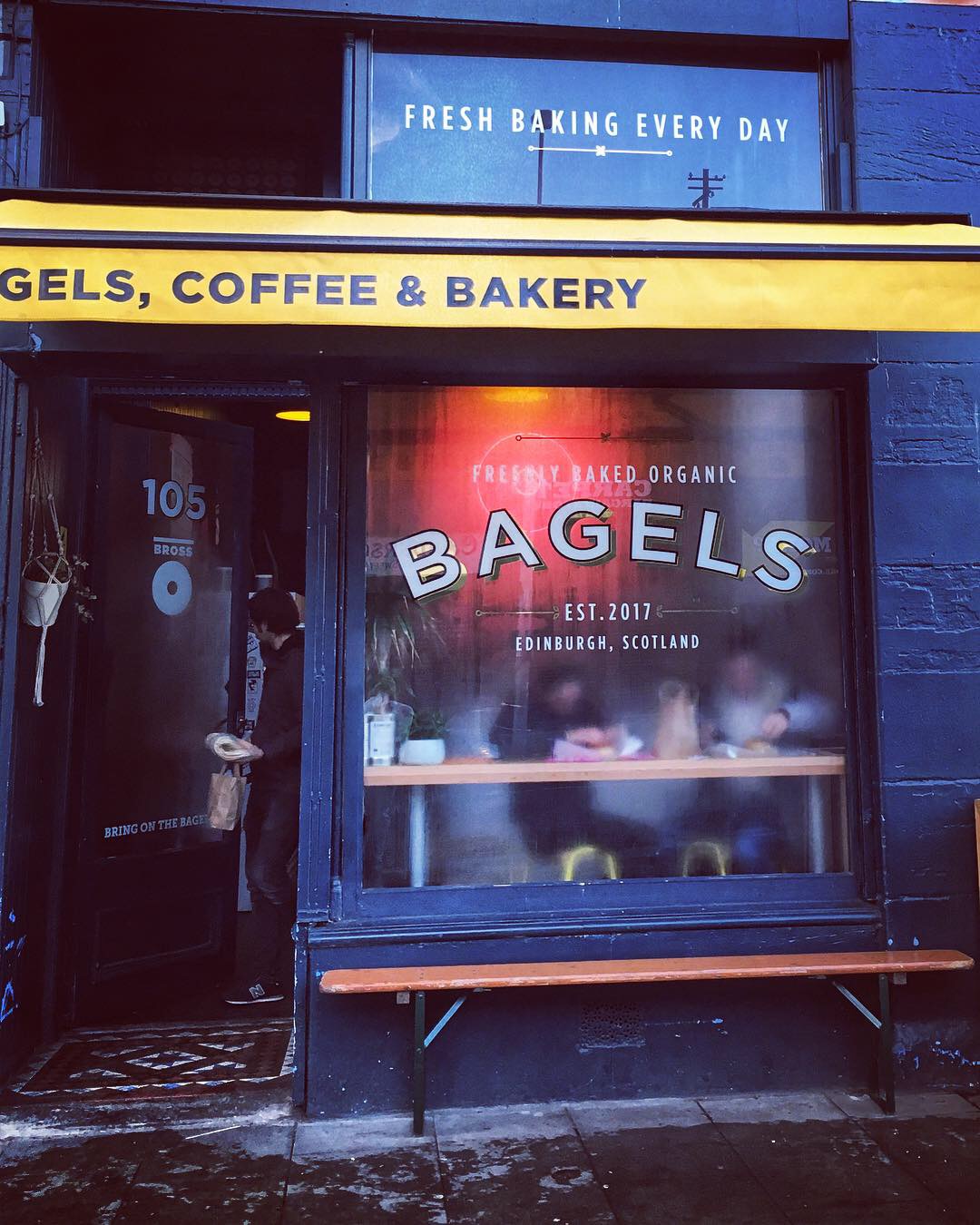 Bross Bagels
With three outlets across town owner Mamma Bross well and truly has us covered for authentic Montreal style bagels. You can get yourself a bunch of bagels to take away for your freezer or have them, as they say, 'fill your hole' with hot and cold bagel favourites right then and there. Check out the Reu Bross with Salt Beef, Swiss Cheese, Sauerkraut and Mama Bross' Russian dressing or the Chicken Parm with Chicken Schnitzel, Jalapenos, melted Mozzerella & Uncle Jimmy's Meshugga Marinara sauce. Plus there's constantly changing daily specials like The Holy Hero with egg, bacon, Mortadella, a latke, melted Jack Cheese, Pickled Jalapeños and Chipotle Aioli.
Chez Jules
At the always bustling Chez Jules, you can get French Bistro classics for lunch like French Onion Soup, Steak Frites and Coq Au Vin for the bargain price of £9.90 for three courses or £7.90 for two. It's even more unbelievable when you taste it. As in, it's really good food.
Kampong Ah Lee
I've never been to Malaysia, and I'll confess I've also never been to Kampong Ah Lee, so despite all the non-Malays on numerous websites swearing you get amazingly authentic Malaysian flavours here, I could not tell you if this is indeed the case (and probably neither can they). But with the sheer amount of people raving that it's delicious (including a foodie work colleague of mine), has great service and is super cheap, does it really matter?
Meltmongers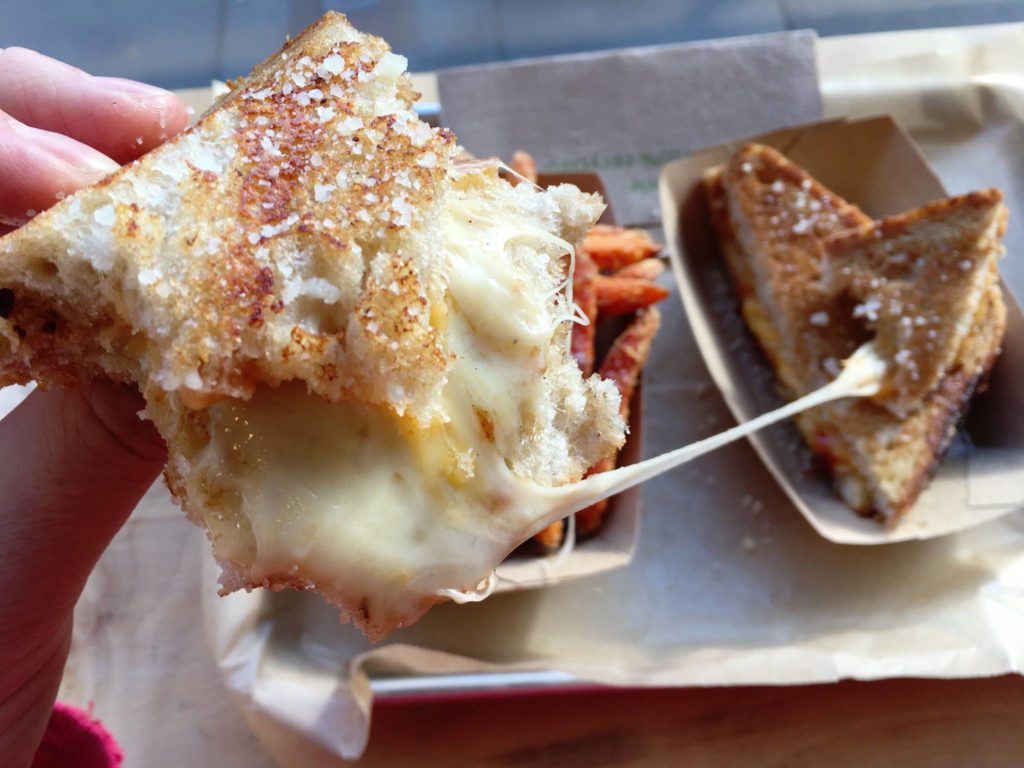 Meltmongers does awesome cheese toasties. That's really all you need to know. Well OK, they also have sweet potato fries, house made sweet tomato and chilli chutney and, if you're a total toastie fan, there's dessert toasties too. Just go.
@Pizza
There's not many places in Edinburgh where you'll get a good pizza for under £10. While 'build your own' and 'cooked in 90 seconds' might sound a bit iffy, the ingredients at @pizza are all top notch and you'll find yourself stunned something so quick can be so good. You'll get to choose your dough, your sauce, your cheese, your veg, your proteins and then finishing touches like oils, dressings or herbs, all for £9.50. And they've even got endless refills on craft sodas to wash it all down with.
The High Dive
Erm, did I just say there's not many places to find a quality pizza under £10? Well exqueeze me, here's another one. The latest outlet for simply some of the best pizza in the whole city, The High Dive is Civerinos latest brainwave, a funky neighbourhood pub, that just happens to serve 9 inch pizzas all £8 or under. Plus, for breakfast there's the pizza dough version of an Edinburgh breakfast staple – the  bacon butty. Oooh, controversial.
Snax Cafe
Probably Edinburgh's most successful greasy spoon, Snax is usually packed with tradies or slightly worse for wear types who had to drag themselves into work after a big night out. Think burgers and chips, pasta and chips, full breakfasts, breakfast rolls (bacon, eggs, Haggis, black pudding), curry and chips, chilli and chips, hot dogs, toasties orrrrr just plain chips. There's salad too, but come on, really? It may not be top quality, but if you're one of those poor buggers above, that's probably not what you're looking for.
The Good Old Chippie
Ahem, yes well. Again, it's not haute cuisine, but if you're from a far away land where they don't exist, think of a visit to a chippie as a cultural pursuit. Now, it may just be basic, deep fried crap, but there's a big difference between good crap and run of the mill crap. So make sure you seek out one of the good stuff at either The Gorgie Fish Bar, L'Alba D'Oro, Globetrotter or Eatalias.
Local Independent Cafe's
Forget the chains people, Edinburgh is teeming with high quality, independently run cafes, where you can get amazing breakfasts, brunches, lunches and scrumptious cakes and pastries made either in-house or by local small producers. Some of the best are Di Giorgio in Canonmills, Café Class in Tollcross, Red Kite Café in Meadowbank, The Haven in Newhaven Harbour, Porto and Fi also in Newhaven, Baba Budan in Old Town, Word of Mouth in Leith, Polentoni in Easter Road, Casa Amiga in Leith and Tani Modi in New Town.
Meals for £10-ish
Ting Thai Caravan
Ting Thai has Thai street food served mostly in cardboard boxes whilst sitting at communal tables. It's loud, busy, quick and delicious, and they've had queues out the door at busy service times ever since they opened a few years ago. But like I said, it's turned over very fast, so the wait shouldn't be that long.
Mother India's Cafe
It's Indian tapas at Mother India, the Edinburgh sister restaurant to Glasgow's original location that opened in 1996. Starting at just around £5 per plate, sharing a few amongst a group makes Mother India a very affordable, quality option for lunch or dinner.
The Bailie Bar
Although it's in the somewhat middle-class area of Stockbridge, The Bailie is seriously unpretentious, an old-school locals' hangout that just oozes Edinburgh authenticity as you enter the basement pub's front sports bar. You might be stared at a little bit by the very at home locals as you walk through to the adjacent dining room, but don't be scared off, the food is good, home cooked classic pub style and excellent value for money.
Lunch and Pre-Theatre Deals
Quite a few restaurants around town do two or three course deals. So if you check out a menu for somewhere you'd like to go, but think it's just a bit beyond your budget, keep your eye out for their lunch or pre-theatre specials. Sister restaurants Three Birds, Educated Flea and Apiary are a good example. These modern bistros have a menu full of interesting world cuisine and you can try two courses for lunch for £12 or early dinner for £15.