(Last Updated On: 23rd November 2019)
There's three rules to surviving the Edinburgh Christmas Markets; avoid the crowds by visiting in the first couple of weeks, keep your festive travel mug full of festive beverages and go with a huuuuge appetite.That last one is particularly important because your nostrils are going to be smacked around by a huge variety of smells and it would be an absolute shame not to indulge. Christmas is no time to be watching calories.
German Sausages
Surprisingly (to me) this was my pick of the bunch this year. This particular sausage was the smoked variety and absolutely delicious. Prices start at £5 but the extras are… err… extra, so maybe ask how much it will be before you go crazy with those. Sausage-wise there's also Bratwurst, Currywurst and 'German'.
Waffles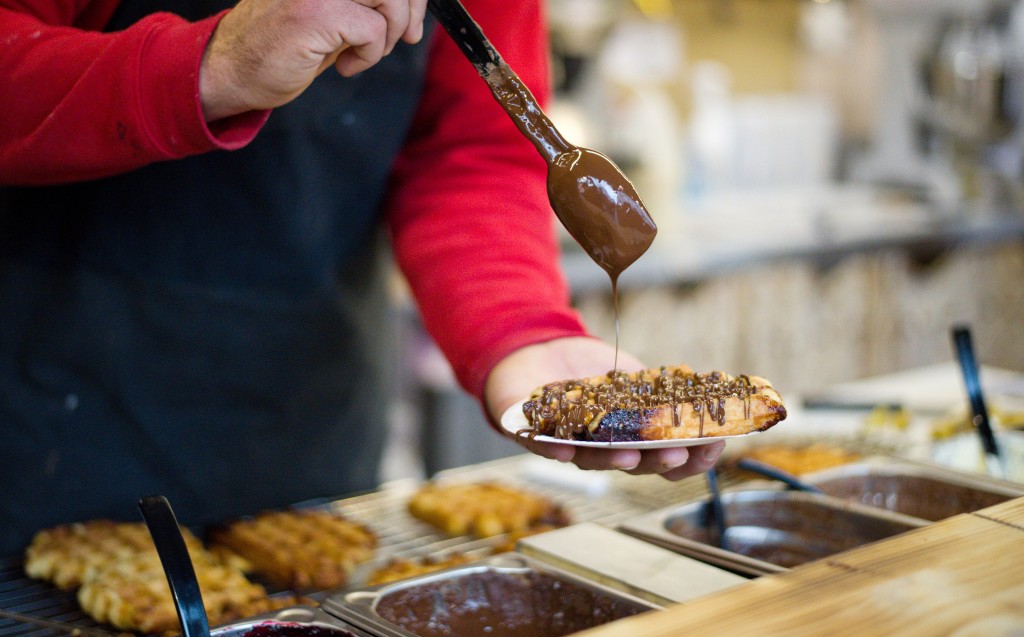 Who doesn't love a waffle? Much superior to a crepe in my opinion. At the Christmas market there's a whole menu of toppings to add, so you can keep it simple with some chocolate or go mad and create yourself a veritable waffle of wonders. A wonder-waffle. My tip – if you're there when it's a bit quiet (not often, I know) be a pain and ask for a freshly made one so you're not given one that's been sitting waiting there for a bit.
Chimney Cake
A traditional Hungarian treat, Chimney Cake is classed a pastry, but to me it's somewhere between a doughnut and a sponge. To make one, the dough is rolled into a thin sausage shape, twirled around a cylinder, flattened, rolled in sugar and cooked while spinning over coals and being basted with butter. Hello! The end result is a hollow, vertical cake that can be pulled apart like a spring (not that I've shown you very well in this picture). They're best eaten warm, straight off the heat, and you can have them coated in more flavourings like cinnamon, vanilla or sprinkles. You won't find them in these parts too often, so make sure you grab one while you can. And again, be a pain and ask for one hot right off the coals. If they have been sitting for more than a couple of minutes, the experience is a bit of a let down.
Comte Cheese Stand
These guys have a dish that is pretty much a food heaven trifecta for me – sausage, potato and melted Comte cheese. Ooof. Comte, if you've not come across it before, is very much like Swiss Gruyere. You can get this dish in medium or large portions (no small – what are they trying to say?) but just beware, the large (in the pic) is a massive portion. Now, if potato and sausage are not for you , there's also a bread roll with the middle ripped out that's then filled with the melted Comte cheese – yep, a cheese fondue bread bowl!
Salmon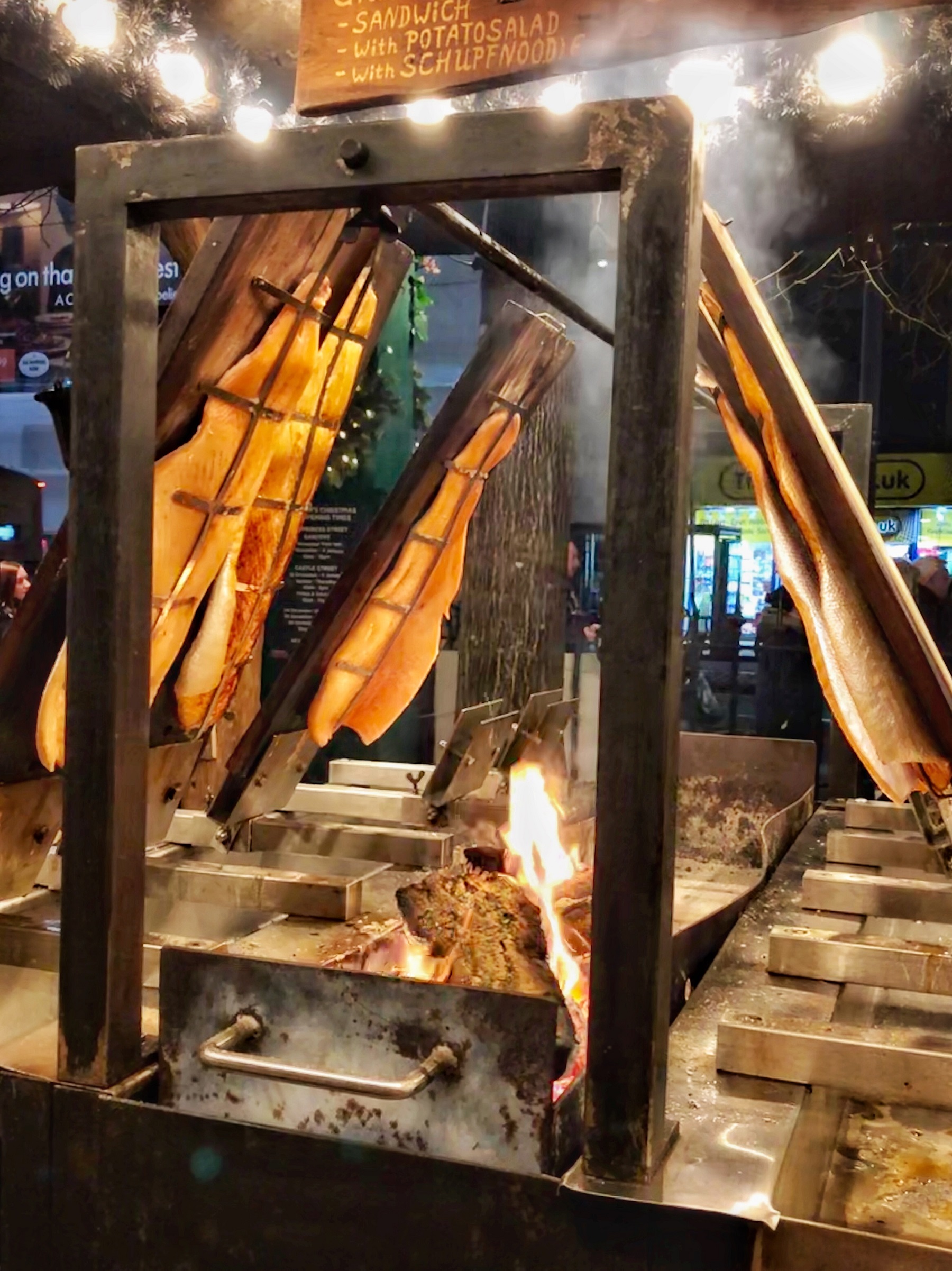 I don't eat Salmon admittedly, but if I did, I'm sure having it smoked and BBQ'ed over an open flame like this would be delicious. Maybe you can tell me if I'm right. It comes with the option of Schupfnudel too, a German/Austrian dumpling. Now that I would eat. Yum.
Doughnuts on a Stick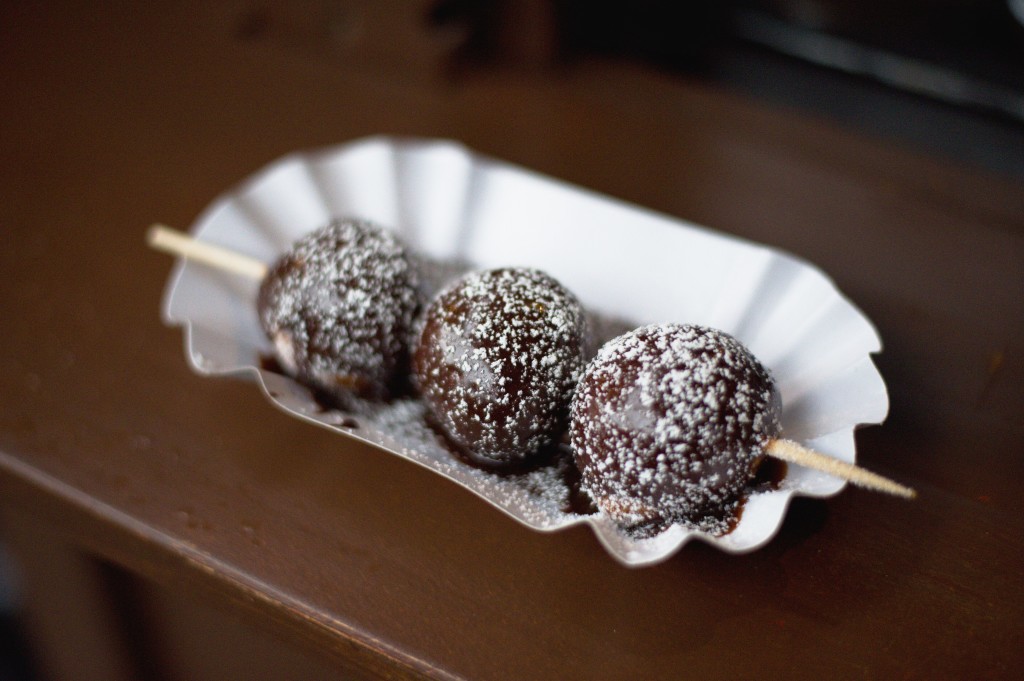 I'm sure they have some kind of European fancy name but you know, it's doughnuts on a stick with flavours on top like chocolate, strawberry and vanilla. Alright then? Or maybe go old school with cinnamon and sugar.
Chunks of Fudge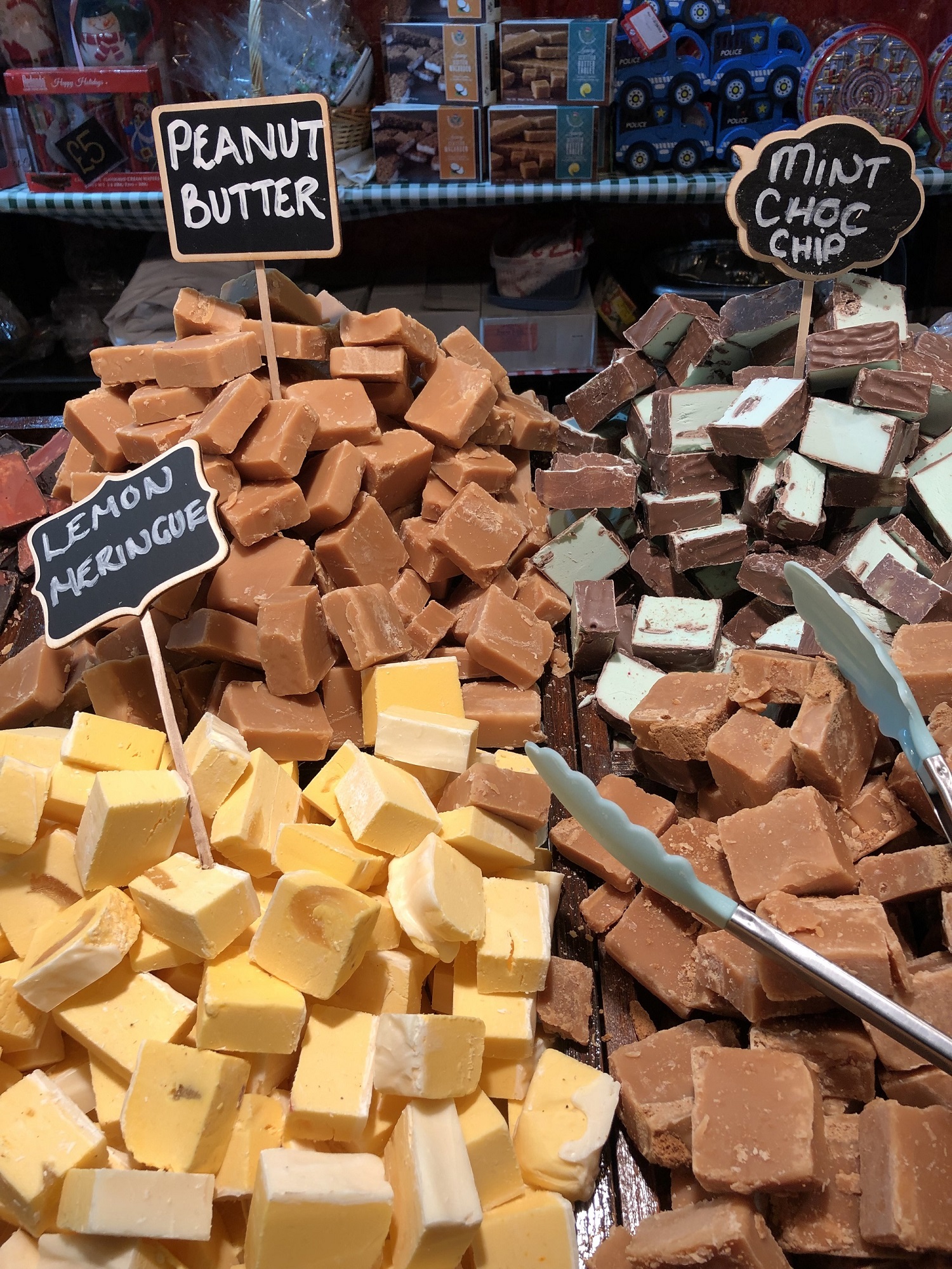 There's a bunch of different flavours to choose, but the ones I tried were all super sweet (and if I'm honest, not really that tasty – for me anyway), so look out for a mahoosive sugar rush about 30 seconds after you eat one.
Marzipan Madness
No need to wait until one of your friends or relatives ties the knot to get your marzipan fix (by stealing the icing on everyone's cake – or is that just me?) the Edinburgh Christmas Markets are marzipan mad. Just like fudge, there's every flavour under the sun (if you remember what that is), like Rum 'n Raisin, Pistachio, Hazelnut, White Chocolate, Blackberry, Forest Fruit and good old Strawberry.
Raclette Sausage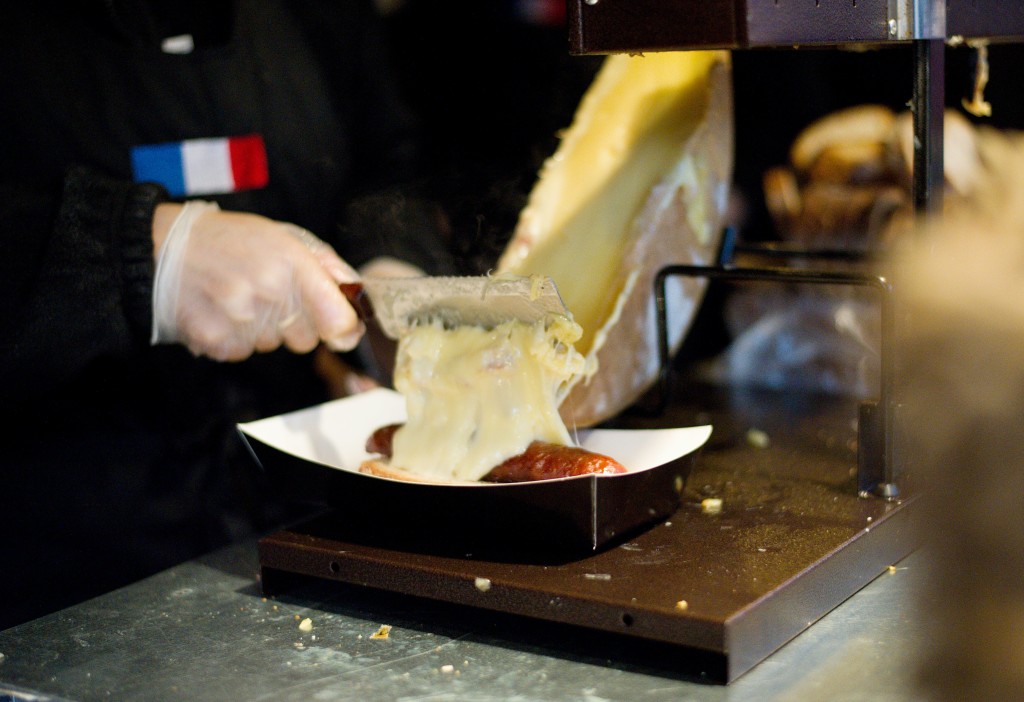 Take one piece of bread, put a smoked sausage sliced in half on it, then smother the whole lot in so much melted cheese that if you don't already have a history of heart disease, this'll do a good job of getting you there. This idea sounded right up my alley, the tasty snack I mean, not giving myself a coronary, but surprisingly the whole thing was a tad bland. If you can't resist it, maybe sneak past another stall and avail yourself of their self serve ketchup or salt and pepper. Or maybe just throw a load of bacon on there. That'll give it both some taste and salt. Fixed.
Potato Bacon Oniony Thing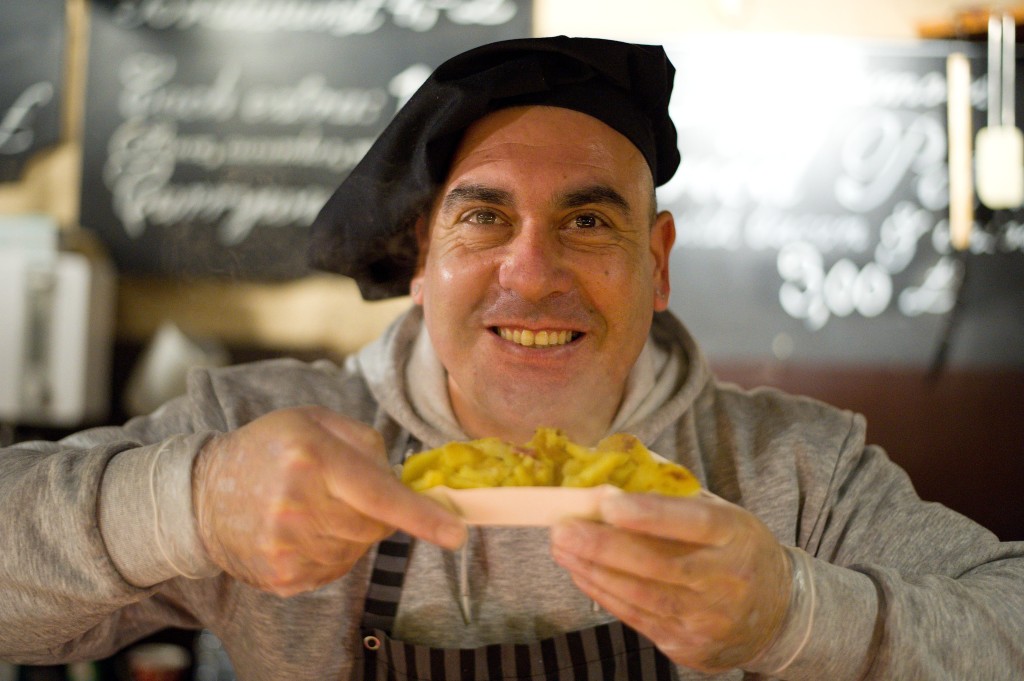 Granted, this one's not actually that exciting (or clear), but the guy gave me such a nice big smile while I was taking a photo of something else at his hut, how could I not include him? This gourmet delight is potato cooked with bacon and onion. It also probably has a German name that makes it sound a bit more exotic, but I have no idea what it is. Oops.
Over the Top Boozy Hot Chocolate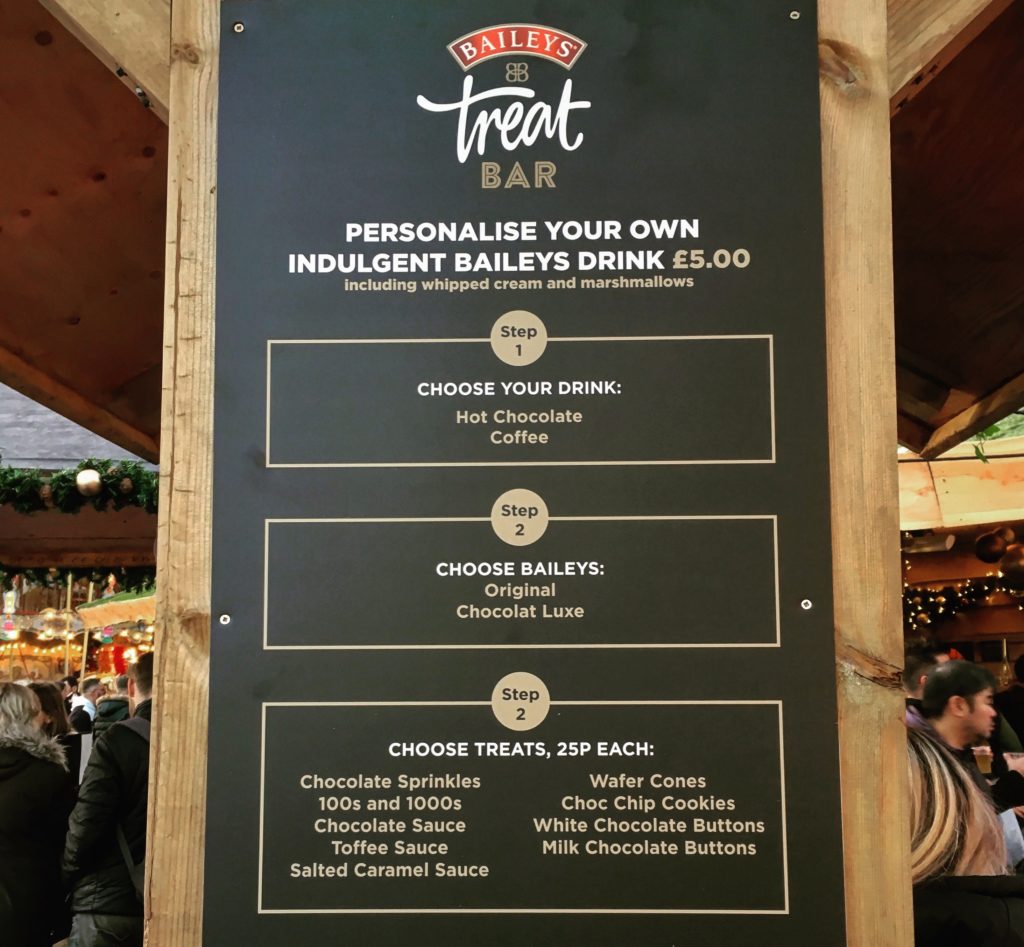 Wellll, I dunno about all of you, but I'll have a hot chocolate with Chocolate Lux Baileys, whipped cream, marshmallows, chocolate sauce, salt caramel sauce aaaaand chocolate buttons. That's not too over the top is it? I mean, it's Christmas. Or at least, it's Edinburgh Christmas. Go on, I dare you…
Stuff to Know:
Weirdly, for a set up where you're tempted to do a bit of a walk and eat routine, almost everything at the Christmas Markets is unbelievably messy and impossible to eat while walking. Trust me – make sure you stand still and grab a wad of serviettes. You'll be needing them.
You probably don't need to be told this, but food here isn't cheap. Expect to pay around £5 for the most basic food and then up to £10 if you go mad with extras.