(Last Updated On: 2nd January 2018)
Looking for a brilliant Edinburgh day trip option? Get yourself into the Scottish outdoors in The Trossachs National Park then. Only 110kms-ish (70 miles) from Edinburgh city centre, it's positively heaving with mountain paths to traipse around and you're guaranteed stunning views whether down by the side of a loch, on top of one of the smaller hills, or way waaaaay up in amongst the mountain ranges. This one is Ben Arthur, nicknamed The Cobbler. Its summit is 881m (2890ft), making it only just shy of Munro status, but being able to say you bagged a Corbett is still a pretty good day's effort.
Day Trip to Loch Lomond and Trossachs National Park with Optional Stirling Castle Tour from Edinburgh
I must confess I found the first third of the climb a bit uninteresting, not the least because it's very steep, the path is covered with large-ish stones which are no fun to walk on and, most of all, because  I'm super unfit. I have no idea why I did this to myself. Oh wait, yes I do, it's beautiful.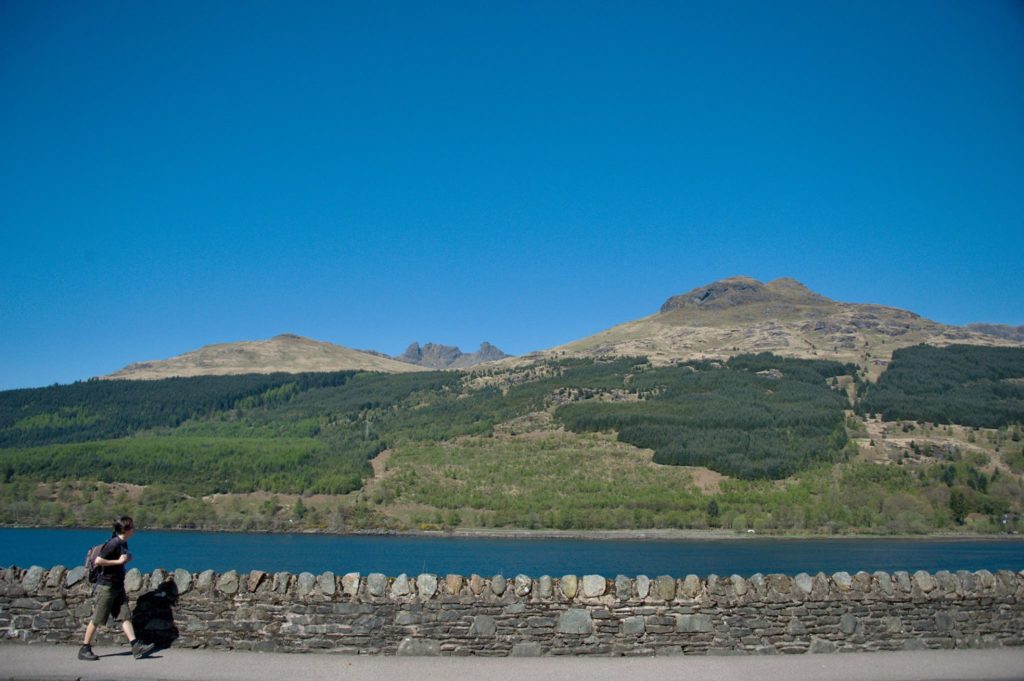 Start yourself in Arrochar. The beginning of the path for The Cobbler is on the opposite side of the water here, Loch Long, and is clearly sign posted just across from a handy car park (if you drove).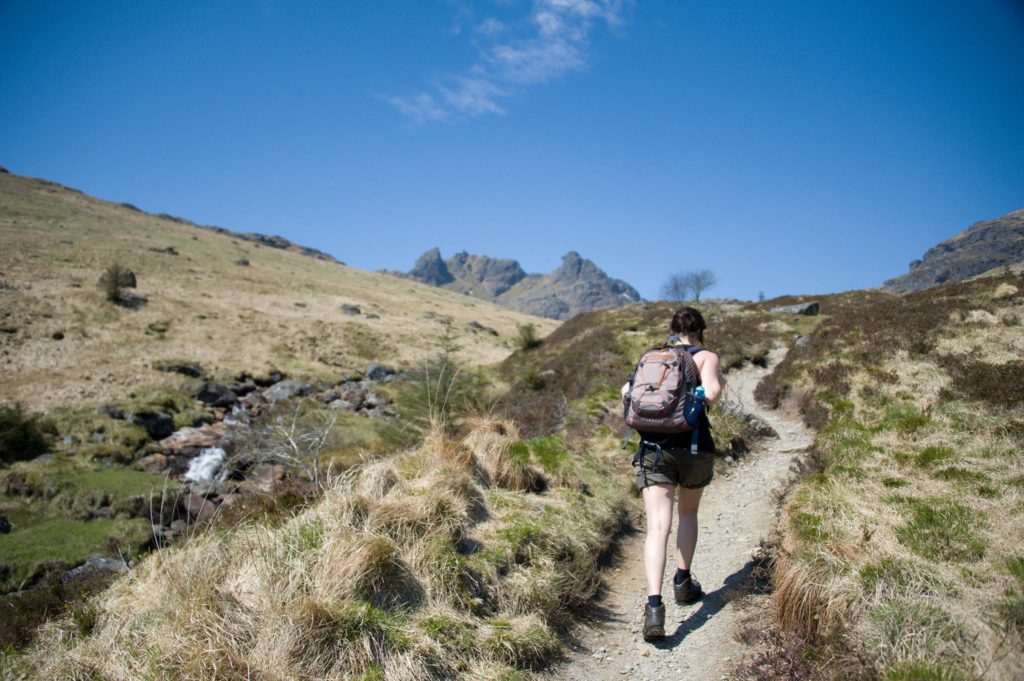 After you trudge through the boring, rocky pine tree section, you'll get your first sighting of the three summits of Ben Arthur. This next third of the climb was the most enjoyable for me because, ahem, it was the easiest. There's even a few spots where you can cool yourself down in some super fresh, super chilly mountain water if you're nutty enough.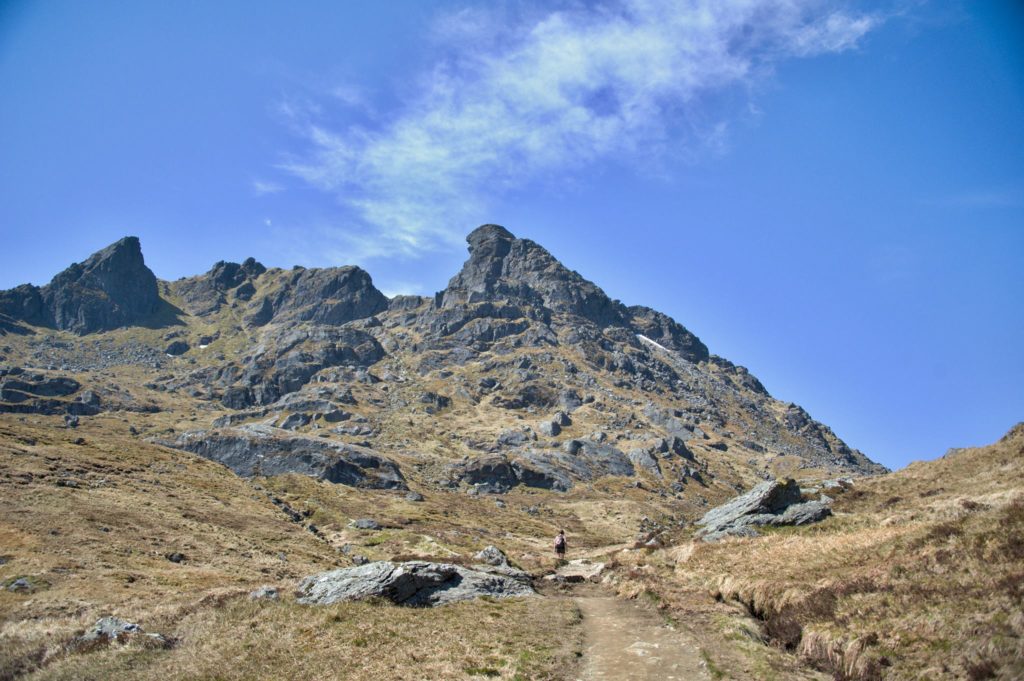 A bit further from this point there's a split in the path. Go straight ahead and you'll climb the front face of Ben Arthur. And I do mean climb because the track peters out and you have to scramble up and over the rocks to reach the top. Go right though and you'll veer off around the back before coming to another path that is just as steep, but laid out in a rocky path that's, allegedly, less challenging. I still nearly had a coronary on the 'easy' path, so that opinion is kinda dependent on your fitness levels.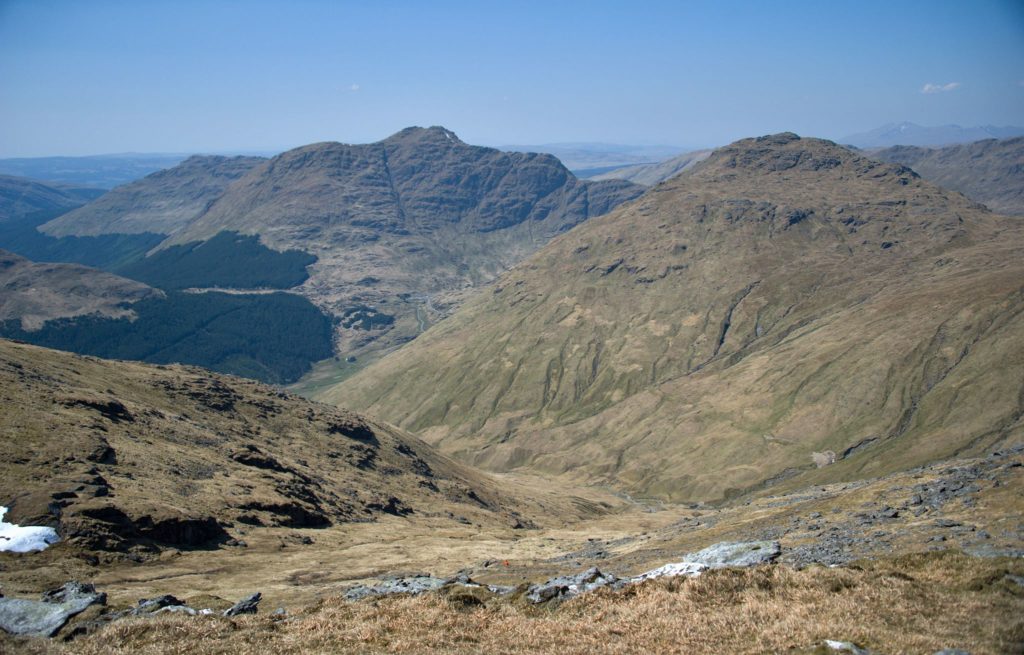 And here I am very close to the finish (see if you can spot my orange jacket sort of middle lower in the pic above), exhausted and refusing to go any further until I've eaten my pathetic ham and cheese sandwich. The long winter and only recently melted late snow meant there wasn't much flora around, but it's still a pretty spectacular beige visage.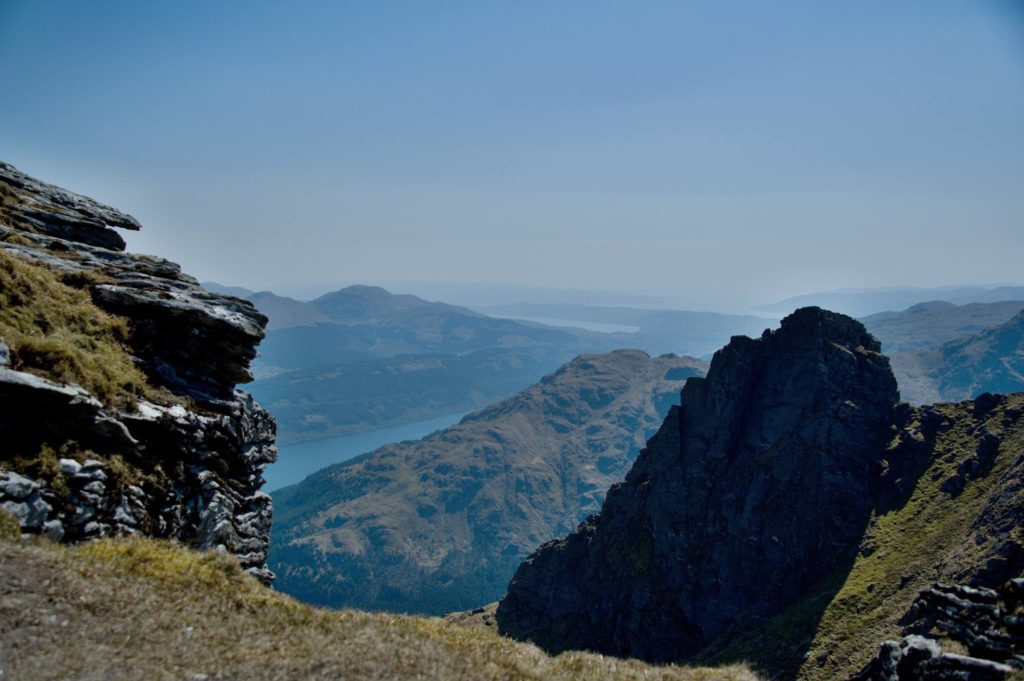 When you can move again and actually reach the top, it's not long before all is miraculously forgiven and you're rewarded with views like this. Isn't nature amazing?
Stuff to Know:
Car Hire – It's a very easy 1.5 hour drive to The Trossachs from Edinburgh but in peak tourist times – July and August – the prices at most well known hire companies double and sometimes triple. Outrageous, I know. In this case, try one of the smaller hire companies like Condor. They're not right in the centre of town, but they'll save you a fortune.
Public Transport – It's possible to take buses and trains to The Trossachs but keep in mind that from Edinburgh it's roughly a 2.5 hour trip each way and not all climbs are close to train stations or bus stops. So pick yourself a mountain that is doable in your time frame and close to Tarbet, Arrochar or Balloch. You'll first have to get yourself to Glasgow by bus or train and from there you can bus it with CityLink to Tarbet or Arrochar or take the train to Balloch. Expect to pay between £25 – £50, depending on what deal you can find for yourself.
Ben Arthur took me 6 hours (with breaks), and if you haven't gathered by now I'm not the fittest person in the world, so it's definitely doable for a (long) day trip. In summer it's not dark until 10pm, so you don't even have to start climbing till after lunch if you're not a morning person.
As always, remember the weather in The Trossachs is very changeable. Make sure you dress in layers and take a light, waterproof jacket even if it looks like it'll be a sunny day.
Check out website Walk Highlands for lots more information on The Cobbler and other walks you can do in The Trossachs.