(Last Updated On: 25th May 2019)
Mac 'n' Cheese: because sometimes you need a big old helping of stodge smothered in more stodge, just to get you through the day. And pasta, cheese, cheese, and often more cheese, is pretty much going to fit the bill every time. These days Macaroni Cheese is popping up all over the place. It's a comfort food that even the non meat eaters can indulge in, including Leonardo DiCaprio when he visited Edinburgh in 2016. But OK, his version had wild mushrooms and truffle.
Americans, by the way, often think they were the first to take Macaroni Cheese out of Italy, and yes indeed, Thomas Jefferson did serve it at a state dinner way back in in 1802. But something similar to what we know it as today appears in an English recipe book from 1770. And actually, if you want proper bragging rights, a much older English version with just butter, cheese and pasta appears in another English recipe book, a whole 300 years before that.
As usual, I'm here to help you with another list; 10 places in Edinburgh where you'll find the best Macaroni Cheese. Well, 9 of the best, and 1 bonus one for kitsch value. 
Roseleaf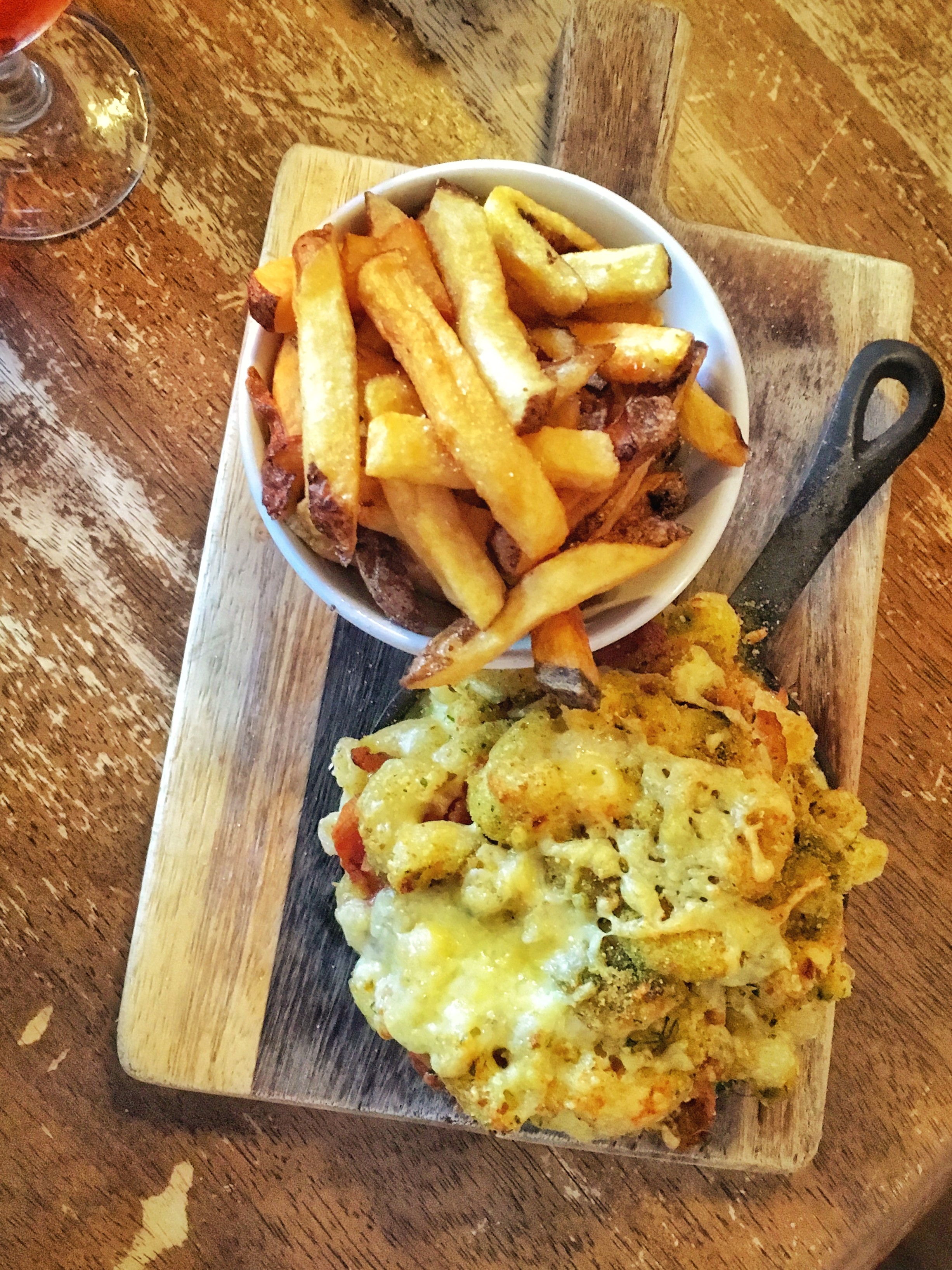 Leith Shore's lovely little pub does the Merry Mac, their own wholesome, fresh, homemade-style take on traditional Mac 'n' Cheese. Roseleaf's has Smoked Applewood cheddar sauce, leeks, smoked bacon and a herb and cheese crust. Mmm, yes please.
The Piemaker
Home of the Mac n Cheese Pie, this has joined the ranks of classic, Scottish food mash ups you'll be tempted to try while in Edinburgh. Considering the others are deep fried Mars Bars and deep fried pizza, this would be my choice if you were going to limit yourself to just one 'gourmet' cultural experience here. The Piemaker is cheap and cheerful, more a take away than sit in kind of place, although there are a few seats if you're just too excited to wait.
Meltmongers/Cheesy Toast Shack
Here's another fab mash up – the Mac n Cheese Toastie. Bruntsfield's Meltmongers does toasties to die for (well, maybe 'die' is a bit dramatic, maybe just 'risk a slight injury') and  The Cheesy Toast Shack is a food truck whose normal haunt is up St Andrews way, but who travel down to Edinburgh for various events throughout the year. Their toasties are so good they made the finals of the first ever Scottish Street Food Awards in 2017. Grab a Mac 'n' Cheese Toastie from either of these toastie champs and experience the joy.
Mums Great Comfort Food
Another traditional, homemade variety of Mac, the name of this place should give you a hint of what you're about to get. Similar to Roseleaf's recipe, Mums Great Comfort Food uses Applewood smoked cheese and leeks in their version.
Teuchter's Landing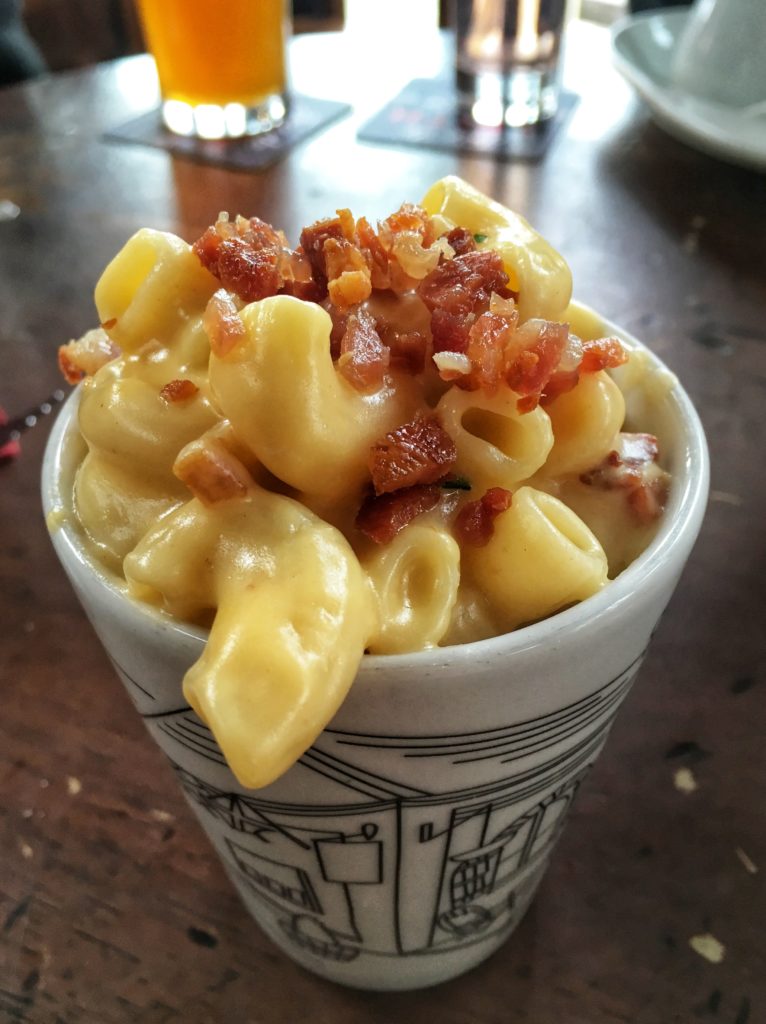 As part of their 'in a mug' menu range, the always good (and unfortunately often rammed full) Leith pub Teuchters Landing has your pasta n cheese… have a guess… served in a mug. You can have it plain or choose from toppings like bacon, mushrooms or salmon and you can also get it in a pint or half pint size. The Inverloch Lockerbie cheese though is the star, so lip-smackingly creamy and tasty.
Leith Depot
A pescaterian and vegetarian gastro pub, Leith Depot goes sort of fancy for their Macaroni Cheese, with Mull of Kintyre cheddar cheese, garlic croutons and the option to add bacon. Oooh errrr… garlic croutons.
Paradise Palms
Kooky-cool bar Paradise Palms has a fully meat-free menu that they like to call Vegetarian Soul Food. With West African and Native American influences, this means you get a Chipotle Mac; three cheeses, a mild heat and a walnut crumb on top. You can order it as a main, or if that vegetarian soul food is just too tempting and you want to try a few dishes, you can also get your mac as a side.
Burgers and Beers Grillhouse/Lebowskis
This Mac 'n Cheese comes in burger form, the 'Mac Attack' at Burgers and Beers Grillhouse and 'The Bacon Mac 'n' Cheese' at Lebowskis. I've lumped them together like this as they've both decided to turn their cheesy pasta into a  deep fried fritter and add it to their towering burgers. Maybe save these particular Mac 'n' Cheeses for when you're in dire need of some restorative grease, and don't mind eating what could quite possibly be a whole day's calories in one sitting.
The 10 Tastings of Edinburgh With Locals: Private Food Tour
And just for the novelty factor…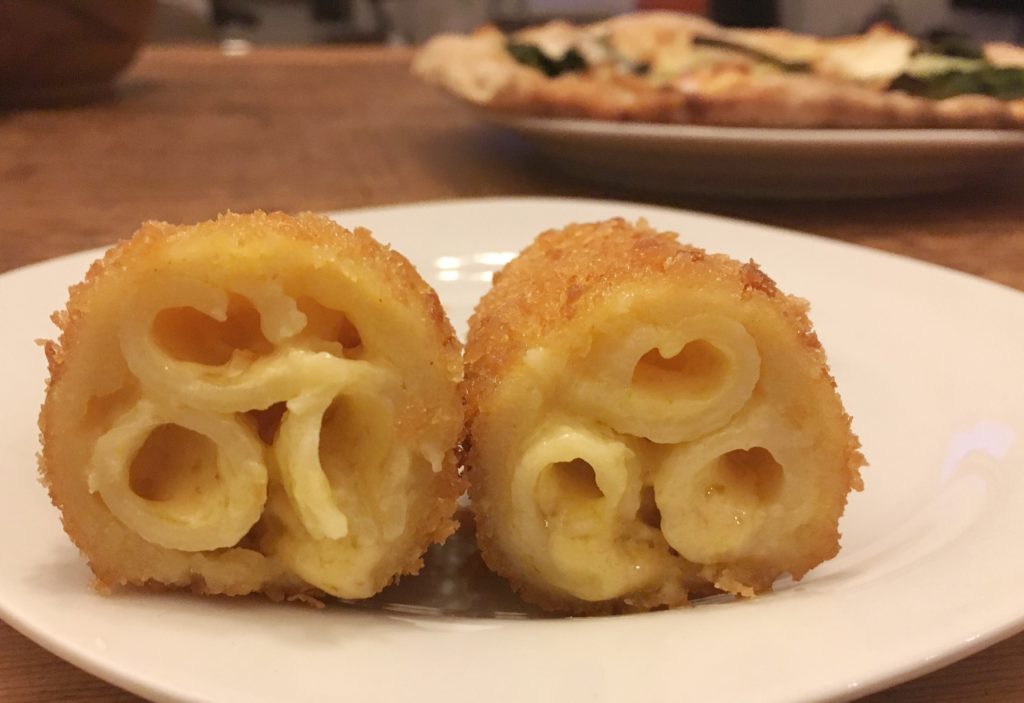 So these are not what I'd class as the best in the city, but I've included them for kitsch value. Leith pizza joint La Favorita does Mac 'n' Cheese croquettes with a spicy salsa (panko crumbed and deep fried – the mac, not the salsa) on the side.