Best Doughnuts in Edinburgh
I don't eat doughnuts that often, but whenever I do it's no mere casual craving. It's something I need so badly I couldn't get through the day without it; like air or Bored Panda. So when I get a crappy doughnut it's a complete and utter tragedy. Nobody should have to face the horror of a bad doughnut. If you're in Edinburgh, here's where you're guaranteed to find the best of the best, the Top Guns of the city's doughnuts… oh… ummm… sorry… with all the sugar I've had to ingest this week from sampling everything below I'm slightly hyper…
Twelve Triangles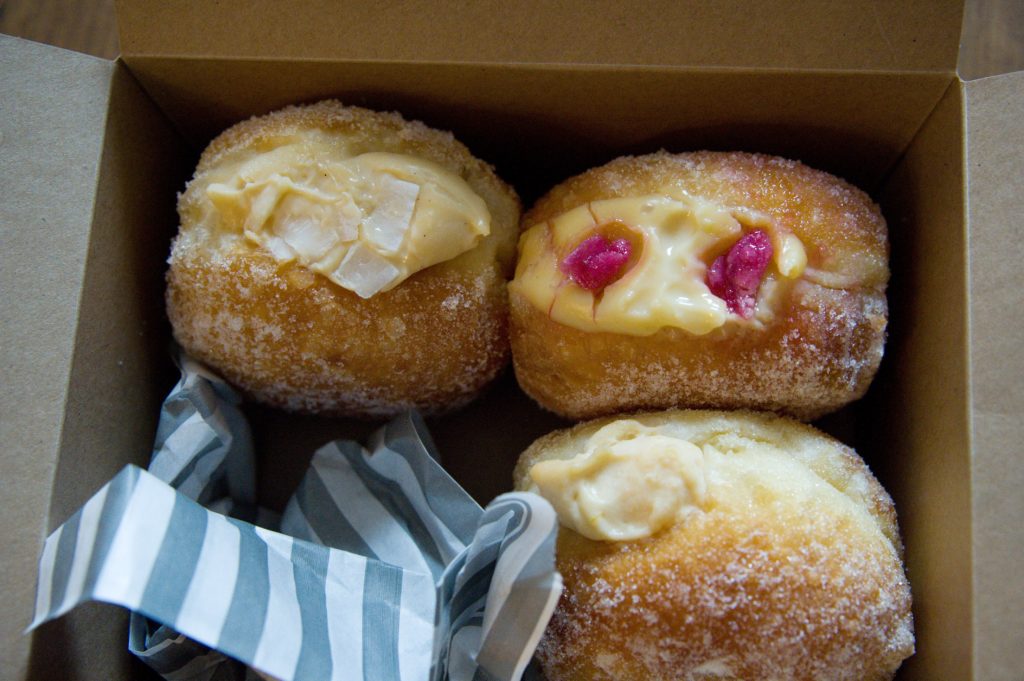 Undoubtedly delicious and inventive flavours like peanut butter cream cheese, lemon ricotta, maple pecan custard and coconut caramel, at £2.20 each they're not cheap, but you can't deny the quality of both the doughnut and the gourmet-ness of the fillings. So if you've decided to shout the office an afternoon treat, maybe stick to sharing them with the people who can get you a promotion, after which you might be able to afford to buy some for the people you actually like. When I'm flush, Twelve Triangles is definitely my numero uno doughnuttery.
Address: 90 Brunswick Street, Edinburgh EH7 5HU
The Sicilian Pastry Shop
On the other end of the affordability spectrum, you can't beat The Sicilian Pastry Shop's simple caramel doughnuts or their Cartocci (see main pic), a cylindrical, sugar coated doughnut. Both of these are filled with their scrummy creme anglaise, which is unfortunately not ridiculously sweet, so you could probably eat two no problem. And at only 90p, they're ridiculously good value. Bummer.
Address: 14-16 Albert St, EH7 5LG
Burger Meats Bun
This may be a burger joint, but they'll also fry you a fresh, hot batch of mini square sugar doughnuts and serve them with chocolate dipping sauce. They're dangerously delicious, so when on a visit to Burger Meats Bun, go easy on the sides here and make sure you leave room for dessert.
Update: Nooooooo. Poo bum bloomin shitski's – A mere two weeks after I posted this, Burger Meats Bun's Edinburgh restaurant is now closed. Apparently they are still going to pop up around town at, ummm, pop up events, so let's see if they keep the hot square doughnuts on their event menu. If not, I'll delete the above and go on the hunt for a replacement.
Address: 1 Forth St, EH1 3JX
Pine Tree Bakery
This Polish bakery in Tollcross does enormous doughnuts using ingredients brought over from the south east region of Poland around the Tatra and Carpathian mountains.They're a little bit different to what you're most likely used to, so probably only for a more sophisticated doughnut palette. I took some pics for an earlier post about them but it was way back when I started this blog and they're kind of terrible, so I'm not re-posting here out of sheer embarrassment.
Address: 64 Home St, EH3 9NA
Valvona and Crolla
Edinburgh's premier Italian grocers has a cafe on Multrees Walk that does delicious Bombolini, a small, hand made, Italian sugar doughnut that comes in the shape of one of those ubiquitous charity ribbons people wear on their lapels at fancy events. Actually, I think I'd like to wear a ribbon shaped doughnut on my lapel at a charity event. You can also find them at the Valvona and Crolla pop up booths throughout the year at various Edinburgh festivals, including right now in St Andrew Square for the Fringe.
Baba Budan
Also fairly new to the city, Babu Budan is one of the new shops in the Edinburgh Arches. Sourced from pop up baker The Bearded Baker, the doughnuts have similarly sophisticated flavour pairings as Twelve Triangles like pistachio and rose, choc salted caramel, tayberry jam (an elusive Scottish berry) and apple and pomegranate with cinnamon. At a wallet emptying £2.50 each though, Twelve Triangles just pips them for me in both value for money and quality. But I do mean just.
Deadly Donuts
Fairly new to Edinburgh, Deadly Donuts are located just beyond the Meadows, in Argyle Place. Unfortunately when I went past they were shut (opens at 12pm FYI) so I can't tell you first hand what they're like, but the interweb seems to approve. Here you'll find mostly traditional iced ring doughnuts with more classic old school doughnut flavours like orange and raspberry, maple and walnut, red velvet and orange and poppy seed.  There's also lots of elephants for some reason.
Lidl
Yep Lidl! Specifically I'm talking about their jam donuts. They're baked on site but if you take them home and put them in the microwave for a few seconds you'll have created yourself a bona fide doughgasm. Takes me right back to Melbourne's famous doughnut van at the Queen Vic market. Well, not really, because the Melbourne ones are rolled in sugar and the Lidl ones are only dusted with icing sugar, but close enough. And they're a total bargain at around 30p each.
So there you go sugar fiends. Go forth and triple your daily fat intake in a few soft, doughy, delicious mouthfuls. Because sometimes, a doughnuts the only thing that'll make you feel OK again isn't it?