Edinburgh Cheap Eats
Where to eat when you're on a budget
(Last Updated On: January 1, 2018)
Good quality, reasonably priced food. The fact that I've not yet supplied details of where to get exactly that in Edinburgh is terrible (Muriel). A thousand apologies.Consider that fixed with this big old list below.
Meals Under £10
The Food and Flea Market/ The Pitt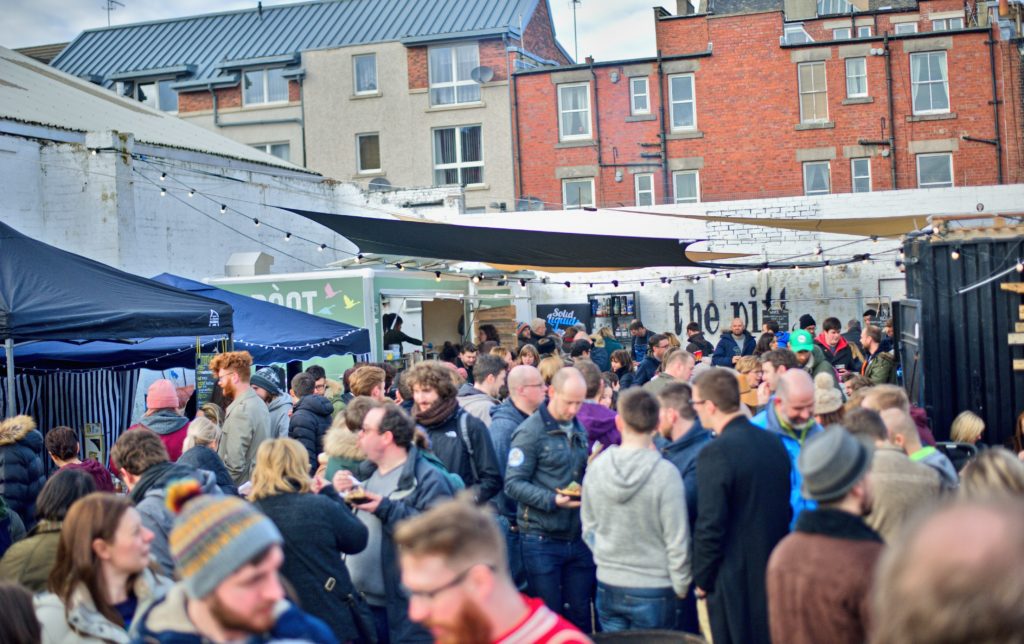 Edinburgh's best street food all conveniently in the one spot. Well two spots. First came The Pitt, a weekly gathering of food trucks in an industrial street in north Leith. When that proved a huge success, the same guys came up with their newest venture, The Food and Flea Market. Open every day, The Food and Flea Market has a number of rotating street food traders plus, for the flea bit, there's weekend craft stalls as well.
Los Cardos
Often voted Edinburgh's best burrito joint, at Los Cardos around £8 will get you a burrito so filling it usually lasts me two meals. Bargain. There's beef, chicken and their very popular, (allegedly delicious) haggis version to choose from but whatever your meaty preferences, make sure to get them to add some homemade guacamole.
Taste of Italy
Good, honest, affordable Italian cafe food. Pizzas all under £10, panini's for £5, pasta for £7.50 and Italian favourites like arancini, anti-pasti, bruschetta and foccacia for snacking. Being very close to The Omni, The Princes Theatre and the bulk of the bars that make up Edinburgh's LGBT 'Pink Triangle' means Taste of Italy is often busy, but don't worry, swift service sorts that out.
Tupiniquim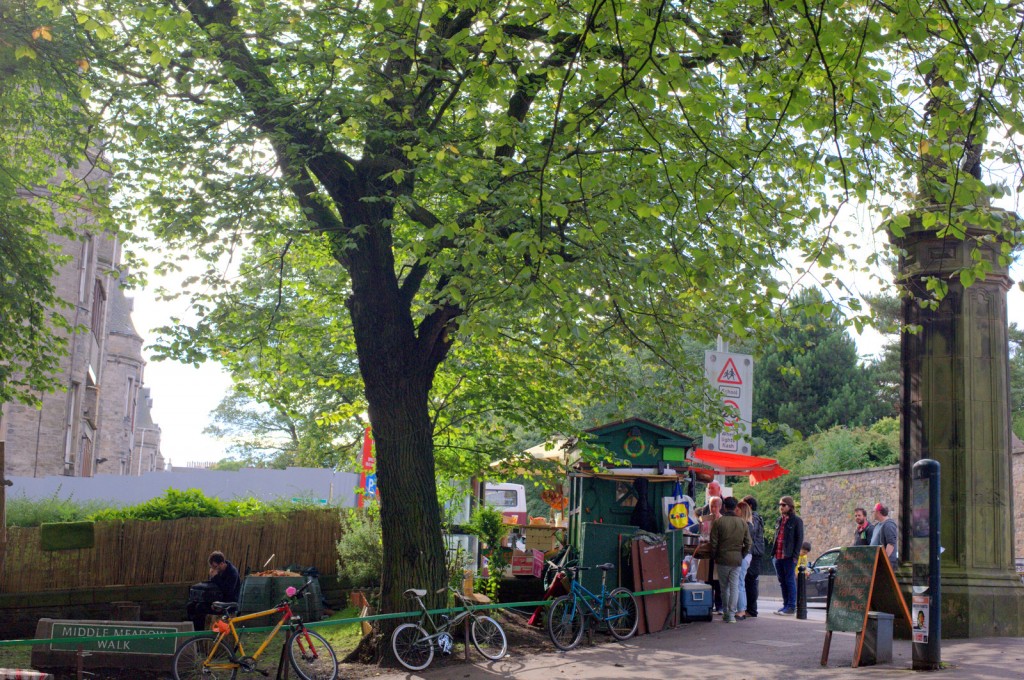 Supplying Edinburgh locals and visitors with gluten free sweet and savoury Brazilian crepes, Tupiniquim's home is one of Edinburgh's iconic Police Boxes, just at the top of Middle Meadows Walk.  They also do yumbo fresh juices, on Saturdays they serve Feijoda (a Portuguese/Brazilian specialty with beans and rice stew) and there's often live music on their little stage area just behind the police box. Just like most places on this list they are very popular, so there may be a bit of a wait for your crepe, but it's worth it.
Union of Genius
With six homemade soups a day, three that stay the same for a month and the other three changing daily, and fresh bread from local bakers Dough Re Mi this is a healthy, cheap and (yep) popular choice for lunch among Edinburgers. There's oodles of vegetarian and vegan options and if all that goodness is just too much and you need a bit of sugar, Union of Genius also does gluten free cakes.
Kampung Ali
I've never been to Malaysia, and I'll confess I've also never been to Kampung Ali, so despite all the non-Malays on numerous websites swearing you get amazingly authentic Malaysian flavours here, I could not tell you if this is indeed the case (and probably neither can they). But with the sheer amount of people raving that it's delicious, cheap and has great service, does it really matter?
Meltmongers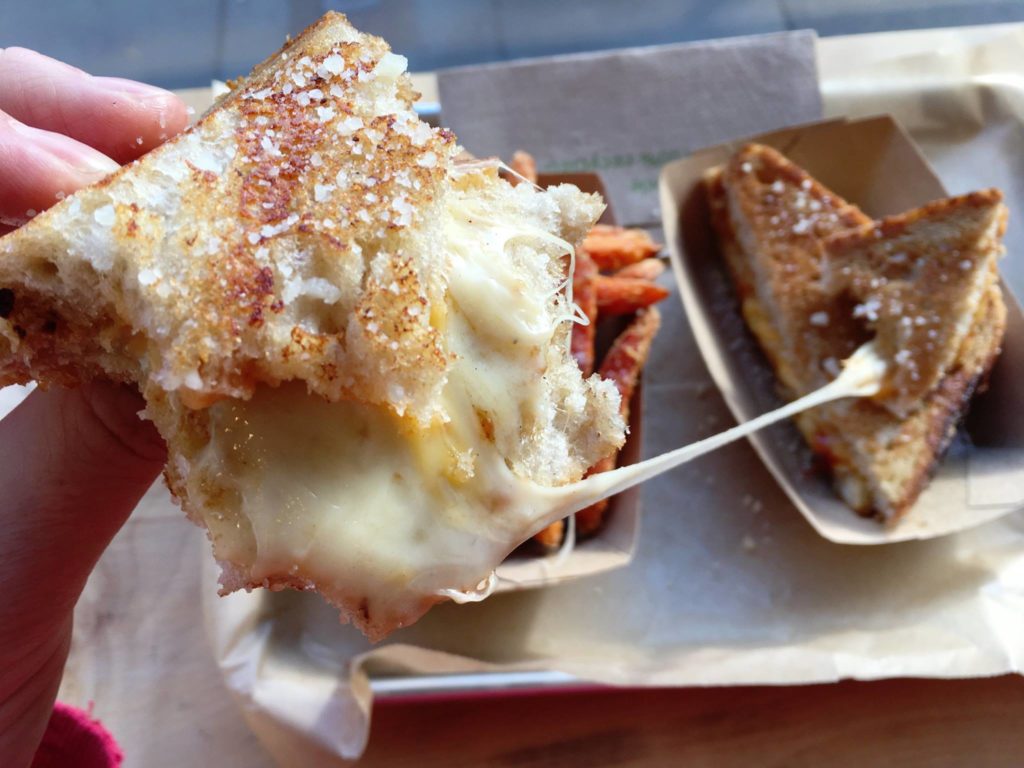 Meltmongers does awesome cheese toasties. That's really all you need to know. Well OK, they also have sweet potato fries, housemade sweet tomato and chilli chutney and dessert toasties. Just go.
Snax Cafe
Probably Edinburgh's most successful greasy spoon, Snax is usually packed with tradies or slightly worse for wear types who had to drag themselves into work after a big night out. Think burgers and chips, pasta and chips, full breakfasts, breakfast rolls (bacon, eggs, Haggis, black pudding), curry and chips, chilli and chips, hot dogs, toasties orrrrr just plain chips. There's salad too, but come on, really? It may not be top quality, but if you're one of those poor buggers above, that's probably not what you're looking for.
The Good Old Chippie
Ahem, yes well. Again, it's not haute cuisine, but if you're from a far away land where they don't exist, think of a visit to a chippie as a cultural pursuit. Now, it may just be basic, deep fried crap, but there's a big difference between good crap and run of the mill crap. So make sure you seek out one of the good stuff at either The Gorgie Fish Bar, The Tailend or arguably the best of the best, L'Alba D'Oro.
Meals for £10-ish
Ting Thai Caravan
Ting Thai Caravan is has a communal eating place so you often share long wooden tables with strangers while you're tucking into some of of Edinburgh's favourite Thai street food dishes. It's loud, it's always busy (at peak times there's always a queue out the door) and food is served mostly in paper boxes – not that any of that is a bad thing. See if you can score yourself some of the elusive chilli jam and Mun Tod (battered sweet potato). Three visits and I've only been able to get them once.
Mums Great Comfort Food
While the vast majority of dishes here are actually under £10, just like at your own mum's, you're probably not going to be able to resist a dessert as too. Well that's if you have any room left, because this Mums has food coma sized servings of exactly what their name suggests – sausages, mash (11 varieties!!) and gravy, homemade pies, mac 'n cheese, stews and a Scottish fave, haggis, neeps and tatties.
Montpelliers/Indigo Yard
Sister restaurants (actually part of the seven establishments that make up the Monpeliers Group), Montpelliers in Bruntsfield and Indigo Yard in the West End both have two courses for £10 lunch and dinner specials running Sunday to Thursday (and till 5pm Fridays). I've found service inconsistent, but I like that they change the menus regularly and for dinner especially, the price is definitely a bargain in Edinburgh.
Mother India's Cafe
Another super popular, well regarded Edinburgh spot, Mother India's Cafe is an informal tapas style Indian restaurant just off Nicholson Street. Order three dishes between two of you, add a side, and you'll be looking at around £20. Nice.
Three Birds/Educated Flea/Apiary Restaurant
These three sister restaurants all have a £12 for 2 courses lunch deal. I've included it here because if your budget won't quite reach to Michelin standards but you still want to treat yourself with something a step or three above greasy spoons and chippies, plus you have a bit more of a developed palate, here's your answer. With entrees like Vietnamese lemongrass & chilli Ox cheek, and Smoked Mackerel and red quinoa Patties with horseradish and sorrel aioli and mains like Wild garlic gnocchi, roast vine tomatoes, courgette ribbons, halloumi, sumac crème fraiche & toasted pine nuts, the menus are almost the same in each of the three, so feel free to just pick the one closest to you.
The Bailie Bar
Who would have thought there would be a pub in Stockbridge with decent food for just over £10. The Bailie Bar is a no frills, traditional, basement pub/bar where you'll have to squeeze through a throng of locals glued to the TV screens in the front bar before finding a similarly no frills dining area . You'll mostly get British pub classics here like Steak, Burgers, Mussels, Fish and Chips and Hunters Chicken, but portions are huge and for the price, excellent quality.
Cafe Nom De Plume
Cafe Nom De Plume's style is hard to describe as it has a bit of everything, and I don't mean just the decor, but the menu and customer base too. Inside it's a cosy cafe with cushions, wooden tables and eclectic decorations that give off a kind of crazy aunt vibe. The menu covers many different cuisines so everybody should be able to find something they like, no matter how fussy they are.