(Last Updated On: 12th August 2021)
Edinburgh is oozing with what I call the sibling phenomenon; successful bars and restaurants owned by the same people but presented as more a brother or sister rather than a carbon copy. Many of Edinburgh's best businesses have expanded their empires by opening a second, third or, in a couple of cases, a veritable Brady Bunch of outlets. You've got to be doing something right to have the dosh to do this, so you're pretty well guaranteed that if you like one of them, checking out the others in the family will mean discovering the same quality, but with a whole new vibe.
Private Walking Tour of Edinburgh's Pubs
Here's a list that should keep you going for the rest of your life, or if you're a party animal, till Christmas.
Devils Advocate|Bon Vivant|Pep & Fodder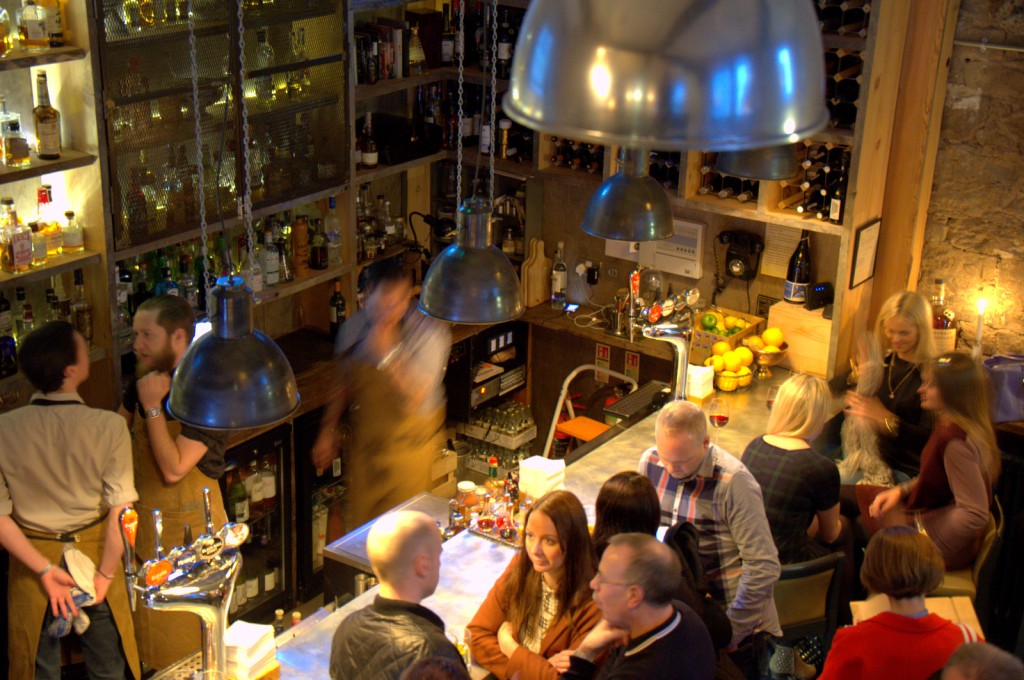 Devil's Advocate – The coolest thing to happen to Old Town's Advocates Close in eons, Devil's has around 200 types of whisky, sophisticated cocktails and delicious food which you can eat downstairs or on their mezzanine level.
Bon Vivant – Classy pub on Thistle Street (plus a 2nd one in Stockbridge). You'll be jostling for room at the bar with the suit brigade from 5pm, but go there for top quality European style small plates in their dining area.
Pep & Fodder – Unfortunately very close to my work, Pep & Fodder do coffee, sandwiches, wraps and, best of all, cakes and slices that'll be a cut above your average afternoon sugar fix.
Apiary|Three Birds I The Educated Flea
Three Birds – Eat out enough and menus in Edinburgh can get a bit deja vu. Not here. Expect to have your taste buds intrigued by quality North African, Asian, Indian and a smattering of Scottish dishes. With a 2 courses for £12 lunch special or£15 for a pre-theater dinner, you've got no excuses.
Apiary – With the same ethos as Three Birds, the much lauded Apiary is set in a beautiful building with huge windows to gaze out as you digest. This is one place worth traipsing alllll the way to Newington for.
The Educated Flea – more of the above, this time in a small dining room on Broughton Street.
The Kitchin|Scran & Scallie
The Kitchin – Get out your plastic, this is Michelin starred stuff. If you've ever dribbled over a season of Masterchef and dreamed of experiencing Michelin star quality, this one's for you. Don't forget to study up on some wanky food adjectives so you can describe it for your friends later.
Scran & Scallie – A Michelin chef's idea of slumming it, Scran & Scallie is almost affordable pub food for all us commoners.
Panda & Sons|Hoot the Redeemer
Panda & Sons – Descend a staircase of what looks like a barber's shop, enter through the bookshelf and step into a Speakeasy style world of specialty cocktails. If you're really tall, you may have to duck a bit.
Hoot the Redeemer – Seaside fun-parlour themed basement bar that introduces Edinburgh to the idea of alcoholic ice cream.
Treacle|Hamiltons|Blackbird
Hamiltons – The first in this family to open, the Stockbridge pub's food menu is not going to win prizes for originality, but it's more about the friendly, relaxed vibe. So I'm told. Packed at weekends, unsurprisingly.
Treacle – Loved equally by the Broughton Street hordes for their cocktails, breakfasts and Thai/Japanese heavy menu, it's usually packed, so yeah, good luck.
Blackbird – The menu in this Bruntsfield bar/restaurant is very similar to its brothers/sisters but the big pull here is their beer garden. Naturally, on a sunny day expect it'll be…impossible to find a seat (you thought I was going to write packed, didn't you?). They've also got live music and a more hipster look than the rest of the family.
Lucky Liquor Co|Bramble|The Last Word Saloon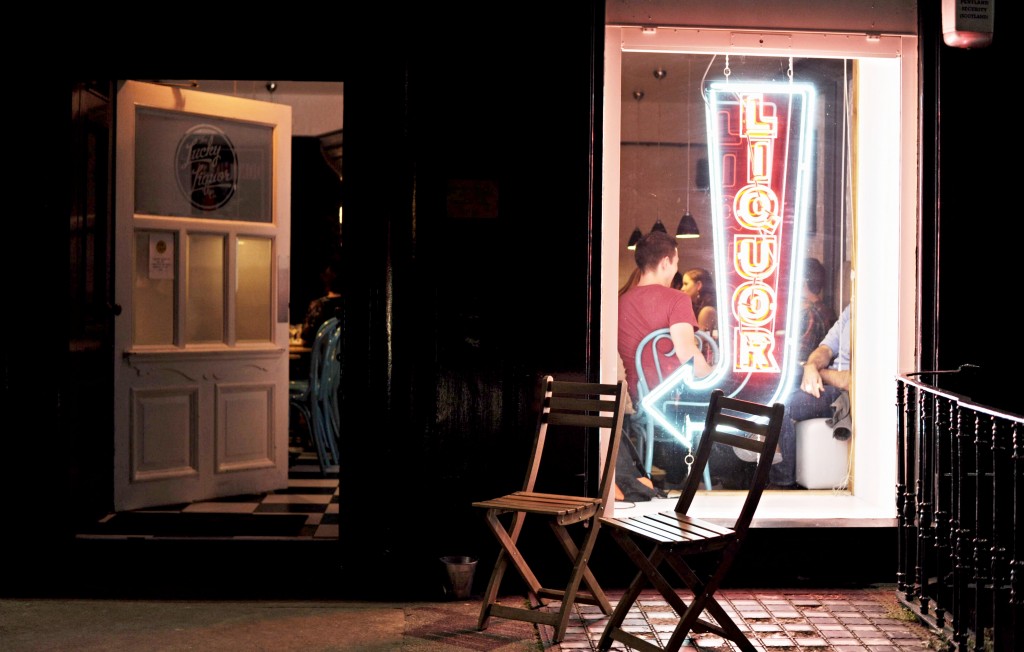 Bramble – Often making it onto 'Best Bar in the World' lists, Bramble is another secret/hard to find basement bar full of dimly lit nooks and crannies and expert barmen. But these guys also have a resident DJ. How very old school.
Lucky Liquor Co – So named because they have (a lucky) 13 house cocktails that are changed each quarter, Lucky Liquor has top quality drinks just like Bramble. Ditto the friendly and casual atmosphere. It's quite small, but if it seems full, don't forget there's a downstairs section too.
The Last Word Saloon – Ummm… ditto and ditto for everything above regarding quality of drinks and service… just this one's in Stockbridge and has a huge fireplace for the winter.
Joseph Pearce's|Victoria
Victoria – In the middle of Leith Walk, Victoria continues the family tradition of relaxed vibe, friendly service and interesting nights to check out. It's got a Monday Language and Liquor night where you can, err, try a new language while you drink, and speed dating – with drinking to calm the nerves I presume.
Joseph Pearce's – Near the top of Leith Walk on Elm Row, this one perhaps has the most of all this lot's purported 'Swedish style'. It has August Crayfish and Schnapps parties, which, if you're a fan of Nordic movies and TV shows, you might know is a very traditional thing to do in the summer. It's also family friendly, has Swedish meatballs on the menu and holds jogging and book nights. The jogging happens outside, obviously.
La Favorita|Vittoria|Taste of Italy|Divino
La Favorita – Everyone's favourite pizza/pasta joint. Well, almost everyone. Most of Edinburgh anyway. Three quarters? Hmmm. Definitely half.
Vittoria – Vittoria has two locations, Leith Walk and George IV Bridge. If you've been to La Favorita, you'll know what to expect.
Taste of Italy – Cheap and cheerful Italian diner at the top of Leith Walk.
Divino Enoteca – Dark lighting, brick walls, wooden floors, leather sofas, Divino is a stylish (if you like that type of thing) wine bar with a fairly pricey food menu to go along with your plonk. A £25 'wine flight' let's you try 4-6 smaller glasses of top wines you'd perhaps usually balk at paying full price for.
Holyrood 9A|Southern|Red Squirrel|Ox 184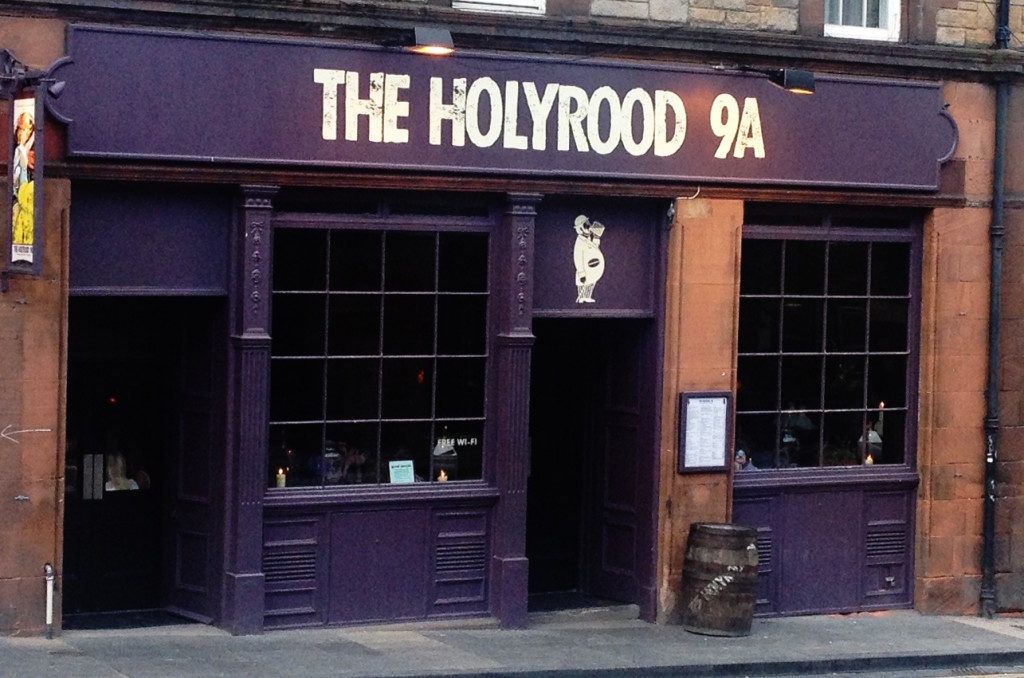 Holyrood 9A, Red Squirrel, Southern   – Here's three places for beer and burger fans and lovers of unpretentious, friendly, proper pub type pubs. All of these have around 20 beers on tap and a huge range of gourmet burgers so big that you'll have to exercise your jaw muscles beforehand to be able to fit them in your mouth.
Ox 184 – The black sheep in the family, if black sheep means different and original. New to open in 2015, Ox 184 does meat; smokey bbq, wood fired, American style meat. Oh and there's a huge bar, a DJ and food is served till 2.30am every day.
The Fountain|Carriers Quarters|Thomsons|Golden Rule
Carriers Quarters, Golden Rule, Thomsons–Small locals pubs known for their large ale selections, live bands, lots of sports and tasty steak pies.
The Fountain – It used to home arguably Edinburgh's roughest pub (nicknamed Vietnam), but after a massive refit, The Fountain is now a whole lot classier. But it's also down to earth and does great food.
Montpeliers|Indigo Yard|Lulu|Tiger Lily|Opal Lounge|Candy Bar|Rick's
Montpeliers, Indigo Yard – Kings of the 2 for £10 lunch and dinner deals, both Montpeliers and Indigo Yard have decent food and a friendly atmosphere.
Lulu, Opal Lounge– Not at all places you'd ever find me, but if you like upmarket George Street nightclubs full of posh kids, here you are.
TigerLily – Upstairs from Lulu, it's a boutique hotel with a bar and restaurant where the well heeled go to sit outside and be seen.
Candy Bar – Surprisingly cheap main meals (lots for £5 or just over), this very bright George Street place attracts lots of students and trendy (???)twenty-somethings.
Rick's – Bloody hell, 7 places owned by these guys? Now that's just showing off. Rick's is a very popular upscale-ish cocktail bar on Frederick Street.
Are we done yet? Can I stop now? Ooof. Check the links above for locations, opening times and specials.